Educators across the nation have long professed the importance of family involvement in children's education. Much research have shown positive effects of schools and parents continuously working hand-in-hand to support and encourage the children's learning and development.
Learning Vision is one school that believes in collaborative partnership with parents. Ms Joranna Ang, Vice-Principal at Learning Vision @ Kent Ridge explains, "We value the partnership and support of parents to provide a safe, stimulating and nurturing environment to encourage each child's holistic development."




Parental involvement produces measurable gains in a child's holistic development. As we all know, parents are a child's first teacher. When a school system values and respects the relationship between a parent and a child and welcomes parents as equal partners in their child's education, parents and teachers have an opportunity to influence a child to live a positive and fulfilling life.
Jasmine, a English Teacher at LEAP Schoolhouse believes that that respectful, caring bonds with children and their families are the vital foundation for a wonderful preschool experience. "As a teacher of young children, I share with parents the responsibility for teaching their children. I also believe that each child has their own unique strengths, possesses different learning styles and learns at a different pace too." She adds.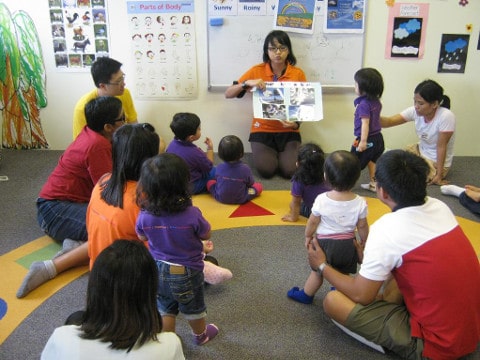 Daya, a teacher at Kinderland Child Care Ministry of Manpower (Havelock) agrees and advocates for parent-school partnership as well. "Through my 8 years of working as a childcare teacher, I made sure I build a good rapport with the parents. I share with them their children's development and how they are coping with the curriculum. With their support and cooperation, they are able to understand and assist their children's learning when at home."
A strong school-family relationship can greatly benefit the child as well as parents. It is proven that children do better and achieve more when parents are involved in their progress in school. Their concerns can also be sorted out quicker when parents have a positive relationship with the school staff. Parents also get reassurance that their children are receiving good education as trust and respect develops with the relationship with the school.
What about the not so easy to work with parents? Daya adds she would stress the importance of the children's development during their early years, and would like to bring across this message to them, "It's better to teach children than repair adults. The children's early years are the most crucial part of their development."
Written by Dinah Shahab, edited by Michelle Ang
Do you have a close relationship with your child's kindergarten or pre-school? Share with us in the comment box below!
If you find this article useful, do click Like and Share at the bottom of the post, thank you.
Like what you see here? Get parenting tips and stories straight to your inbox! Join our mailing list here.