Update 22 July 2021:
Postponement of NDP to 21 August
1. The National Day Parade (NDP) 2021 originally planned on 9 August 2021 at the Float@Marina Bay will be postponed to 21 August 2021, after the scheduled end of Phase 2 (Heightened Alert). On 9 August 2021, a ceremonial parade will be held instead. It will be similar to the one held last year at the Padang, but will take place at the Float@Marina Bay.
2. The heartland fireworks and Red Lions displays previously announced to be held over the 7 to 8 August weekend will be cancelled.
3. The NDP rehearsal and preview previously planned on 24 July and 31 July 2021 respectively have also been postponed. To prepare for the NDP on 21 August 2021, rehearsals will be conducted later in smaller component groups. Their dates will not be announced, so as to discourage crowds from gathering around Marina Bay.
4. Since 1966, the NDP has been held every year to mark Singapore's independence. This national event brings together Singaporeans from all walks of life, as one united people to affirm our unity and nationhood. The changes this year will enable NDP 2021 to be held in safer conditions, while maintaining that cherished tradition
Press release by NDP Organising committee.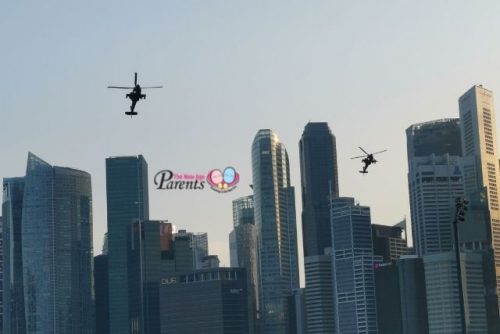 ---
Previous announcements
As of press updates on 30 June 2021, the National Day Parade 2021 will be held at Marina Bay floating platform. Here are some highlights of the announcment:
National Day Parade 2021 to be held at Marina Floating Platform.
Fewer participants and spectators.
All participants and spectators to be fully vaccinated.
There will be "heartland activities".
The confirmed rehearsal dates will be on:
3 July 2021 (Combined Rehearsal CR1)
10 July 2021 (Combined Rehearsal CR2)
17 July 2021 (Combined Rehearsal CR3)
24 July 2021 (Combined Rehearsal CR4) – Postponed
31 July 2021 (Preview) – Postponed
9 August 2021 (Actual Day NDP 2021)
The number of spectators and how to get NDP tickets have been announced by the NDP organising. For more information, read NDP tickets 2021.
Note: Singapore will move back into COVID-19 Phase 2 (Heightened Alert) from 22 July to 18 August 2021. Kindly keep to the prevailing COVID-19 measures.
---
Heartland Activities – Cancelled
In addition to the main parade at Marina Bay Floating Platform, there will be Republic of Singapore Air Force fighter jets, Chinook helicopters and Red Lions Free fall performance at the Heartlands. You may be able to catch a glimpse of them rehearsing (Exact Timings and locations to be determined).
Update: The Red Lions will be free-falling over several regions in Singapore from 15 to 29 July 2021 to assess the suitability of parachuting in the heartlands. For more information, visit here.
P.S. Red Lions spotted on 15 Jul at an open field near Ghim Moh market and Bishan.
Marina Bay Floating Platform setup for NDP 2021
---
What to Expect at Surrounding areas of the Float
Based on the NDP Combined Rehearsal CR1/CR2/CR3, here's what to expect at Marina Bay @The Float area:
1820hrs to 1825hrs – 9x Red Lions Free Fall
1826hrs to 1828hrs – 2x Apache Helicopters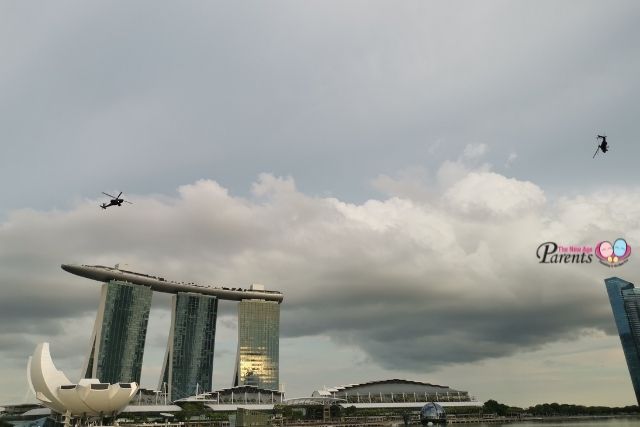 1829hrs to 1831hrs – 3x F-15SGs Flypast/Burst
– 2x F-15SGs Criss-cross
– 1x F-15SG Round Marina Bay and Vertical Climb
1833hrs – Contingents March In
1838hrs – Central Band / Bag Pipers? Performance
1839hrs – Guard of Honour Contingents March In
1844hrs – Arrival of Prime Minister
1849hrs – Arrival of President
1850hrs – Singing of the National Anthem
1851hrs – Singapore State Flag Flypast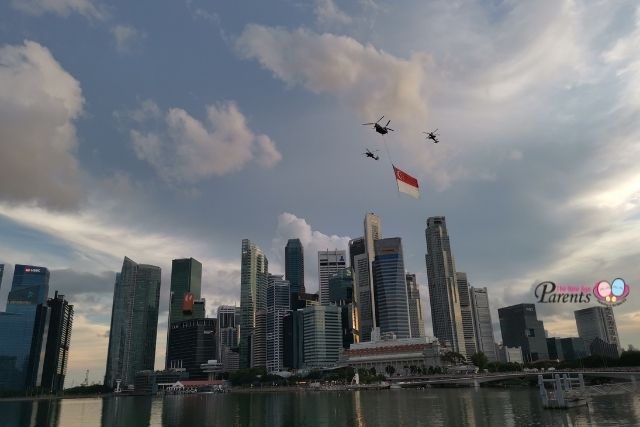 1852hrs – 5x F-15SGs Bombburst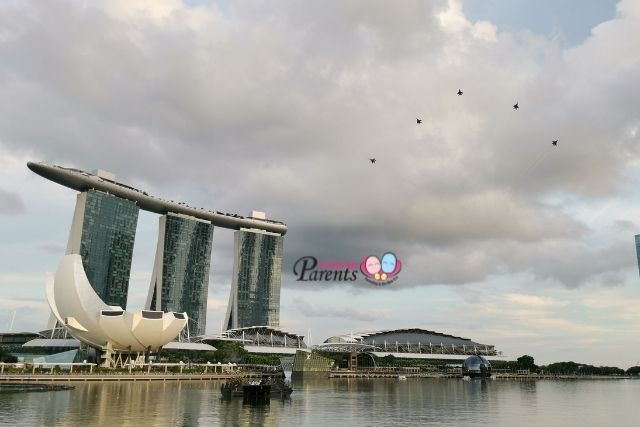 1854hrs – Presidential 21 Gun Salute and inspection of Guard of Honour contingents
1859hrs – Guard-of-Honour contingent firing Feu de Joie (rifle salute)
1904hrs – Guard of Honour and contingents March Past
1913hrs to 1916hrs – Central / Combined Band Performance and March out
2013hrs – Grand Finale Fireworks
*** All timings are approximated based on CR1/CR2/CR3 and may change. ***
➡️ Related Read: Fun Things To Do This National Day 2021 Long Weekend In Singapore
For more information and the latest updates, visit Singapore's 56th Birthday – National Day Parade & Celebrations 2021.
For information on Temporary Restricted Area, visit here.
For more information on NDP 2021, visit here.
* * * * *
Stay in touch! Subscribe to our Telegram here for our latest updates.
Want to be heard 👂 and seen 👀 by over 100,000 parents in Singapore? We can help! Leave your contact here and we'll be in touch.