In a Lien Foundation report released in the year 2013, Singapore was ranked 29th out of 45 countries for its early childhood sector. One of the key factors that were discussed was the lack of support from management and the huge workload on pre-school educators. Esther Lim, CEO and Founder of LEAP Schoolhouse offers some advice on how she keeps her teachers happy, productive and appreciated.
Why Do Early Childhood Teachers Leave the Industry?
An article I read mentioned that there are only two reasons for staff to leave an organisation and they are – monetary and lack of recognition.
In Singapore, the entrance requirements for teachers include 5 O-Level passes. But as of now, 76 percent of teachers are being trained or have attained a diploma in early childhood. Many of the teachers receive their qualifications through sheer determination of working and studying part-time. The median salary for a pre-school teacher still stands at less than $24,000 SGP per annum.
Passion Over Money
Compensation for work done is important. However, unique to this industry, most teachers stay on for the passion and the love of working with children. Yes, as a business owner to a pre-school there are many monetary incentives that can be put in place to keep our talented people around but fundamentally, our duty is to make them feel valued and to keep them meaningfully contributing.
Here's what I practice at my centre: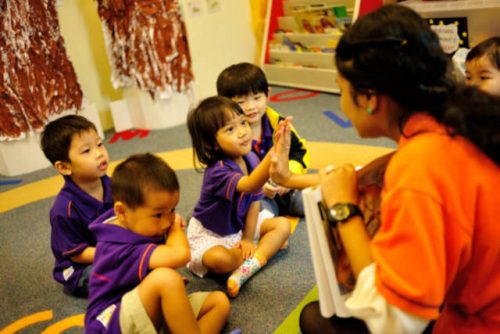 1. Keep The Boredom Away
Have work tasks kept impactful and challenging? That keeps a teacher's professional development at an edge. Keeping the teachers who are involved with the projects at hand about some of the permissible macro decisions made does make them feel valued. Do not allow for boredom to seep into the work environment as that will be the start of excuses being made not to stay updated and relevant.
2. Encourage Open Conversations
My staff need not make an appointment to speak with me. I take an open-door policy to speak to any of them and they know that I am always available whenever I am in town. Giving my staff the option to speak up and discuss matters allow for more options to be explored for a company's decision-making process because there's probably a lot more that can be achieved from managing human resource if we have better communication.
3. Building A Company Culture
Identify the kind of company culture as an employer you seek out for. It's one thing if the corporate culture just isn't the right fit for some, but if there is a perennial high staff turnover, it might be time to do some soul searching as a company.
Seek for work-life balance, acknowledge birthdays and time needed to be with family. Professionally, seek talent within and give opportunities to grow. The 'perfect job' is one that always can allow an individual to seek bigger opportunities not magnified from the current position.
Most HR consultancy surveys have pointed to one consistent denominator that keeping a good team does not mean paying top dollars ALL the time. Keeping the reason for valuing the team both collectively and as an individual is as important, if not more.
By Esther Lim, CEO and Founder of LEAP Schoolhouse.
This article was first published in The New Age Parents e-magazine.
* * * * *
Like what you see here? Get parenting tips and stories straight to your inbox! Join our mailing list here.
Want to be heard 👂 and seen 👀 by over 100,000 parents in Singapore? We can help! Leave your contact here and we'll be in touch.