Research shows that successful parent-teacher relationship aids in a child's learning, development and self-esteem. Jaclyn Smith, Curriculum Specialist at Learning Vision shares four ways parents can build a strong rapport with their child's teachers.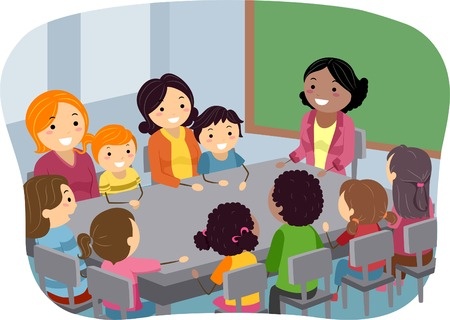 How Can I Build A Better Relationship With My Child's Teacher?
1. Show Your Appreciation
Parents may not realise that recognising and giving credit to teachers as professionals, – not as child minders – is often valued and prized by educators. Many times, a simple word of thanks; written or verbal, goes a long way.
2. Forge Strong Relationships
Invest in conversations and engagements that promote trust building. Just as in any sustainable relationship, it needs to be built upon trust and mutual respect. For that to be established, open communication and time need to be invested. Both parties also need to acknowledge that the relationship is dependent on mutual responsibility.
Be honest and open to share your expertise and experience you are the teachers. If you feel there is a need for further discussions, preschool teachers will work to accommodate your schedule as long as there is a common understanding that the efforts are mutual.
Tip for parents: Take advantage of the parent involvement opportunities available at your child's school. It can be volunteering at a field trip or conducting a show and tell for your child's class – take some time to be involved in at least one of the activities.
3. Stay connected and informed
Teachers will try to adjust their communication methods and styles to suit yours when they see your efforts to stay connected and informed. Time can be a tough hurdle. Find out what are the most effective ways you can be informed and involved with her.
Tip for parents: Teachers appreciate when you take the time to share personal happenings at home with your child. It can be as simple as a conversation between you and your child before their bedtime, or a trip to the supermarket. When parents initiate such personal sharings that happen at home, teachers are often delighted and happy to hear them as it gives them a better understanding of your child.
4. Share Your Expertise
Just as how teachers are eager to offer advice and resource to support your parenting journey, teachers appreciate it when you take the time and effort to contribute your knowledge and expertise to the school. At Learning Vision, we have had parents who contribute half or a whole hour of their day leave to read to the children in the class or conduct an activity they are good at (e.g. craft, cookery, or soccer.)
Tip for parents: Your work schedule is packed for the month? Sharing your expertise may not necessarily require your full presence at the school. Some of the Learning Vision centres have had fathers who shared their National Service experiences through photographs and videos. Some parents also lent their personal items to the school when the children were learning on a particular theme.
Important Things All Parents Should Know About The Job Of A Preschool Teacher
Working Behind the Scene
On top of having keen observation skills and a good grasp of language, preschool teachers spend a significant amount of time working behind the scene. This includes: Planning and preparing for class activities, writing weekly newsletters to parents, constantly reflecting and evaluating their teaching practices, writing children's developmental reports… the list goes on. Not to mention organising field trips, year-end concerts and other miscellaneous school events.
Educating Children and Parents
Besides seeing themselves as someone qualified to support children's growth and development, preschool teachers also see themselves as parent educators. Teachers are happy to share and offer what they know with you.
Same Goal, Same Objective
Preschool educators often share the same goals and objectives as parents although at times it may not come across as explicitly as parents may want it to be.
Jaclyn Smith is a passionate curriculum specialist for Learning Vision since 2003. She holds a distinguished BA in Early Childhood Education, and has over 10 years of experience in working with children aged 3 months to 6 years.
This article was first published in The New Age Parents e-magazine.
* * * * *
Like what you see here? Get parenting tips and stories straight to your inbox! Join our mailing list here.
Want to be heard 👂 and seen 👀 by over 100,000 parents in Singapore? We can help! Leave your contact here and we'll be in touch.