If you are a working parent with a young child who is just about to embark on their educational journey, you'd probably be thinking of the changes that this milestone might bring about. For one, you should be thinking about who you can turn to for help to care for your child while you are hard at work. While some children are fortunate to have grandparents or a domestic helper to take care of them, others have to rely on other options.
Like many busy parents in Singapore, you can turn to student care centres with experienced educators for after school care. By sending them to the best student care possible, you are able to give your child a great beginning in life.
However, with so many different student care centres to choose from, selecting an after school student care for your child is a challenging task. To help you out, we've rounded up the best After School Student Care in Singapore so that you can make a smart and informed decision for yourself and your child!
---
1. Edventure Learning Academy
Edventure encourages children to ignite their curiosity and create opportunities for them to nurture their passion for learning, explore other interests and develop new skills while caring for them after school.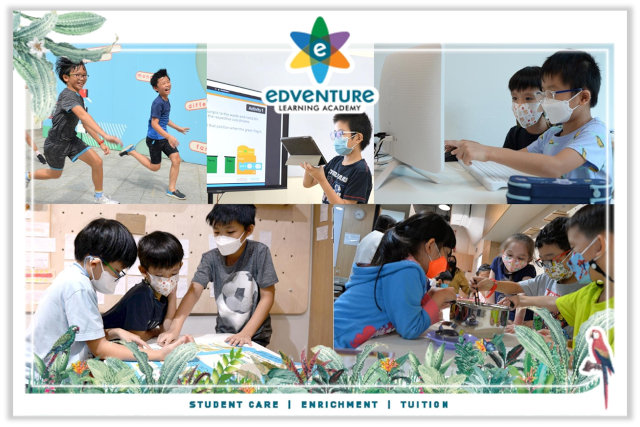 With their S.T.R.E.A.M. inspired student care programmes and meaningful additional enrichment courses, Edventure aims to develop essential language skills and digital literacy to empower children to play, learn, work and socialise in the 21st century.
Edventure's learning environment, as the THIRD space beyond home and school, allows children to feel safe, create a meaningful community, develop a sense of belonging and have fun discovering their interests. The large selection of programmes allows children to both pursue interests according to their passion and to do well academically.
Contact an Edventurer today.
To book a centre visit, call / whatsapp +65 9829 5900 or email enquiries@edventurelearning.sg.
To take a virtual tour and understand more, visit edventurelearning.sg.
*******************************
2. 午后学堂 SchoolAfterSchool by Hokkien Huay Kuan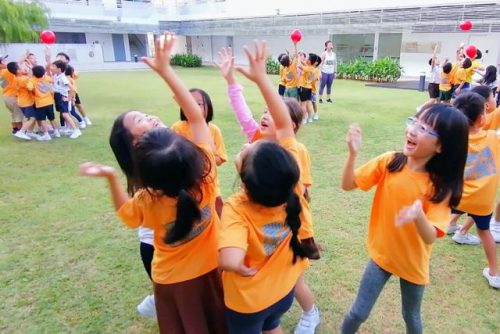 Besides daily homework supervision, key programme highlights include curriculum and theme-based learning to help each child discover their strength and learn problem-solving and life-skills such as Teachings to be a Good Child and Student, Chinese Recitation, Chinese Speech & Drama, Creative Arts, etc.
We provide:
Daily nutritious meal + tea break
Fully air conditioned facilities and well equipped open concept play area
Homework Supervision
Chinese Speech and Drama 华文演艺班
Teachings to be A Good Pupil and Child 弟子规
Parent & child bonding 亲子活动
For more information on After School Student Care, feel free to contact us through shhkca.com.sg.
*******************************
Learning Leap is a premium quality after-school care under Babilou Family Singapore that provides a safe and conducive environment for primary school students. With a focus on academic and holistic development, students are cultivated holistically through our integrated programme – nurturing them towards becoming a well-rounded future leaders.
At Learning Leap Student Care Centre, students are well supported in their transition throughout their primary school journey. Aside from daily homework and learning support from a team of passionate and dedicated teachers, enrichment programmes that encompasses Sports, Science, Chinese and more are available during school terms and holidays.
For more information, visit learningleap.edu.sg.
*******************************
4. MindSpace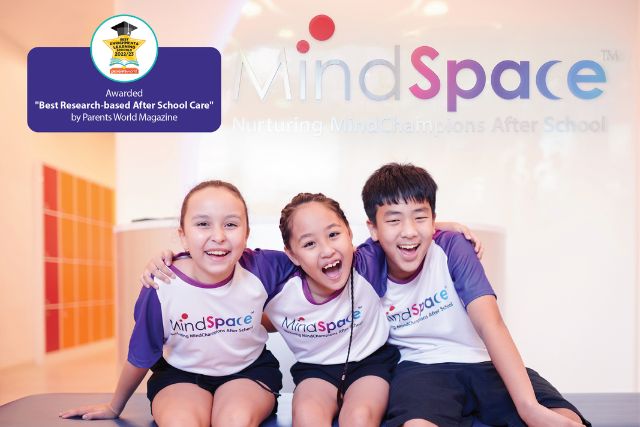 The only after-school student care in Singapore that enables children to achieve breakthrough academic results without the need for further tuition.
At MindSpace, your child will benefit from MindChamps' research-backed, proprietary programmes such as Art of Learning and Optimal Flow Method™, nurturing them to become lifelong learners.
The Art of Learning teaches your child how to learn and not what to learn. This is interwoven with the concepts taught in school so that the child learns how to analyse, evaluate, synthesise and apply these concepts.
Optimal Flow Method™ helps students break down topics in English, Maths, Science and Chinese into concepts and to build upon prior knowledge so they know how these concepts are connected for better understanding and recall.
For more information, visit mindspace.mindchamps.org.
*******************************
Aspire's Institute's After School Tahfiz programme caters to boys and girls aged from 6 to 12, from both secular primary schools and local madrasahs.
The program aims to create a conducive environment for students to pray Zuhur and Asar in congregation, learn to read and memorise the Quran, recite the Daily Du'as as daily routine as well as do their school homework together.
Aspire Institute's After School Tahfiz programme is available all around the island, with campuses at Jurong, Sengkang, Tampines, Woodlands and Yishun.
For more information, visit aspireinstitute.com.
*******************************
6. NASCANS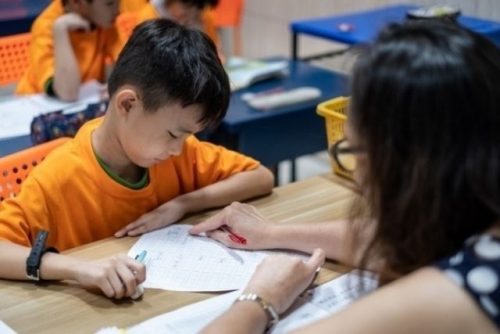 NASCANS has student care centres in over 20 locations in partner MOE schools and 5 community-based centres, providing students with "an Oasis between School and Home". Its student care programmes in school-based centres are closely aligned to MOE's 21st Century Competencies model and the partner school's vision, mission, and values.
In its community-based centres, NASCANS' student care programmes include value-added services such as small group tutorials for English, Chinese, Mathematics and Science to enhance your child's academic performance in school. Community-based centres are located at Bukit Merah, Choa Chu Kang, Clementi, Gambas and Jurong East.
For more information, visit NASCANS Student Care.
*******************************
Like what you see here? Get parenting tips and stories straight to your inbox! Join our mailing list here.
Want to be heard 👂 and seen 👀 by over 100,000 parents in Singapore? We can help! Leave your contact here and we'll be in touch.