"I've got places available for rent, for lease, but I don't have the ready manpower to start the business." said Dr Chandroo in a report by TodayOnline.
With the increase in demand for childcare centres and lack of qualified manpower, therein lies the challenge of bridging this huge gap. So what can be done to narrow this widening gap?
Here are 6 things early childhood professionals can do to beat the crunch.
#1 Improve Classroom Management
"Educators go through various stages of professional development and these stages are affected by different needs at different points of an educator's life." – Philip Koh
Teachers need to be well-equipped with the necessary tools to ensure effective classroom management, hence reducing the stress of managing a large group of pre-schoolers.
Phillip Koh, Founder of Preschool Teachers Network Singapore (PTNS) is a strong believer in the creative movement. He hopes to apply and integrate the concepts of creative movement effectively in his teaching practice. With 13 years of teaching experience, he notes that attending courses has helped him to deliver his training modules more effectively with the adults he works with. "I feel am able to gain a better understanding of the different levels of development and needs ranging from cradle to grave."
#2 Skills Upgrading
"There is no end to learning. I believe there is always new things to learn and new information to learn and discover." – Karen Lee
Karen Lee, Principal at Learning Vision @ Hwa Chong emphasizes the importance of how educators need to be willing to change their ways of teaching students.

With 22 years of experience in the field and holding a Bachelor of Arts in Early Childhood Education, Karen keeps herself updated through workshops and trainings on Early Childhood, leadership and customer service.
"We may not be 21st century teachers but we are teaching and guiding the 21st century students." Learning Vision @ Hwa Chong Principal Karen Lee adds. "It is integral that we have to adapt and change ways of teaching." The 40 year old mother of two adds.
#3 Carve Out A Progression Chart
"Children are an inspiration to me; each child holds a promise for our future." – Pooja Vishindas
It was this simple vision that Pooja Vishindas, Chief Curriculum Officer at Nurture Education Group decided to be an Early Childhood Educator.
After graduating from Ngee Ann Polytechnic with a Diploma in Early Childhood Education (Teaching & Leadership), Pooja aspired to contribute her skills and knowledge to the children and families.
She was promoted to a Senior Teacher and Curriculum Developer. She then rose to a lead trainer at a local preschool chain and to a Curriculum Specialist at an International School. During this period, Pooja decided to further pursue her Degree of Bachelor of Education in Early Childhood.
Without a clear path of career progression, it would be difficult to keep staff motivated and engaged in their work. "Human capital is the best investment for your company, for your industry and Singapore as a whole," said NTUC Secretary General Lim Swee Say. "So as you strive to make every worker a better worker, every job a better job, I urge the HR community also to strive to make every career a better career, every employer a better employer, and last but not least, every HR a better HR as well."
#4 Retain Talent
Attracting young talents can be a challenge, as they are now better educated and demand better prospects in their career. Regardless, it is still important to recruit and retain this group of professionals in this sector.
NTUC's My First Campus (NFC) and PAP Community Foundation (PCF) have started the trend to increase to raise salaries by 6%-12% for qualified teachers and centre leaders. As a guideline, a diploma-trained childcare teacher with 3 years of experience can fetch $2,800 while principles with degree qualifications and 4 years of experience can earn up to $4,000.
This could very well be the beginning of a new era where childcare teaching becomes the next "hot" career prospect.
#5 Organizational Support
"Upgrading includes personal and company-based endeavours." – Cynthia Tan
Cynthia Tan, a Principal at The Caterpillar's Cove Child Development and Study Centre – NTUC First Campus shares that when she was a teacher, support and training was more focused on classroom skills, and professional development opportunities were to support ground implementation as a practitioner. In NTUC First Campus, there were buddy and mentoring systems at work where she could observe more experienced teachers at work and participate in discussions to shed insight about her classroom practice.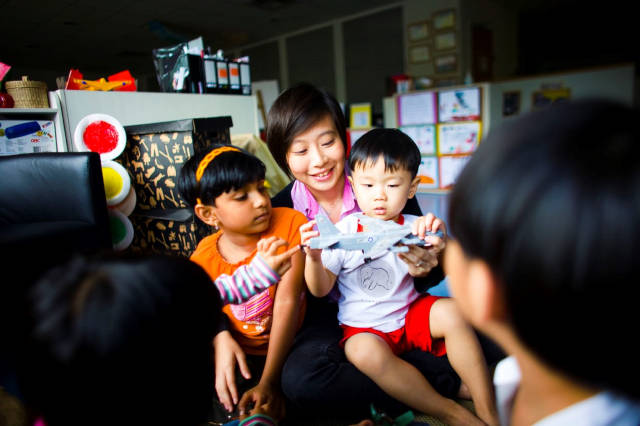 "Constant upgrading definitely keeps me loving my job and be resilient in the face of challenges. I'm also grateful to be in an organization – NTUC First Campus – that places emphasis on people development and for the numerous opportunities given to grow my competencies and passion."
With the support of her company, she has been able to travel overseas to Australia, Hong Kong and Italy for professional exchanges and learning. She has also shared in conferences including the annual early childhood conference by the Early Childhood Development Agency (ECDA).
#6 Stay Connected
Apart from increasing wages, it is also important for companies to recognise the importance of ensuring career progression, skills upgrading and productivity in order to retain their staff.
As NTUC's Mr Heng Chee How said in his recent speech, "The progressive wage model (PWM) should not be seen only as a way to help lift the wages in low-paying sectors; rather, it could also help in talent retention".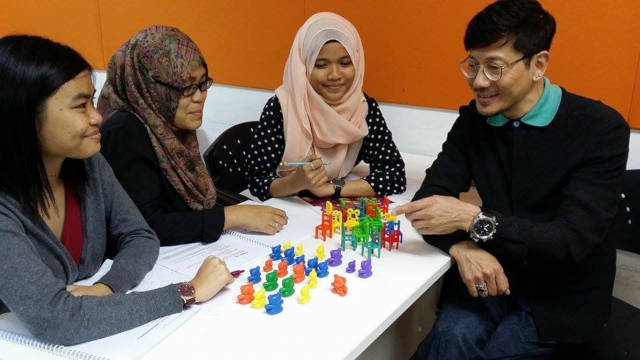 "While the sector levels itself with better salary structure and improved working conditions, preschool educators would need to be a good team player to ride through the challenges of manpower shortage as efforts to attract more people to the industry is made. It would be useful for educators to be plugged into a network that supports the early childhood practitioners." Philip adds.
If you find this article useful, do click Like and Share at the bottom of the post, thank you.
Like what you see here? Get parenting tips and stories straight to your inbox! Join our mailing list here.