What is it like to be a male in a female-dominated industry? Do they face prejudices from parents and their colleagues?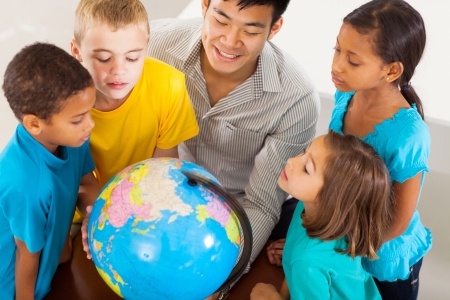 Meet 24 year old Keith Michael Reyes, a male Preschool teacher at PCF (Sembawang). Michael was the winner of Little Lives World's Best Teacher Contest in 2014. He is currently engaged to a fellow preschool teacher and has been in the Early Childhood field for three years.
1. On what it is like to be a male in a female-dominated industry
It's very challenging in a way that they relate with one another easily but I find it easy to open up to them. Most of the time I'm the apple of the eye, the clown and the subject.
2. On his friends' and family's reaction when he told them about his career choice
They were so happy and proud because they said it's unusual for a guy to teach in preschool.
3. On teaching
Why not? Teaching and being with children have taught me to become a teachable person.
Michael receiving his prize – two iPad minis, for winning Little Lives World's Best Teacher Award.
4. On difficulties and social stigmas
I can sense at the beginning of every year that parents are doubtful, perhaps about my patience and how to manage their child's behaviour, but that drives me to do my best for the children. A male teacher may not have a motherly instinct but I can be a father and an elderly brother who will learn joyfully and play actively with the children.
People often have the misconception that male teachers are 'hard' with children, but I totally disagree with that. I always make sure that the children are safe and happy, and over time parents feel secure to put their child in my care.
5. How his class students react when they found out their teacher was a guy
The children were simply quiet and observant, but once they feel secure and safe they will trust and love you in return as their teacher.
6. On his most important lesson he learnt from his students and being a teacher
I've learnt that having a teachable heart is very important because children will see from me, as their teacher, the love for learning. My fiancée, Lara, who is also a preschool teacher, helps greatly as we support each other by doing things hand in hand. For example, we discuss our lesson plans, we talk about what to paint and draw for the classroom, and buy art materials whenever we have time. Working together inspires us, makes our work faster and easier and makes us value our work as preschool teachers even more.
7. Complete this sentence: Male preschool teachers arev
Fun, creative, active and playful!
* * * * *
Do you know a male preschool teacher? Who are/were they like? Share your story with us in the comment below.
Want to be heard 👂 and seen 👀 by over 100,000 parents in Singapore? We can help! Leave your contact here and we'll be in touch.