National Day 🇸🇬🇸🇬🇸🇬 is just around the corner, and there's no better time to share with your children the beauty of being a Singaporean and to celebrate how far we have come as a nation. This is home, where our children are growing up, and as parents, we can help them to get a sense of the value of our history and heritage, and to instill an attitude of national pride in them from an early age.
➡️ Related Read: Fun Things To Do This National Day 2020 Long Weekend In Singapore
Here are five fun crafts you can do with your family, as we count down to our nation's birthday! 🎂🎂🎂
1. Parade shakers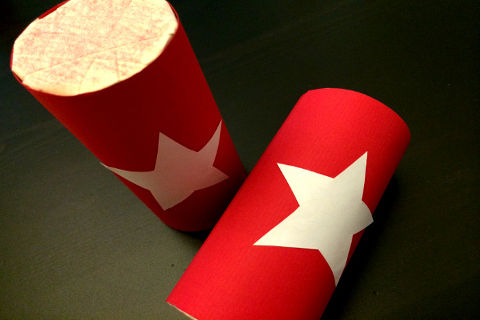 Materials: Toilet rolls, red and white paper, cardboard (drawing block backing works fine), masking tape, rice/beans/beads (for the "rain" effect), double-sided tape, glue, scissors
Instructions:
Trace out the circle end of the toilet roll and cut out two circles to place at both ends.
Tape one side down, ensuring that the hole is completely taped up and covered.
Pour your rice/beans/beads into the cylinder and tape up the other side completely, using the other circle base.
Cut red paper to wrap up the sides of the cylinder, and tape in place.
Cut out stars from white paper, to stick onto the red paper.
Lastly, apply red paint to the masking taped sides, or use red crayon/colour pencil to colour it.
2. People of Singapore
Materials: 1 x A3 sheet of white construction paper, markers/crayons/coloured pencils, scissors, stickers/embellishments of your choice (eg feathers, buttons, fabric scraps etc)
Instructions:
Fold the paper into half.
Draw and cut out the silhouette of a man and woman holding hands, ensuring that the arms extend to the sides (this will allow them to be joined as one piece when you open the paper up).
Open up the paper, and allow your child to decorate each "person" to his/her fancy.
This is a great way to introduce them to the different races in Singapore, or to bring his "real" family to life.
3. Ribbon wands
Materials: Red crepe paper, white or red-and-white striped paper straws, glue, scissors
Instructions:
Cut a 1 inch thick long strip of red crepe paper, and glue one end of the strip to the edge of the straw.
Twirl to your satisfaction!
4. Star-arising T-shirt
Materials: Freezer paper, iron, scissors, plain white tee, red fabric paint, paintbrushes / sponge applicator
Instructions:
Draw and cut out your design from a piece of freezer paper.
Place the paper waxy side down onto the right side of the tee shirt, and iron it down, so that it sticks.
Apply paint to the exposed fabric, and let dry completely, according to the instructions on the paint bottle.
Be careful not to paint outside of the paper!
Gently peel the freezer paper away, and iron the shirt over low heat to set the paint.
5. Paper flags
Materials: White paper (drawing block, construction paper), paper straw, red paint, scissors, glue, scotch tape (optional)
Instructions:
Cut out a flag to fit your straw.
Paint the top half red.
Cut out the crescent moon and stars from more white paper, and glue them onto the red portion of the flag.
Glue or tape the flag to the straw.
By Dorothea Chow.
If you find this article useful, do click Like and Share at the bottom of the post, thank you.
Like what you see here? Get parenting tips and stories straight to your inbox! Join our mailing list here.