Symphony Lake is a lake in the Singapore Botanic Gardens. It features a large stage known as the Shaw Foundation Symphony Stage built on an islet in the middle of the water body.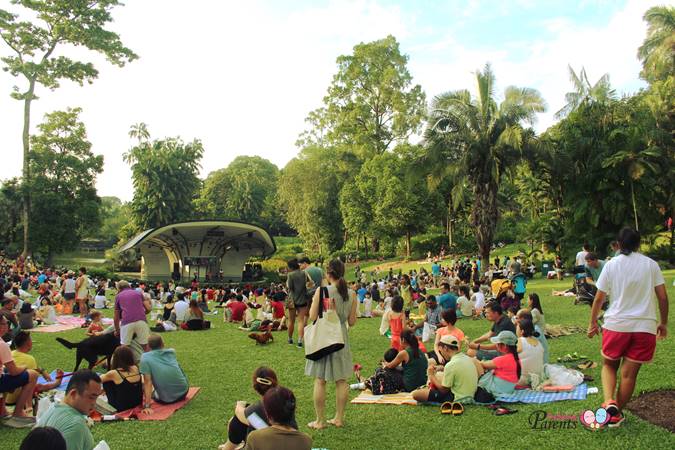 There are free concerts held regularly at Shaw Foundation Symphony Stage in Botanic Gardens Singapore. Here are some of the upcoming Free Concerts in the upcoming weeks.
Note: All details are correct as at the time of publishing. Readers are advised to check with NParks for the most updated schedules.
SSO Mother's Day Concert
Date: 12 May 2019
Time: 5.30pm – 7pm
Venue: Singapore Botanic Gardens, Shaw Foundation Symphony Stage
Colourful dance tunes and songs of love surround our Mother's Day Concert this May! Singapore Symphony Orchestra will present a one-hour musical celebration of motherhood at the Singapore Botanic Gardens presents a cast of all-Singaporean talent, featuring young violin star Chloe Chua and rising singers Jonathan Charles Tay and Martin Ng.
Join us too at 5.30pm for pre-show performances by the winners of the Symphony 924's Young Talents project! Alyssa Goh and the String Sisters will be performing Vivaldi's Autumn from The Four Seasons, while Lauren Yeo will be serenading us with the Theme from Cinema Paradiso.
The Young talents Project is an annual competition in search of Singapore's next classical music prodigy organised by Mediacorp and Singapore's only classical music station Symphony 924.
Related Read: Places To Dine On Mother's Day
***********
Festival Closing Concert with Singapore Symphony Orchestra
Date: 2 June 2019
Time: 6pm – 7.15pm
Venue: Singapore Botanic Gardens, Shaw Foundation Symphony Stage
Perfect for families, young and old, join us for this free concert at the Singapore Botanic Gardens in a celebratory closing to SIFA 2019. The concert welcomes back to Singapore leading musical stars Elena Wang, Julia Abueva and Sean Ghazi – vocalists who have made their mark in Singapore's theatre scene and also on the international circuit – to perform some of your favourite musical tunes, accompanied by the Singapore Symphony Orchestra.
Conducted by Joshua Tan, the award-winning conductor brings his extensive experience conducting symphonic, operatic and ballet works with renowned orchestras around the world to this rousing concert.
The winner of Elle Magazine's Breakout Star of the Year, Elena has performed in musicals such as Miss Saigon, The King and I and Bastard Jones, and has lighted up Singapore's stage as 'Ivy' in Beauty World.
Julia Abueva returns from New York, fresh from playing a lead role in the critically-acclaimed off-Broadway musical, Superhero. Other formidable experiences include performing as the opening act for the 23rd South East Asian Games (Manila), a guest artist for David Foster as well as TV and film work.
The lead singer of Malaysian big band Tarakucha, Sean Ghazi's musical career has taken him from London's West End, to films such as C.O.G, to the concert circuit performing alongside Pink Martini and the Seattle Symphony. Regionally, he has played the title role of P. Ramlee in P. Ramlee – The Musical, and in Singapore, A Twist of Fate and La Cage Aux Folles for which he received a Life Theatre Award nomination in 2018.
Selected songs that will be performed include Overture to West Side Story, I'd Give My Life for You (Miss Saigon), Somebody to Love (We Will Rock You), and Fried Rice Paradise.
This event is in conjunction with SBG160.
***********
Nicklas Sahl Concert: Asian premiere at Singapore Botanic Gardens
Date: 9 June 2019
Time: 6pm – 7.15pm
Venue: Singapore Botanic Gardens, Shaw Foundation Symphony Stage
Perhaps the most talented live performer and songwriter in the Nordics for years is coming to Singapore Botanic Gardens. 21 year's old Nicklas Sahl is one of Denmark's rising stars, and despite a musical career that recently kicked off, the naturally gifted musician has already performed in front of 30.000 people. Inspired by artists like Frank Ocean, John Mayer, Troye Sivan and James Blake, Nicklas' catchy tunes are described as pop music with a twist of Nordic melancholy and a desire for experimenting. Join us for a joyous evening and Asian premiere when the Royal Danish Embassy in Singapore, Finnair and Singapore Botanic Garden brings Nicklas Sahl to the Garden City.
This event is in conjunction with SBG160.
***********
Concerts subject to prevailing weather conditions.
Concert-goers are advised to take public transport.
Visit here for more information.
---
It is the one month June school break, we have compiled a list of activities and things to do this June School Holidays 2019. Click the image to find out more.
If you find this article useful, do click Like and Share at the bottom of the post, thank you.
Like what you see here? Get parenting tips and stories straight to your inbox! Join our mailing list here.
Subscribe to our Telegram channel at t.me/newageparents