Symphony Lake is a lake in the Singapore Botanic Gardens. It features a large stage known as the Shaw Foundation Symphony Stage built on an islet in the middle of the water body.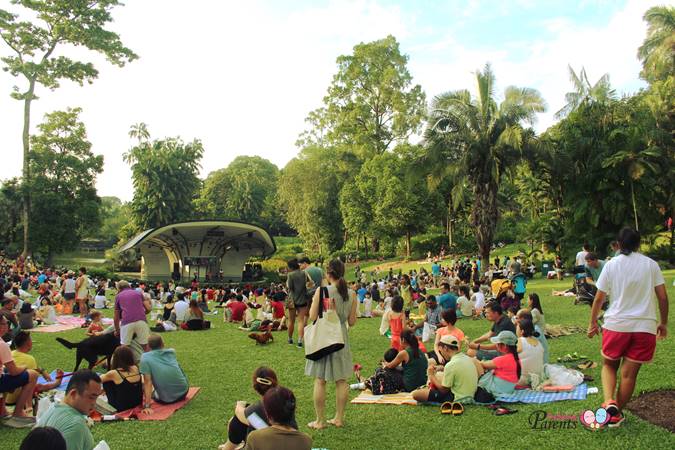 There are free concerts held regularly at Shaw Foundation Symphony Stage in Botanic Gardens Singapore. Here are some of the upcoming Free Concerts in the upcoming weeks.
Note: All details are correct as at the time of publishing. Readers are advised to check with NParks for the most updated schedules.
Jazz Association (Singapore) (JASS) Presents: Celebrating Singapore Botanic Gardens Heritage Festival 2018
Date: 7 July 2018
Time: 6pm – 7.15pm
Venue: Singapore Botanic Gardens, Shaw Foundation Symphony Stage
Jazz Association (Singapore) (JASS) is proud to present a concert, celebrating Singapore Botanic Gardens' 3-year inscription anniversary as a World UNESCO Heritage site.
In the spirit of uniting people from all corners of the globe through the universal language of jazz in this celebration, join JASS and its main orchestra, the Jazz Association Singapore Orchestra (JASSO) in this historical concert. Enjoy jazzy tunes from a repertoire comprising songs from original compositions by Singaporean jazz composers, international Jazz standards and newly-commissioned arrangements of jazz classics.
JASSO will be playing under the direction of Music Director Jeremy Monteiro. Our two special guest vocalists, Rudy Djoe and the "Godfather of Singapore Jazz" Louis Soliano, will lend their vocals to this occasion.
So sit back and let the universal language of jazz lift your spirit and stir your soul.
***********
Dance of the Violins
Date: 8 July 2018
Time: 6pm – 7pm
Venue: Singapore Botanic Gardens, Shaw Foundation Symphony Stage
Come and join us in a delightful hour of Rhythmic dances from well-loved classical composers performed by 150 young violinists and cellists ranging from just 4 years old to 16 years old.
From Vivaldi's Four Seasons to Tchaikovsky's Famous Serenade, the Singapore Botanic Gardens will come to life with these familiar favourites for the whole family to enjoy. Feel the beat, tap your feet, and sway along with Wolfgang Violin Studio's Young violinists and cellists.
***********
Rhapsody In The Garden
Date: 15 July 2018
Time: 6pm – 7pm
Venue: Singapore Botanic Gardens, Shaw Foundation Symphony Stage
The Dunman High Symphonic Band is a multi-award winning band, and has recently clinched the Distinction Award in the 2017 Singapore Youth Festival. Mr. Tan Yao Cong is the resident conductor of the Band.
The Band's mission is to inculcate the life-long interest and love for music and music-making in students as well as build a tight-knitted family of music-lovers in line with the band's motto being '军乐队一家人'.
Join us for a mesmerising and breathtaking evening with the Band's Rhapsody in the Garden concert. Be immersed in a world of dramatic and beautiful film music, where they will bring you well-known songs like Adele's 21, Concerto d'Amore, Mancini as well as TV and Cinema hits like Star Wars and Pirates of the Caribbean.
***********
Swing Latino
Date: 28 July 2018
Time: 6.30pm – 8pm
Venue: Singapore Botanic Gardens, Shaw Foundation Symphony Stage
Join us for a Salsa-licious evening with live music and the performance of six dancers from the world-class dance collective, "SWING LATINO" winner of multiple competitions in Colombia and worldwide.
A leading example of social transformation for the youth through Dance, from their hometown Cali-Colombia, the "Capital of Salsa".
This performance is presented by the Embassy of Colombia in Singapore.
***********
Symphony In The Gardens – The Straits Times Concert In The Gardens
Date: 29 July 2018
Time: 6.15pm – 7.15pm
Venue: Singapore Botanic Gardens, Shaw Foundation Symphony Stage
Join the Singapore Symphony Orchestra and Music Director Lan Shui for an evening of beautiful and exciting classical tunes including Mussorgsky's signature Pictures at an Exhibition – with narration! Sponsored by the Singapore Press Holding's Gift of Music series and supported by The Straits Times.
***********
Concerts subject to prevailing weather conditions.
Concert-goers are advised to take public transport.
For more information, visit here




---
Make full use of the weekend and take your kids out to these family-friendly events!

If you find this article useful, do click Like and Share at the bottom of the post, thank you.
Want more comprehensive info? Check out our e-guides here.