Symphony Lake is a lake in the Singapore Botanic Gardens. It features a large stage known as the Shaw Foundation Symphony Stage built on an islet in the middle of the water body.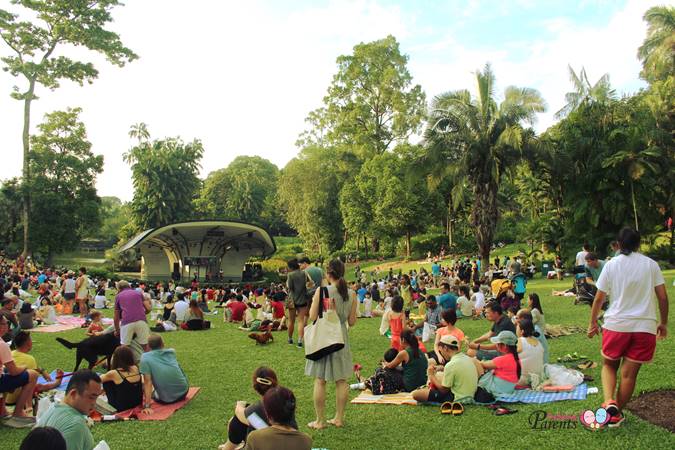 There are free concerts held regularly at Shaw Foundation Symphony Stage in Botanic Gardens Singapore. Here are some of the Free Concerts in the upcoming weeks.
Note: All details are correct as at the time of publishing. Readers are advised to check with NParks for the most updated schedules.
---
A Disney and Marvel Fantasy – (Postponed till further notice)
Date: 14 March 2020
Time: 6pm – 7pm
Venue: Singapore Botanic Gardens, Shaw Foundation Symphony Stage
ITE College West Symphonic Band, West Symphonia will be looking to start your March School Holiday by enchanting you with a little Disney magic and keep you in suspense with the power of the saviour of earth, the Marvel superheroes! With the ending of the Avengers series last year, we are sure the heroic deeds of these superheroes are still in your hearts and minds. What's more, enjoy the magical tunes from the Disney princes and princesses as the band brings you songs from Snow White, The Lion King and Pocahontas!
So sit back, reminisce on the Shows enjoyed by millions from all over the world and let the music carry your imagination back to the cinematic magic that captivated your inner child.
Music highlights from the following shows:
1) Pocahontas
2) The Lion King
3) Beauty and the Beast
4) Snow White
5) Avengers: Age of Ultron
6) Iron Man
7) The Avengers
8) Black Panther
9) Captain Marvel




*******************************
Evergreen Serenades at the Gardens
Date: 15 March 2020
Time: 6pm – 7pm
Venue: Singapore Botanic Gardens, Shaw Foundation Symphony Stage
OBOG Wind Symphony brings to you an evening of familiar earworms and songs for everyone – across age groups, generations, race and language. Be ready to hum and sing along to evergreen classics and tap your feet to upbeat pop songs. Look forward to their singers Ms. Tay Ke Wei and Mr. Jeremy Lee as they work with the band to deliver classic hits. It will be a perfect opportunity to gather with family and friends to enjoy a relaxing evening at the gardens while OBOG Wind Symphony and their singers serenade you!
*******************************
Taman Soka by NUS Singa Nglaras Gamelan Ensemble
Date: 22 March 2020
Time: 5.30pm – 7pm
Venue: Singapore Botanic Gardens, Shaw Foundation Symphony Stage
Taman Soka takes its name from the heavenly garden constructed by Ravana in the Ramayana to house Sita after capturing her. Singa Nglaras means "relaxing lion" (the word "nglaras" means both to "relax" and "to harmonize, tune"). Founded in 2004 by Dr Jan Mrazek of the Department of Southeast Asian Studies at the National University of Singapore (NUS), the ensemble have been bringing together musicians and enthusiasts of Javanese gamelan through public performances. Come and join us in this concert as they bring you through the classics of Javanese gamelan with a thematic melody that features the flowers, gardens, and the natural world.
*******************************
Memories of 2055- Worlds Beyond
Date: 28 March 2020
Time: 5.30pm – 7pm
Venue: Singapore Botanic Gardens, Shaw Foundation Symphony Stage
A concert by Tze Toh and TO ensemble
In the near future, as life on Earth becomes unsustainable, humanity takes the bold step to fulfill our dreams, to reach for the stars in search of a new home.
This is a concert story of our future: a 100 year journey as we leave our solar system to discover worlds beyond.
A sequel to Memories of 2055, this concert paints mysterious, beautiful worlds beyond Earth that our generation ships will encounter, and ponders over our existence, space, time, the fragility of life, and remembers our incredible resilience as a sentient species and our greatest gift – the ability to dream. While humanity's destiny lies in the stars, we only have one home, and that is Earth.
With original music by award-winning composer Tze Toh, Worlds Beyond is a multi-genre contemporary music concert unlike any other, a fusion of jazz, film score, classical, Carnatic music and Asian sounds. This performance will feature Lazar T. Sebastine (carnatic violin), Marvin Leung (saxophone), Wu Bingling (violin), Tze Toh (piano/keyboards), Izumi Sado (keyboards/voice) and Masato Miyata (acoustic bass).
Singapore Botanic Gardens is part of the National Arts Council's Arts and Culture Nodes Network.
Concerts subject to prevailing weather conditions.
Concert-goers are advised to take public transport.
Visit here for more information.
---
MARCH SCHOOL HOLIDAYS 2020
It is the March school break, we have compiled a list of activities and things to do this March holidays 2020. Click on the image to read more.
Want to be featured here? Leave your contact here and we'll be in touch.
Stay in touch! Subscribe to our Telegram here for all our latest updates.