Symphony Lake is a lake in the Singapore Botanic Gardens. It features a large stage known as the Shaw Foundation Symphony Stage built on an islet in the middle of the water body.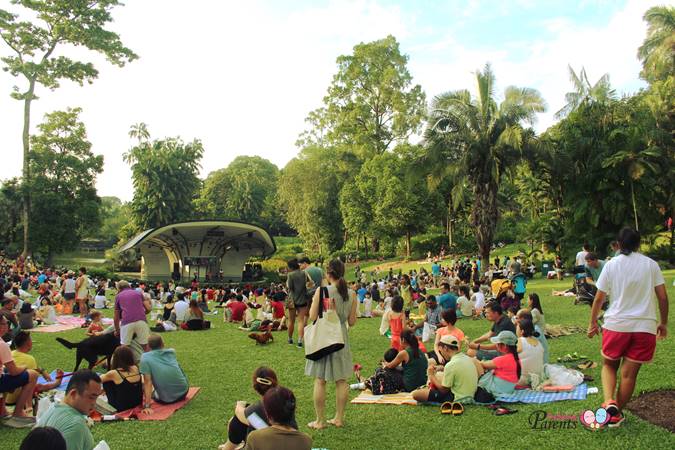 There are free concerts held regularly at Shaw Foundation Symphony Stage in Botanic Gardens Singapore. Here are some of the upcoming Free Concerts in the upcoming weeks.
Note: All details are correct as at the time of publishing. Readers are advised to check with NParks for the most updated schedules.
Opera at Twilight 2018
Date: 25 August 2018
Time: 5.30pm – 7pm
Venue: Singapore Botanic Gardens, Shaw Foundation Symphony Stage
The Opera at Twilight concert is Spot Pocket Opera Theatre (SPOT)'s musical gift to the community. Featuring some of Singapore's home-grown operatic and instrumental talents, this community event aims to bring the opera experience to people from all walks of society. Under the baton of conductor Vincent Chen, resident musicians from the SPOT Music Ensemble will perform alongside the 2018 artist line-up of operatic vocalists such as sopranos Felicia Teo, Evelyn Ang, Phoebe Chee, Charmaine Tan, tenor Jeremy Koh, bass-baritone Tao Chen Ming and others. SPOT will be joined by the first school harp ensemble founded in Singapore, the PL Cherubs Harp Ensemble (PLMGS), led by Magdalene Wong.
***********
Nan Hua High School Chinese Orchestra Family and Friends Concert
Date: 26 August 2018
Time: 10am – 12pm (TBD)
Venue: Singapore Botanic Gardens, Shaw Foundation Symphony Stage
The Nan Hua Chinese Orchestra seeks to share its love for creating and performing music through the Family and Friends Concert.
The concert will feature a wide variety of songs, ranging from traditional pieces to modern interpretations by up and coming local composers. All these will be presented through different ensemble configurations that showcase the unique traits that each instrument has on its own. Come and join us for an enriching and melodious evening!
***********
Families for Life My Family Weekend Picnic @ Singapore Botanic Gardens
Date: 1 September 2018
Time: 4pm – 7.30pm
Venue: Singapore Botanic Gardens, Shaw Foundation Symphony Stage
Celebrate My Family Weekend by joining Families for Life "My Family Weekend" Picnic happening on 1 September, an annual initiative organised by the Families for Life Council. Families can look forward to an evening of fun, laughter and entertainment amidst the lush greenery of Singapore Botanic Gardens. There will be music performances by 3 local bands – Abby Simone and Oli (Jazz), The Kollective (Acoustic) and Jack and Rai (Top 40). Enjoy fringe activities such as tote bag painting, bubble play, redemption of complimentary snacks from Families for Life Mobile Cafe and many other fun family activities from 3.30pm onwards! For more information, visit here.
***********
NAC-ExxonMobil Concert in the Park
Date: 2 September 2018
Time: 5pm – 6.30pm
Venue: Singapore Botanic Gardens, Shaw Foundation Symphony Stage
Roll out your picnic mats and soak in the infectious beats with your friends and family. Come tune in to original music by Noise Singapore artists Adia Tay, The Betts and Stopgap! Enjoy fringe activities and a pre-show performance by JAWN from 4.30pm onwards!
***********
NParks Live Out Loud: Battle of the Bands 2018
Date: 8 September 2018
Time: 6.30pm – 8.30pm
Venue: Singapore Botanic Gardens, Shaw Foundation Symphony Stage
NParks' open mic programme for local amateur performers, Live Out Loud, enters its 3rd season with a bang!
Catch 16 bands go head-to-head in battle as they jam their hearts out for a shot to win professional training sessions & perform at Rockestra®. YOU have a say in who wins so gather your friends and family for a party by the beach and help us discover Singapore's next big music talent!
***********
Concerts subject to prevailing weather conditions.
Concert-goers are advised to take public transport.
For more information, visit here
If you find this article useful, do click Like and Share at the bottom of the post, thank you.
Want more comprehensive info? Check out our e-guides here.