Symphony Lake is a lake in the Singapore Botanic Gardens. It features a large stage known as the Shaw Foundation Symphony Stage built on an islet in the middle of the water body.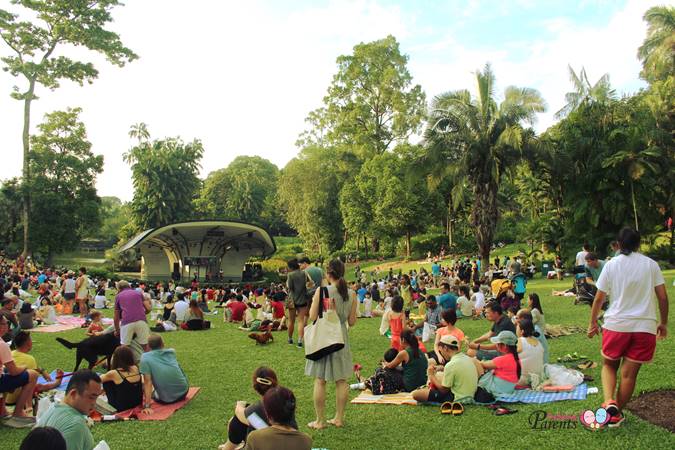 There are free concerts held regularly at Shaw Foundation Symphony Stage in Botanic Gardens Singapore. Here are some of the Free Concerts in the upcoming weeks.
Note: All details are correct as at the time of publishing. Readers are advised to check with NParks for the most updated schedules.
---
Musical Rhapsodies in the Garden
Date: 4 January 2020
Time: 6pm – 7pm
Venue: Singapore Botanic Gardens, Shaw Foundation Symphony Stage
New Gen Wind Symphony (NGWS) presents "Musical Rhapsodies in the Garden", in collaboration with Woodgrove Secondary School – Symphonic Band (WGSS-SB).
Audience can get to indulge in a series of wind band's classical and pop music amidst the wondrous nature of the Singapore Botanic Gardens!
A show not to be missed, do come on down with your loved ones and enjoy the nostalgic music with a good picnic amidst the wonderful nature!
*******************************




Arts@SBG presents NAC-ExxonMobil Concert in the Park
Date: 18 January 2020
Time: 6pm – 7.30pm
Venue: Singapore Botanic Gardens, Shaw Foundation Symphony Stage
Sing along with 1023, a homegrown a cappella group formed by six individuals who will make you sing your heart out! Be ready to Dream Big Drum Loud as ZingO Festival Drum Group carries you through a modern yet traditional music incorporated in their energetic performance.
*******************************
A Disney and Marvel Fantasy
Date: 14 March 2020
Time: 6pm – 7pm
Venue: Singapore Botanic Gardens, Shaw Foundation Symphony Stage
ITE College West Symphonic Band, West Symphonia will be looking to start your March School Holiday by enchanting you with a little Disney magic and keep you in suspense with the power of the saviour of earth, the Marvel superheroes! With the ending of the Avengers series last year, we are sure the heroic deeds of these superheroes are still in your hearts and minds. What's more, enjoy the magical tunes from the Disney princes and princesses as the band brings you songs from Snow White, The Lion King and Pocahontas!
So sit back, reminisce on the Shows enjoyed by millions from all over the world and let the music carry your imagination back to the cinematic magic that captivated your inner child.
Music highlights from the following shows:
1) Pocahontas
2) The Lion King
3) Beauty and the Beast
4) Snow White
5) Avengers: Age of Ultron
6) Iron Man
7) The Avengers
8) Black Panther
9) Captain Marvel
Concerts subject to prevailing weather conditions.
Concert-goers are advised to take public transport.
Visit here for more information.
---
CHINESE NEW YEAR 2020
We have compiled a list of Where to go during Chinese New Year 2020 especially for our readers. Click on the image to read more.
If you find this article useful, do click Like and Share at the bottom of the post, thank you.
Like what you see here? Get parenting tips and stories straight to your inbox! Join our mailing list here.