In Singapore's bilingual society, speaking English is considered the norm in most families and schools today. While many parents recognise the importance of creating a conducive environment to encourage bilingualism, they may be at a loss on how to get started.
As a result, many young children struggle to grasp the basics of Mandarin and may become discouraged early on in their learning journey. If you're looking for an effective programme to cultivate your child's interest in Mandarin and to nurture them in this area, here are our top choices of Chinese preschools and kindergartens in Singapore!
---
1. Singapore Hokkien Huay Kuan Preschool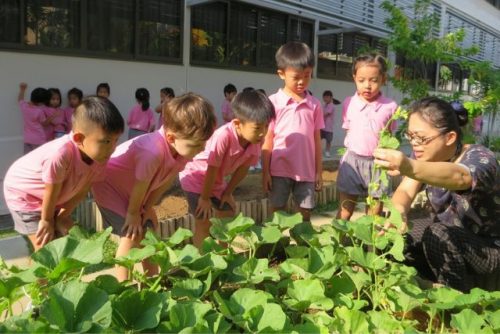 Singapore Hokkien Huay Kuan Preschool is a bilingual pre-school that offers a strong Chinese Language and Culture programme. Its holistic education incorporates practical life skills and strong character development for children aged three to six years old.
Beyond adopting the curriculum framework set by the Ministry of Education, this award-winning preschool lets your child experience Chinese as a living language through Applied Life Skills and Holistic Character Development using Chinese materials, while nurturing eco-habits and respect for Nature through Living Garden projects.
For more information, visit Singapore Hokkien Huay Kuan Preschool.
*******************************
2. Chengzhu Mandarin Kindergarten
Chengzhu Mandarin Kindergarten prepares children to cope with the Chinese curriculum in primary school without compromising the joys of early childhood!
With a holistic approach to learning, this established preschool also understands that the biggest concern for parents of young children is if their Mandarin will be good enough by Primary 1. Hence, from the start of N1 to their K2 graduation, students are primed for success.
Teachers build strong relationships with both children and parents, who are seen as integral to their child's positive educational development.
A comprehensive curriculum encourages students to investigate, experiment, observe and apply knowledge through learning centres, as well as through group and individual activities. Students enjoy discovering the world around them, simultaneously exploring their talents and strengths.
A systematic literacy scheme develops both Chinese reading and writing skills, while students study Maths, PE, and English in K1 and K2. Special events take learning outside the classroom, ensuring that language is relevant and experiences relatable. Focus on the arts, with specialist educators of Speech and Drama, Music and Movement, and Chinese Cultural Arts, further helps to develop strong language skills, creativity, self-expression and confidence.
Success and wonderment help make Chengzhu Mandarin Kindergarten dramatically different!
Address: 35 Rochester Drive, #03-01 Rochester Mall, Singapore 138639
Tel: 6737 5348
Email: enquiries@chengzhu.edu.sg
Website: chengzhu.edu.sg
*******************************
3. Mulberry Learning Chinese Preschool @ Fusionopolis
Established in 2006, Mulberry Learning is an award-winning Reggio-inspired Preschool with 11 locations across Singapore. Its new Chinese Preschool at Fusionopolis features a proprietary Chinese-immersion curriculum, for preschoolers aged 18 months to 6 years, crafted by educational experts with over 30 years of early childhood experience.
Mulberry Learning's Chinese-immersion curriculum focuses on building a strong foundation in Chinese. Classes in a child's early years are conducted primarily in Chinese (80%), accompanied by a gradual increase in English as the child reaches the Kindergarten years; effectively nurturing bilingual children primed for success in Primary School and beyond.
Through signature literacy programmes, children acquire an expressive vocabulary of over 4,200 Chinese words, master 80 Chinese idioms, and can recite more than 30 Chinese poems by age 6. They are also exposed to traditional Chinese calligraphy and culture while cultivating positive values via Habits of Mind™ and the Confucian teachings of Di Zi Gui (弟子规).
Furthermore, through the preschool's unique Reggio-inspired Project Inquiry™ programme, children act as little scientists, researching topics, conducting experiments, discovering new knowledge and presenting project outcomes, all conducted in Chinese!
Learning also extends beyond the preschool as Mulberry Learning's special International Friendship Programme allows children in Singapore to interact with fellow preschoolers from partner schools in Beijing and Shenzhen via video-conferencing. This allows children to practise the Chinese language, discuss their project findings and learn more about cultural nuances with their Chinese peers.
Address: 1 Fusionopolis Walk, #01-14/15/16, North Tower, Solaris, Singapore 138628
Tel: 6653 8082
Email: enquiry@mulberrylearning.com
Website: mulberrylearning.com
*******************************
Are you looking for a holistic bilingual Chinese-English preschool programme that develops your child's Mandarin skills and deepens their understanding of the Chinese culture?
At ELFA, we place great emphasis on the acquisition of Chinese oral language and reading. We strive to nurture our children's interest and build a strong foundation in Mandarin with early immersion in the Chinese language and culture.
ELFA's integrated thematic approach emphasises Chinese language acquisition and is designed by a panel of advisors from China and Singapore, in line with guidelines provided by Singapore's Ministry of Education. At the end of kindergarten 2, our students undertake the HSK-YCT assessment to benchmark their standards for P1 Chinese. All our students who sat for the assessment in 2019 passed with flying colours, with 45% of the cohort scoring full marks.
At ELFA, we have a Chinese-inspired art programme designed to build positive learning dispositions in children. The programme inculcates calm and composure, and help sustain their liking and appreciation for art through eastern and western art teaching methods. Our higher-order-thinking maths programme adopts a bilingual teaching format to bring alive mathematical concepts for in-depth understanding and sharpens thinking skills.
In 2020, ELFA celebrates operating Chinese preschools in Singapore for two decades. With a network of more than 30 preschool centres in Singapore and China, we are the most awarded Singapore preschool brand in China, attaining excellence in curriculum quality and school management. ELFA's award-winning bilingual programme is suitable for children between the ages of 2 months and six years.
Address: 2 locations islandwide – Pandan Valley & Serangoon
Tel: 6881 8818
Email: enquiry@elfa.edu.sg
Website: elfapreschools.com
*******************************
5. Little Green House Chinese Preschool @ Sin Ming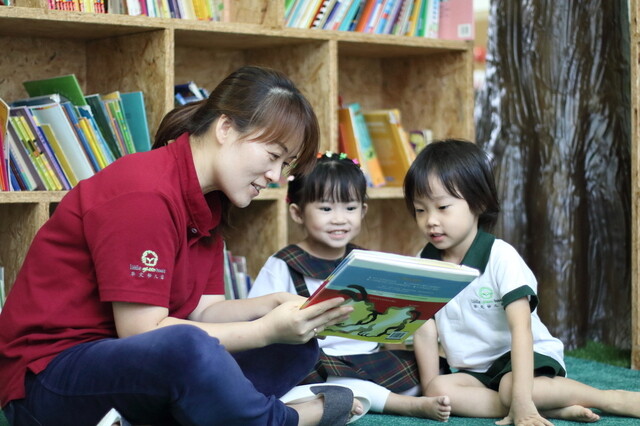 Established in 2005, Little Green House has 12 locations island-wide and is known for its award-winning Literacy SMART™ programme, a comprehensive curriculum framework that extends from the school to home. The strong partnership with parents helps to nurture children into fluent readers, confident speakers, and budding writers.
Its new Chinese Preschool at Sin Ming offers a Chinese-immersion curriculum based on Professor Howard Gardner's Multiple Intelligences approach, which recognises the different ways children acquire and retain knowledge. Each term, children learn through a Project Inquiry process where they discover more about particular topics, derive insights, test hypotheses, and present their findings. This multi-sensorial approach to learning is not only fun but also helps them remember information better.
In the Playgroup and Nursery years, up to 80% of classes are conducted in Chinese with increasing weightage on English towards the Kindergarten years to better prepare them for Primary School. Exposure to traditional Chinese cultures such as traditional Chinese calligraphy and poetry helps children gain a greater appreciation for the Chinese language.
Through the curriculum, children will become young maestros of the language, acquiring an impressive vocabulary of over 3,000 Chinese words, learn more than 35 Chinese poems, and 50 Chinese idioms by age 6!
Address: 32 Sin Ming Lane, Midview City Singapore 573954
Tel: 6653 7146
Email: enquiry@littlegreenhouse.com.sg
Website: littlegreenhouse.com.sg
*******************************
Note: All details are correct as of the time of publishing. While every effort has been made to ensure the accuracy and completeness of the information, no guarantee is given nor responsibility is taken for errors or omissions in the compilation. Readers are advised to check with the respective centres for the most updated details.
* * * * *
Like what you see here? Get parenting tips and stories straight to your inbox! Join our mailing list here.
Want to be heard 👂 and seen 👀 by over 100,000 parents in Singapore? We can help! Leave your contact here and we'll be in touch.