When enrolling your child in a pre-school, parents may be aware of the financial support and the grants offered by the Early Childhood Development Agency (ECDA), but few would have heard of the social support some pre-schools offer.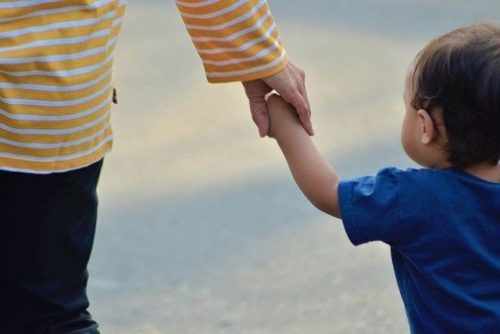 Knowing the availability of social support and the types offered may be a point of consideration when choosing a pre-school for your child.
Meera Krishnan, Senior Child Enabling Executive at NTUC First Campus (NFC), shares more about the different types of social support she has helped families at My First Skool (MFS) secure in her four years in the role.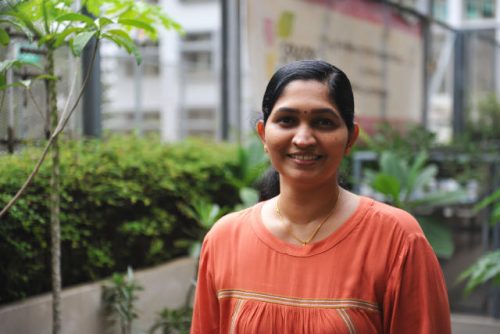 Meera Krishnan, Senior Child Enabling Executive, NTUC First Campus
First, what is social support?
Encompassing a much wider definition than financial support, social support is help offered in the form of resources – both physical and psychological, especially for vulnerable and lower-income families. This support may come in the form of buying books, bags, or food for the children and their families, or connecting parents to the right community partners for additional support. Unlike financial support, social support may not involve giving direct reimbursements of cash, but offers intangible benefits for one's social and emotional well-being.
At some pre-schools such as MFS, dedicated roles like Child Enabling Executives (CEE) are present to offer social support to the children and families in need. Through conversations with the families, CEEs will assess the needs of the children and their families and will work together with them to offer the social support they need. In doing so, they ensure that the child can continue to attend school regularly and have access to undisrupted quality education from a young age, regardless of their family background.
These are five ways CEEs can offer social support to families in need:
1. Connect parents to organisations that provide extra financial support
Some families may need extra financial support in addition to the ECDA grants offered, especially if the parents have difficulties securing a stable job. In such cases, the CEE will connect these families to the right organisations that can offer them additional financial support.
"The first organisation I would connect them to would be the Family Service Centres or the Social Services Office, which can offer direct financial assistance as well as job matching if the parents are unemployed," said Meera.
Based on their race, parents can also be connected to different organisations as listed below:
2. Assist parents with various applications to improve their family's lives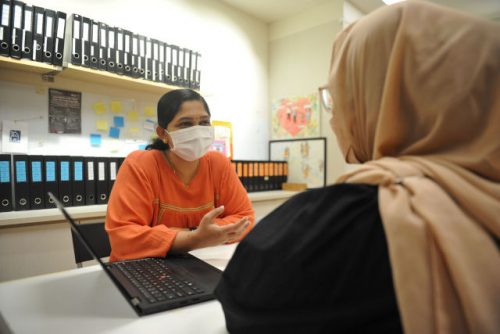 Meera walking through a P1 application process with a parent
Managing a family while navigating the various administrative processes in Singapore can be a source of stress for many parents. Having a CEE like Meera to guide and support parents in need through such processes can relieve their burden and give them peace of mind.
For example, an administrative task that some parents struggle with is the Primary One registration, especially since it became an online process in 2020.
"Parents struggled to adjust to the new arrangement. Most of them had no idea what to do or how to use the internet system. In addition, documents had to be submitted electronically and not all parents have the necessary equipment, such as a scanner, to do so," said Meera.
Meera has guided parents through various applications, such as primary school registration for their child, job referrals, and even those relating to housing as a CEE at NFC.
3. Provide emotional support and lend a listening ear
It may sound like a simple job, but it is not.
"Each family's problems and requirements are distinct. Sometimes what these parents need is to have someone offer a listening ear and emotional support," said Meera.
In 2021, Meera met a child who exhibited signs of behavioural issues despite receiving sufficient care from the staff at her pre-school. Realising that the child's behaviour was due to the strained relationship with her mother who had limited time to care for her, Meera approached the mother and encouraged her to share her difficulties and concerns.
The mother shared about the problems she faced at work and at home with Meera, explaining that she was uncomfortable discussing her problems with friends and relatives.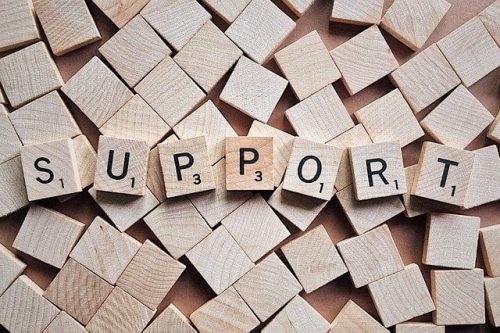 Through the talks, Meera provided a listening ear and inspired and motivated the mother. This resulted in the mother becoming more positive and having the drive to work harder to provide a better life for her child and her family.
When parents open up to CEEs through deep conversations over the phone or in person, they can regain their emotional capacity and focus better on caring for their children.
4. Seek donations of necessary items
Sending a child to often requires parents to purchase extra items, like textbooks, school uniforms, stationery and more.
CEEs can also provide social support by helping parents obtain these resources through donations from community partners and members of the public through platforms like PassItOn.
Once, a teacher alerted Meera that a two-year-old child often brought feeding bottles that were old and mouldy. Meera later realised it was because his parents did not have money to buy a new set of milk bottles. Thus, Meera sought donations and helped the child replace his milk bottles with a new set donated by one of the teachers at the child's school.
5. Use emergency funds to buy necessities
Some pre-school operators, such as NFC, may have a charity arm with an "emergency fund" that CEEs can tap on for urgent needs, or when donations are not available. At NFC, the emergency fund is supported by the , NFC's charity fund which provides financial support for pre-school children from low-income families.
CEEs often tap on the fund to purchase necessities, such as food rations, milk powder, and diapers for the children and their families. Recently, CEEs have also helped families purchase ART kits as some families may need to do a test before heading to work or school.
Which pre-schools offer social support?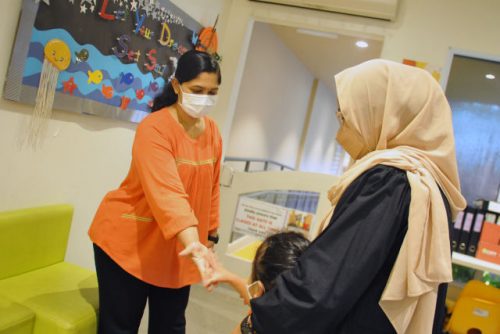 Meera engaging with parent and child at pick-up
Some pre-schools, including MFS, offer social support through the ECDA's KidSTART Programme.
At NFC, our Child Support Model provides a holistic, multi-pronged approach in supporting lower-income families and their children. We believe every child should achieve their best potential through a quality education regardless of their circumstances. In addition to providing social support to such families, NFC also offers financial support, health and nutrition support and learning support through a team of CEEs and learning support educators.
"Every child has the same right to a healthy start in life. As a CEE, we have the potential to assist children from low-income families in securing their rights, and this is the most significant impact we have on their lives," said Meera.
By NTUC First Campus.
* * * * *
Like what you see here? Get parenting tips and stories straight to your inbox! Join our mailing list here.
Running a service or business targeted for parents? Reach out to a wider audience in our Best Preschool compilation. Leave your contact details here and we will get in touch with you.