We're fast approaching mid-year where we'll be celebrating Father's Day and Dragon Boat Festival in addition to the one month June School Holidays in Singapore! June is also a month where we bring awareness to events such as World Environment Day and International Yoga Day.
We have sussed out new happenings in Singapore for June 2021 while we are in COVID-19 Phase 2 and 3 (Heightened Alert). Stay safe and healthy and remember to practice social distancing!
⇒ Related Read: Father's Day Gifts Every Dad Will Love
*******************************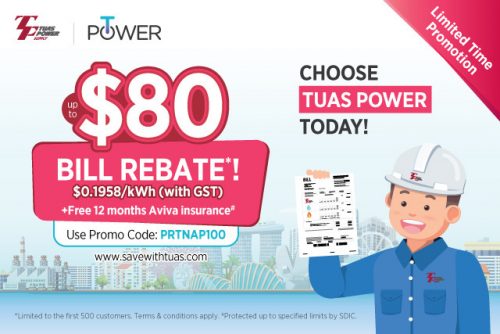 From now till 30th June, you can get up to $80 bill rebate* when you sign up for any 24 or 36 months plan online with the promo code <PRTNAP100>. That's not all, Tuas Power is giving customers who sign up a complimentary 12-month insurance plan# from Aviva, where you can choose from Home insurance, Dengue Aid insurance or Utilities Relief insurance.
With years of reliable electricity supply and experience coupled with competitive prices and positive reviews, they are truly a great choice for households to start saving. Check out Tuas Power's promotions here and sign up today!
*Terms and conditions apply. Limited to first 500 sign-ups and limited-time promotion. Bill rebate is inclusive of GST. #Terms and conditions apply. Protected up to specified limits by SDIC.
*************************************
2. Explore Art and Art-making with HWAHWAH
The June and summer holidays are here! What have you planned to keep the month meaningfully occupied and educational?
"Making with HWAHWAH" is a collection of thoughtfully designed art Experience Kits and tools for families and children designed to foster the mission that people of all ages and abilities enjoy, understand and take inspiration from the art of our time in ways that add value to their lives.
Making with HWAHWAH offers children fun and creative ways to explore art and art-making.
Visit our Experience Kits here.
*************************************
3. RAY Educators Online/On-Site Holiday Programmes
RAY specialises in providing the best possible holiday experiences for children from 4 to 14 years old. "Every moment with RAY will be the most fun your child can have while learning!"
Check out their exciting and enriching online and on-site holiday camps for your child: Online Kids Watercolour Classes / Online Baking Camp / Drama Camp – Heroes / Baking Camps – Baking Wonderland and Junior Chef / Young Inventors Camp.
Date: 31 May to 23 July 2021
Venue: Online/ Drama Centre, 100 Victoria Street (Bugis) / KAP Mall, 9 King Albert Park (Bukit Timah)
Book for 2 children or 2 camps to enjoy 10% off : PROMO code – HAPPYTWO
For more information, visit here.
*************************************
4. SustainableFest2021 [FREE]
Join us for a weekend of online fun with the family, ranging from DIY craft videos and virtual tours to a Facebook Live session on sustainable pest management and performances by talented musicians and artists!
Date: 26 & 27 June (Sat & Sun)
Time: From 9 am
Venue: This is an online event. Register and get more information on our website.
*******************************
5. Chocolate Whisky Cigar Roll by Pine Garden
Chocolate & Whisky: A match made in heaven! The underlying bold alcohol bite in the form of a Whisky jelly is offset extremely well by the bitter–sweet and lingering flavour of chocolate. A great SMOKIN' creation for Father's Day!
You can place your order here.
*************************************
6. Persuasion and Advocacy June Holiday ONLINE Workshops At The Rhetoric Collective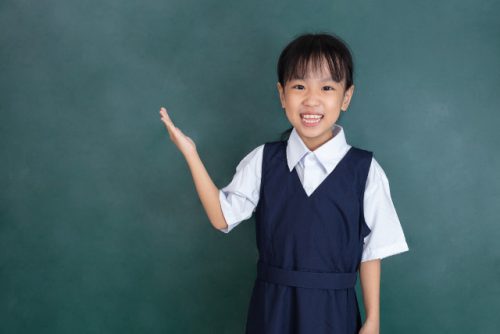 Equip your child with the necessary communication skills to navigate and compete in a COVID-19 world!
With decades of experience coaching students from all walks of life to improve their day-to-day communication and excel in competition settings, the Rhetoric Collective founders firmly believe that with the right tools and training, anyone can communicate and anyone can debate.
Sign up as a pair and enjoy a discount!
For more details on dates, promos, and registration, visit June Holiday ONLINE Workshops At The Rhetoric Collective.
*************************************
Hawker Wars is the latest card game from the studio that brought you Singapore's best-selling local game, The Singaporean Dream. In this game, you'll take on the role of a hawker, and compete with other players to cook as many dishes and earn the target points as fast as you can.
Hawker Wars will launch exclusively on Shopee starting 22 June 2021 retailing at just $20 with free shipping and cashback on Shopee.
For more details, visit here.
*************************************
8. British Council June Holiday Camps (Online)
The British Council's Holiday Study Camps are an opportunity for your child to explore the world beyond English and develop the 21st century competencies needed for academic and future success. Enjoy up to 25% discount! Book our British Council June 2021 Holiday Study Camp for your child now! These online camps will only be offered to Primary and Secondary students.
Date: 31 May to 25 June 2021
Venue: Online
For more information and registration, visit here.
*************************************
9. Modern Women of the Republic: Fashion and Change in China and Singapore Exhibition
Sun Yat Sen Memorial Hall (SYSNMH) will be presenting its latest special exhibition, Modern Women of the Republic: Fashion and Change in China and Singapore, which uses fashion as a barometer of societal change to shed light on the changes in women's status, roles and lifestyles since the late 19th century. The exhibition will display close to 100 artefacts and photographs, focusing on Chinese women's clothing and accessories from China and Singapore that span almost a hundred years.
Date: 12 June to 12 December 2021
Venue: Sun Yat Sen Memorial Hall (SYSNMH)
For more information, visit Modern Women of the Republic: Fashion and Change in China and Singapore Exhibition.
*************************************
Read! Fest 2021 invites you on a forward-looking journey of self-discovery. Take a moment to re-examine and refresh your lenses on day-to-day aspects that shape our lives.
Date: 25 June to 18 July 2021
For more information and registration, visit Read! Fest Singapore 2021.
*************************************
11. A Gift From Bob 再见街猫BOB
Based on the international best-selling books and the 'purrfect' sequel to the international hit film 'A Street Cat Named Bob' – follow James and his best friend, Bob on their new journey together. From the day James Bowen rescued a street cat abandoned in the hallway of his sheltered accommodation, they began a friendship that has transformed both their lives and touched millions around the world.
In 'A Gift From Bob', James looks back at the last Christmas he and Bob spent scraping a living on the streets and how Bob helped him through one of his toughest times – providing strength, friendship and inspiration. Ultimately teaching each other about the true meaning of Christmas spirit along the way.
Date: In cinemas from 17 June 2021
**************************
12. myFirst
Local children's tech brand, myFirst saw a gap and an opportunity to create and develop tech products catered specifically to the children's needs and allow them to safely grow up with technology without the fear of stranger danger or screen addiction. myFirst has a series of products, with the most recent being the myFirst Fone R1, a fun and innovative Music Smartwatch Phone that is equipped with a 2-megapixel inbuilt camera, clock, GPS and fitness tracker, and the revolutionary myFirst Sketch Book, a 10" LCD sketch pad for the children to imagine, draw and save their masterpiece on the device directly and sync it to their parents' phone.
**************************
13. Standard Chartered Singapore Marathon (SCSM) Kids Virtual Race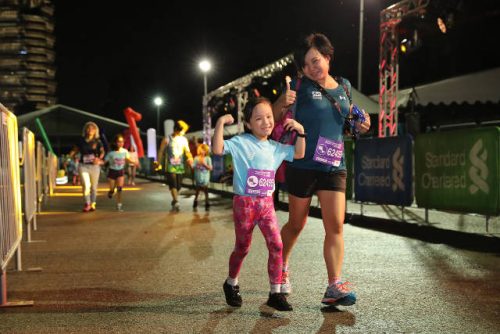 The event will be organised from 31 May to 30 June and will allow the registered child to take part in four races – each with varying distances – and compete with other children from Singapore and the rest of the world. As it is a virtual event, participants can run safely anytime (within the race period) and anywhere, and their results will be recorded on the Virtual Club platform.
Date: 31 May to 30 June 2021
Venue: Virtual Race
Event Distance: 1.5km | 2km | 3km | 3.5km
For more information, visit Standard Chartered Singapore Marathon (SCSM) Kids Virtual Race.
**************************
14. National Museum of Singapore Presents June Holidays Family Fun
This June Holidays, let the kids take a break from schoolwork and home-based learning and bring the whole family together to enjoy and participate in National Museum's family-friendly online activities from the comfort and safety of our own homes
Date: 2 to 26 June 2021
For more information, visit National Museum of Singapore Presents June Holidays Family Fun.
*************************************
15. CaringSG Webinars
CaringSG's Father's Day webinar will look at the important role of dads in special needs parenting. Hear from the guest speaker and three special dads who will share their experiences in guiding their children through varying life stages.
Guest Speaker:
– Mr Edwin Choy is the Co-founder of the Centre for Fathering Singapore. He is also a Certified Solution Focused Therapist and approved Solution Focused Brief Therapy supervisor.
Special Dads:
– Mr Kenneth Mah is the Vice President and Co-founder of the Rare Disorders Society (Singapore). He is a full-time caregiver for elder daughter, Chloe, with Pompe Disease.
– Mr Mohammad Ali Dawood is the Co-founder of MIJ Hub and Ashraf's Cafe. He is an aviation industry sales director who is a father to an adult son with ASD.
– Mr Yong Cheng Huat is a retired school principal and caregiver to 2 adult sons. Through their eyes, discover the importance of a father's involvement in the development of a special needs child.
Date: 19 June 2021
Time: 8pm – 10pm
Venue: This is an online event.
*******************************
16. Hari Raya Open House at MHC
MHC's Hari Raya Open House is an annual community celebration of Hari Raya Aidilfitri. Look forward to exciting programmes such as drop-in craft activities and online music performances that can be enjoyed by everyone!
Date: 5 & 6 June 2021
Venue: Online and Onsite at the Malay Heritage Centre
For more information, visit Hari Raya Open House at Malay Heritage Centre 2021.
*******************************
Note: All details are correct as at the time of publishing. While every effort has been made to ensure the accuracy and completeness of the information, no guarantee is given nor responsibility is taken for errors or omissions in the compilation. Readers are advised to check with the respective event organisers for the most updated schedules, venues and details.
---
It is the one month June school break, we have compiled a list of activities and things to do this June School Holidays. Click the image to find out more.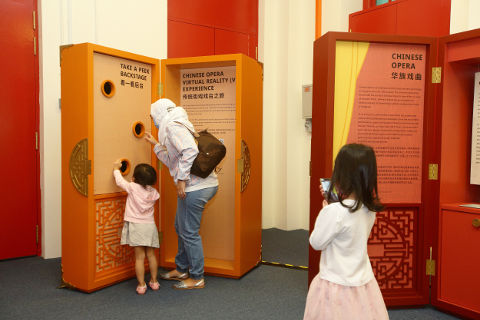 * * * * *
If you find this article useful, do click Like and Share at the bottom of the post, thank you.
Want to be heard and seen by over 100,000 parents in Singapore? We can help! Leave your contact here and we'll be in touch.