Your child is looking towards to a fun and exciting day ahead with activities planned and places to go, but unfortunately, he starts experiencing a mild allergy and it threatens to ruin his day. On another night, you find that your child can't sleep well due to his allergies, and this disrupts everyone's bedtime. What can you do as a parent to help your child with his mild allergy?
What are allergies?
An allergy is an exaggerated response of your child's immune system when he comes into contact with allergens. Allergens are substances that trigger allergic reactions and include dust mites, mould, pet dander (dead skin cells trapped in animal fur), and pollen.
His body mistakenly identifies allergens as harmful substances, hence attacking these allergens by releasing histamine into the body and causing your child to experience the symptoms of an allergy. Mild allergy symptoms include sneezing, runny nose, nasal congestion, itchy skin rashes, and itchy or watery eyes.
Some symptoms go away on their own, however, others inconvenience your child as they cause perpetual discomfort to his senses, prevent your child from focusing on the task or activity, or could result in unnecessary confusion if the symptoms happen to resemble those of a common cold.
How can you help your child manage his mild allergies?
If your child needs relief for mild allergic symptoms, parents can look for a non-drowsy over-the-counter solution such as Clarityn Grape Syrup.
From the world's #1 allergy brand¹, Clarityn has launched Clarityn Grape Syrup, which effectively relieves allergy symptoms such as sneezing, runny and itchy nose, watery itchy eyes, and itchy skin rashes. With just one dose daily, it provides 24 hours continuous relief for your child.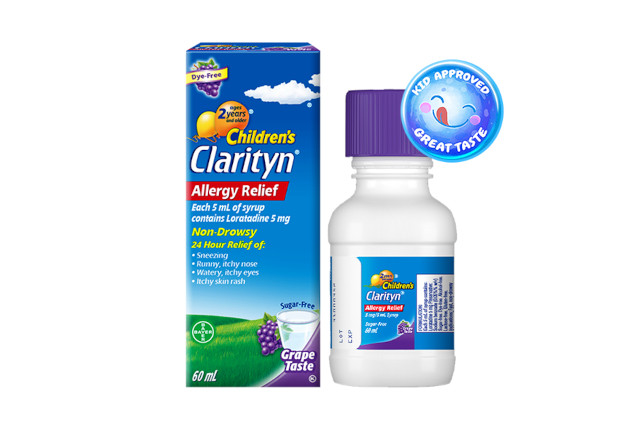 Clarityn Grape Syrup
As it comes in a syrup form with kids-approved, great-tasting grape flavour, it is easy to give to your child (aged 2 years and above). In addition, it is free from sugar, alcohol, dye, parabens, and is also non-drowsy, so your child can continue with his daily schedule.
To be prepared, parents can stock up on a simple first-aid kit for mild allergies to ensure that you have everything you need on hand. Besides allergy relief syrups like Clarityn Grape Syrup, you could stock up your first-aid kit with sanitiser wipes and a book or chart so that you can keep track of your child's allergies when they happen.
What if your child is less than 2 years old and has a stuffy nose?
Toddlers up to 2 years old are unable to blow their own noses to clear their airways. They also have more sensitive nose linings that require greater care.
To help your child who has a stuck nose or allergy symptoms, parents can use a nasal hygiene spray, such as ClariCare Baby Nasal Hygiene Spray, which is clinically proven as an effective solution to manage allergy symptoms naturally.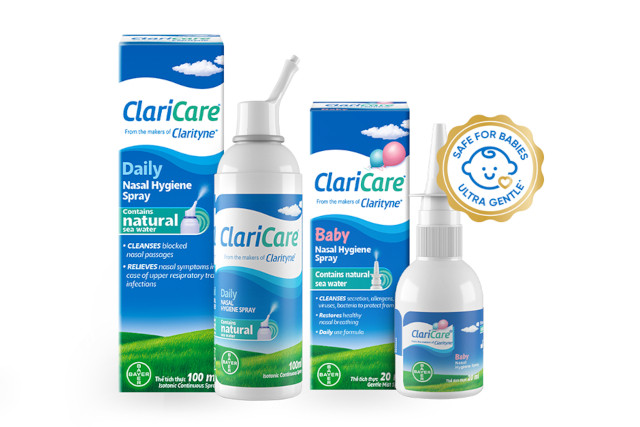 ClariCare Baby Nasal Hygiene Spray
From the makers of Clarityn, it is an isotonic solution that consists of naturally-sourced seawater from the Bay of Saint Malo, France. Specially adapted for ultra-gentle use on newborns from 15 days old, it is equipped with an ultra-gentle metered pump, even the most sensitive and baby noses can be cleaned effectively.
By spraying the ClariCare Baby Nasal Hygiene Spray into your child's nose, the solution cleanses the secretion, allergens, viruses, and bacteria in the nose, and hydrates his nasal passages so he can breathe comfortably. As it is preservative-free, it is safe to use daily to protect your child from colds and allergies. It also comes in a handy 20ml bottle which is easy to use and carry around.
Did you know: ClariCare has an adult version of the Nasal Hygiene Spray made from the same natural seawater formula and it is safe to use daily even for mothers who are pregnant or breastfeeding.
How can parents be better prepared to manage mild allergies?
With more information on the internet, how do parents know whose advice to trust? Clarityn has produced a series of useful articles on children allergies and how to manage them, be it indoor or outdoor, travelling with allergies, and even suggests daily and weekly allergy hacks parents can do to reduce mild allergies.
Clarityn Grape Syrup and ClariCare Nasal Hygiene Spray are available at all major retail pharmacies (Guardian, Watsons, Unity) and online, at Shopee and Lazada. For more information, visit Clarityn's Facebook and Instagram pages.
¹Based on Nicholas Hall Global OTC DB6 Database
This post is brought to you by Clarityn.
By Julia Chan.
* * * * *
Like what you see here? Get parenting tips and stories straight to your inbox! Join our mailing list here.
Want to be heard 👂 and seen 👀 by over 100,000 parents in Singapore? We can help! Leave your contact here and we'll be in touch.