It's easy to see when Chinese New Year is around the corner. The streets are adorned with red festive décor and you can see the hustle and bustle of many households shopping and preparing weeks before the celebration!
Chinese New Year (known as Lunar New Year or Spring Festival) is one of the most important events in the Chinese calendar and at the heart of it all is reunion dinners – a common tradition of Chinese New Year. Often, families and friends will gather to have reunion dinners on the eve of the New Year and with all the yummy food, it can be easy to get carried away with all the feasting.
It is important to still be mindful of our diet and what we drink during the festive season. Afterall, health is indeed wealth!
To have a healthy start to the new year, opt for healthy beverages in place of fizzy drinks. Allswell Asian Beverages offers nutritious and all-natural beverages that you should definitely consider this Chinese New Year – what's more, they are suitable for the whole family!
Natural, Beneficial and Enjoyable for the Entire Family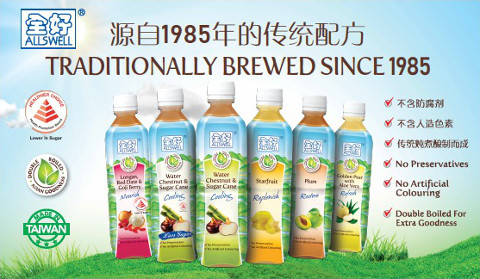 Produced in Yilan, Taiwan, homegrown brand Allswell Asian Beverages takes pride in its proprietary "double-boiling" manufacturing process. They focus on extracting and retaining the maximum natural goodness and flavours of the fruit so you can enjoy all the benefits of the fruit while the taste is not compromised.
Made with purified water and the finest quality ingredients to offer good health and well-being, Allswell Asian Beverages contain no artificial flavourings, colouring or preservatives so you can rest assured that you are giving the best to your family.
Choose from their natural range of double-boiled beverages, made with real fruit, featuring six different flavours – Longan Red Date and Goji Berry (Less Sugar), Water Chestnut and Sugar Cane, Water Chestnut and Sugar Cane (Less Sugar), Golden Pear with Aloe Vera, Plum and Starfruit.
There's no better time than to send these gifts of wellness to your family and friends this Chinese New Year!
Nourish Your Family with Allswell Longan Red Date and Goji Berry
Longan and red date tea is one of the commonly served teas during Chinese New Year due to their symbolism of reunion and prosperity. Traditionally, longan and red date tea is boiled and cooked the night before and served on Chinese New Year.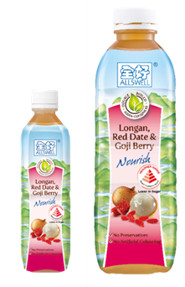 With Allswell Longan Red Date and Goji Berry, you can skip the hours of preparation – simply warm the bottle and serve your family the best quality double-boiled tonic!
The Double-boiled process brings out the best extraction of these two superfoods – red dates and goji berries which are full of vitamins and minerals that help boost the immune system, paired with longans to create a nutritious and refreshing beverage. Red dates are known for their medicinal and herbal benefits and the combination of longans and red dates also boosts the immune system and replenishes our blood.
This modern version of an all-time traditional favourite is definitely a good solution to stay nourished especially during the busy festive period!
Stay Cool this New Year with Allswell Water Chestnut and Sugar Cane
If you need a pairing for the upcoming hotpot meals, Allswell Water Chestnut and Sugar Cane is the perfect accompaniment. This best-selling flavour has been a favourite for more than 30 years and there is a good reason behind it!
Combining the refreshing flavour of water chestnuts with the sweetness of red sugar cane, it is the ultimate cooling beverage that will perfectly complement your meals.
In addition, water chestnuts have anti-inflammatory properties and contain Vitamin B-6, which helps regulate sleep and mood. Rich in antioxidants, sugar cane is a natural way to boost immunity against the common cold and minor ailments. Truly wellness in every sip and a must to load up this Chinese New Year!
Refresh Yourself with Allswell Golden Pear with Aloe Vera
As you begin the tedious spring cleaning for Chinese New Year, don't forget to restore your energy and refresh yourself as well! Featuring a boost of vitamins A, C, E and B1, B2, B3 and B6, the Allswell Golden Pear with Aloe Vera is the perfect refreshing drink that will surely refresh your senses.
Made of handpicked and perfectly ripened golden pears which contain micronutrients that are important for blood, bone and cardiovascular health, the drink also comes with deliciously chewy aloe vera bits. We're sure this refreshing drink will be a huge hit with the young ones at reunion dinners as well!
Bountiful New Year Giveaway with Allswell Asian Beverages
This Chinese New Year, Allswell brings to you the gift of wellness! From 1 January to 28 February 2022, stand a chance to win from a total of 8 Grand Prizes and 8 Consolation Prizes when you participate in their CNY contest.
Prizes include a EuropAce 3.2L Air Fryer worth $89 and a EuropAce 12L 2-layer Food Steamer worth $79!
Simply follow these steps to participate:
Purchase $5 worth of Allswell products in a single receipt.
Snap a photo of your receipt (keep the original receipt for verification purposes).
WhatsApp the photo of your receipt and your personal particulars (full name, NRIC / Passport – last 4 digits and contact number) to +65 8857 0138.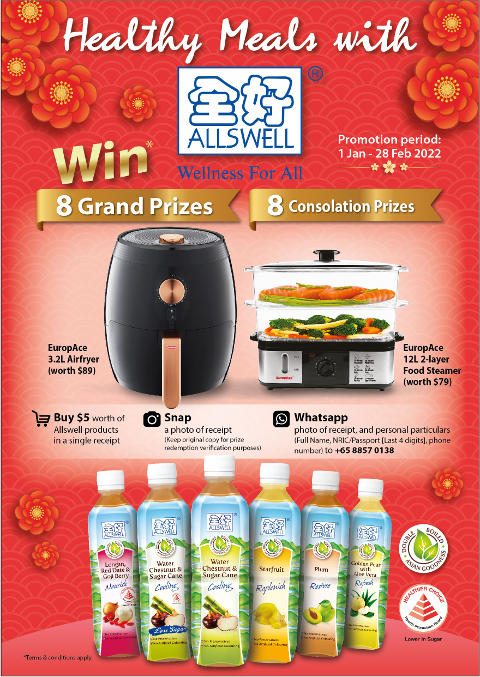 Allswell Asian Beverages is available at all major supermarkets, hypermarkets and convenience stores.
Find out more about Allswell Asian Beverages here.
Now till 21 May 2022, enjoy $3 off with a minimum purchase of $10 on any Allswell Products via Shopee by using ALLSTNAP Shopee Voucher Code.
This post is brought to you by Allswell Asian Beverages.
By Marinne Santiago.
* * * * *
Like what you see here? Get parenting tips and stories straight to your inbox! Join our mailing list here.
Want to be heard 👂 and seen 👀 by over 100,000 parents in Singapore? We can help! Leave your contact here and we'll be in touch.