Are you looking to nurture your confident child in a global environment, exposed to fun and engaging bilingual enrichment while bonding with you?
We're BibiNogs, a specialist bilingual English and Chinese language centre that develops your child to be confident, kind, expressive, and appreciative of global cultures. We believe that to enable your child to be bilingual, lessons should be a sensorial experience, engaging your child to spark wonder and curiosity in the world.
About BibiNogs
BibiNogs is a specialist bilingual and Chinese language preschool with engaging and sensorial experiences in our lessons to teach your child both English and Chinese languages.
Besides offering enrichment classes for children from 9 months to 7 years old, BibiNogs also offers parent-accompanied enrichment classes (suitable for children 9 months to 3 years old) for your child to improve understanding and literacy of Chinese and English language, adaptivity to global cultures, and many opportunities to form close bonds with you.
For example, in our toddler parent-accompanied enrichment, we use highly animated phonics and introduction to word blending techniques, combined with high-energy activities and colourful props, to keep toddlers engaged in a playful environment.
Here's what we have in store for your child to experience an immersive Chinese and English enrichment to build your child's confidence.
1. Sensory play for holistic development
Children learn faster when they can use multiple senses to explore and interact with their environment. With this in mind, BibiNogs plans hands-on activities like art & craft, object exploration (such as 'jungle slime' and fruit) and puppetry. Children also get to enjoy dedicated Sensory Play Days!
BibiNogs' immersive Chinese and English enrichment also engages the auditory skills of your child using Chinese and English nursery rhymes/poems, story-telling, dramatization and songs.
With different types of sensory play, your child not only improves language development and gross motor skills. He will also learn the rules of social interaction, problem-solving skills, and critical thinking.
"Nurturing, shaping and bringing out the best in Joyce are challenging roles for parents like us but it's fulfilling to see her learn, progress and at the same time enjoy and have fun. Task is made easy with a great school. Thank you so much, BibiNogs!" – Jocelyn and John (Parents of Joyce from Bilingual Tots Parent-Accompanied Program)
2. Multi-domain approach to learning
BibiNogs organises lots of activities both indoors and outdoors, using traditional and virtual media to bring across learning objectives in our curriculum.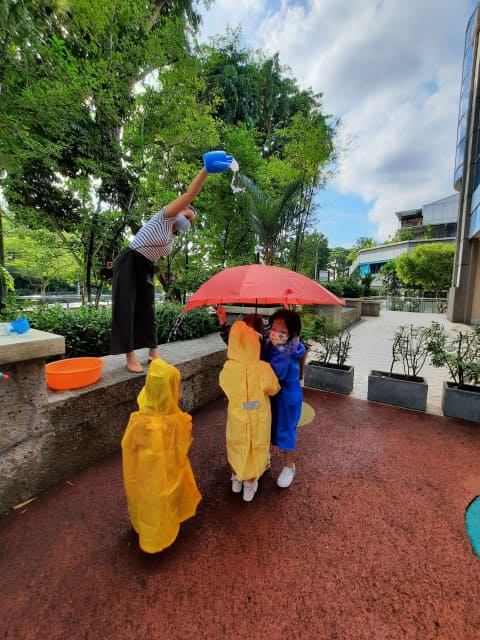 In our classrooms, we provide an assortment of activities such as interactive matching, public speaking, movement-based learning, and storytelling, where parents can co-participate with their children.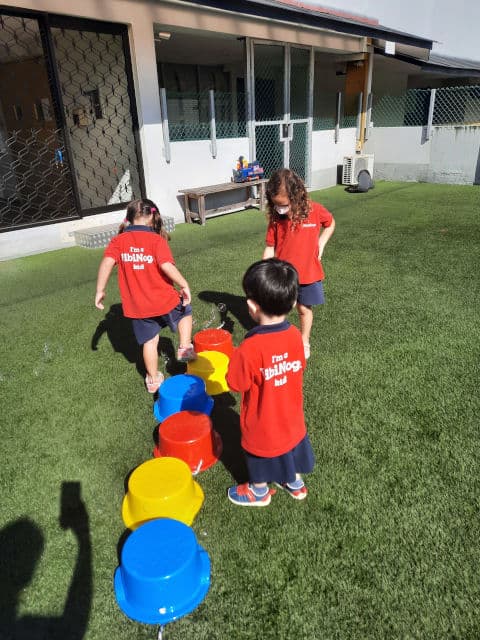 Children also have fun in the outdoors and get a healthy dose of sun, or go on physical and virtual excursions where we explore places such as local gardens, places of attractions, and even 'travel overseas' to Pulau Ubin!
3. Immersion in global cultures
With such a rich diversity of cultures on our planet, we find ways to bring different cultures into our classrooms. Festivals like Chinese New Year and Deepavali are great ways to introduce your child to be more appreciative of global cultures.
BibiNogs classes also incorporate the everyday life of global cultures in our themed exhibitions, such as Japanese Food Week.
Through our curriculum, we aspire to spark wonder and curiosity in your child's mind to grow into an enthusiastic, thinking learner, and a global citizen who thrives on learning even beyond preschool.
Our proprietary BibiNogs BE curriculum, designed based on the multi-domain approach, seeks to develop your child to BE confident and expressive, kind, and considerate, and appreciative of global cultures.
In our enrichment lessons, our curriculum is geared to enable your child to experience holistic development in Cognitive Development, Numeracy and Language Skills, Motor Skill Development, Social and Emotional Development, and Aesthetic Appreciation.
It's an exciting world of learning with BibiNogs, we look forward to welcoming you and your child to our wide range of enrichment programmes. Join in the fun with your child in our parent-accompanied classes too!
Visit us today at bibinogs.com to learn more!
This post is brought to you by BibiNogs.
By Julia Chan.
* * * * *
Like what you see here? Get parenting tips and stories straight to your inbox! Join our mailing list here.
Want to be heard 👂 and seen 👀 by over 100,000 parents in Singapore? We can help! Leave your contact here and we'll be in touch.