For most parents, choosing a pre-school for their child is a complex decision that may involve weeks or even months of research before eventually narrowing down the choices.
There are many considerations that parents have to take into account when choosing a pre-school. To help you kickstart your search for a pre-school, we list the following key factors to consider when deciding which pre-school is suitable for your child:
Accessibility
Affordability
Quality and Holistic Curriculum
Caring and Nurturing Teachers
Safe, Hygienic and Conducive Learning Environments
Nutritious Meals
Does a pre-school that fulfil the above criteria exist?
1. Accessibility
The morning rush to get your children ready for school is never an easy task. As such, many parents would prefer to send their children to a childcare or infant care that is within easy reach such as near their home, office or the primary caregiver's home.
With 145 centres island-wide, you can easily find more than one My First Skool in neighbourhoods like Tampines in the East, Yishun in the North, Jurong in the West and Telok Blangah in the South. The accessibility of My First Skool centres can definitely help save time and travel costs for parents!
In fact, when I was young, I attended the pre-school in Kallang when it was previously called NTUC Childcare. It was close to my mom's workplace so there was the added convenience for her as she could drop me off at the school before heading to work and pick me up when heading home.
2. Affordability
Providing your child with quality and holistic education at affordable prices is what My First Skool takes pride in.
My First Skool offers a bilingual and all-rounded programme for young children focusing on character development, development across six learning domains as well as providing them with exposure in various areas of interests such as STEM and ARTs. As My First Skool is a part of the scheme, the fees are capped at $420 (after working mother's subsidy before GST).
In addition, as part of their social mission, Bright Horizons Fund (BHF) is set up to make quality child development and care services accessible to every child. The funds are used to provide financial support, learning and well-being programmes for the children and their families.
During this challenging period where many families could be affected by COVID-19, BHF also steps in to provide additional support to families who have experienced a reduction in household income or loss of a job with 6 months of 100% fee offset off the net fees payable*. You can find out more here. 
3. Curriculum
My First Skool's quality and holistic curriculum is based on its PETAL pedagogical approach. Niche programmes such as STEM, Nature Learning and Arts are also offered at selected centres to give children additional exposure.
PETAL©
Children at My First Skool are empowered to learn through a pedagogical approach called PETAL© – Playing, Exploring, Thinking and Applying Learning.
Their holistic curriculum includes development across the six learning domains:
~ Language and Literacy
~ Numeracy
~ Discovery of the World
~ Motor Skills Development
~ Aesthetics & Creative Expression
~ Social & Emotional Development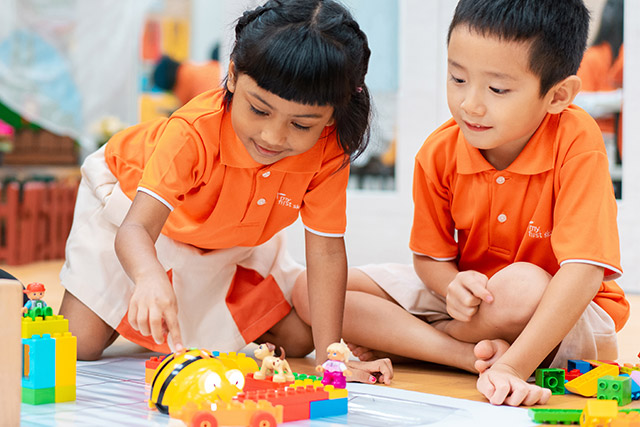 Niche Programmes
In selected centres, children are given additional exposure via niche programmes like STEM, ARTS, Bilingual and Cultural Intelligence, Nature Learning and more! There are dedicated STEM learning stations within selected pre-schools that are equipped with technology-enabled toys such as Bee Bots to cultivate creativity and critical thinking skills.
Besides STEM, children can also learn Numeracy and Science creatively through ARTS! Using the elements in their own artwork, they can pick up basic numeracy skills such as counting, adding or subtracting. They can explore the wonders of Science as well when making crafts on a certain theme such as animals living in rivers. They can learn interesting facts and draw references about the animals, their habits and diet through their crafts!
By making learning fun through art, children are able to absorb better and think freely and creatively!
4. Learning Environment
The learning environment at the school matters as this is the learning space where your child will learn, sleep and eat for a day. The team at My First Skool design their centres in a nurturing setting that is conducive to every child's growth and well-being with eight principles in mind such as safety and health and competence and autonomy and aesthetics.
My First Skool ensures that all equipment, materials and furniture in the centres are carefully designed and purchased for your child's safety. The team also takes extra note to combine function and aesthetics such as ensuring that there is always room for sunlight, good ventilation potted plants, little pets, paintings, 3D sculptures and artworks. You can rest assured that your child is always exploring and learning in a safe and conducive environment!
Video: My First Skool's Early Years Centre in Punggol that has won the BCA Design and Engineering Safety Award 2019 – Excellence
100% of My First Skool centres that are eligible for SPARK certification have been certified. SPARK Certification is given to pre-schools that have met the baseline quality standards in areas such as Curriculum, Pedagogy and Health, Hygiene & Safety.
In addition, to keep My First Skool's centres safe during COVID-19 period, all centres are equipped with commercial-grade UV sterilisers to clean and sterilise commonly used items such as toys, stationery and kitchen equipment. Centres have also increased cleaning frequency on all days and conduct three temperature checks per day to provide a hygienic and safe environment for your child.
5. Teachers
As a testament to the quality of care My First Skool teachers provide, the team of dedicated teachers have won numerous accolades such as:
ECDA Award for Excellence in Early Childhood Development
MOE Awards such as Outstanding Pre-School Chinese Teacher Award (Outstanding Award) & Pre-school Chinese Language Storytelling Aids Competition
SkillsFuture Fellowship
Early Childhood Development Agency (ECDA) Fellows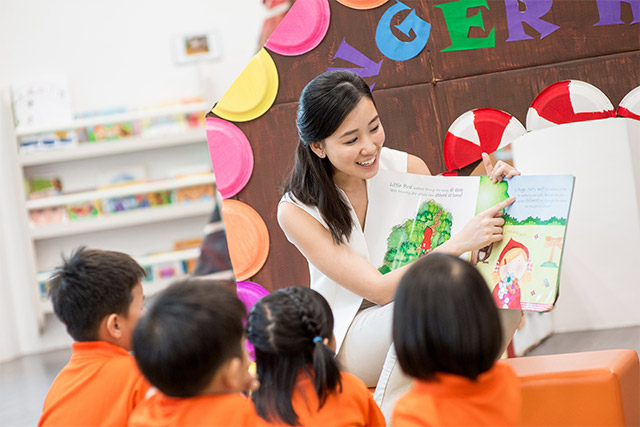 My First Skool's teachers are also equipped with the skills to conduct quality and holistic curriculum which also covers social and emotional well-being, ensuring your child is always learning!
6. Meals
Meals play an important role in a child's growth and development and at My First Skool and their meals are planned by in-house chefs and cooked in-house by caring and nurturing cooks daily!
84% of My First Skool centres are accredited with Healthy Meals in Pre-schools Programme (HMPP). The programme seeks to provide healthier meals and promote healthy eating habits among children. Centres that are part of the programme follow food service guidelines such as serving whole grains, fruits and vegetables, reducing fat, sugar and salt in their meals and serving healthy set meals.
To achieve the Platinum Tier in HMPP, pre-schools have to fulfil the criteria of achieving all three strategic thrusts (Supportive Environment, Targeted Intervention and Capacity Building) as compared to the Basic Tier that entails the Supportive Environment thrust.
And 78% of My First Skool pre-schools are accredited with the Platinum Tier, highlighting My First Skool's efforts in promoting school health promotion practices not just for their pre-schoolers but also parents and staff!
Check out My First Skool's menu to see the diverse range of balanced and nutritious meals My First Skool offers to your child.
What parents say about My First Skool
Cynthia's son, Asher, attends My First Skool at Blk 332B Anchorvale Link. She thanked the teachers at Anchorvale for taking good care of Asher and his friends in infant care.
Cynthia explained, "As first-time parents, we know how difficult your job is and we really appreciate your dedication to ensuring the children's well-being. We are excited to see Asher grow up into a curious little boy who is constantly learning more about the world around him and I am sure that you feel the same way."
"We noticed that he is developing new skills and becoming more well-behaved, thanks to the tender loving care that you constantly shower on him. We hope that Asher will create many more good memories in school over the next few terms," she elaborated.
To find out more about what parents have to say about My First Skool, click here!
How can I sign my child up for My First Skool?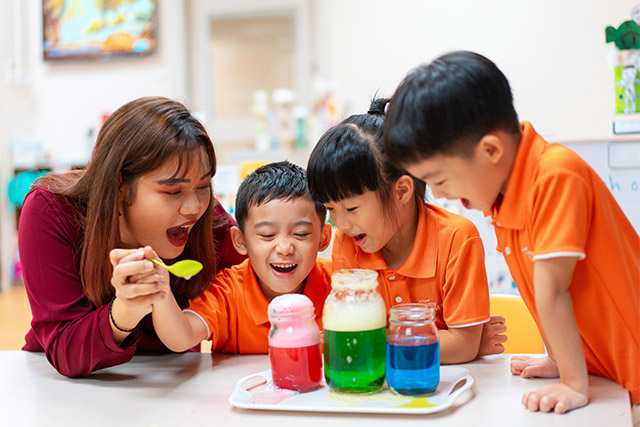 My First Skool registration is now open for 2020 and 2021! Receive a free $50 NTUC Fairprice voucher when you enrol at selected My First Skool centres (limited time promotion till 30 Sep 2020).
Find out more here.
Register with the #1 sought-after pre-school today!
This post is brought to you by NTUC First Campus' My First Skool.
By June Lim.
* * * * *
Like what you see here? Get parenting tips and stories straight to your inbox! Join our mailing list here.
Want to be heard 👂 and seen 👀 by over 100,000 parents in Singapore? We can help! Leave your contact here and we'll be in touch.