The average cost of raising a child in Singapore is estimated to be S$1,500 per month. Given that a married couple's average monthly household income stands at S$8,352 and nearly 18% of that combined income goes toward providing for a child.
With the introduction of Working Mother's Child Relief and HDB subsidies, parenthood has indeed become less financially taxing for parents.
However, the same can't be said for single parents, where they might not be fully supported by such policies and/or subsidies. To make it easier for single parents in Singapore to seek financial assistance, here's a guide to various support schemes and subsidies available.

Make use of Medisave schemes and grants to save on newborn costs
Delivering a baby in Singapore is an expensive affair – with the average total cost of prenatal care (e.g. genetic disease testing and gynaecologist consultations) and the delivery itself at S$1,577 (assuming it's at a public hospital, in a subsidised ward).
Single mothers can save on these pregnancy costs through the Medisave Maternity Package, which allows you to use your Medisave savings for pre-delivery medical expenses, delivery expenses and daily hospital charges.
Also, all single parents can use the enhanced Medisave Grant, where S$4,000 will be deposited into a newborn's CPF Medisave account, to help pay for the child's healthcare expenses, including MediShield Life premiums, recommended childhood vaccinations, hospitalisation and approved outpatient treatments.
➡️ Related Read: Comparison of Antenatal Costs and Patient Experience in Singapore
Deposit money into your child's Child Development Account to leverage dollar-for-dollar matching
While single parents are not eligible for the Baby Bonus Cash Gift (under the Baby Bonus Scheme), they do qualify for its other component: the Child Development Account (CDA), a special co-savings scheme for children.
➡️ Related Read: Difference Between Baby Bonus and CDA
The government puts in S$3,000 into the account upon the birth of your child. As a co-savings account, the government matches every S$1 you put into the account. This happens until your child is 12 years old and a limit set based on your child's birth order.
With current savings accounts rarely offering interest rates above 1% in this economic climate, this co-savings scheme is definitely a better way to multiply savings for your child.
Apply for child, infant care and kindergarten subsidies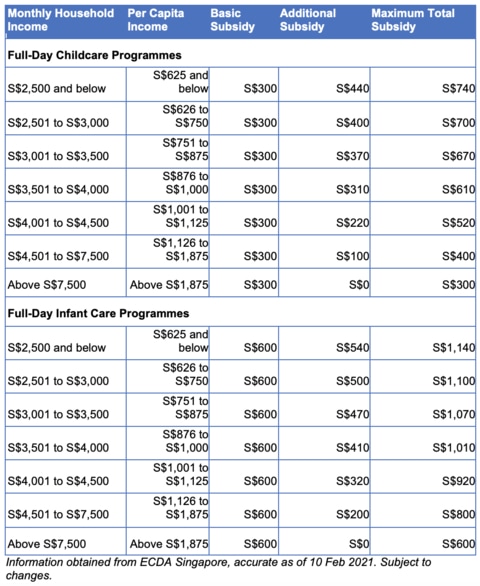 Every parent desires to take care of their child, however, single parents might need to consider childcare for additional help. For those who are unable to receive help from parents, the remaining viable alternative is childcare or an infant care centre (which can be expensive).
There are various subsidies available to relieve at least part of this financial cost. For example, the Basic Subsidy for Infant Care and Childcare entitles a working single parent to get up to S$600 subsidy on infant care, and S$300 on childcare.
Single parents with slightly older children need not worry as well; there are various schemes and financial aid tools that can help offset education costs. For example, the Kindergarten Financial Assistance Scheme (KiFAS) provides maximum fee assistance up to S$170 for a gross monthly household income not exceeding S$2,500.
Find practical and emotional help at Non-Profit Organisations
Single parents who require additional assistance (financial or emotional) can seek support from several non-profit organisations. For single mothers: the initiative '#asinglelove' by AWARE offers services and programmes designed to support and empower women and their children.
Other support groups also include the HELP Family Service Centre and As-Salaam PPIS Family Support Centre. Single parents struggling to meet their basic needs can approach the Social Service Offices as well.
And of course, it's always worthwhile for single parents to consider purchasing life insurance – just for that peace of mind if unforeseen circumstances make providing for your child no longer possible.
This post is brought to you by ValueChampion.sg, a personal finance research firm.
* * * * *
Like what you see here? Get parenting tips and stories straight to your inbox! Join our mailing list here.
Want to be heard 👂 and seen 👀 by over 100,000 parents in Singapore? We can help! Leave your contact here and we'll be in touch.