Keen to be a part of Singapore's 55th birthday celebrations 2020 held at Padang? There is no confirmed information on getting tickets for NDP 2020 based on the latest press release. (Likely not to have any audience)
As of 26 July 2020: It is confirmed that there will not be any tickets available for the general public. There will only be 10 spectators who are 'representatives of society'.
Some details of National Day 2020:
Morning: Strength of Our Nation
The Strength of Our Nation morning segment will focus on our history and traditions, and celebrate our strength and unity built up over the past 55 years. NDP2020 will begin with the Prime Minister's National Day Message, followed by a parade at the Padang reviewed by the President. As the historic site of the first-ever National Day Parade in 1966, the Padang serves as a fitting location to start a day of celebration. While the National Anthem is played at the Padang, flag-raising ceremonies will take place across the island as we call on Singaporeans to sing the Anthem together.
Parade at Padang
The Parade will be held in the Padang for NDP2020, a venue with deep historical significance. A traditional parade will take place with the President as the Reviewing Officer. The Presidential Gun Salute will also be held in conjunction with the Parade. Stay tuned to find out more!
⇒ Related Read: National Day Rehearsal Dates and National Day 2020
Fly Our Flag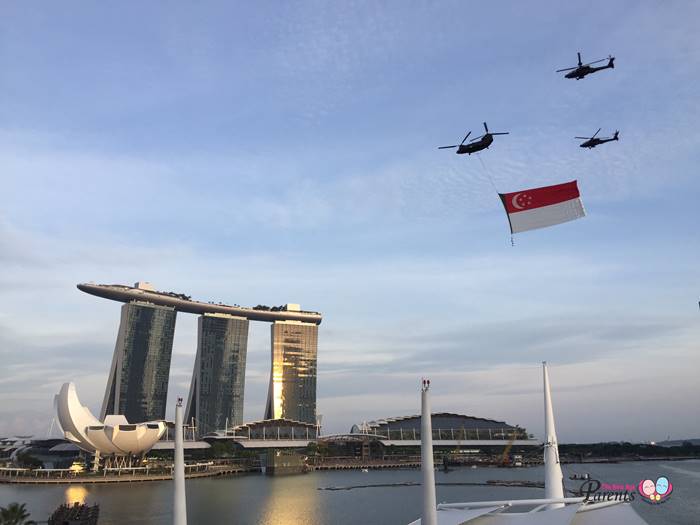 As the National Anthem is played at the Padang, concurrent flag-raising ceremonies will take place all across the island, to lead Singaporeans to sing the Anthem from where they are. Two Chinook helicopters, escorted by the AH64 attack helicopters, will be Flying our Flag across Singapore. Stay tuned to find out more!
Roar of Unity
The F-15SG fighter jets will also perform a Roar of Unity display over our housing estates, allowing Singaporeans to hear the sound of freedom and as a show of appreciation to our frontline fighters. Stay tuned to find out more!
Maritime Sailpast
In a special ode to the nation, vessels from the Republic of Singapore Navy, Home Team comprising of the Police Coast Guard, Singapore Civil Defence Force, and Maritime Port Authority will come together in a maritime sailpast in the waters off Marine Bay. Against the backdrop of the iconic Marina Bay Skyline that is now so representative of Singapore, this ode to the nation is indeed a special way to celebrate our nation's 55th birthday.
Mobile Column
This year, the Mobile Column will be returning to the heartlands. Featuring assets from the SAF and Home Team, the Mobile Column will travel across five different routes across various parts of Singapore. The Mobile Column will be brought even closer to the homes, and drive past key community places such as schools and hospitals. Stay tuned to find out more!
Red Lions
The Red Lions, a perennial crowd favourite, will make its appearance in the heartlands for the first time. Stay tuned to find out more!
Evening: The Show
In another first for NDP, an evening celebratory show will be held at an indoor venue, at The Star Performing Arts Centre. Instead of mass performances, NDP2020 will feature smaller-group items to convey a greater sense of intimacy and warmth. It will also feature performers comprising everyday Singaporeans as well as well-known local celebrities.
Singaporeans can expect an intimate and meaningful show that tells the inspirational and uplifting stories of real Singaporeans during this COVID-19 pandemic. Through films and live stage performances, the show aims to convey the messages of resilience, solidarity, optimism and hope. The show will also pay tribute to frontline fighters and community heroes who have made a difference during the COVID-19 pandemic. It will culminate in a nationwide anthem and pledge moment, with fireworks being set off from more than 10 different locations across Singapore.
Funpack
The NDP2020 Funpack – designed by aspiring artists with disabilities and Primary 5 pupils – will be distributed to every Singaporean and Singapore PR households to encourage participation both during and off-broadcast. This includes family-friendly activity items such as pledge cards and other celebratory items like handheld flags and torch filters that Singaporeans can use to participate in special moments of the show.
Singapore residents will be able to collect the National Day Parade 2020 packs at community centres or clubs (CCs) and residents' committee (RC) centres from 20 July to 2 August 2020.
Enter your Postal Code here to check where you can collect your NDP pack.
Collection times are from 10am to 6pm, excluding public holidays. Residents must present their NRIC at the collection counter for verification.
* * * * *
If you find this article useful, do click Like and Share at the bottom of the post, thank you.
Stay in touch! Subscribe to our Telegram here for our latest updates.