While we know it's irresistibly cute to watch your daughter tip-toe around in her little pink tutu, ballet actually has many benefits to offer such as learning poise, good posture and building confidence. In fact, classical ballet is the foundation of all dance genres – this is where proper posture, placement and control are developed.
Here is a list of ballet classes available for kids in Singapore.

1. One Dance Asia
One Dance Asia offers a range of ballet & contemporary dance classes for various age groups. We aim to create confident and happy dancers, while instilling correct technique and nurturing a passion for dance from a young age.
Kickstart your child's dance journey with our Baby Ballet for ages 2.5 – 4! Watch your child interact with others, learn to take instruction, make new friends and discover new ways to communicate and create.
We are also launching a new Progressing Ballet Technique (PBT) course for ages 9-12! PBT helps strengthen dancers' technique using simple equipment, at the same time helping with injury prevention and rehabilitation.
For more information, WhatsApp us at +65 8051 3772.
*******************************
2. Elevate Dance Academie
Elevate Dance Academie is an award-winning boutique dance school that inculcates highly versatile and disciplined young children through the vibrant nurturing of dance.
Photo credit: Elevate Dance Academie
Accepting students aged 3 and up, our primary focus is to provide quality dance education and coaching in three main genres of dance, namely the Classical Ballet (RAD), Modern Theatre (ISTD) and Jazz. Students get a truly holistic dance education through stage exposure, local & overseas immersion programmes, pre-professional and competitive training, all the while developing a great sense of discipline, artistic appreciation and resilience!
"Take It Beyond The Stage" – versatility in dance, versatility in life.
Visit here for more information.
*******************************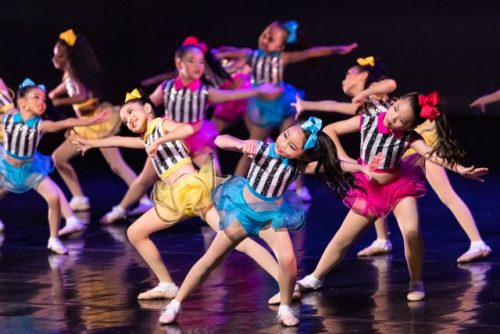 Photo credit: Crestar School of Dance
Established since 1977, Crestar School of Dance have grown to become one of the largest private dance schools in Singapore and Beijing. The school offers a diverse range of dance programmes such as our core Classical Ballet to Jazz, Contemporary, Rhythmic Gymnastics, Hip/ K-pop and more.
Our dance curriculum is developed by an international team of professionals in dance and music and proprietary aligned to examination boards such as the Royal Academy of Dance (RAD) and the Commonwealth Society of Teachers of Dancing (CSTD).
Sign up for a trial class here.
*******************************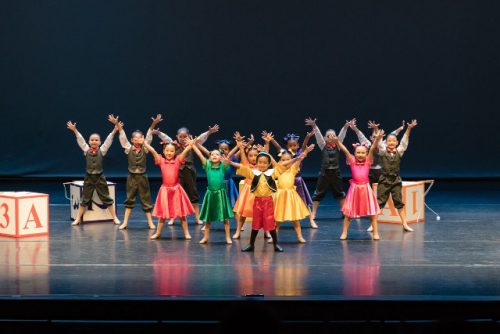 Committed to providing excellence in dance education, in a safe, supportive and nurturing environment, Jitterbugs Swingapore® encourages students to achieve their own personal potential, while experiencing the joy of dance. It offers a holistic dance education that encourages students to study multiple dance genres, from Classical Ballet, Modern Jazz, Tap to Contemporary Dance.
Ever wondered what goes on during a Tap Class for kids? Click here to find out!
Visit Jitterbugs Swingapore® for more information.
*******************************
5. City Ballet Academy
City Ballet Academy (CBA) was founded by Xia Haiying – award-winning Principal dancer of international repute, and Koh Kai Mui. CBA seeks to provide a well-rounded and balanced array of training programs catering to the unique needs, abilities, and learning goals of every student.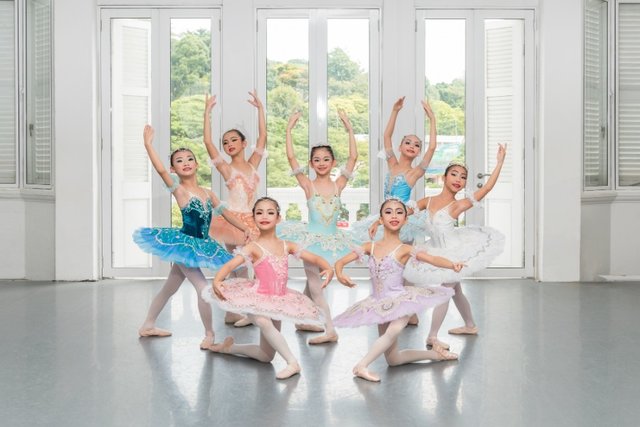 Photo credit: City Ballet Academy
For students seeking a professional future in ballet, their Elite Program provides accelerated pre-professional training. Through this program, CBA students have received full scholarships and entry into international vocational ballet schools across many shores, such as the English National Ballet School, John Cranko Schule (Germany), Elmhurst Ballet School, and New Zealand School of Dance.
They offer a range of classes and cater to different age groups such as pre and primary school. For more information, visit here.
*******************************
6. Dance Arts Singapore
Dance Arts Singapore is an established dance school (since 1983) providing excellent instruction for children and adults in different genres such as ballet, jazz, hip-hop, K-Pop, kickboxing and wedding dances.
Their ballet classes allow participants to receive a significant level of self-discipline and physical control in movement. An understanding of ballet theory is encouraged and an aesthetic awareness for the art is also created.
Dance Arts follows the Royal Academy of Dance syllabus as well as the Commonwealth Society of Teachers of Dancing ballet syllabus. Both syllabi offer examinations annually and they are conducted by external examiners sent down from the Academy.
Dance Arts has achieved a 100% successful passing rate for all their entered candidates! Dance Arts Singapore provides ballet classes for children as well as teens. Teen's Ballet classes are tailored to introduce ballet to teens who are interested to learn the genre but never took any formal training while growing up.
Currently, they have a pre-ballet free trial as well. For more information, visit here.
*******************************
7. Dancepointe Academy
Established in 2005, Dancepointe™, School of Classical Ballet, specialises mainly in Classical Ballet and expose their students to different dance genres with certifications in Jazz and Contemporary. Under the Royal Academy of Dance & Commonwealth Society of Teachers in Dancing (CSTD) syllabi, they offer comprehensive classical ballet training through a progressive curriculum designed for children ages 3 and above.
Photo credit: Dancepointe Academy
For children from ages 3 – 4, Dancepointe's Creative Pre School Ballet is an enjoyable way for them to channel their energy, develop physical skills, stimulate imagination and promote creativity. You'll also see props and toys being used in the classroom to cultivate the children's creativity and interest in the course!
For children aged 5 – 6, Pre Primary Foundation ballet course is a one-year of learning, ending with a CSTD "Come Dance With Me" (Level 2) Assessment and Class Performance Day.
For children aged 7 and above, they would be able to learn and perfect the ballet techniques necessary not only in the development of professional dance but also immensely beneficial for the general physique and coordination of the human body.
Visit here for more information.
*******************************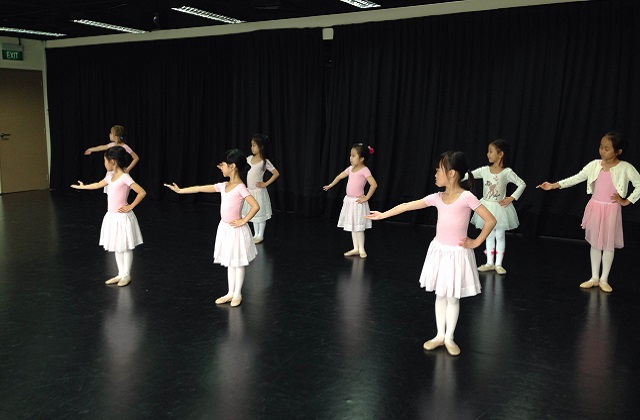 Photo credit: Stepping Out Studios
Opened in 2014, Stepping Out Studios has quickly established themselves as the school of choice for those with a love for dancing.
Conveniently located in City Square Mall, Stepping Out Studios' ability to develop their students' passion, creativity and technical skills have helped them to establish a loyal following. There are nearly 100 children's classes every week covering everything from Ballet to Acrobatics!
If you are looking for a high-quality dance school where your child can learn ballet, jazz or tap, Stepping Out Studios is the school to go to.
Visit Stepping Out Studios for more information.
*******************************
* * * * *
Want to be heard 👂 and seen 👀 by over 100,000 parents in Singapore? We can help! Leave your contact here and we'll be in touch.
Running a service or business targeted for parents? Reach out to a wider audience in our Best Enrichment Classes compilation. Leave your contact details here and we will get in touch with you.