This February, look forward to celebrating the Lunar New Year and Valentine's Day! If you're visiting during Chinese New Year or heading out for a special dinner with your loved one, remember to wash your hands and observe good hygiene habits. Let's keep safe and healthy as we celebrate with our family and friends this festive period!
Here is a compilation of new and interesting highlights happening in Singapore for February 2022 – do check back regularly as we'll be constantly updating this list.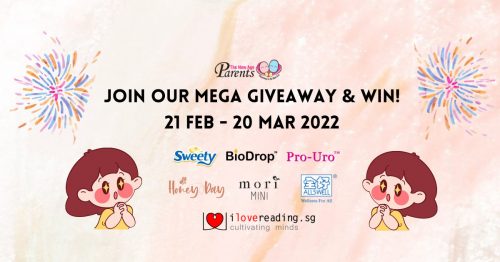 We are excited to launch TNAP MEGA GIVEAWAY 2022! There is a total of more than $2000 worth of prizes to be won ranging from baby diapers to reading magazines! Find out how to win via TNAP Mega Giveaway.
*******************************
2. Superland Pre-School Open House
Where learning meets happiness, that's the core foundation at Superland Pre-School. Established almost 25 years ago with 12 campuses across Singapore, we invite you to attend an open house to see first-class teaching, enrichment, and playground facilities.
Offering childcare and learning from 18 months to 6 years old, with some centers offering infant care from 2 to 17 months.
Starting in 2022 Superland Pre-School is proud to introduce a new 3-hour Kindergarten programme at our flagship campus, Ganges.
For exclusive on-the-day promotions, register for your open house tour here. Open house dates and promotions are available from February – April 2022.
*******************************
3. ClariCare Baby Nasal Hygiene Spray
Toddlers up to 2 years old are unable to blow their own noses to clear their airways. They also have more sensitive nose linings that require greater care.
To help your child who has a stuck nose or allergy symptoms, parents can use a nasal hygiene spray, such as ClariCare Baby Nasal Hygiene Spray, which is clinically proven as an effective solution to manage allergy symptoms naturally.
ClariCare Nasal Hygiene Spray are available at all major retail pharmacies (Guardian, Watsons, Unity) and online, at Shopee and Lazada.
For more information, visit ClariCare Baby Nasal Hygiene Spray.
*************************************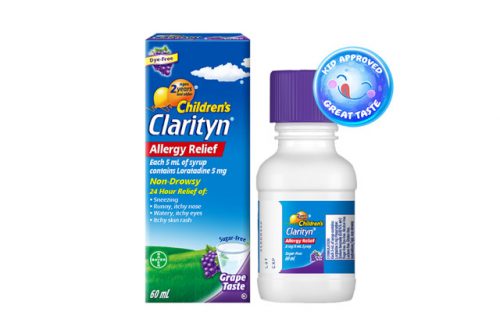 If your child needs relief for mild allergic symptoms, parents can look for a non-drowsy over-the-counter solution such as Clarityn Grape Syrup.
From the world's #1 allergy brand¹, Clarityn has launched Clarityn Grape Syrup, which effectively relieves allergy symptoms such as sneezing, runny and itchy nose, watery itchy eyes, and itchy skin rashes. With just one dose daily, it provides 24 hours continuous relief for your child.
Clarityn Grape Syrup is available at all major retail pharmacies (Guardian, Watsons, Unity) and online, at Shopee and Lazada.
For more information, visit Clarityn Grape Syrup.
*************************************
5. Celebrate Lunar New Year with Marks & Spencer
This Lunar New Year, Marks & Spencer continues to keep the magic alive with exclusive products such as the mouth-watering treats like the special edition box of golden mini bites that feature chocolate mini rolls layered in delicious chocolate buttercream and smothered in thick milk chocolate along with the famous Belgian and Swiss chocolates range, created by master chocolatiers that will make reunions with family and friends extra sweet.
M&S has also curated a wide selection of award-winning wines that pair fantastically well with the all-time favourite Bak Kwa! The jubilant cheer continues with curated designs and contemporary wardrobe essentials bound to guarantee a stylish Lunar New Year with refreshing colours and prints, bold Tiger motifs, playful slogans and mini me outfits, guaranteed to be a hit among adults and children!
*******************************
Unearth the lesser-known stories of Singapore during the Second World War with this year's Battle for Singapore initiative, where a thrilling series of guided tours and programmes await. For history junkies, be sure to try out the "Hike-and-Seek" online activity on the I Love Museums Facebook page to test your knowledge of significant WWII-related sites and win exclusive Museum Label merchandise!
Date: 12 February to 6 March 2022 (Weekends)
Time: Various timeslots
Venue: Various venues
Admission: Varies
For more information, visit Battle for Singapore 2022.
*************************************
7. Chingay50 @ Jewel Changi Airport
The annual Chingay will celebrate its Golden Jubilee with a landmark showcase at the iconic Jewel Changi Airport, bringing together two distinctive Singapore icons for a milestone celebration. Themed 'Ignite Our Dreams', Chingay50's spirit of passion and aspiration will ring true from within Jewel Changi Airport, a symbol for how we must dream boldly to create new possibilities for ourselves.
Date: 12 February 2022
Time: 8pm
For more information, visit Chingay50.
*************************************
8. CNY Celebrations at National Museum
Celebrate the Lunar New Year with the National Museum of Singapore! Usher in the Year of the Tiger with a lion dance performance on 4 February, and learn about the different aspects of the Lunar New Year through a variety of programmes on 5 February 2022!
Date: 4 to 5 February 2022
Time: 10am – 7pm
Venue: Venue: National Museum of Singapore
Admission: Free for Citizens and Permanent Residents
Non-citizens/PRs can get tickets online at Klook or KKday.
For more information, visit CNY Celebrations at National Museum.
*************************************
9. Wan Qing Festival of Spring 2022
Celebrate the Year of the Tiger at the Sun Yat Sen Nanyang Memorial Hall with Wan Qing Festival of Spring 2022! Join us for a rousing weekend as we usher in the Lunar New Year with an exciting line-up of programmes and activities, suitable for all ages.
Date: 13 to 14 February 2022
Venue: Sun Yat Sen Nanyang Memorial Hall
Admission: Admission is free; fees may apply for select programmes and activities.
For more information, visit Wan Qing Festival of Spring 2022.
*************************************
10. Lunar New Year at ACM
Usher in the Year of the Tiger with an array of programmes and activities at ACM. Learn more about celebrations associated with the Lunar New Year through online videos and onsite programmes, including guided tours, craft activities, and more!
Date: 1 February 2022
Time: All day
Venue: Asian Civilisations Museum (ACM), Onsite and Online. Programmes are free.
Non-citizens/PRs can buy tickets online at Klook or KKday.
*************************************
If you're looking for a place with full-on Chinese New Year festive vibes, look no further! Join us for an evening of festivities and celebration this Chinese New Year with something for everyone.
Date: 30 January to 6 February 2022
Time: Refer to post
Venue: Gardens by the Bay
Admission: Free (Pre-registration required)
For more information, visit Singapore River Hongbao 2022.
*************************************
12. Attack on Titan Exhibition
Attack on Titan: The Exhibition will make its Southeast Asian debut at ArtScience Museum, presenting the intricate world-building and vivid characters of the award-winning Japanese manga by Hajime Isayama.
The exhibition documents Hajime Isayama's creative process from the manga's earliest days to the present, featuring more than 180 items from his archives, including drafts, sketches, and never-before-seen pieces. His world will also be brought to life with displays of titans, characters, and objects from the manga.
Date: 19 February to 3 July 2022
Venue: Artscience Museum
Admission: Charges apply
For more information, visit Attack on Titan Exhibition.
*************************************
13. Rockestra 2022
Themed "Back to the Future", this show will take you on a musical journey through past and present hits as we celebrate our return to live concerts in a new normal environment.
Date: 19 February 2022
Venue: Fort Canning Park [Tickets are fully subscribed]
e-Venue: NParksSG YouTube channel or or NParksBuzz Facebook
For more information, visit Rockestra 2022.
*************************************
Every two years, high-level government and military delegations, as well as senior corporate executives around the world attend the Singapore Airshow to forge partnerships and seal deals in this region. As Asia's largest Airshow, this is the place to be for leading aerospace companies and budding players eager to make their mark in the international aerospace and defence market!
Date: 15 to 18 February 2022
Venue: Changi Exhibition Centre
For more information, visit Singapore Airshow 2022.
*************************************
15. Take a Scroll Down 'River of Life'
Photo courtesy of Verysmallexhibition
The hotel has partnered with Very Small Exhibition, an experimental art collective, to install special light art – as part of the Very Momentary Exhibition Series. The light up will be especially meaningful for couples who want to celebrate Valentine's Day with something different. Be sure to select the peaceful spots near the Singapore River to catch the exhibition.
For more information, visit River of Life at Grand Copthorne Waterfront Hotel.
*************************************
16. The World Of Nickelodeon Singapore 2022
The first-ever Nickelodeon-themed entertainment centre to hit our shores is the perfect destination for families to have a fabulous day out! A world of immersive games await you: Get to go on a Jellyfish Hunt, join the Adventure Bay Fire Rescue, try The Ninja Vertical Challenge, and have the bounciest time ever at the Jungle Jump-a-thon.
Standby your cameras for the show locations that you've always wanted to visit, and lookout for opportunities to meet your favourite Nickelodeon characters. Family-friendly delights for fans of all ages!
Date: 26 February to 17 April 2022
Time: 10am – 10pm
Venue: Let's Play @03-208/209, Marina Square Singapore
Book your tickets now at here.
*************************************
Note: All details are correct as at the time of publishing. While every effort has been made to ensure the accuracy and completeness of the information, no guarantee is given nor responsibility is taken for errors or omissions in the compilation. Readers are advised to check with the respective event organisers for the most updated schedules, venues and details.
---
CHINESE NEW YEAR 2022
We have compiled a list of Where to go during Chinese New Year 2022, especially for our readers. Click on the image to read more.
* * * * *
Like what you see here? Get parenting tips and stories straight to your inbox! Join our mailing list here.
Want to be heard 👂 and seen 👀 by over 100,000 parents in Singapore? We can help! Leave your contact here and we'll be in touch.