Singapore has a host of themed, competitive and charity runs every year. Want to introduce your child to competitive running? Or just looking for a fun and good workout for the whole family? We list down the many running events open to families with children in Singapore.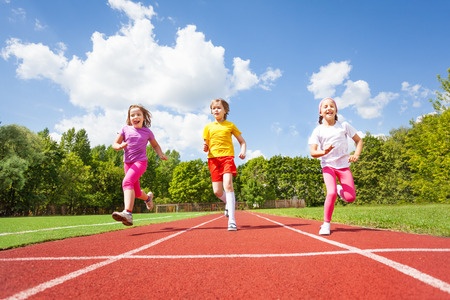 See also: Preparing your kids for their first run
For other up coming events, visit Events in Singapore.
Note: All details are correct as at time of publish. Readers are advised to check with the various event organisers for the most updated schedules.
#1 Mileage New Year Run 2017
Date: 1 January 2017
Time: 7am
Venue: Punggol Park – Waterfront Promenade
Event Distance: 10km Competitive Run | 5km Competitive Run | 2km Family Fun Run/Walk
For more information, visit www.mileage.sg/events.html
***********************************************
#2 Pokémon Run SG
South-east Asia's first Pokémon themed fun run brings aspiring trainers through Pokémon's iconic characters as participants get the chance to discover classic and latest Pokémon.
Date: 14 January 2017
Time: 8am
Venue: The Promontory @ Marina Bay
Event Distance: 5km Fun Run
For more information, visit Pokémon Run SG
***********************************************
#3 Run For Light
Date: 14 January 2017
Time: 5pm – 10pm
Venue: Gardens By the Bay (East)
Event Distance: 1km | 5km | 10km
For more information, visit www.spacebib.com/event/run-for-light-2017-158
***********************************************
#4 Safari Zoo Run
Date: 18 February 2017
Time: 6am – 11am
Venue: Singapore Zoo
Event Distance: 2.5km | 5.5km | 10km
For more information, visit www.safarizoo.run
***********************************************
#5 OSIM Sundown Marathon 2017
Date: 25 to 26 March 2017
Time: TBD
Venue: F1 Pit Building
Event Distance: 5km (6-12 years old) | 10km | 21.1km | 42.195km
For more information, visit www.sundownmarathon.com
***********************************************
#6 National Geographic Earth Day Run 2017
Date: 23 April 2017
Time: 2.30pm – 8pm
Venue: Gardens by the Bay, The Meadow
Event Distance: 5km Fun Run | 10km
For more information, visit National Geographic Earth Day Run 2017
***********************************************
#7 Income Eco Run 2017
Date: 30 April 2017
Time: 8.30am (Kids Dash)
Venue: F1 Pit Building
Event Distance: 800m (4-8 years old) | 10km | 21.1km
For more information, visit www.incomeecorun.sg




#8 STAR WARS™ Run Singapore 2017
Date: 6 May 2017
Time: 4pm – 10pm
Venue: Marina Bay area
Event Distance: 4.5km (Non-Competitive Run) | 10km
For more information, visit STAR WARS™ Run Singapore 2017
***********************************************
#9 Meiji Run
Date: 20 May 2017
Time: 3pm – 8pm
Venue: Sentosa Palawan Green
Event Distance: 5km (Fun Run) | 10km
For more information, visit www.meijirun.sg/race-info
***********************************************
#10 Cold Storage Kids Run 2017
Date: 28 May 2017
Time: 7.15am – 12pm
Venue: Palawan Green, Sentosa
Event Distance: 800m | 1.6km
For more information, visit www.kidsrun.com.sg
***********************************************
#11 DreamWorks Day Run 2017
Date: 24 June 2017
Time: 4pm-8pm
Venue: Gardens by the Bay – Bay East
Event Distance: 5km | Kids Dash (800m)
For more information, visit www.spacebib.com/event/dreamworks-day-2017-199
***********************************************
#12 POSB PAssion Run For Kids
Date: 10 September 2017
Time: 6am – 12pm
Venue: The Promontory@Marina Bay
Event Distance: 10km | 5km | 1.2km | 800m
For more information, visit posb.com.sg/runforkids
***********************************************
#13 Family Fun Race @ SCS
Date: 23 September 2017
Time: 2pm
Venue: Science Centre Singapore
Event Distance: N.A
For more information, visit regonline.sg/registration/Checkin.aspx?EventID=2019855
***********************************************
#14 B.I.G Farm Walk & Run 2017
Date: 8 October 2017
Time: 7am – 11am
Venue: Brickland Road
Event Distance: 8km | 3km | Kids Dash
For more information, visit B.I.G Farm Walk & Run 2017
***********************************************
#15 Standard Chartered Marathon Singapore
Date: 2 to 3 December 2017
Time: From 4.30am
Venue: Padang | Orchard Road
Event Distance: 42.195km | 21.1km | 10km | Kids Dash (600m)
For more information, visit singaporemarathon.com