March spells a one-week break for the kids! If you're on the lookout for activities to do, check out our list of new happenings and highlights for March 2023. Do check back regularly as we'll be updating the list frequently.
1. Learn about 💧 World Water Day at ELFA Preschools open house!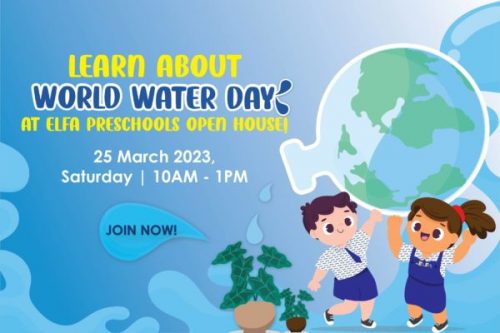 The world of water is fascinating to toddlers and growing children! Water is an essential element for life and living. Without water, life ceases to exist. Join ELFA in commemorating World Water Day with your preschooler by learning the importance of water through stories, exciting crafts and games. As a bilingual preschool with a strong focus on Mandarin acquisition, our Chinese teachers will guide your child through an immersive learning experience. Register for our open house today!
📅 25 Mar 2023 (Sat)
⏰ 10am to 1pm
Complimentary admission. Limited slots available. Pre-register here now and we will see you then!
Participating centres:
📍 ELFA Preschool @ Hougang
202 Hougang Street 21, #03-00 Singapore 530202
(Above Fairprice Finest)
Infant care service to be launched at Hougang in Q2 2023.
📍 ELFA Chinese Preschool @ Pandan Valley
3 Pandan Valley #01-316 Singapore 597627
(Inside Pandan Valley Condominium)

*******************************
We are conducting a parenting survey to understand our readers better and will be giving away $30 NTUC Vouchers to 4 lucky parents who take part.
Take part via TNAP Readers' Survey.
*************************************
3. EDOOVO Online Enrichment Classes
Stay on top of your child's learning this March break! Offering 3 core subjects, English, Chinese and Maths, EDOOVO's holistic curriculum is based on the MOE's syllabus and designed for children aged 3 to 8 to prepare them for a seamless transition to primary school. Taught by qualified teachers in a small class setting of up to 4 students, classes are kept fun and engaging with cool virtual to encourage active learning. Lessons are also reinforced with activity sheets and lesson replay available after each lesson.
With rave reviews from parents, find out why EDOOVO is a proven hit with kids! Book a free trial and get a chance to WIN 3 months of classes (worth $360) when you sign up for their class packages! Find out more at edoovo.com.
*************************************
4. SkyGems Academy: 21st Century Life Skills Courses
Holiday Workshops for 9 – 12 years old to enhance life skills!
Empower your child with 21st Century life skills of public speaking, communication, critical thinking and financial literacy. Listen to your child's podcast on Spotify or watch their presentation on YouTube. Enhance your child's digital portfolio! Our March 2023 holiday workshops:
Public Speaking: Presentation Skills, with presentations recorded and viewable on SkyGems Academy YouTube Channel
Public Speaking: Interview Skills, with interviews recorded and will be made available in Spotify as a Podcast
Spending Money With Integrity (ZOOM session)
Mention that you heard this from TNAP and you will get $20 off on top of current promotion!
Register your interest here now.
*************************************
5. Ottodot Zoom Tournaments
Join us as we explore the exciting world of Roblox, where your kids can participate in fun science games and learn new skills while having a blast. And the best part? They can earn Robux as they play!
Our tournament is fully remote, so your child can participate from the comfort of their own home. All they need is a device, an internet connection, and a desire to learn.
Don't miss out on this amazing opportunity to have fun and learn at the same time. Join our Roblox Zoom tournament today and let the adventure begin! Sign up for free!
Interested in winning Robux? Sign up here!
*************************************
6. Combi Joy Highchair Giveaway
In celebration of International Women's Day, COMBI would love to provide you the additional support throughout your parenting journey by giving away a Joy Highchair (Worth $399) to 1 winner with a newborn up to 6 months old! Ends on 21 March 2023.
COMBI Joy Highchair consist of the following:
✅ Adjustable Toy Bar to keep your child engaged
✅ Manual swing function that produces gentle beats to soothe your little one to sleep
✅ 5 Adjustable angles for the backrest which is connected to the footrest, ensuring that your baby is always in a comfortable position
✅ 5 Adjustable height seats for different needs
✅ 5 Adjustable tray levels, catering to your baby's growth
*Suitable for newborn babies to approximately 48 months (0 -18kg).
Terms and conditions apply.
Find out how to win here!
Can't wait to get one? COMBI Joy Highchair is available at COMBI showroom, all leading baby chains and major department stores or simply hop over to COMBI Shopee and Lazada!
*******************************
7. Combi Dreamy MC New Launch Promotion
Combi Dreamy MC is well-equipped with rubber wheels + locks, a fully covered soft inner seat cushion and one-touch 5 point seat belt for ultimate protection & comfort of your baby.
Other features:
✅ 5 adjustable seat heights.
✅ 5 adjustable angles/reclining for different needs.
✅ 3 level adjustable food tray and activities tray for babies of different ages, can also be removable too.
Suitable for new born – 48 months (Approximately 18kg).
Receive a Free Combi Plush Toy + handy Bib worth $79.80 when you purchase Dreamy MC Swing Chair.
Get yours today via Shopee. For more information, visit here.
*************************************
8. British Council March Holiday Study Camps
Unlock your child's potential this March with the British Council's Holiday Study Camps! The British Council in Singapore's Holiday Study Camps, for children in Kindergarten 1 to Primary 2, nurture your child's passion for learning and help build essential language, communication and critical skills through hands-on experiments and interactive learning.
Sign up today here.
For more information visit British Council March Holiday Study Camps.
*************************************
9. Van Gogh: The Immersive Experience
Photo credit: H&B, Exhibition Hub, Fever and Resorts World Sentosa
Feast your eyes on over 300 of the Dutch master's works through digital art projections, sketches and paintings, enter parts of Van Gogh's world in 3D, explore Singapore exclusive zones, or learn more about the traditional Japonisme movement that influenced many famous artists including Van Gogh – this experience promises something fresh for everyone to encounter.
📅 1 Mar to 31 Jul 2023
⏱ Resorts World Sentosa
You can get the tickets via Klook.
For more information, visit Van Gogh: The Immersive Experience.
*******************************
10. Get GungHo Kids March Holiday Camps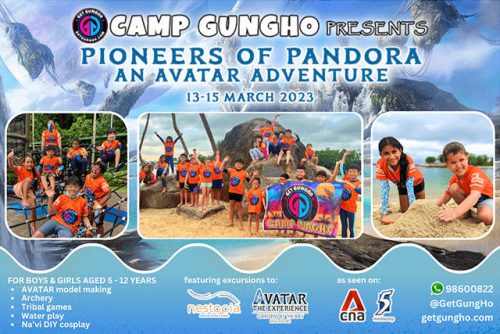 Are you looking for something fun, engaging and beneficial to your child's development and socio-emotional growth this school break?
Camp GungHo Sentosa welcomes all children, aged 5 to 12 years old to join our holistically designed and mindful camp Multi-Activity programmes that run throughout the school holidays.
Use TNAP Promo code TNAP380 to enjoy the Camp fee at $380.
For more information visit Get GungHo Kids March Holiday Camps.
*************************************
11. Julia Gabriel Centre Open House
With our unique EduDrama® methodology at the heart of everything we do, you can be sure that your child's experience with us will empower every stage of their learning, in all areas of life.
Visit us during our Open House weekend at Greenwich V or at our flagship centre in Forum to discover more.
📅 18 and 19 Mar 2023
⏱ 9am to 6pm
📍 Greenwich V
1 Seletar Road, #02-03/04 Greenwich V, Singapore 807011
📍 Forum
583 Orchard Road #04-00 Forum, Singapore 238884
Register for the free trial here!
Enjoy up to 15% programme fee discount for sign-ups during the Open House.
For more information, visit Julia Gabriel Centre Open House.
*************************************
12. ToTT Junior Chef
Keep your kids entertained this March School Holiday and get your kids to don their aprons, adjust their chef hats, and get ready for a gastronomical adventure together with ToTT! Join ToTT Junior Chef – The ultimate fun-filled Parent-Child Cooking and Baking Class. Under the guidance of our professional ToTT Chef Instructors, kids will learn to cook and bake from scratch!
Our classes include Asian Cuisine such as Japanese Udon, Western Cuisine such as fresh handmade pasta and pizza making, Macarons baking and Buttercream cake decorating.
Sign up now here.
*************************************
13. Singapore's SGD100,000 Cash Hunt is Back!
One SGD50,000 gold coin and one hundred SGD500 silver coins of total value SGD100,000 are hidden in various spots across the island over 30 days. Players are recommended to follow the hints on Sqkiis social media and real-time map on the game website to locate these coins and exchange them for cash.
Hints for the gold coin will be posted daily on social media. Circles on the in-game map, which indicate possible silver coin locations, will shrink every half an hour. Last but not least, and most importantly, the real-time map will also eliminate improbable gold coin locations at 10am, 2pm, and 6pm daily.
pandamart #HuntTheMouse
📅 9 Mar to 8 Apr 2023
⏱ Nationwide
For more information, visit here.
*******************************
14. LEGO Friends BFF Playdate
The LEGO Group unveils a brand-new universe of authentic and diverse LEGO Friends characters to celebrate diverse friendships in the modern world. Bring your best buddy to explore the new LEGO Friends Universe at the exciting LEGO Friends BFF Playdate!
Children can expect a screening of the new LEGO Friends Launch Special Episode, LEGO building activities inspired by the new LEGO Friends characters, a LEGO Friends photobooth, and many more!
📅 17 to 18 Mar 2023
⏰ 12pm – 8pm
⏱ Anchorpoint Shopping Centre, 370 Alexandra Road #01-32 S159953
🏷 Free. Registration here.
*******************************
Inspired by the theme of train travel, this year's Sakura floral display will see Flower Dome transformed into a landscape evocative of a scenic train journey across the most beautiful spots of Japan.
📅 11 Mar to 9 Apr 2023
⏰ 9am – 9pm
🏷 Admission Charges to Flower Dome applies.
You can get tickets online via Klook, KKday or Trip.com.
For more information, visit Sakura Floral Display.
*************************************
16. Methodist Preschool Enrolment Promotion
Enrol before 31 May 2023 to enjoy more than $420 worth of enrolment savings. Check out the promotion details here.
For more information, visit Mindsets: Critical Ones to Develop in Children.
*******************************
17. Bedok Methodist Preschool Open House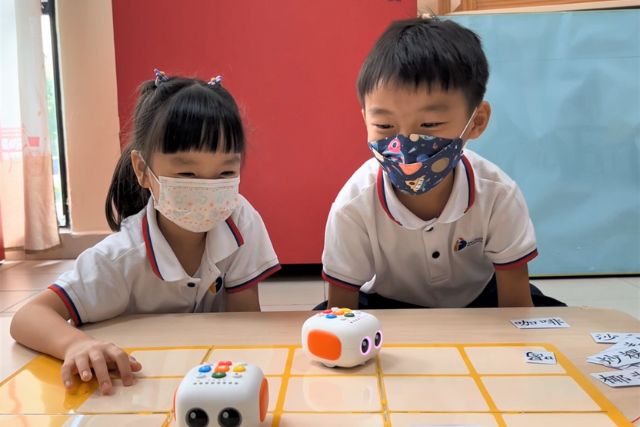 Would your preschooler like to learn Chinese while being exposed to basic coding through the use of a fun, interactive and colourful coding robot? Find out how learning is made enjoyable and effective while equipping our children with basic digital literacy with the use of innovative education technology companions at Bedok Methodist Preschool!
Speak to our educators at our Open House about our pedagogy and holistic STEM-based curriculum with distinctive Signature programmes. Tour our classrooms to check out our conducive learning environment and take a look at our students' accomplishments on display.
Walk-in Open House
📅 Saturday, 4 Mar 2023
⏱ 9am – 12pm
All are welcome. No registration is required.
*************************************
18. Tree Spirit / 森灵: Visions of the Arboreal by Lim Tze Peng
Delight in the lesser-known arboreal works of Lim Tze Peng, one of Singapore's distinguished artists and Cultural Medallion recipient, in Not gallery's exhibition, titled Tree Spirit/ 森灵: Visions of the Arboreal by Lim Tze Peng. Inspired by the sublimity of the magnificent banyan tree, visitors can now take a walk through 13 of this prestigious artist's body of work created between 2006 and 2008 that encapsulate, as he once mused, "visual poems of chaos".
📅 11 to 19 Mar 2023
⏰ 12pm – 7pm
⏱ The Arts House, Gallery II
🏷 Free
*******************************
19. DAS Preschool Seminar 2023
How do I tell if my child is at risk of literacy difficulty and early intervention is required? Do children with early literacy difficulties experience greater anxiety than their peers?
Parents and professionals working with preschoolers can gain practical insights to the above topics and more. Organised annually by the Dyslexia Association of Singapore (DAS), the DAS Preschool Seminar is back in a physical format this year to help parents and educators of preschool children acquire effective strategies to support their social-emotional, language, physical and cognitive development. The seminar will be hosted by an array of distinguished experts.
📅 13 Mar 2023
⏰ 8.30am to 1pm
📍 Lifelong Learning Institute, 11 Eunos Rd 8, Singapore 408601
Register here!
*******************************
20. Free Entry to The Polliwogs
This International Women's Day, treat yourself to a special day out with your kids at The Polliwogs! From the 6th to the 10th of March 2023, mums (and mummy figures) can get free entry when they accompany their children to the Vivo City and Clarke Quay Central outlets. What better way to celebrate and acknowledge women's remarkable achievements and contributions, especially mothers, than with a day of fun and relaxation with your little ones this International Women's Day? Visit The Polliwogs to enjoy this amazing deal now!
*******************************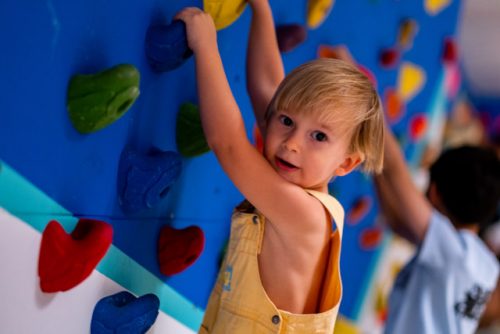 Climb@T3 will be located at Terminal 3 Basement 3. It will feature an 8-metre-high rock-climbing wall as well as a 12-metre-long boulder wall. The family-friendly facility will have both guided and free-and-easy programmes for climbers of varying skill levels, from as young as two years of age to adult enthusiasts.
Official Opening Date: 4 Mar 2023
For more information, visit Climb@T3 Changi Airport.
*************************************
22. Watch Rock Dog 3: Battle the Beat Movie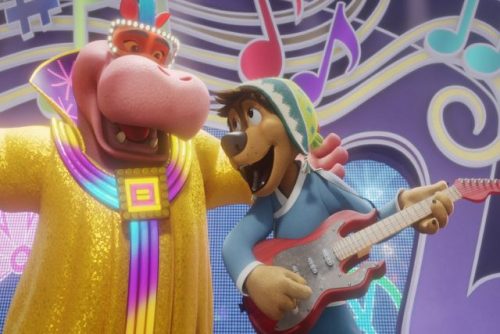 📅 In cinemas from 9 Mar 2023
From the award-winning team behind CLIFFORD THE BIG RED DOG – After touring the world BODI (Graham Hamilton) takes some time off and returns to his village. When Bodi learns that the girl group, K-9, doesn't know who Angus Scattergood (Eddie Izzard) is, he is compelled to join the musical competition show, Battle the Beat, to inspire a new generation of rock stars. But Bodi bites off more than he can chew getting involved with the TV show and loses sight of his goals becoming an over night TV personality sensation.
For more information, visit Rock Dog 3: Battle the Beat Movie.
*************************************
23. Have a Whale of a Time at IKEA Swedish Restaurant
What's little, blue, and almost too cute to eat? IKEA Swedish Restaurant is bringing in an adorable little whale bun with red bean filling ($2.80) this March. Catch one while stocks last!
IKEA Kids Eat Free from 13 to 17 March. For more information, visit Restaurants In Singapore Where Kids Eat For FREE.
*******************************
24. Crea8 Sustainability Competition
PacificLight, a Singapore-based power generation and electricity retailer, has launched its annual Crea8 Sustainability Competition, inviting Primary, Secondary and Tertiary students to submit innovative sustainability ideas to build a circular economy focused on upcycling and recycling.
The 2023 theme is 'The Green Key', inspiring students to explore sustainability and become climate positive. Primary students are encouraged to create upcycled artwork, while secondary and tertiary students are challenged to create short videos promoting sustainability. The competition runs until 7 April 2023 for primary and secondary levels and until 28 April for tertiary levels.
For more information, visit here.
*******************************
25. Singhealth Women's Health Webinar
Many women experience both physical and emotional changes after hitting the big 50s milestone. The risk of developing common conditions such as cataracts, osteoporosis, cardiovascular diseases and breast cancer also increases correspondingly.
The good news is these conditions are treatable if detected early. Our panel of specialists will discuss the symptoms, causes and the treatment options available.
Title: Healthy and Lovely in Your Golden Years – What to Expect in Your 50s and Beyond
📅 4 Mar 2023
⏰ 9am – 11.15am
⏱ Zoom
🏷 Free. Registration required.
*******************************
26. Food & Beverage Fair
One of the most popular and significant consumer F&B exhibitions in Singapore, showcasing over 200 F&B exhibitors and a plethora of local and Asian flavours, including your favourite brands and new product launches.
Expect to enjoy huge savings with unbeatable show-exclusive offers, a line-up of exciting food-themed activities, lucky draws, and contests.
📅 16 to 19 Mar 2023
⏰ 11am – 10pm
⏱ Singapore EXPO, Hall 6
*******************************
27. Disney On Ice Presents Mickey and Friends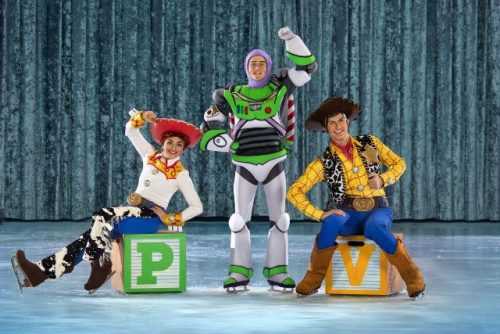 Grab your mouse ears this coming March school holidays 2023 and get ready for a worldwide party as Disney On Ice presents Mickey and Friends skates into Singapore. Produced by Feld Entertainment Inc., this production will inspire families to make memories they will treasure forever.
📅 11 to 19 Mar 2023
⏱ Singapore Indoor Stadium
For more information, visit Disney On Ice Presents Mickey and Friends.
*******************************
28. Meet Pikachu at Gardens by the Bay
Come and catch Pikachu performing at Gardens by the Bay this March!
📅 18 Mar 2023
📍 Flower Dome
🏷 Admission charges to Flower Dome apply
You can get tickets online via Klook, KKday or Trip.com.
For more information visit Meet Pikachu at Gardens by the Bay.
*************************************
29. Hari Raya Light Up at Geylang Serai 2023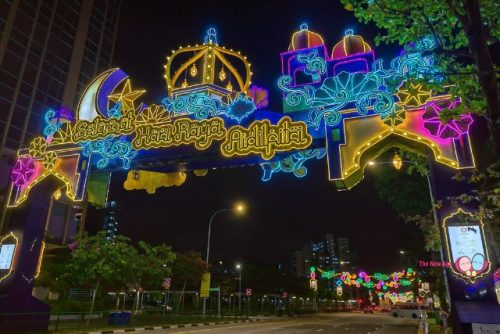 The annual Hari Raya Light Up 2023 @ Geylang Serai, street lightings and decorations along Geylang Road and Sims Avenue will be launched on 17 Mar 2023 during the Hari Raya Light Up Launch show. Carrying the theme "Masyarakat Gemilang – Community of Success", it aims to symbolise how the Malay / Muslim community has thrived as a community together, recovering from disruptions caused by the pandemic, by demonstrating the 3 Cs – Competency, Character, and Citizenry.
📅 17 Mar to 21 Apr 2023
For more information, visit Geylang Serai Hari Raya Light Up 2023.
*************************************
30. Free Bloobox Recycling Box
As part of the Recycle Right campaign, each residential household will be able to collect one recycling box ("Bloobox") to set up a recycling corner and start recycling at home.
NRIC and long-term FIN holders staying at a residential address can collect the Bloobox on behalf of your household from any Bloobox-dispensing vending machine.
Paper, plastic, metal and glass recyclables, as well as e-waste, can be placed in the Bloobox, and brought to a nearby blue recycling bin/recycling chute or e-waste bin respectively. Households are encouraged to reuse the Bloobox for as long as possible as it can be washed and reused.
📅 19 Mar to 30 Apr 2023
For more information, visit here.
*************************************
31. Transformers: Rise Of The Beasts Statues World Tour
In anticipation of the launch of blockbuster movie, Transformers: Rise Of The Beasts launching in Singapore cinemas and worldwide this June, United International Pictures Singapore gives fans an early kick-off by being the first stop in Asia to showcase two majestic life-size statues of Optimus Prime and Optimus Primal as a part of the Transformers: Rise Of The Beasts Statues World Tour.
📅 17 Mar to 10 Apr 2023
⏰ 5am – 12am
📍 Admission is free
🏷 Silver Leaf
For more information, visit Transformers: Rise Of The Beasts Statues World Tour.
*******************************
32. Beaute Hub – Edupod Junior Art Competition Exhibition
ION Art gallery presents Beaute Hub – Edupod Junior Art Competition: An Exhibition, a stunning display of artworks by children aged four to 12 years old. These are finalist works of the Beaute Hub Junior Art Competition that showcases the creativity and talent of the next generation of artists. Themed My Singapore, Our Future, a total of 45 artworks in different mediums, from Chinese ink to graphite, watercolour to acrylic and oil, celebrate the youthful imagination and artistic expression of the artists' perspectives of Singapore. Visitors can look forward to an exhibition tour led by Gallery1819's Art Consultant and participate in family-friendly art-making activities at the activity corner till 21 March.
📅 16 to 21 Mar 2023
⏰ 10am – 10pm
🏷 ION Art gallery, Level 4
For more information, visit here.
*******************************
33. Chengzhu Mandarin Centre Open House
At Chengzhu, we ensure that every individual enjoys the process of learning from the very beginning and flourishes as a result! Join our upcoming Open House to get a taste of how we can help your child achieve mastery in the most rewarding way.
📅 18 and 19 Mar 2023
⏱ 9am to 6pm
📍 Greenwich V
1 Seletar Road, #02-03/04 Greenwich V, Singapore 807011
📍 Forum
583 Orchard Road #04-00 Forum, Singapore 238884
Book a free trial class or sign up for the open house here!
For more information, visit Chengzhu Mandarin Centre Open House.
*******************************
Alternatively, head over to our neighbour Malaysia for LEGO Friends Share Diversity & Inclusivity at Party in Legoland Malaysia
From now till 9 April 2023, the new generation of LEGO® Friends is throwing a party at LEGOLAND® Malaysia Resort.
The LEGO Friends Party celebrates new friendships in a modern world that is inclusive of not only ethnicities and genders, but also varying abilities and neurodivergence.
Activities at the party are specially curated to encourage emotional and social development through play. The aim is to help children better understand the harmony of individuality in diversity so that they can be better friends to themselves and others, and thereby build to a more inclusive and caring future.
For more information, visit here.
*************************************
Note: All details are correct as at the time of publishing. While every effort has been made to ensure the accuracy and completeness of the information, no guarantee is given nor responsibility is taken for errors or omissions in the compilation. Readers are advised to check with the respective vendors or event organisers for the most updated schedules, venues and details.
---
Easter is just around the corner. We have compiled a list of Things to Do Over the Easter Weekend.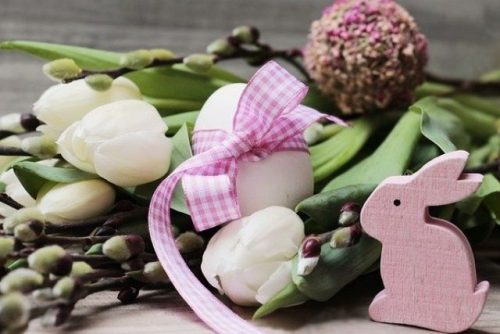 For other upcoming events, visit Events in Singapore.
* * * * *
Stay in touch! 📣 Subscribe to our Telegram here for our latest updates.
Want to be heard 👂 and seen 👀 by over 100,000 parents in Singapore? We can help! Leave your contact here and we'll be in touch.