In the month of August 2020, the National Library Board (NLB) has lined up an array of activities for you and the family to commemorate Singapore's 55th birthday. From putting the spotlight on Singaporean authors, to helping shape the soundscape of Singapore and delving into materials related to National Day, there is plenty to appreciate the multifaceted home we call Singapore.
For more information, please visit here.
➡️ Related Read: Child-Friendly Libraries In Singapore
1. One Story (from 1 August 2020, 2pm)
One Story, a new literary project by NLB, is dedicated to sharing stories written by Singaporean authors more widely by making them available in the four official languages in one book. The objective is to create a common literary conversation for everyone, regardless of language, and further foster inter-cultural understanding.
The project will kick off with Singapore Literature Prize winner Sithuraj Ponraj's short story, Dharma's Chariot, which was selected in consultation with NLB's language advisory committees. As part of One Story, Dharma's Chariot was translated from Tamil into English, Chinese and Malay in a single multilingual book titled One Story: Dharma's Chariot.
The virtual book launch for One Story: Dharma's Chariot will be held on 1 August 2020, 2pm, on NLB's Public Libraries Facebook page (https://www.facebook.com/publiclibrarysg). The event will include welcome remarks by Ng Cher Pong, Chief Executive Officer of NLB, as well as a moderated session with Sithuraj Ponraj who will share more about the story, his inspirations and his writing.
One Story: Dharma's Chariot is currently available for loan at libraries and via the NLB mobile app. From 1 August, patrons can also pick up a free copy from the libraries, while stocks last. From August to October 2020, readers can expect a variety of programmes as part of One Story, ranging from creative writing workshops and book club discussions in all four languages to theatre performances and social media contests.
More information on One Story can be found here.
2. SoundscapeSG (from 5 August 2020)
What are the sounds we hear constantly in places familiar to us, such as at wet markets and hawker centres? How has the Singaporean accent evolved?
As part of on-going efforts to enrich and preserve Singapore's shared history and heritage through the collective efforts of the public, the National Archives of Singapore (NAS) is launching SoundscapeSG, a crowd-sourcing initiative that calls on the public to contribute sound recordings from their everyday lives.
From 5 August 2020 until the end of 2022, members of the public are invited to help build a sound map of Singapore by contributing recordings that represent Singapore's unique sonic heritage at here. This is the first time that NAS, which is a part of NLB, is collecting snippets of Singapore's evolving soundscape.
To capture local sounds that are unique to Singapore and Singaporeans before they cease to exist, we are inviting members of the public to contribute sound recordings in five distinct areas:
Local Accents and Dialects


o To capture the language spoken by a specific region or social group

Wildlife and Nature


o To capture sounds of animals, plants and landscapes such as parks and trails

Sounds of the Heartlands


o To capture sounds at home,

playgrounds

, coffee shops, wet markets, hawker centres, void decks, etc.

Sounds at the Workplace


o To capture sounds in workplaces of various industries

Festivals and Celebrations


o To capture sounds of festivals celebrated in Singapore
➡️ Related Read: 13 Walking Nature Trails in Singapore
3. Sharing of materials related to National Day (From the week of 3 August 2020)
The National Library Singapore Facebook page will upload materials related to National Day such as Edwin Thumboo's poems, photos from a past National Day Rally rehearsal and performance, an infographic on Majulah Singapura and an article on National Day songs. Look out for these Facebook posts from the week of 3 August all the way until National Day.
For more information, please visit here.
4. Blast from the Past – National Day (From 30 July 2020)
Blast from the Past is a series that highlights some of Singapore's shared experiences through the collections of NAS. Our upcoming package that is launching on 30 July will specially focus on National Day and will include highlights from Singapore's previous National Day celebrations that were unique and unusual in nature.
Some interesting facts include how National Day was celebrated in June for a few years during the early 1960s after Singapore became an internally self-governing state under the British on 3 June 1959.
Our National Day package will explore National Day photographs, video footages, government records as well as oral history interviews from NAS' collections.
For more information, please visit here.
5. 本地书 · 本土情 With Love, from Our Local Authors (From 2 August 2020)
Our libraries will be putting up book displays showcasing past award winners of Singapore Literature (Chinese). These books are also available in digital format.
Books that will be highlighted include Tall Order: The Goh Chok Tong Story (Volume 1) by Peh Shing Huei, translated by Lim Woan Fei, and LKY Whom I Knew by Chin Kah Chong.
6. Gig Puisi (Poetry Gig) (8 August 2020, 2.30pm)
Gig Puisi is a regular quarterly programme organised by NLB's Malay Language Services (MLS) department.
On 8 August, NLB will upload a video on MLS' Facebook page that celebrates the Singapore spirit. The video will feature special performances on Singapore-related themes through a mix of creative recitations and singing performances. Local poets who will make an appearance include:
Suratman Markasan (Cultural Medallion Recipient 2010)
Djohan Abdul Rahman (Recipient of President's Award for Teachers 2017)
Mohd Khair Mohd Yasin (Established artiste & award-winning composer)
Asnida Daud (Artiste & Malay Language Ambassador at the National Heritage Board in 2014 and 2016)
For more information, please visit here.
7. Ilham Pustaka (Adult Reading Club) (22 August 2020, 2.30pm)
This video, uploaded to MLS' Facebook page, will feature a discussion on selected poetry about Singapore such as works from Annaliza's "Sikit-sikit Lama-lama Jadi Bukit", which is about the risk of historical amnesia when physical spaces make way for development. It will also cover works that revisit lost places in Singapore and what these places mean to the authors in relation to nation-building and the identity of our community.
For more information, please visit here.
8. Malay Reading Recommendations (From 6 August 2020)
On 6 August, the spotlight will be on the past winners and shortlisted titles of the Hedwig Anuar Book Award on MLS' Facebook page. These also include titles that have been translated into Malay such as Where's Grandma? and The Amazing Sarong.
Later on in the month, on 20 August 2020, look out for a post with reading recommendations featuring winners of the Singapore Literature Prize 2018 such as Farihan Bahron who wrote Tukang Tunjuk Telunjuk and Ahmad bin Md Tahir who wrote Rona Wicara.
For more information, please visit here.
9. National Day: Appreciating our Singapore Tamil Stories (From 1 August 2020)
In a competition in July, pre-school and primary school students were invited to submit their entries in a number of categories such as drawing and colouring their favourite characters from local Tamil stories, as well as reading an excerpt aloud from their favourite books.
The winning entries, comprising images and videos, will be posted on the Tamil Library Services Facebook page from 1 August onwards.
For more information, please visit here.
---
Singapore's National Day 2020
Singapore's 55th Birthday is just around the corner. Check out our list of Fun Things To Do This National Day 2020 Long Weekend In Singapore.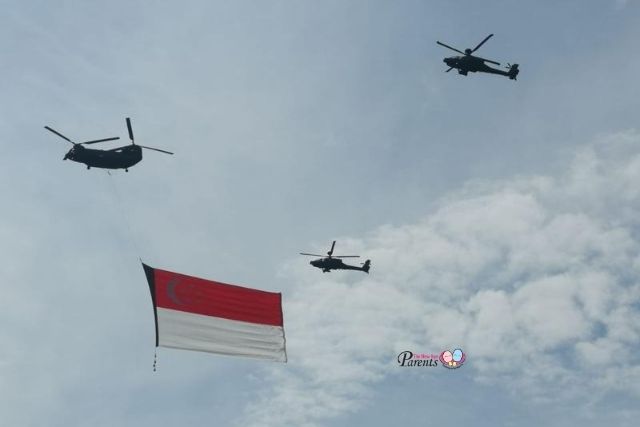 ➡️ Related Read: NDP Mobile Column Route 2020
Stay in touch! 📣 Subscribe to our Telegram here for our latest updates.
Want to be heard 👂 and seen 👀 by over 100,000 parents in Singapore? We can help! Leave your contact here and we'll be in touch.