TNAP sums up our choices for indoor play spaces and indoor playgrounds in Singapore so that you and your family can enjoy a sheltered and fuss-free weekend.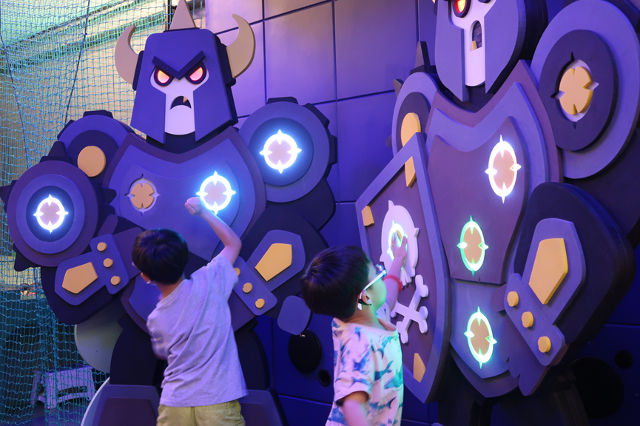 Amazing Castle is a new interactive entertainment concept which comes from Russia. The air-conditioned indoor playspace has 9 different stations combining traditional arcade games and classic playground mechanics with a modern technological twist that will have kids excited to the max!
Website: amazingcastle.sg
*******************************
2. T-Play
Photo credit: HomeTeamNS
Made entirely in Sweden and assembled in Singapore, T-Play (Indoor Children Playground) is the first augmented playground introduced in HomeTeamNS, and one of the most interactive transportation-themed playgrounds in Singapore.
Housed in a 4,200 square feet facility at HomeTeamNS Bukit Batok, the specially crafted kid-friendly arena consists of spectacular designs that include ball pits, trampolines, different kinds of slides as well as interactive play centres.
Parents can also observe their young ones from a distance, or enjoy the various facilities available at the clubhouse while their kids play freely. Admission fees range from as low as $2 to $20 depending on age, visiting hours and membership tier.
Quick tip, you can skip the queues and book your slots to T-Play here or on Klook!
Where: HomeTeamNS Bukit Batok
Website: hometeamns.sg/bukitbatok/t-play
*******************************
3. Waka Waka World
Waka Waka is a Safari-themed indoor playground for children from 9 months to 12 years old. Located at Annex@Furama, Waka Waka has ample amount of space for little ones to unleash their energy.
Where: Annex@furama #05-01, 407 Havelock Road Singapore 169634
Website: playatwakawaka.com
You can get discounted tickets online via Klook and KKday.
*******************************
Photo credit: SAFRA
Among one of Singapore's largest indoor playground, Kidz Amaze @ SAFRA Jurong is 17,000 square feet in size and three-storeys high. On the other hand, the smaller but newer branch at SAFRA Toa Payoh is a scavenger hunt attraction where both the kids and parents can discover themed zones together.
Being a recreational destination for NSmen and families, SAFRA indeed houses interesting facilities for both the young and old.
Where: SAFRA Toa Payoh | Jurong | Punggol
Website: safra.sg/kidzamaze
You can get discounted tickets online via Klook: Toa Payoh | Jurong | Punggol.
*******************************
5. Amazonia
Photo credit: Amazonia
Five fully themed areas to explore – each zone with a distinct character. That is AMAZONIA, and welcome to its 9,500 square feet indoor entertainment and attraction located at the Great World City Mall. We are really impressed that even its Bistro is decked up as an AMAZONIA jungle (and soundtracks!) to excite and create whole loads of family fun.
We love the awesome 3D Glow Golf section which offers a different 9-hole putting experience!
Where: Great World City Mall
Website: www.amazoniafun.com
You can get discounted tickets online via KKday.
*******************************
6. Go-Go Bambini
Photo credit: Go-Go Bambini
Go-Go Bambini accommodates the tallest indoor slide and owns features such as the flying fox, ballpits, tunnels and two climbing walls. It is the place for active and fun-loving kids! At a whopping 6-metre tall, we wouldn't recommend this playscape for the acrophobia.
However, the bright-coloured jungle-themed attraction is too fun a place for throwing birthday parties.
Where: Blk 8D Dempsey Road, #01-15 Dempsey Hill
Website: gogobambini.com
*******************************
7. Little Planet Playland
Photo credit: Little Planet Playland
Little Planet has a farm, market place, kitchen & cafe, fishing area, forest maze and castle role-play area to provide children with a realistic educational play environment. With these themed play stations built to scale to mimic a grown-up's world, Little Planet provides a uniquely enjoyable and exciting place for children to use their creativity to act out their imagination and interact with one another.
Where: The Centrepoint #02-21
Website: littleplanet.com.sg
*******************************
8. Kiztopia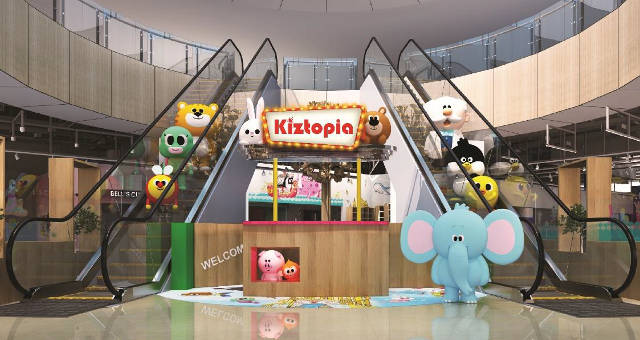 Kiztopia is the first edutainment paradise in Singapore that is themed around its very own Intellectual Property (IP) registered characters. With its motto 'Play to Learn, Learn through Play', Kiztopia provides a one-stop holistic eco-system for children aged 12 years and below to develop new skills while having a ball of a time. On top of that, the play haven has also developed an extensive range of educational programmes for children to learn through a multi-sensory, play-based approach.
The park comes with a cast of 11 original animated characters and 18 play zones, that is each curated with specific learning objectives. It also includes a café with its own in-house kitchen that boasts a healthy, nutritional menu.
Where: Marina Square (#01-09 to 15, #01-26 to 29)
You can get discounted tickets online via Klook and KKday.
*******************************
Photo credit: SuperPark Singapore
Originated in Finland, SuperPark Singapore is the friendliest all-in-one indoor activity park delivering a unique experience of joyful play that excites and unites people all over the world, no matter their age or fitness level.
SuperPark is based on the joy of play and movement and offers a plethora of fun, healthy, exciting and energizing activities under one roof: from Flying Fox to Trampolines, from Basketball to Skate Park. With something for everyone, one can expect bubbling laughter, beaming smiles and red cheeks from kids, teenagers and adults alike.
Where: Suntec City Mall, #02-477 (North Wing)
Website: superpark.com.sg
You can get discounted tickets online via Klook.
*******************************
10. The Petite Park
The Petite Park is a safe and fun indoor play environment that is designed for children under 7-year-old (or shorter than 130cm). There are two main play spaces, namely Active Play and Pretend Play. Active Play helps to promote and strengthen a child's motor skills while Pretend Play encourages creative thinking and conjures the imaginative side of a child.
It is definitely the place for conducive learning through play!
Where: Kallang Wave Mall #01-06/07
Website: petitepark.com.sg
*******************************
Bonus: Indoor Play Area @ Marina Square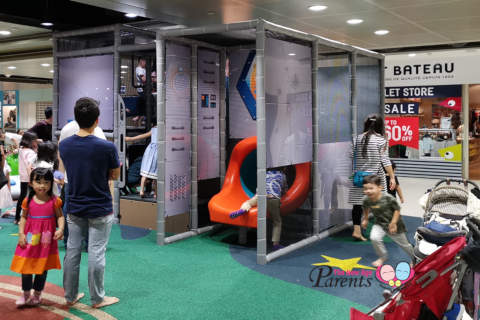 Located at level 3 of Marina Square shopping mall, there is a corner with several merchants retailing kids-related products. To cater to this family crowd, there is also an indoor play area just outside Kiddy Place. The kids (and daddies) can have some bonding fun time together, while mummies get busy with their shopping trolleys.
What's best? Admission is free.
Where: Marina Square Level 3
*******************************
By Tan Yiying, edited by Michelle Ang.
* * * * *
If you find this article useful, do click Like and Share at the bottom of the post, thank you.
Want to be featured here? Leave your contact here and we'll be in touch.