Singapore is known for its bustling city life, but few people realize that the city-state is also home to a wealth of natural beauty. From lush rainforests to tranquil mangroves, Singapore offers a diverse range of nature trails that allow visitors to escape the urban hustle and connect with nature.
Whether you're a seasoned hiker or just looking for a leisurely stroll, there's a trail for everyone. In this guide, we'll take a closer look at some of the best nature trails in Singapore, highlighting their unique features and offering tips for making the most of your visit. So put on your walking shoes, grab some water, and let's explore the natural wonders of Singapore together.
Let us take some time to stop and smell the flora as we take a stroll along with nature. Enjoy our curated list of our favourite nature trails in Singapore!
1. Admiralty Park
Admiralty Park, located along Admiralty Road and Riverside Road of the Woodlands region, is among one of the largest nature area within an urban park. It is approximately 20 hectares in size, and can be easily accessible via Woodlands MRT Station/Bus Interchange (15 minutes walk).
Observe the beauty of mother nature and its magnificent ecosystem with more than 100 species of flora and fauna here. This habitat is home to Putat Kampung Tree, Hedgehog rattan (rare plant in Singapore), Noni Tree, Giant Mudskipper and Australian Mulberry Tree, just to name a few.
If you like to experience the harmonious co-existence of raw nature and urbanity, we will recommend Admiralty Park as the place to go!
Length of trail: 2km
Estimated time required: 1 to 2 hours
*******************************
2. Changi Point Coastal Walk
Located in the far eastern region of Singapore, Changi Point Coastal Walk brings you on a scenic walk by the sea, with lush greenery and foliages surrounding the terrain. Those who visit Pulau Ubin regularly would be pretty much familiar with this spot.
There are six main segments on this boardwalk, namely: Creek Walk, Beach Walk, Sailing Point Walk, Cliff Walk, Kelong Walk and Sunset Walk.
Get to see various shrubs such as Sea Lettuce, Simpoh Air or Sea Hibiscus, and take pleasure in bird-viewing as you stroll along the pavements. If you're in luck, you might even catch a glimpse of the Pacific Swallow, a type of bird that is metallic blue-black in colour and with red forehead and throat.
A great place for evening leisure walks with the family!
Length of trail: 2.2km (one-way)
Estimated time required: 1 hour 30 minutes to 2 hours
*******************************
3. Bukit Timah Nature Reserve
Established back in 1883, Bukit Timah Nature Reserve is one of the first forest reserve in Singapore and also the largest surviving rainforest now. It is as huge as 163 hectares. The Reserve reopened in October 2016 after the restoration works allowing you to journey back in time to the days before Sir Stamford Raffles arrived! You can challenge yourselves further by embarking on the climb on Singapore's tallest hill through pockets of hill dipterocarp forest which is only found there.
This nature reserve is an amazing collective of biodiversity. You can find almost all spectrum of the various plant groups here as well as a variety of animal and insect life. Don't forget to stop and take a look at the interpretative signs that convey interesting facts of the reserve that are generally less widely known.
Length of trail: 1.2km
Estimated time required: 45 minutes to 1 hour 30 minutes
*******************************
4. Rifle Range Nature Park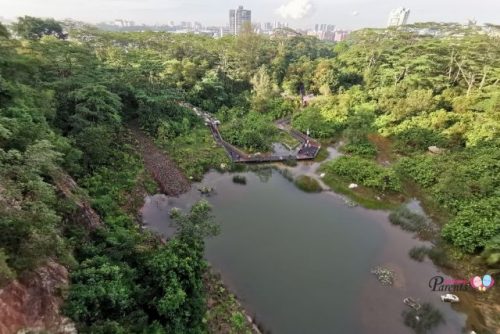 Rifle Range Nature Park is Singapore's first net positive energy nature park with solar panels installed around the nature park where energy can be harvested.  Acting as a green buffer to protect Bukit Timah Nature Reserve, Rifle Range Nature Park is 66 hectares with a total of 7km trails and  boardwalks.
Explore the Gliders and Rambai boardwalks , Forest Exploration, Colugo and Gaharu Trails and Quarry Wetland, Colugo Deck as well as Waterhen Hide. Take your time to appreciate the ecological and habitats for the Nature Reserve's biodiversity.
Length of trail: up to 7km
Estimated time required: 45 minutes to 2 hours
*******************************
5. Sungei Buloh Wetland Reserve
Being recognised as a site of international importance for migratory birds and awarded a certificate by Wetlands International, Sungei Buloh was first opened as a Nature Park in 1993 and in 2002 the 130 hectares were officially gazetted as a Nature Reserve and renamed Sungei Buloh Wetland Reserve.
Having expanded to include 202ha of mangroves, mudflats, ponds and forests, providing trekkers with greater opportunities to see a variety of flora and fauna, animals, as well as a wintering ground for migratory birds. Don't miss the newest extension where the brand new Visitor Centre and new trails. located along Kranji Way
Length of trail: Range between 1.3km to 2km
Estimated time required: 1 to 2 hours 15 minutes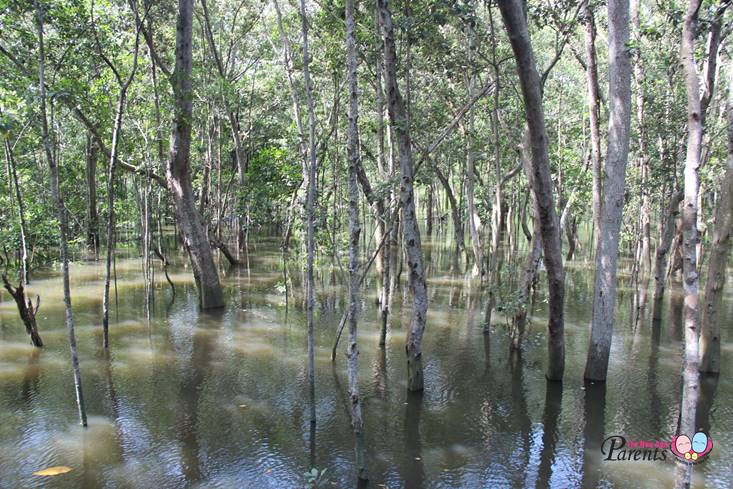 *******************************
6. Singapore Botanic Gardens – Rain Forest Walking Trail
The highlight of this trail is taking a walk through an archaic rainforest right in the heart of town.
Explore and discover a forest swarmed with interesting foliages and plant life such as Tongkat Ali Tree, Meranti Laut, Lianas, strangling fig and Giant Mahang, among many others. Lianas (climbing vines with thick woody stems) are a common sight throughout the forest.
Some of the forest animals that you might get a chance to see are the Common Flameback, Pink-necked Green Pigeon as well as Common Tree Frog. This is among one of the shorter trails that is highly recommended for older folks.
Length of trail: 600m
Estimated time required: 30 to 40 minutes
*******************************
7. Chek Jawa, Pulau Ubin
Chek Jawa is tucked away in a corner of Pulau Ubin and you will need to catch a ferry to Ubin Jetty. Depending on how adventurous you feel, you can hire a vehicle, cycle, or hike across the nature trail to reach it the wetlands. Chek Jawa is an island filled with wonderful secrets and consists of 100 hectares of wetland teeming with wildlife.
The six ecosystems; Coastal Hill Forest, Mangroves, Rocky Shore, Sand Bar, Seagrass Lagoon, Coral Rubble Area; are is home for millions of creatures. Guided tours are conducted on special days when the tides are favourable. Don't miss the Jejawi viewing tower and enjoy the opportunity to be surrounded by a diverse array of animals not found elsewhere.
Length of guided trail: 1.1km (Coastal Boardwalk)
Estimated time required: 2 hours (includes an introduction of surrounding biodiversity by the tour guide)
Length of nature trail: 3.2km (From Pulau Ubin Community Centre to Chek Jawa Information kiosk)
Estimated time required: 2-3 hours
*******************************
8. MacRitchie Reservoir
Do you know the difference between the species of dragonfly and damselfly?
Take a hike along the Chemparai Trail and spot them hovering above the water. Many photo-rich information panels can be found along the boardwalk explaining various flora and fauna that can be observed along the trail. This is an easy walking trail for families with young children.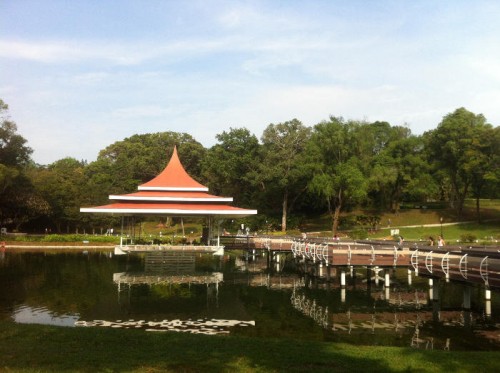 Macritchie reservoir deck features an amenities centre equipped with washrooms, showering facilities, lockers, drinking fountains and food kiosks. Children splashing along the length of the submerged boardwalk can conveniently freshen up and recharge with a quick snack break.
A 100m gravel swale enriches biodiversity and acts as a sieve against coarse sediments and pollutants from surface water runoffs. This feature integrates fun with eco-planning as the dykes and reed beds and enhances the nation's water quality in the reservoir.
Length of Chemperai Trail: 1.5 km
Estimated Time Required: 1-2 hours.
Length of Submerged Boardwalk trail: 40m (water depth of 50mm)
Estimated Time Required: 30 minutes
*******************************
9. TreeTop Walk, Central Catchment Nature Reserve (MacRitchie)
Tree Top Walk is a 250m long freestanding suspension bridge connecting the two highest points in the central catchment Nature Reserve. Scaling the heights to 25m above ground, the terrain for this trail is challenging and consists of navigating steep slopes.
Also nicknamed "Canopy Walk", you will see the forest from a bird's eye view. Observe the different layers; ground layers, tree shrub, canopy, and emergent; fighting for valuable spaces to reach the sun. Many monkeys (long-tailed macaques) can be spotted along the trail. Food and snacks should be stored in sealed bags, only to be consumed at the end of the hike.
How to get there:
Hike 2.5 km from the Venus Drive entrance
Hike 4.5 km from Macritchie Reservoir Park
Length of Tree Top Walk Trail: 250m, highest point at 25m
Estimated Time Required: 4 – 5 hours
*******************************
10. Seletar Reservoir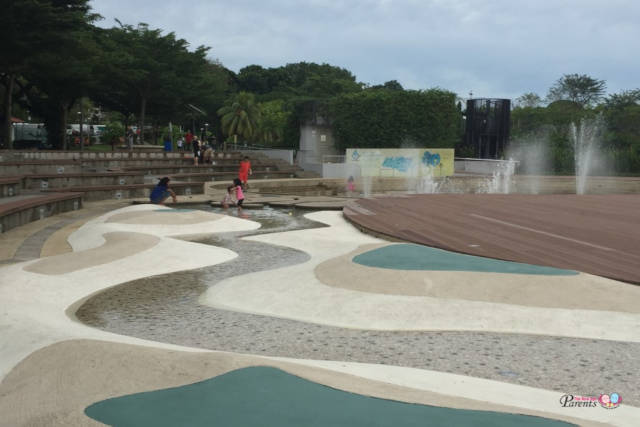 Lower Seletar Reservoir Park offers spaces for activities with the family on land and in water. It features a family bay with a new performance area, a wading stream, a water play area, a bioswale rain garden, as well as a heritage bridge. There are designated paths for children to cycle and scooter around. PUB maintains a fishing jetty where avid anglers cast their rods to catch snakeheads and tilapias swimming in the waters.
The heritage deck informs its visitors about the rich history of an Orang Seletar settlement that formerly found their home in this peaceful park. There is a Water Venture that supplies kayak rentals and hosts a rowing bay. The ABC Learning Trail provides an avenue to get hands-on experience in water quality testing, learn about water sustainability, water cycle, and water treatment processes.
Length of Trail: 1.3km
Estimated Time Required: 1.5 hours
*******************************
11. Tampines Eco Green
Photo: National Parks
Where can you find Grasslands, Freshwater Wetlands and a Secondary Rainforest standing in the middle of a high-rise, high density town? Tampines Eco Green is a 36.5 hectare park offering a sanctuary to insects, birds and reptiles. Eco-friendly and recycled materials make up the bulk of park shelters and furniture; reducing temperatures and attracting greater biodiversity.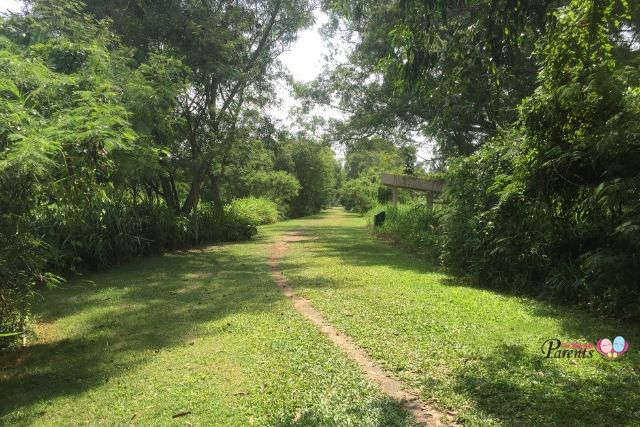 This park is designed with minimal intrusion leaving most of the land in its original state. About 70 species of woodlands and open country birds including bee-eaters, woodpeckers, dollar birds, sunbirds, munias, etc., 13 species of dragonflies, 12 species of butterflies, and 32 species of spiders live in this habitat. Snags and dead trees even remain in the park as they serve as important nest sites for birds such as woodpeckers. Hide behind the Baya Weavers and take the chance to spot perching birds and waddlers in the park's natural ponds.
Diversity Trail: 3km
Marsh Trail and Forest Trail: 4.5km
Estimated time required: 2 – 3hours
*******************************
12. Green Rail Corridor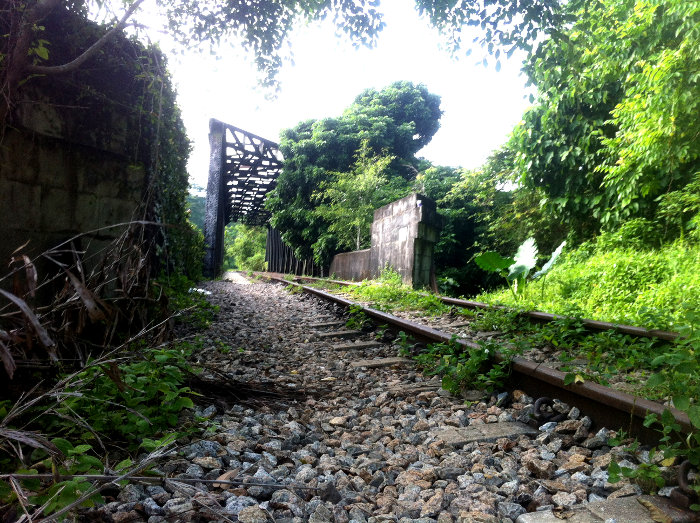 Photo: TNAP
The Green Corridor trail stretches all the way from Tanjong Pagar Railway station to Kranji. The greenery along the Corridor constitutes the longest belt of greenery extant in Singapore that is relatively well-connected. Except for a few short gaps caused by rivers and roads, this trail has an impressive belt of trees and shrubs running through.
There are different habitat types along the corridor: Woodland/Forest, Mangrove, Grassland, Marshland and Parland. Along the trails, you can also visit historic sites such as Old Ford Factory, the Rail Mall, the site of WWII battle, and some religious buildings.
The estimated length of the entire trail is 26 km.
The length of the trail varies on the different routes you take.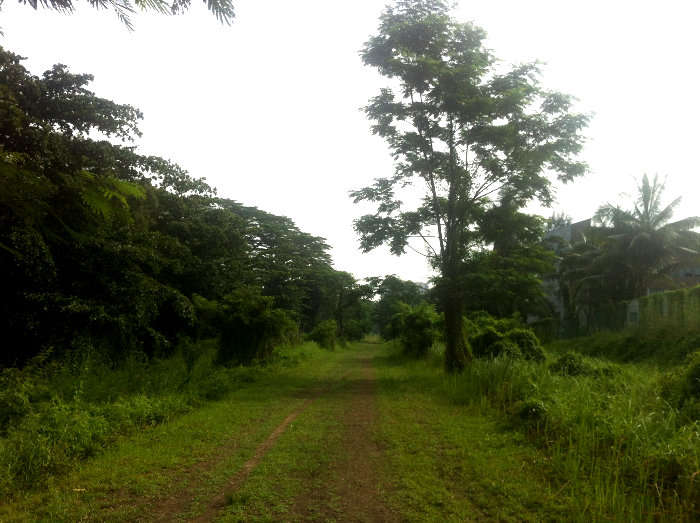 Photo: TNAP
There are 8 walking routes you can take:
Sungei Kadut Avenue to Woodlands Road
Sungei Kadut Avenue to Choa Chu Kang Road
Choa Chu Kang Road to Rail Mall
Rail Mall to Bukit Timah Train Station
Bukit Timah Train Station to Holland Road
Holland Road to Buona Vista
Buona Vista to Queensway Road
Jalan Hang Jebat to Kampong Bahru
For more information on the Green Corridor and the routes, go to thegreencorridor.org
*******************************
13. Punggol Waterway Park
The word 'Punggol' in Malay means 'hurling sticks at the branches of fruit trees to bring them down to the ground', a reference to the area's history as a fruit-growing district. A cool evening walk through the park's "Green Trail" will take you past fruit trees such as durian, rambutan, chiku, jackfruit and more. Rest on benches along the winding waterways to admire the night scenery and listen for the sounds of nature around.
The park is segmented into four different themes: Nature Cove, Recreation Zone, Heritage Zone and Green Gallery. The sights and activities that can be found in Punggol waterway park are many. Highlights not to be missed include the reminiscent Kelong Bridge, Old Punggol Road bus-stop and Children's Recreation area. Unique communities of flora and fauna can also be spotted at the park's Terraced Plantings, Aquatic Plants, and Biodiversity wall.
Try and count the thirty seven jets fountains as you explore Punggol Waterway Park. Children can have their fill of sand play and water fun in the recreational zone located near the HDB estate along Sentul Crescent. The water play area itself presents the joy of aiming and shooting with water cannons, not forgetting the all-important toilets located nearby for a quick wash-up before dinner.
Length of trail: 4.2km
Estimated time required: 3 to 4 hours
*******************************
14. Lower Peirce Reservoir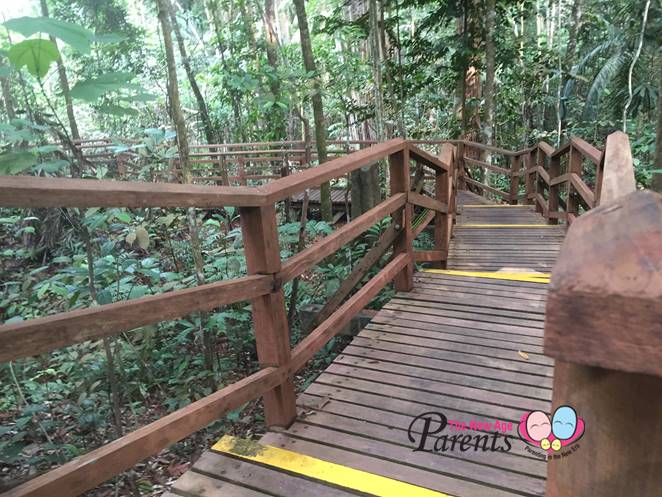 Lower Peirce was opened by Late Minister Mentor Lee Kuan Yew in 1977 and originally named "Kallang River Reservoir" which was constructed in 1910. It is the source for the Kallang River, the longest river in Singapore.
Along the edge of Lower Peirce Reservoir remains one of Singapore's last remaining mature secondary forests. The wooden boardwalk is relatively simple and very suitable for families with elderly and young children. Many rubber trees and oil palms remain dotted throughout the forest, a visible reminder of when Singapore was once covered with plantations.
The forest is home to more than 900 flowering plants, 100 ferns, and 250 animal species. Watch out for squirrels, the clouded monitor lizard and forest birds such as the "White bellied fish eagle (Singapore's largest bird of prey)."
Length of trail: 900m
Estimated time required: 45 minutes to 1 hour
*******************************
Windsor Nature Park is a green buffer for the Central Catchment Nature Reserve located off Venus Drive in the Upper Thomson area. Embark on the new trails – Hanguana Trail where you will be able to spot rare native plants and the Drongo Trail which features a sub-canopy walk with a glimpse of the fauna that are found under the canopy level while examining the understorey of the regenerating secondary forest.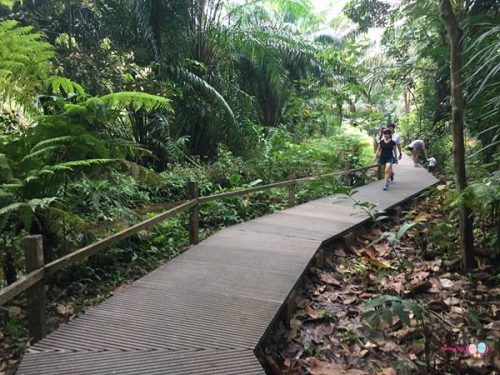 Length of trail: Ranges from 350m to 7km
Estimated time required: 45 minutes to 1 hour 30 minutes
*******************************
16. Thomson Nature Park
Consisting of five trails spanning 3.8 km, the 50-hectare Thomson Nature Park is special for its rich cultural heritage as the site of a former Hainan Village along at the Ruins and Figs Trail. Stepping into the park is like entering into kampung days filled with a variety of floral and faunal species. While the Stream and Ferns Trail allows one to enjoy the freshwater habitat and observe the great diversity of ferns as well as aquatic animals.
Length of trail: Ranges from 150m to 3.5km
Estimated time required: 30 minutes to 1 hour 30 minutes
*******************************
17. Dairy Farm Nature Park
Known for the Wallace Education Centre which features a permanent exhibition on the renowned English naturalist Alfred Russel Wallace, the 75-hectare Dairy Farm Nature Park consists of multiple trails for hiking and biking.
The Wallace Trail was dedicated to Alfred Russel Wallace that stretches from Hillview MRT station to the Wallace Education Centre with a distance of 2.2km filled with flora and fauna for your discovery. Not forgetting about the first community nursery set up in this park where volunteers engaged in propagating and nurturing endangered native plants.
Length of trail: 2.2 km
Estimated time required: 1 hour
*******************************
18. Chestnut Nature Park
Being Singapore's largest nature park to date, Chestnut Nature Park with a total of 81 hectares is located on the eastern end of Chestnut Avenue and the skirting of the Central Catchment Nature Reserve. Planted up with native tree species like  Braided Chestnut (Castanopsis inermis) and Singapore Walking-Stick Palm which allow animals to thrive by improving the ecological connectivity between green spaces so that animals may move around safely.
Apart from going on a trail, there are a range of recreational activities such as hiking, mountain biking and bird watching which you can engage in. In addition, Chestnut Nature Park is the first nature park in Singapore to have separate mountain biking and hiking trails.
Length of trail: Chestnut Nature Park (South) 2.1km, Chestnut Nature Park (North) 3.5km
Estimated time required: 40 minutes to 2 hours
*******************************
19. Pipeline Trail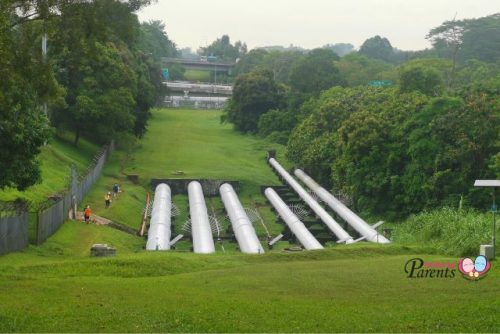 The Pipeline Trail leads you from woodland all the way to Bukit Timah through about 9.5km journey. The Pipeline trail is different from the typical trail in the nature parks as through the trail you will experience different tracks like unpaved paths, small hills and the pipelines that bring in water from Johor Bahru in Malaysia to Singapore.
Length of trail: 9.5km
Estimated time required: 2 hours 50 minutes
*******************************
Sentosa Trails
The next time you visit Sentosa, other than spending time on the golden beaches and theme parks, why not include the Sentosa Trails in your plan!
20. Sentosa Imbiah Trail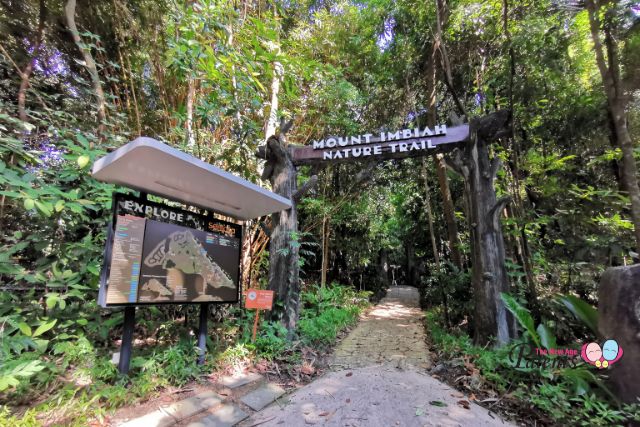 Via the Sentosa Express, Imbiah Trail is just one stop away from VivoCity! Once you alight from the monorail, you can easily spot the maps and signages that will guide through the way. is a 3.5-km loop trail that is easy to embark on even for families with kids. You can begin the journey at Sentosa Nature Discovery Gallery with information about the eight natural habitats found on the island.
The Sentosa Nature Discovery Gallery will directly lead you to the Imbiah Bridge. A 200m "canopy walk" raised at approximately 4m above ground where you will be able to observe the treetops up close and personal.
Length of trail: 3.5km (Loop)
Estimated time required: 1 hour
*******************************
21. Sentosa Coastal Trail – Fort Siloso
Board the Sentosa Express from VivoCity, alight at Beach Station and hop on to the Sentosa Beach Shuttle and alight at Siloso Point. You will be greeted by the Fort Siloso an 11-storey high tower Skywalk, a bridge that will lead you to the fort – Fort Siloso is Singapore's last remaining preserved coastal fort accompanied with information boards that explains the history of Fort Siloso. After the Skywalk, you can choose between two walking trails: the Heritage Trail and the Gun Trail where you can learn more about Singapore during its World War II days.
*******************************
22. Sentosa Coastal Trail
Alternatively you can embark on the Coastal Trail directly from the Siloso Point bus stop near Fort Siloso. The Sentosa's coastal forest is a safe haven to many local wildlife where animals like macaques, snakes and squirrels as well as endangered species of plants like the Seashore Mangosteen and Dracena Minyag. Along the trail you will be able to spot interesting rock formations and tribal towers. Followed by the lovely view that extends to Keppel Harbour and Resorts World Sentosa.
Length of trail: 2.2km
Estimated time required: 30 to 40 minutes
*******************************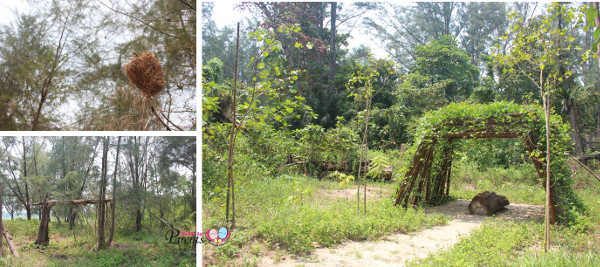 Home of wide variety of habitats, including coastal forests, grasslands, mangroves, and casuarina woodlands. The 50-hectare ecologically sustainable park, Coney Island Park is a great place for bird watching as there are more than 80 species of birds including the resident male Baya Weavers weaving their large and intricate nests from flowering Acacia trees.
The Casuarina Exploration is one key attraction for families with children, it is located near the west entrance, the course is constructed using recycled wood from the timber of uprooted casuarina trees and other recycled materials and the sand from the beach. Children can climb or walk on them and use them as an obstacle course.

Length of trail: 3.6km
Estimated time required: 2 hours
By Tan Yiying & Michele See. Updated by Jun Tan.
* * * * *
Do you have any nature walking spots in Singapore to share? Leave us in our comment box below.
Want to be heard 👂 and seen 👀 by over 100,000 parents in Singapore? We can help! Leave your contact here and we'll be in touch.