Question: How do I get my child to read even before he starts school?
Answer: Read a lot to your child(ren) and read a lot in front of them as well. Once they start to see the joy derived from reading and how reading is part of their life-style, it is not difficult for them to pick up reading as a hobby. It is not impossible but hard to expect a young child to sit through more than 15 minutes at a time to listen to you read. To springboard the process, make the reading process with your child interactive. Do puppetry, dramatize/role play.
Involve your older children in the process as well. Put aside just 10 minutes of TV time a day for reading and you will be surprised at how powerful this routine can be. As your child grows older, the sessions will be more interactive. During this time, do encourage their curiosity and interest to discover more through books. The type of books to introduce to your child for the first time differs primarily by age. However, a good rule of thumb is to start with materials they are familiar with. For example, a photo book with familiar faces of grandparents, family members (all labeled), helps to introduce the basic concept of pictorial cues to print.
I would also recommend books with many repetition and rhyme. The replay of words builds familiarity and confidence for a child to learn to recognize those word(s). Above all, do not make the process of reading a drag. It should be fun and enjoyable; something to look forward to for both parent and child. Exposure will build familiarity and very soon, your child will come to you with a book in hand. :)
LEAP Schoolhouse has an 'Ask and Learn' section every Thursday. If you have any questions regarding language or literacy development,  feel free to drop your questions in the comment box below, or post them on LEAP SchoolHouse Facebook page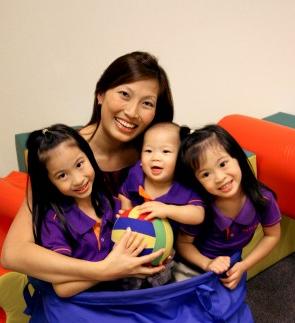 In this Ask The Expert section, we asked Esther Lim, CEO and Founder of LEAP SchoolHouse, about language and literacy development in children. Born and educated in Singapore, she holds a Master Degree in Education (NTU/NIE), Bachelor Degree in Arts (NTU), Diploma in Marketing – Top student for the year 2000 (Chartered Institute of Marketing).
Esther has more than 10 years of teaching experience and has taught widely in both Secondary and Primary schools. She was also involved in curriculum planning and development work for the primary unit at MOE for several years. Esther has also conducted workshops and talks for educators, locally and overseas. Besides all the above credentials, Esther is also a mother of three children.
For more info, visit leapschoolhouse.com.sg
If you find this article useful, do click Like and Share at the bottom of the post, thank you.
Like what you see here? Get parenting tips and stories straight to your inbox! Join our mailing list here