The start of September marks Teachers' Day, Mid Autumn Festival and also the beginning of PSLE, starting off with listening comprehension examinations. You can also look forward to the long-awaited school holidays that fall in the first week of September!
Check out our list of online and offline happenings in Singapore for September 2021 if you're looking for ideas on how to spend the day or week. Stay safe and healthy and remember to practise social distancing!
*******************************
1. Revamped Marks & Spencer Wheelock Place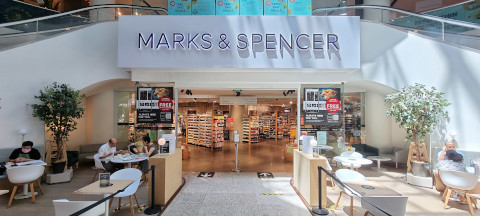 The iconic British retailer's back with a bang. Brace yourself for a brand-new pop-up store at 313@somerset, a refreshed VivoCity store, and a revamped Wheelock Place outlet with a one-stop baby shop, Singapore's largest food hall and a brand-new Home section.
To celebrate M&S' relaunch and Singapore's 56th birthday, customers will receive a free limited edition tote bag designed by popular local artist Tiffany Lovage upon any nett purchase over $100 in M&S' Wheelock Place and VivoCity stores from 10 September 2021.
For more information, please visit Marks & Spencer Wheelock Place.
*************************************
2. Rejuvenating TCM Tuina Massage at $38.80 Nett for 40 Mins
Joyre's Rejuvenating TCM Tuina Massage will help you to release muscle tension, relax your body and heal body pains. It also stimulates the flow of qi in the energetic meridian acupoints to promote balance and restore the body to better health.
Treat & Heal
✓ Chronic Body Tensions & Aches
✓ Shoulder, Back & Neck Pain
✓ Leg & Knee Pain
✓ Migraine & Headaches
✓ Sprains
Reservation is required prior to the visit. Please Call or WhatsApp +65 9230 0355 for appointment booking.
For more information, please visit Joyre TCMedi Spa's website.
*************************************
3. Little Footprints Open House
Looking to enrol your child in a preschool that offers quality learning experiences and prepares him/her for the schooling years ahead?
Register your child during the open house for enrolment in 2022 to enjoy up to $2,100** savings. Plus Free 1 set of uniform and PE attire. Schedule a tour here.
For more information, visit Little Footprints Open House.
*******************************
4. Bugaboo Stardust All-in-one Portable Cot
The Bugaboo Stardust only takes one second to unfold, and three seconds to fold. Imagine how convenient this is especially when your baby is cranky and wants to sleep as soon as possible, or if you need to pack up quickly and get to your destination on time.
The Bugaboo Stardust is available for SGD419 and in two colourways – the classic Black and Grey Mélange.
You can get your hands on this amazing portable cot now at First Few Years, Mothercare, Motherswork, Bugaboo Official Flagship Store on Lazada, and Bugaboo Official Flagship Store on Shopee.
For more information, visit Bugaboo Stardust Portable Cot.
*************************************
5. The New Age Parents Awards 2021 (Education)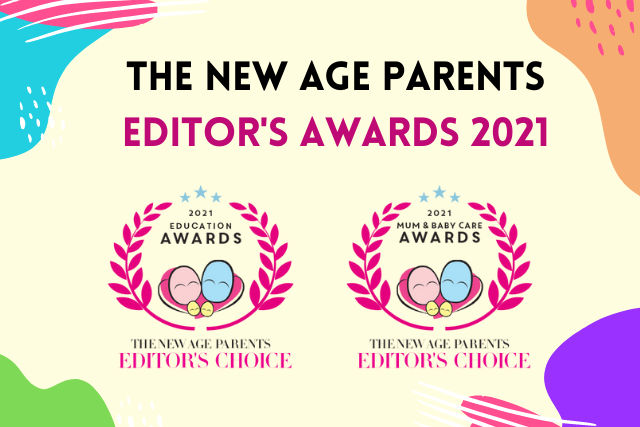 Congratulations to the following brands on being selected as The New Age Parents Editor's Awards 2021!
Read about The New Age Parents Awards 2021 and answer some simple questions to stand a chance to win. The contest for TNAP Editor's Awards Education category is ongoing now and will end on 30 September! Visit TNAP Awards 2021 Contest to participate now. Good luck!
For more information, visit The New Age Parents Awards 2021 (Education).
*******************************
6. Kiddiwinkie Schoolhouse Open House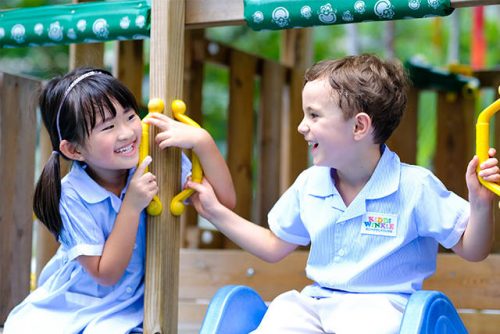 Schedule a tour at any of the 8 participating centres to find out what makes Kiddiwinkie Schoolhouse your best choice for a premium preschool.
Enrol your child with us during the open house to enjoy savings up to $1400! Schedule a tour here.
For more information, visit Kiddiwinkie Schoolhouse Open House.
*******************************
7. BZU BZU New Homecare Series
Check out BZU BZU new Homecare series made with natural and thoughtfully chosen ingredients to ensure the protection and the care of your family. Its 0% nasties, 100% Protection from natural ingredients. The series is formulated in Japan, both clinically and dermatologist tested making it safe and ultra gentle for the little ones. Besides that, BZU BZU series tackles stains, germs and bacterial effectively too.
This series comes in 3 products:
Baby Laundry Detergent with Softener 2-in-1
Baby Accessories Cleansing Foam Original
Baby Accessories Cleansing Foam Lemon
For more information, visit here.
*******************************
8. CaringSG September Webinar
In CaringSG's webinar (Mental Wellness for the Child with Learning and Developmental Disabilities) on 18 Sep 2021, Sat, 8-10pm, our following speakers will share how to help our children develop skills to improve their mental health and well-being.
Speakers:
– Dr Geraldine Tan, Founder, The Therapy Room Singapore
– Ms Dorothy Lim, Deputy Head, SAMH SAY-IT!
– Ms Annette, caregiver to 3 children
CaringSG members can register here (membership is free!)
*******************************
9. Shine A Light and Go for Gold with LOVE, NILS!
LOVE, NILS provides children and their families with the knowledge and resources they need to navigate their cancer journeys. These include everything from healthcare guidance and emotional care to social and community support.
September is International Childhood Cancer Awareness Month and the gold ribbon represents the preciousness and resiliency of the children. In celebration of this, LOVE, NILS is organising a month-long "Shine A Light on Childhood Cancer" campaign and there's a lot that you can do to help!
LOVE, NILS has a handy toolkit with creative suggestions that you can download here. Learn more here.
*******************************
10. Sponsor #My1stMammo and make a difference to the lives of the women around us today!
Breast cancer is the number one cancer affecting women in Singapore with over 2,000 women diagnosed each year and approximately 280 dying from this disease+. However, early diagnosis of breast cancer through recommended screening and subsequent treatment greatly improves outcomes*. 365 Cancer Prevention Society and Icon Cancer Centre – Singapore have collaborated to organise "#My1stMammo" fundraising campaign for women aged 40 and above from lower income households to receive free access to a sponsored comprehensive mammogram including pre and post consultation with a GP at a SATA CommHealth Medical Centre within their community. To support this campaign, please visit here.
*******************************
11. Efil Disinfectant
Hailing from Japan, Efil is a new disinfectant line that has launched in Singapore. Designed to disinfect and kill 99.9% of bacteria and viruses, including SARS-CoV-2, within seconds, Efil also provides 24-hour protection against selected bacteria and viruses. It can disinfect high-touch areas in homes, workspaces, and vehicles, as well as clothes, face masks and electronic devices. Created to be safe for everyone, Efil is also suitable for people with weakened immune systems.
Retailing in two sizes, 300ml bottle for households (S$24.90) and 50ml travel-friendly bottle (S$13.50), Efil is available at all Welcia-BHG stores, Lazada and Shopee from 1 September 2021.
*******************************
12. Webinar on Children Footwear by a Podiatrist
▪ Are you a first-time parent with many doubts about buying your child's first pair of shoes?
▪ Do you have many concerns about your child's footwear?
If you answer 'Yes' to these questions, check out this upcoming Facebook Live, jointly hosted by Two Little Feet and Physio & Sole Clinic.
The speaker, Ms Fiona Hu, has over 13 years of multidisciplinary experience in podiatry and is currently the Chief Podiatrist at Physio and Sole Clinic, Singapore's biggest private physiotherapy clinic.
Join this Facebook Live to learn more about children's footwear, and engage in live Q&A with an expert.
*******************************
13. Walk for Our Children 2021
Established in 1952, Singapore Children's Society protects and nurtures children and youth of all races and religions.
Due to the pandemic, Children's Society will continue with the virtual edition of Walk for Our Children. President Halimah Yacob will be the Guest-of-Honour for the Virtual Launch on 1 Sept.
For as little as $10, you can make an impact on our beneficiary's life in a positive way by supporting the work of Children's Society, so do sign up now here! All registrants will each receive a free fun pack* with a certificate of participation!
*while stocks last
*******************************
14. Bluey Sept Holiday Activities
Bluey is here to give families more quality time with new ways to play together – indoors or outdoors, rain or shine. Go on a treasure hunt out in a park or spark your child's inner imaginative play at home with a homemade play dough recipe. If it's raining outside, cuddle up at home to catch new episodes of Bluey in her daily (mis)adventures guaranteed to bring giggles to kids and parents alike in this funny, honest take on modern family life. You'll even get to play along or recreate iconic games that Bluey and her family play with everyday items at home. Download Bluey's September Holiday Activity Guide here.
Catch new episodes of Bluey every Monday to Friday at 6.50pm, on StarHub channel 303 and full Series 1 available on BBC Player.
*******************************
15. Dinosaurs of Antarctica
From the Permian through the Jurassic, journey to the south polar landscapes of Antarctica hundreds of million years ago. Join us as we roam the primitive forests and thick swamps with bizarre dinosaurs and colossal amphibians, and enter a surreal world of bug-eyed giants and egg-laying mammals, where survival means enduring the sunless, six-month polar winter surrounded by meat-eaters with night vision.
Together with intrepid Antarctic scientists, go on a quest to understand the ice continent's profound transformation and to predict the future as humans drive dramatic changes globally. Welcome to the prehistoric world of Gondwana. Welcome to Antarctica.
Date: From 3 September 2021
Venue: Omni Theatre, Science Centre Singapore
For more information, visit here. You can get combo tickets via Klook.
➡️ Related Read: Where to See Dinosaurs in Singapore
*******************************
16. Silver Arts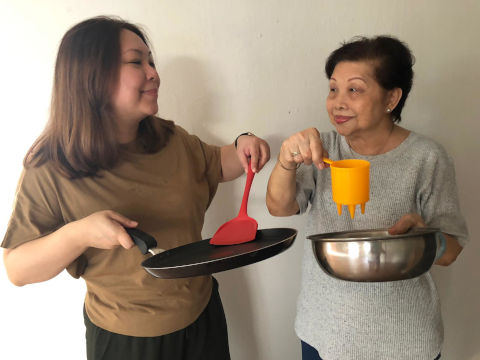 Silver Arts returns with its tenth edition to engage our seniors with a hybrid programming from September to December 2021, allowing them to create meaningful connections with their loved ones. They can pick from a plethora of nine in-venue, live performances and digital workshops, programmes and exhibitions.
There are some programmes to enjoy with your grandparents this September holiday. For more information, visit Silver Arts.
*******************************
17. Singtel Singapore Cancer Society Race Against Cancer 2021
RAC 2021 will take place from 18 to 26 September as a virtual islandwide event. Marking the highlight of this year's RAC is a physical run where top fundraisers will be invited down to the Singapore Sports Hub for a scenic 10KM run, starting from the OCBC Square. The physical run will cap off the 9-day virtual run as a sign to the cancer community that "A Race To Save Lives" is going strong!
Date: 18 to 26 September 2021
e-Venue: Island-wide Virtual Event
For more information, visit Singtel Singapore Cancer Society Race Against Cancer 2021.
*************************************
18. My Community Festival 2021
With a smorgasbord of physical tours and virtual experiences led by everyday Singaporeans, My Community Festival takes you on adventures to explore the cultural gems hidden away in often-overlooked spaces in the heart of the community.
Date: 10 September to 3 October 2021
For more information, visit My Community Festival 2021.
*******************************
19. Children's Festival by Gardens by the Bay 2021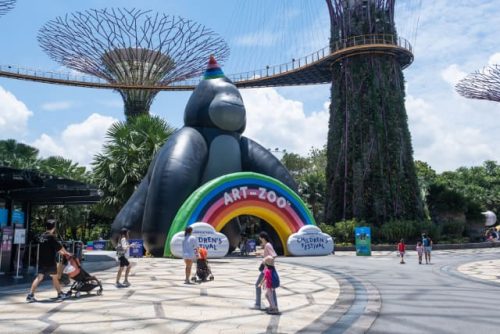 Join Art-Zoo characters Bruno Bear and Little Kong as they search through the Wonder Gardens to find their friends at Gardens by the Bay. Get to learn more about the garden as an ecosystem and bring a piece of the Wonder Gardens home upon completion of the trail activities.
Date: 4 September to 3 October 2021
Time: 10am – 7pm
Venue: Supertree Grove, Gardens by the Bay
Admission: Free
For more information, visit Children's Festival by Gardens by the Bay 2021.
*******************************
20. British Council September Holiday Study Camps 2021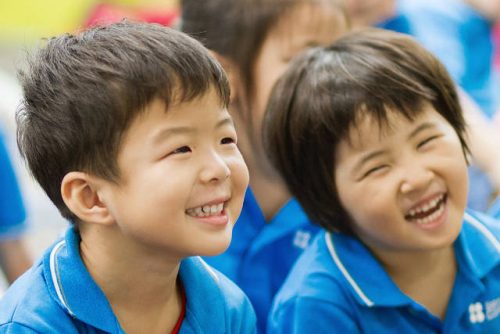 Are you looking for a way to boost your child's confidence before the new school term starts? Our September Holiday Study Camp is open to young learners of all ages. Students can join us in the classroom from 6 to 10 September to explore the world beyond English skills.
In this camp students will:
💬 develop their vocabulary on a range of different topics
🙋 gain confidence in communicating in a variety of situations
🌏 develop their world knowledge and intellectual curiosity
🎓 improve their critical thinking and problem solving skills
Learn more here.
*************************************
21. Singapore Diving Talent Search
As Singapore breaks onto the Olympic stage with the qualification of Jonathan Chan and Frieda Lim for the Tokyo Olympics, Singapore Swimming Association (SSA) is on the hunt for the next generation of diving stars!
This event is open to all Singapore citizens aged 6 to 14 years old (age on 31st December 2021). The only prerequisite is that children can swim 25 metres, comfortably and unaided in deep water using any swim stroke.
Date: 9 to 12 September 2021
For more information, visit Singapore Diving Talent Search.
*******************************
Note: All details are correct as at the time of publishing. While every effort has been made to ensure the accuracy and completeness of the information, no guarantee is given nor responsibility is taken for errors or omissions in the compilation. Readers are advised to check with the respective event organisers for the most updated schedules, venues and details.
---
It is the one week September school break. Do check out our compilation of Exciting Things To Do This September School Holidays in Singapore 2021.
---
Mid-Autumn Festival falls on 21 September 2021 this year. We have compiled a list of Best Bak Kwa and Best MoonCakes in Singapore 2021.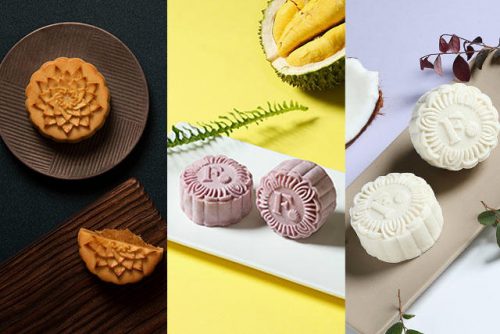 Looking for what to during mid autumn festival? Read Mid Autumn Festival 2021 Events in Singapore.
* * * * *
Want to be heard 👂 and seen 👀 by over 100,000 parents in Singapore? We can help! Leave your contact here and we'll be in touch.
Stay in touch! Subscribe to our Telegram here for our latest updates.