This year, celebrate and enjoy the Mid-Autumn Festival from the comfort of your own home!
Enjoy a series of performances put together by Arts@JLG online! Relax and unwind to soothing music by local artistes on traditional instruments such as the Erhu and the Tabla, or learn about the story of Chang'er and Hou Yi through animation and dance!
On 1 October, join us online for Music under the Moonlight as Rit Xu Quartet and MiCapella bring to you familiar tunes as you enjoy tea and mooncakes while enjoying the view of the moon from home.
Date: 18 September to 4 October 2020
Time: See below
e-Venue: Online Programmes
For more information, visit here.
---
Highlights
Arts@JLG Performances
Music under the Moonlight (Online Concert)
Date: 1 October 2020, Thursday
Time: 7pm to 8pm
Come join us online as we celebrate Mid-Autumn Festival together in the comfort of our own home. Enjoy the emotive and balladic songs about the moon by Rit Xu Quartet and end the night with the vocally talented MiCapella where they serenade you with their take on popular classics!
▪ Rit Xu Quartet
The Rit Xu Quartet consists of Ben Poh on the Bass, Eugene Ang on the Piano, vocalist Jiajun Lin and the award-winning bandleader, Rit Xu on flutes. The quartet was formed out of their friendship and a shared love for music and jazz. Since then they have performed together on numerous occasions and events across the island.
▪ MiCapella
Effervescent, dynamic and versatile, homegrown musical sensations, MICappella, has been galvanising feverish devotion amongst fans across the region. Always embracing their identity as Singaporeans and being effectively bilingual, MICappella has become an international brand that ignites the stage all over the world.
See you on 1 October 2020, 7 pm at NParksSG YouTube channel and NParksBuzz Facebook
Mid-Autumn Gathering
A virtual community coming together to mark the wondrous harvest festival. In the communal spirit of sharing a meal, lighting lanterns and gazing at the moon, this celebration invites the community to partake in a delightful retelling of the age-old story of Chang'er, curated as a Two-Act video experience through animation and dance, evoking the arts and the idyllic charm of Jurong Lake Gardens.
Coming to you soon on NParksSG YouTube channel
Melodies of Mid-Autumn
Set in Jurong Lake Gardens, let your eyes and ears take you to another world as yIN Harmony, Two Four Six Fusion, Ragha Jazz and Dicapella Dizi Ensemble present to you a selection of familiar songs with a traditional and fusion spin to it.
▪ yIN Harmony
yIN Harmony is a multi-ethnic music group whose vision is to infuse various cultural instruments together on a singular platform to reflect the multiracial facet of Singapore. The notion of getting elements deriving from different ethnic groups is crucial to a national identity, and it unifies cultural thread in our urban music landscape, which they hope to inspire through their music.
▪ Two Four Six Fusion
Two Four and Six Fusion is a Singapore based fusion band with its name conceptualised by the number of strings on each instrument; showcasing the two-stringed Chinese fiddle, Erhu, the four-stringed Chinese Lute, Pipa, and the six-stringed Western Guitar. The confluence of Asian and Western elements brings forth a unique blend of sound, highly distinguishable in various genre of music; with the core value of the band's musicking to emote merriment in their craft.
▪ Ragha Jazz
Presenting a wild blend of ragas, jazz harmony, groovy rhythms & modern interpretations with traditional instruments, Ragha Jazz redefines perspectives of sound and rediscovers new musical possibilities through original and exciting compositions.
▪ Dicapella Dizi Ensemble
Dicapella is a congregation of Singapore's top award-winning dizi (bamboo flute) soloists and is currently the largest bamboo flute ensemble in South-east Asia. Dynamic and versatile, the group's repertoire extends beyond traditional Chinese music, to include jazz, Chinese pop, western classical and English oldies, among others. The youthful group, with an average age of only 19-years-old, has staged several energetic outreach programmes in heartlands that have been well-received.
Coming to you soon on NParksSG YouTube channel
Jurong Lake Gardens is part of the National Arts Council's Arts and Culture Node Network
---
Mid-Autumn Festival falls on 1 October 2020. We have compiled a list of Mid-Autumn / Mooncake Festival events 2020 to go with the whole family in Singapore.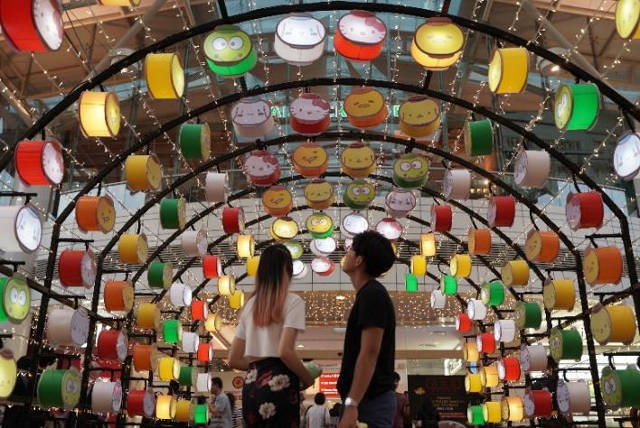 ---
Come across an enrichment class and keen to find out your child's response before committing to a full term? We have trial classes offered at discounted rates HERE!
* * * * *
If you find this article useful, do click Like and Share at the bottom of the post, thank you.
Want to be heard and seen by over 100,000 parents in Singapore? We can help! Leave your contact here and we'll be in touch.