As the pandemic situation stabilises, Gardens by the Bay is bringing back more original elements of its signature Mid-Autumn Festival (滨海花园庆中秋) event. For the first time since the pandemic, this year's Mid-Autumn Festival will see the return of two significant crowd favourites to Supertree Grove: the outdoor marketplace where people can eat and drink, as well as outdoor cultural performances. With a fuller line-up of activities, there will be more opportunities for friends and families to bond – the reason why this year's theme is Reunion (聚).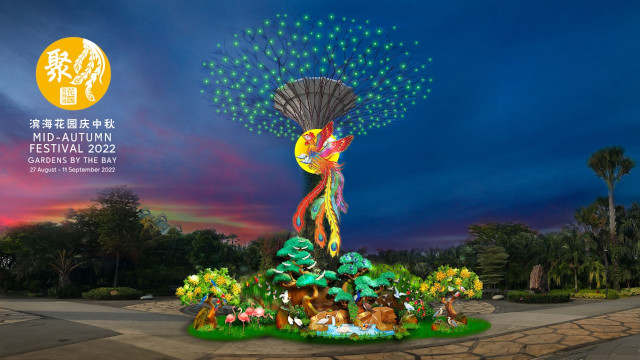 Senior Minister of State for Communications and Information & National Development Tan Kiat How launched the festival today by lighting up the Flight to the Phoenix (百鸟群聚、百鸟朝凤), an 11m-tall lantern set that is set against a Supertree at the main entrance of the Gardens. This lantern set depicts the phoenix soaring up a Supertree, as different species of birds pay homage to it. It is inspired by the Chinese mythological tale "Flight to the Phoenix" (百鸟朝凤), which tells of how the phoenix generously shared its food with other birds during a drought, saving them from starvation. He also completed the painting of a tiger's eye for the Five Blessings (五虎临门) lantern set at Supertree Grove.
Mid-Autumn Festival at Gardens by the Bay will run until September 11.
Gardens by the Bay's Director of Programming Dinesh Naidu said, "The theme of this year's Mid-Autumn Festival at Gardens by the Bay is 'Reunion', because with the stabilisation of the pandemic situation, it is also an opportune time for visitors to be able to fully enjoy the festivities with friends and family. Eating and drinking is a communal activity, and now people can enjoy that once again with the return of the outdoor marketplace. Furthermore, they can sit together under the Supertrees and watch an array of cultural performances that blend the traditional with the modern, where there is something for everyone. We are also heartened to receive continuous support from our community partners and various social services agencies to make this festival a heart-warming and inclusive one."
The return of original Mid-Autumn Festival crowd favourites
Feast on delectable street food and revel in cultural performances as outdoor activities make a return for the first time since the pandemic.
The marketplace, which will be open every day throughout the festival, comprises more than 10 stalls selling popular Asian fare. There will also be a seating area nearby for people to enjoy their food.
The cultural performances at Supertree Grove, which take place every weekend for the duration of the festival, are a diverse line-up put together with the support of the National Arts Council. Among the performers are award-winning Chinese percussion ensemble Drum Feng and Singapore Chinese Dance Theatre. Tok Tok Chiang, a platform founded by actor Nick Shen to reposition Chinese opera and renew interest in this traditional art form, will also perform.
Adding to the diversity are a K-Pop dance crew, as well as the A Date Under the Stars Concert, which will feature homegrown talents belting out a medley of Mandarin pop songs, Xin Yao and Ming Yao.
There will also be fringe performances featuring an LED diabolo (Chinese yo-yo) and LED twirlers.
Lantern sets that embody the spirit of reunion
Displayed prominently at Supertree Grove is Five Blessings (五虎临门), which is based on the auspicious saying of five blessings descending upon the home (五福临门). This lantern set comprises five different lantern tigers designed to look like the traditional Chinese cloth tiger. In collaboration with the Yellow Ribbon Project, 19 female inmates conceptualised and painted the design of the tigers. This collaboration aims to provide the inmates a platform to showcase their artistic talents and give back to society through art.
Also at Supertree Grove is The Colours of Daily Life (缤纷日常), a lantern set that debuted at the Seoul Lantern Festival 2021, and is presented by the Embassy of the Republic of Korea in Singapore and Seoul Tourism Organization. Mid-Autumn Festival is of great significance to the Korean community too. Known as Chuseok, it is a harvest festival where Koreans pay respect to their ancestors and reunite with family members back in their hometowns. This lantern set depicts animals gathering to fly kites and play yut-nori (a Korean board game), as life returns to normal after the pandemic. The set is made with hanji, a traditional Korean paper that is derived from mulberry tree and has waterproof properties.
Joyous Reunion (欢聚一堂) is a lantern set that features the 12 animals of the Chinese zodiac engaging in Mid-Autumn Festival activities together. Colourful Blossoms (花攒锦聚), a floral lantern arch made from over 20 lantern peonies – the "King of Flowers" in Chinese culture – was created as a photogenic backdrop for people to document time spent together with their friends and family.
Near the Supertree Grove, Colonnade of Lights (灯廊), which is sponsored by Kwan Im Thong Hood Cho Temple, showcases 1,000 unique lanterns hand-painted by the public, including beneficiaries of Gardens by the Bay's Gift of Gardens community outreach programme, which provides complimentary entry to the cooled conservatories to the less privileged.
Complementing the lanterns at Supertree Grove is the popular free Garden Rhapsody light and sound show at Supertree Grove, where lights on the Supertrees "dance" to a Mid-Autumn themed musical soundtrack, Tales of the Moon.
Mid-Autumn Festival promotions
To bring families together, the Kids Go Free to Flower Dome promotion is back this Mid-Autumn Festival. Children aged 12 and below who are local residents enjoy free admission to Flower Dome from today until the end of the festival on Sep 11, from 6pm to 9pm. There will also be lantern giveaways at the Supertree Grove on the opening night of the festival (Aug 27) and the actual day of this year's Mid-Autumn (Sep 10), while stocks last.
Mid-Autumn Festival 2022 is organised by Gardens by the Bay, in collaboration with National Arts Council, The Embassy of Republic of Korea, Korea Tourism Organization, Seoul Tourism Organization and Chinese Media Group of Singapore Press Holdings Media Trust. The event is supported by our community partner Tote Board, and sponsor Kwan Im Thong Hood Cho Temple.
For more information, visit here.
Date: 27 August to 11 September 2022
Time: Various timings
Location: Gardens by the Bay
---
Mid-Autumn Festival falls on 10 September this year. Remember to check out our list of Best Mooncakes and Best Bak Kwa in Singapore 2022.
Looking for what to during mid autumn festival? Read Mid Autumn Festival 2022 Events in Singapore.
* * * * *
Want to be heard 👂 and seen 👀 by over 100,000 parents in Singapore? We can help! Leave your contact here and we'll be in touch.
Stay in touch! Subscribe to our Telegram here for our latest updates.