The 15th day of the eighth month on the lunar calendar 八月十五 is a special day for the Chinese. During the night, adults sip tea and children carry lanterns under a full moon 🌕. Still, don't know what's the special occasion? Here's another hint – Mooncakes.
Mooncakes 🥮 have become synonymous with Mid-Autumn Festival in Singapore.
There are so many types and flavours rolled out each year that consumers are spoilt for choice. If you feel lost and confused, don't worry.
From snowskin to traditional flavours, we have come up with a list of the best mooncakes you can get in Singapore.
Mid-Autumn Festival falls on 21 September 2021 (Tuesday) this year, so there's still some time to decide which mooncakes to buy.
---
1. Ding Bakery
Ding Bakery offers Premium mooncakes ranging from signature traditional mooncakes to exquisite snowskin mooncakes.
Elegant Box design, perfect gift of the highest class.
Choose from signature white lotus with/without yolk to tantalising and unique flavours such as Mao Shan Wang Durian Snowskin mooncake, Exotic Passionfruit and Mango Snowskin mooncake and more.
Each mooncake is freshly handcrafted with the best ingredients.
Lower in sugar, better in taste.
100% natural ingredients, no preservatives.
Highly raved reviews by top food bloggers and top rated on Google.
Visit here now to order! Free Delivery for orders above $100.
Website: dingmooncake.com
Facebook: facebook.com/dingbakery
Instagram: instagram.com/cnygoodies.sg
***********************************************
2. SunnyHills
SunnyHills combines Taiwan native pineapples with salted egg custard to balance the sweet & savoury taste that's distinctive of traditional Mid-Autumn flavours, but at 65% lesser calories than traditional mooncakes.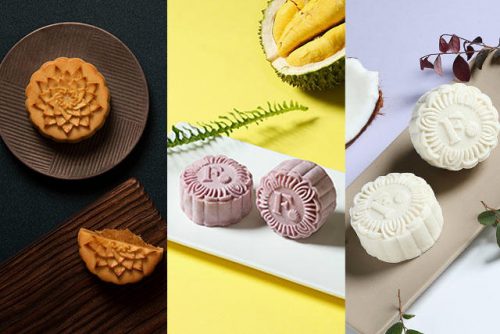 The motif symbolizes the prosperous harvest of pineapple blossoms, representing blessings of abundance to the receiver. A thoughtful gift that will always be remembered.
Under SunnyHills World Project, FORBIDDEN is also launching the world's first SUPERFOOD x DURIAN mooncakes! Luxurious Mao Shan Wang from Raub, Pahang is enclosed within a velvety Açaí snowskin, whereas D24 durian is enveloped within a tender coconut snowskin. These new creations will leave you yearning for more with its alluring aroma and premium durians.
Find out more below:
SunnyHills Pineapple Custard Mooncake: here
FORBIDDEN Superfood x Durian Mooncakes: here
***********************************************
3. The Pine Garden
Founded in 1984, The Pine Garden is a heartland-boutique bakery with over 36 years of history and heritage that revels in the culture of celebrations. Recognising the need to reinvent a long-standing family business, Mr Wei Chan, Managing Director of The Pine Garden transformed the old-school bakery into one with products that perpetuate a truly Singaporean heritage.
Every creation at The Pine Garden comes straight from the heart – each pastry carefully and lovingly handcrafted by a team of devoted bakers, serving only the freshest bakes one can find while reminiscing the traditional taste.
Early Bird Discount of 15% for retail purchases and advance orders placed by 28 August 2021 (discount applicable for all mooncakes except for Traditional Delights and Vegetarian Pea-Cakes). Order here.
***********************************************
4. Singapore Marriott Tang Plaza Hotel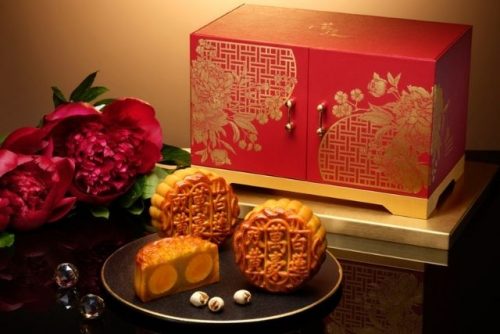 Gather your family, saunter in the spell-binding moonlight and bask in heartwarming family moments while indulging in our mélange of baked and snowskin mooncakes, masterfully-handcrafted by our award-winning Wan Hao Chinese Restaurant.
Available from 16 August to 21 September 2021, Singapore Marriott Tang Plaza Hotel is once again going above and beyond to enthrall taste buds with timeless classics as well as new creative mooncakes that are crafted with high quality ingredients and traditional mastery. For those with a more adventurous palate, this year's snowskin mooncakes are gastronomical adventures with plenty of surprises. There is a mooncake for everyone!
Order here and get 35% discount with promo code "35MOONCAKE".
***********************************************
5. Sheraton Towers Singapore
Sheraton Towers Singapore celebrates the Mid-Autumn Festival with a resplendent curation of traditional baked and contemporary snowskin mooncakes handcrafted to perfection by the culinary team of award-winning Li Bai Cantonese Restaurant. Li Bai's exquisitely handcrafted mooncakes, made with the finest ingredients will be available from 11 August to 21 September 2021.
New this year to Li Bai's traditional baked signatures, the White Lotus Seed Collagen Paste with Single Egg Yolk mooncake ($80) is enhanced with the addition of collagen which is beneficial for skin health. Other quintessential mooncakes in the baked series include the White Lotus Seed Paste with Double Egg Yolk ($80), Mini Salted Egg Custard ($80) as well as White Lotus Seed Paste with Macadamia Nut ($72).
Order here and get 10% cashback.
***********************************************
6. Si Chuan Dou Hua Restaurant
Indulge in some delicious treats without the guilt this Mid-Autumn Festival! Enjoy 4 low-sugar mooncakes from Si Chuan Dou Hua Restaurant. Marvel at the intricately designed floral clutch packaging. Get their custom tea blend "Noble" and a S$20 restaurant dining voucher with every mooncake box!
Order here and get 35% discount with promo code "35MOONCAKE".
***********************************************
7. Fairmont Singapore
Indulge in Fairmont Singapore's signature collection of exquisite mooncake gift boxes, which include traditional baked flavors and exciting new snowskin flavors, this mid-autumn.
Order on KKDay and get 35% discount with promo code "35MOONCAKE".
Order on Klook and get 15% discount.
***********************************************
8. Gin Thye
Recognised by the National Heritage Board of Singapore, Gin Thye is a traditional brand committed to the preservation and spreading of traditional Asian bakery culture for future generations to come. They specialise in good, old-fashioned Asian pastry and mooncakes are one of the delicacies they offer.
For durian lovers, this is a bundle you won't want to miss. Exclusive to Shopee, the Durian Bundle features a yummy combo of Snow Skin Premium Charcoal Red Prawn Mooncake + White Skin Durian Mochi!
Order on Shopee and get up to 41% off.
***********************************************
9. Crowne Plaza
Celebrate this Mid-Autumn festival with Crowne Plaza Changi Airport with heartwarming gifts of traditional baked and locally inspired snow skin mooncakes
Illuminate the hearts and homes of family and friends this Mid-Autumn with delectable Snow Skin Mooncakes in the Vibrant Plum box and Traditional Baked Mooncakes in the Royal Blue box. These elegant gift boxes are adorned with orchid motifs reminiscent of Crowne Plaza Changi Airport's iconic façade.
Order on Klook and get up to 35% off.
***********************************************
10. Conrad Centennial Singapore
A celebration of Love and Unity, our selection of soft and velvety mooncakes are meticulously crafted to keep everyone over the moon. Baked to golden perfection, the traditional flavours includes various combinations of premium white lotus paste with decadent salted egg yolks.
All our exquisite lunar treats come in a specially designed collector's gift box that exudes classic sophistication and contemporary flair.
Order on Klook and get up to 35% off.
***********************************************
11. Furama Riverfront
Captivate hearts and taste buds with our quartet of tantalising baked mooncakes – a timeless gift for those who matter most. Mooncakes giftbox – Box of 4 assorted flavours (pre-fixed) are available.
Order on Klook and get up to 25% off.
***********************************************
12. Four Seasons Hotel
Gift and partake in a graceful Mid-Autumn celebration with handcrafted mooncakes by Michelin-starred Jiang-Nan Chun.
Order on Shopee.
***********************************************
13. Zhen Wei Mooncake
Made with a family recipe preserved through generations, Zhen Wei has been known for our handmade Teochew crispy mooncakes. From the locally sourced ingredients to flaky crusts, Zhen Wei's crispy mooncakes are not only distinct from the typical ones but each are unique as every pastry is carefully made by hand. As a gift or to be shared with your loved ones, Zhen Wei's crispy mooncake will certainly make this year's Mid-Autumn Festival unique as any other.
Order on Shopee and get up to 10% off.
***********************************************
14. Emicakes
Since 1992, Emicakes has been known as Singapore's No.1 Durian Cake Maker. Emicakes offers their signature premium grade Mao Shan Wang and D24 Durian cakes that are arguably one of the best in the island. Not to be limited to its popular durian cakes, Emicakes has also made a name for itself from its other delicious cake flavours like chocolate, yam, mango and their eggless versions, many of which have become household favourites.
Order on Shopee and get up to 61% off.
***********************************************
15. ParkRoyal Collection
PARKROYAL COLLECTION Pickering, Singapore commemorates Mid-Autumn Festival with a divine ensemble of traditional baked mooncakes from Peach Blossoms.
The elegant two-drawered mooncake box with a built-in Bluetooth speaker is beautifully adorned in elements of peach blossom floral design on pastel green, and complete with a gold emblem clasp.
Order on Klook and get up to 25% off.
***********************************************
Want to do something different with your kids this year? How about making your own mooncakes?
Enjoy making your very own mooncakes with this bunny mooncake-making kit, including all the required ingredients, tools, packaging, instructions, and a tried and true mooncake recipe. Don't hesitate to make your own rabbit mooncakes and watch as they turn into one of various colors at random! You can buy it on KKDay to enjoy 25% off.
---
Mid-Autumn Festival falls on 21 September 2021. We have compiled a list of Mid-Autumn / Mooncake Festival events 2021 to go with the whole family in Singapore.
* * * * *
Like what you see here? Get parenting tips and stories straight to your inbox! Join our mailing list here.
Want to be heard 👂 and seen 👀 by over 100,000 parents in Singapore? We can help! Leave your contact here and we'll be in touch.