The 15th day of the eighth month on the lunar calendar 八月十五 is a special day for the Chinese. During the night, adults sip tea and children carry lanterns under a full moon 🌕. Still, don't know what's the special occasion? Here's another hint – Mooncakes.
Mooncakes 🥮 have become synonymous with Mid-Autumn Festival in Singapore.
There are so many types and flavours rolled out each year that consumers are spoilt for choice. If you feel lost and confused, don't worry.
From snowskin to traditional flavours, we have come up with a list of the best mooncakes you can get in Singapore.
Mid-Autumn Festival falls on 10 September 2022 (Saturday) this year, so there's still some time to decide which mooncakes to buy.
---
1. Ding Bakery
Ding Mooncake offers Award-Winning traditional and snow skin mooncakes that are handmade, freshly baked with zero additives or preservatives. Featured by multiple Singapore top bloggers for its taste, Ding Mooncake is undoubtedly a popular choice, perfect for gifting family and friends! The mooncakes are luxuriously encased in a box themed Timeless Treasures, made of actual wood and leather and featuring the colour of the year, Celadon Green.
Only GRADE AAA premium Mao Shan Wang from Pahang Highlands are used for their Highland Mao Shan Wang Snowskin Mooncake $89.90 (8pcs) to give the richest durian experience.
Shop now at: dingmooncake.com (Up to 30% Early bird discounts!)
Facebook: @dingbakery
Instagram: @cnygoodies.sg
***********************************************
2. Whyzee
Whyzee creates the best desserts that are each whipped to meet the unique needs and tastes of all in Singapore. Whatever the celebration – birthday, wedding, or a simple party – make the occasion more special with a dessert match made in heaven.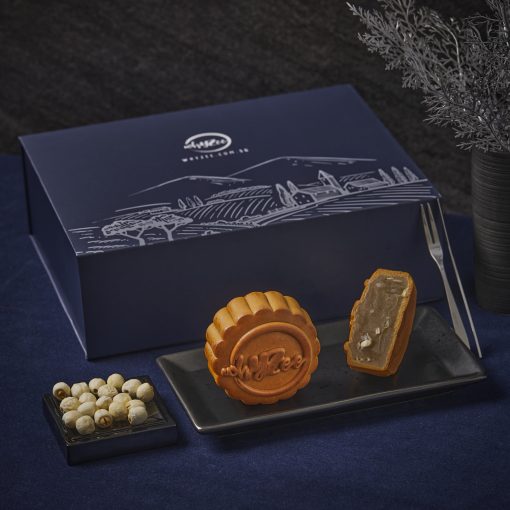 Whyzee's masterfully handmade & crafted Mid-Autumn mooncake range has recently been added. Baked to perfection, savoury and sweet, Whyzee's newest mooncake range includes classic flavours from Lotus and Custard mooncakes to local flavours such as Pandan and Sambal.
Using only the most premium of ingredients, Whyzee's mooncakes guarantee the best quality and make for perfect gifts for friends and family.
Shop now at whyzee.com.sg.
***********************************************
3. Baker's Brew
This Mid-Autumn Festival, Baker's Brew presents the Louvelle Collection: a strikingly modern mandarin orange box with clear case and matching silk sash, inspired by French fashion. Inside, each artisanal baked mooncake is handcrafted with reduced sugar and no preservatives – the perfect thoughtful gift.
Taste the Traditional Single Yolk, a classic honed to perfection; the Ispahan, with fragrant lychee lotus and dessicated raspberries; the Black Sesame, a savoury premium black sesame wrapped in unique charcoal skin; and the Japanese Red Bean Citrus, containing naturally sweet and earthy Azuki, brightened by citrus rind chunks.
Order here and use code 'BBSxTNAP25' to enjoy 25% off.
***********************************************
4. Wang Lai Bakery
Wang Lai Bakery, established in 1968, has been a popular confectionary booth located in Chinatown that specialises in traditional Chinese goodies. Preserving a traditional recipe passed down for 4 generations in the family, extraordinary efforts have been taken to constantly tweak and improve the family recipes to be as close as possible to perfection. Each goodie is lovingly handcrafted and plenty of attention is given to every single detail of its construction.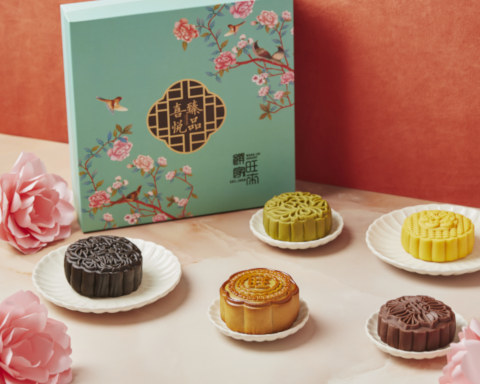 Wang Lai Bakery's signature mooncake collection is back and better than ever for the Mid-Autumn festival. With both traditional and modern flavours available, there's something for everyone. Wang Lai Bakery also offers low in sugar mooncakes, perfect for the older generation. With no preservatives added, Wang Lai Bakery's mooncakes are guaranteed to settle all your mooncake needs this Mid-Autumn Festival.
Shop now at cnygoodies.com.sg.
***********************************************
5. The Pine Garden
The Pine Garden is a heartland-boutique bakery with over 38 years of history and heritage that revels in the culture of celebrations.
Every creation at The Pine Garden comes straight from the heart – each pastry carefully and lovingly handcrafted by a team of devoted bakers, serving only the freshest bakes one can find while reminiscing the traditional taste.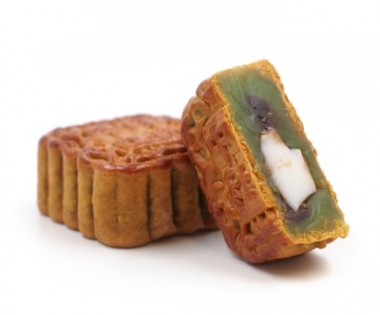 Don't miss the Baked Skin Chendol Red Bean Chunky Coconut mooncake. This medley of silky pandan lotus paste, nostalgic red bean, and that sweet chunky coconut provides a dance of flavours and textures with each bite.
Order here.
***********************************************
6. Hilton Singapore Orchard
In the grand tradition of the annual Mooncake Festival, Hilton Singapore Orchard has introduced a collection of Cantonese-style mooncakes in a variety of traditional flavours like Plain White Lotus and White Lotus with Single or Double Yolks. Those craving something extra can opt for modern iterations like the Osmanthus White Lotus and the Traditional Mixed Nuts mooncake.
A box of four mooncakes is priced at $82. Each set comes in an ornately designed pink box, which can double up as a jewellery box, and a reusable pastel pink tote bag adorned with a minimalist floral design as an ode to Orchard Road's history as a plantation.
***********************************************
7. Park Royal
Delectable mooncakes that come in environmentally-friendly packaging? Yes please. This Lychee with Wolfberries mooncake set is presented in an elegant four-tier lantern tower mooncake box that is crafted with sustainably-sourced materials. Made with paper board and medium-density fibreboard, which are predominantly made using wood fibres and unutilised wood shavings, you truly can have the best of three worlds when it comes to taste, aesthetics and reducing your carbon footprint.
***********************************************
8. Shangri-La Hotel
Savour sweet reunions over a symphony of traditional baked mooncake selections by Shangri-La Hotel. Each box houses four of their best-selling baked mooncake flavours and can be reused as a jewellery box, making it the perfect gift. Also available in a striking red box that's adorned with delicate peonies, this set houses their most popular mooncake flavours that are suitable for the health conscious – Reduced Sugar versions of Double Yolk, Single Yolk and Plain White Lotus Seed Paste, plus Mixed Nuts with Chicken Ham.
Order on Shopee.
***********************************************
9. Clifford Pier
The Clifford Pier Mooncake Tingkat tells a tale of nostalgia about the bustling hawker scene that surrounded Clifford Pier in the former days. Updated for modern times, the custom-designed tiffin carrier takes inspiration from Peranakan heritage with floral motifs and Chinese calligraphy-style characters, 花好月圆, to depict a full moon.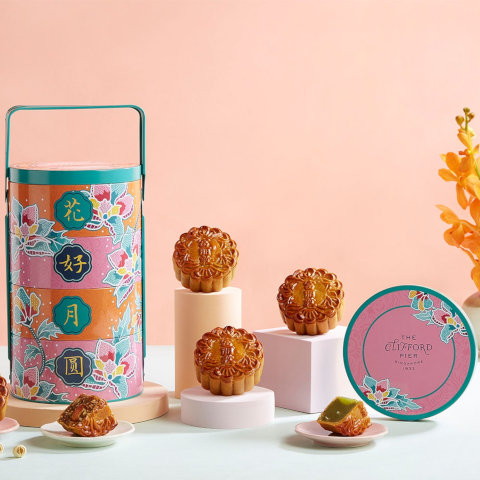 Each tiffin carrier contains four baked mooncakes in signature flavours that reflect the diversity of Singapore's hawker cuisine with a twist. With its mixture of nuts that are sweetened with candied tangerine and melon, the Baked Mixed Nuts with Satay Sauce brings a local twist to the well-loved Cantonese mixed nuts mooncake.
Order on Shopee.
***********************************************
10. The Capitol Kempinski Hotel Singapore
Collectors of limited-edition mooncake boxes will be delighted to receive this multi-functional mint green one from The Capitol Kempinski. Adorned with iconographies that portray the heritage of Capitol Singapore, CHIJMES and the iconic Capitol Theatre on the outside, this box pays tribute to the hotel's legacy. Inside, the eight Mini Baked White Lotus Macadamia Nuts Mooncakes bring with them a satisfying crunch of macadamia nuts interspersed throughout the pure lotus paste.
Order on Shopee.
***********************************************
11. Regent Singapore
If you find yourself spoilt for choice, you can't go wrong with timeless classics like Parma Ham and Pork Floss with Assorted Nuts, Double Yolk and Melon Seeds, Single Yolk and Melon Seeds and White Lotus Paste with Melon Seeds. Complete the mooncake tasting experience with the best tea and wine pairings, as well as complementary food items such as pomelo, lotus root. Or heighten the festive cheer with mid-autumn decor!
Order on Shopee.
***********************************************
12. Fairmont Singapore
Fans of traditionally baked mooncakes will be treated to an assortment of four much-cherished varieties. Carefully baked to golden brown perfection, these classics with flavours including Pine Nuts & Pumpkin Seeds, Single and Double Yolk, and the newly-launched Melon Paste with Mixed Nuts and Pumpkin Seeds will have you coming back for more.
Order on Shopee.
***********************************************
13. Marriott Tang Plaza
Those that identify as durian lovers would know that mooncake feasting wouldn't be complete without durian snowskin mooncake. Marriott Tang Plaza's take on this delicacy boasts of real and authentic Mao Shan Wang durians that are packed in a velvety-soft snowskin. Brimming with rich, creamy and bittersweet Mao Shan Wang pulp, it promises to satisfy all durian lovers alike.
***********************************************
Mid-Autumn Festival falls on 10 September 2022. We have compiled a list of Mid-Autumn / Mooncake Festival events 2022 to go with the whole family in Singapore.
* * * * *
Like what you see here? Get parenting tips and stories straight to your inbox! Join our mailing list here.
Want to be heard 👂 and seen 👀 by over 100,000 parents in Singapore? We can help! Leave your contact here and we'll be in touch.