Why is your little one so reluctant to go to school? We list down 5 possible reasons and solutions to tackle them.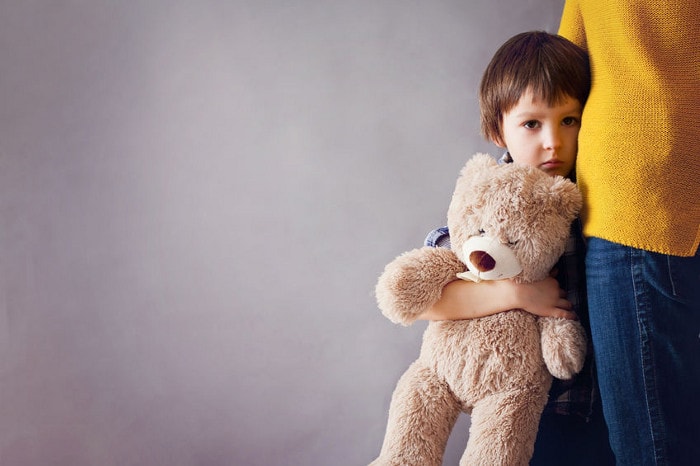 #1 They're new to the environment
Your child could be experiencing separation anxiety at a whole new level when they transition from home to school. Home is where they feel safest – and that's a good thing. There's nothing wrong with preferring the comfort of the home and a parent or caretaker's presence; as adults, don't we feel most at ease in our own household too?
What you can do
Allow them to miss home. At home, your kid knows where everything is: which light switch to reach for, which door leads to which room. They have their own toys and bed and they're free to sit, sprawl, and do as they wish. Of course they would miss that freedom and comfort while they're at school! Wouldn't you?
Be patient with them. If your child is anxious about going to school because it's a new place, empathize with them and give them time to become familiar with the pace of events at school. Gradually as they become accustomed to the faces of their teachers and peers, and learn the layout of their classroom and campus, their separation anxiety should lessen.
#2 The school day feels too long
What you can do
Reassure them that no matter what, they'll get to come home. It sounds obvious, like something they should already know, but as children they could have an irrational fear that you're leaving them at school forever.
"Ensure that you explain clearly beforehand what they can expect and what they can expect from you. For example, that you will come back at a certain time – and make sure you are on time. Whatever you say to your child, be sure to always follow through. Building trust in your child is paramount to enabling them to feel safe and confident," advised Fiona Walker, Group Manager Director of Julia Gabriel Education.
#3 They dread the lessons and feel academic pressure
Perhaps they feel like they're falling behind on schoolwork. Maybe they're demotivated because they don't understand everything that's taught.
What you can do
Talk to their teachers about their struggles and progress. Cooperate, rather than interfere with their teachers, to come up with ways for your child to better understand the material. "Think about how your child learns best. Most children are capable of learning most things – how they learn is what makes the difference!" said Ms Walker.
"Young children especially must enjoy what they are doing in order to feel inspired and motivated to learn. Find a way to make the activity something they can relate to. In all cases, avoid chastising your child! Praise their effort and the fact that they have tried."
#4 Mornings are too rushed
Kids – especially groggy kids – don't do well when they're being rushed and told, "Hurry up! You'll be late! " several times. It also sounds like the recipe to a morning tantrum.
What you can do
Establish a clear morning routine. Make sure they're going to bed early so that they get substantial sleep. If they don't get enough rest, they're bound to wake up cranky, and that could contribute to their refusal to go to school.
Aim for a slower morning, not a tense one. An earlier wake-up time gives them more of a buffer to brush their teeth, get dressed and eat breakfast – and even have some time to play before leaving the house. For working parents, precious morning time with bub can do wonders in setting their school day off to a good start.
If it's an option to let your little one go to school a little later, you might consider letting them sleep in so that they wake up naturally. However, if they have to be at school on time, then rather than letting them sleep in, consider starting their morning routine earlier (again, just make sure their bedtime is early, too).
See also: How to create consistent routines for children
#5 They feel like they don't get along with their peers
According to Ms. Walker, "As children's understanding of the world around them develops and their experiences increase, they start to feel affected by the attitude of their peers, so you are more likely to witness anxieties in your child, especially as they move from kindergarten to primary school."
Perhaps your child is afraid of going to school because they feel unpopular. Friendship fall-outs might occur, but unless there's bullying involved, try not to get involved. It's heartbreaking to see their feelings hurt.
What you can do
If they come to you crying that they have no friends, let them know that they are loved and supported within their family. Your family is their home base; that's where you give 100% in making sure they feel valued. Encourage them to express themselves openly, and empower them to share their thoughts; that way, they will be "less likely to feel phased by any new experiences or group situations," Ms. Walker said.
This was first published in The New Age Parents e-magazine
By Jenny Tai
If you find this article useful, do click Like and Share at the bottom of the post, thank you.
Want more comprehensive info? Check out our e-guides here.