Be it entering school for the first time, or the transition between Kindergarten to Primary school, the experience can be daunting for a young child. Having friends in school can provide that comforting, moral support needed to navigate the initially-unfamiliar school environment, as well as boost their self-esteem.
But what if your shy or reluctant child has some difficulty making friends?
6 Ways To Help Children Make Friends
Research suggests that parents play a key role in helping their children overcome their shyness in striking up a conversation with their peers.
1. Engage in conversations at home
By modelling proper manners to have engaging conversations, your child will have a clearer picture of how to act when engaging in a conversation.
Conversations at home can also introduce the concept of active listening. This form of listening makes it clear that attention is being paid to the speaker through body language, such as eye contact and body orientation towards the direction of the speaker.
2. Practice saying "hello"
Encourage your child to greet someone new each day, starting with "familiar strangers" like your neighbours, the postman, and store owners. Rehearsing social skills in a familiar environment builds your child's confidence to speak up more regularly, especially when the responses are warm and encouraging.
3. Set up small playdates
Setting up playdates with other children who are around the same age group can be a good way to practice the social skills introduced at home.
Keep the playdates short at around 45 minutes to an hour as the children are still getting to know each other, and being used to each other's presence. The short session not only leaves the children looking forward to the next one, but it also prevents any squabbles from escalating into a fight.
Parents do need to be around to guide and facilitate the session in the case of conflicts arising, or the need to change activities. Remember, the parents' role is to break the ice but avoid taking control over the session!
4. Help them be socially aware
Young children below the age of three might not be able to recognise or understand emotion.
Guide your child to learn how to pick up non-verbal cues by observing the facial expressions and body language of people in their surroundings.
Verbalise the emotions by pointing out the person's body language, and explain the emotion he might be feeling.
For example, you can say "That man is frowning and keeps running his hand through his hair on the phone. He seems frustrated or troubled, don't you think?"
This allows the child to understand negative body language and thus, to be more cautious in his actions and words when approaching people with similar body language or emotion.
It is also a form of perspective-taking, which requires you to put yourself in the other person's position and imagine what your thoughts, feelings and actions would be if you were their situation.
5. Educate them on cultural differences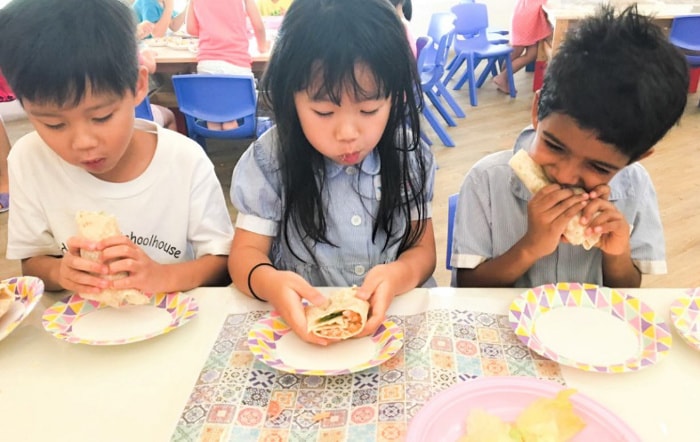 In becoming a global citizen, it is crucial for your child to accept and get along with people of all races and religions. Start by exposing your child to the different cultures, races and religions of the world. This helps him realise that people are the same, despite the way we look or dress, which foods we eat or the festivals we celebrate.
A good introduction to the variety of world cultures can be introduced through reading children's books, taking them on cultural food trials.
For example, sampling the difference in Malay, Indian, Chinese and Eurasian cuisines, or tasting foods from different countries like Turkey, Japan or Thailand, and visiting museums.
These can be good starting platforms to pique your child's interests and take the first step in understanding the cultural and religious differences around the world.
6. Seek necessary help when needed
Shyness and difficulty in making friends at a young age are common. However, red flags in your child's behaviour might alert you to pay your paediatrician a visit:
Difficulty or inability to hold eye contact
Tantrums or crying whenever other children are around
Fear of approaching or going to a playground, park or public space
Don't forget to give your child some time to adjust to the new environment. To gain a deeper understanding of your child's interactions in school, speak to his teacher to work out possible ideas together to allow your child to come out of his shell.
This article was contributed by Ms Nancy Lee-Wong, Head of Training & Curriculum (Overseas) at Nurture Education Group Pte Ltd. Photos courtesy of Nurture Education Group Pte Ltd.
This was first published in The New Age Parents e-guide.
* * * * *
Like what you see here? Get parenting tips and stories straight to your inbox! Join our mailing list here.
Want to be heard 👂 and seen 👀 by over 100,000 parents in Singapore? We can help! Leave your contact here and we'll be in touch.