As parents, have you been at a moment in time where you look at your child and steal a secret smile to yourself? I had one such moment on the day when I attended my daughter Liv's P1 Orientation.
At the beginning…
There she was, one minute, with me holding her little hand and leading her up to her new class. The next, as we turned round the corridor, she let go of me, smiled and went off to her classroom to join her new teacher and classmates. At that point, I wondered if I had really been there for her and prepared her for this new chapter in her life. The rational side of me was telling me to get a grip but the emotional side of me as well, too emotive to accept that it is time to let my child have a chance to go experience a new learning journey.
The weeks and months passed…
Homework. I was concerned that Liv will find that something tough to handle. However, learning to cope with the idea of homework was not as big a challenge as I thought it would be for both Liv and me. We both worked out a routine and schedule and with some strict discipline at the beginning to keep to the task or tasks, we managed along the way. I made Liv learn to be responsible for her own school bag.
This included the homework she would have to complete even before I come home from work. On days with no homework, she does "mummy's homework" which could include some reading time on her own or just a page or two of some assignment book bought off the shelves.
I was quite adamant that Liv does not end up with tons of tuition. She needs and deserves a childhood. We work hard on weekdays and on weekends, we tend to go and enjoy family time. When there are tests due, she understands that she needs to put in the effort. It is not how many full marks she gets, she is made to understand that best effort is the 'best mark'.
The stumbling blocks…
Liv was not too proficient in Chinese. In fact, after the first term in school, she was 'identified' to attend remedial classes for Chinese. She was not willing and was in fact very upset. Still, it was a learning curve for the little one who had to see that to get out of an unpleasant situation; she had to work herself out of it. Together, we set out a task to try and improve her Chinese grades so that she could drop out of the remedial by the end of the semester.
It was not easy for Liv but at the same time, I saw a form of determination I have never seen in Liv before. She could work on a task for an hour straight just to get it right. She kept on reworking on some things she had difficulty in. I will never forget the pride in her voice when she called me at work to tell me that she had passed her Chinese spelling test with full marks. Liv tasted what success meant then. To me, that was the learning point.
Friends and not so good friends…
How do you tell your child that real friends will not make you do things you don't want to do? That was a hard struggle. One day, I found her counting out money from her piggy bank. On further probing, she told me, with tears in her eyes that her 'best' friend in school told her that she must buy her things from the bookshop or she will not be her friend anymore. She had been foregoing recess money to 'buy' friendship.
It was tempting as a mother to just jump right in and take over the situation; complain to the teacher, the school principal and even demand to speak to the other child's parents. All those thoughts crossed my mind. I could not stand the thought that my child had been a victim of a bully. She had not had recess for a week! That was unforgivable!
Liv told me she was scared to tell me because she knew that I had always forbidden her to spend at the bookshop. She looked at me with her tear-filled eyes and was looking for answers on what to do. I told her calmly that she needed to stand up for herself this time and tell her friend, that she was getting her into trouble with me. A good friend will not do that. 'Liv, you need to be brave', I said.
It was a painful (and hungry) lesson but albeit an important learning point. For me, it was also a lesson to be picked up as a parent. I learnt when to step back and let go. I trust Liv also picked up an important lesson that day when she stood up for herself. Weeks later from this incident, Liv told me that this particular friend of hers is going round and giving 'presents' to make new best friends. I asked her how she felt.
"You do not need to give your friend anything if she is your real friend," that was Liv's response.
Accepting failure
Liv was selected to sing solo for her P1 concert to be held at the end of the year. Boy, was I elated! I mean, I was even more excited than she was! However, 2 weeks into practice, she told me that her teacher got someone else to audition for her role. I found out later that she had been complacent and was not giving her best during practice. She was disappointed but she acted nonchalant about things. She thought if she were to try hard again, she will get back the role. The teacher was not too convinced.
Learning to fall and being able to accept that setbacks in life are inevitable is tough on a 7 year old. She is still grappling with the concept of having to accept failure. Should I cushion that fall? Hard to turn our backs on it but we have to. In the long run, Liv needs to see that that is part of life.
Then and Now…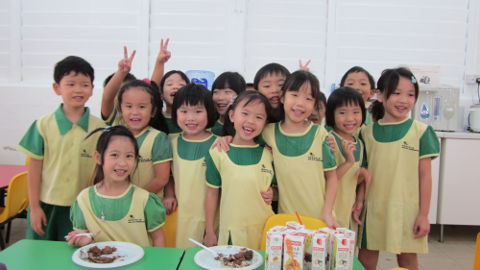 Then…
One year on, I see Liv transforming from a young girl to a little young lady. She has matured from the highs and the lows in school. She was blessed with a great form teacher, Madam Hana and under her tutelage; Liv is starting to mould her own personality and strengths in character. Having a teacher, who understands my child and truly believes that to teach is to touch lives, really makes the transition for me as a parent having a kid in primary school so much easier.
Liv's P1 concert is coming soon and I have a strong sense that she is not going to be singing solo for me that day but I do strongly know in my heart that she will be surrounded by good friendship and self-confidence. With that thought, I sense a secret smile forming…
Now…
Esther dedicates this article to the all teachers at CHIJ Katong (Primary), especially to Madam Hana.
By Esther Lim, CEO and Founder of LEAP SchoolHouse.
Born and educated in Singapore, she holds a Master Degree in Education (NTU/NIE), Bachelor Degree in Arts (NTU), Diploma in Marketing – Top student for the year 2000 (Chartered Institute of Marketing). Esther has more than 10 years of teaching experience and has taught widely in both Secondary and Primary schools. She was also involved in curriculum planning and development work for the primary unit at MOE for several years. Esther has also conducted workshops and talks for educators, locally and overseas. Esther is also a mother of three children.
This article was first published in The New Age Parents e-magazine.
* * * * *
Like what you see here? Get parenting tips and stories straight to your inbox! Join our mailing list here.
Running a service or business targeted for parents? Reach out to a wider audience in our Best Preschools compilation. Leave your contact details here and we will get in touch with you.