Planning activities for the holiday doesn't necessarily mean spending big bucks. Lost for ideas on how you can make this school break a special one? We've got you covered with these ideas that won't hurt your wallets.
#1. Pitch A Tent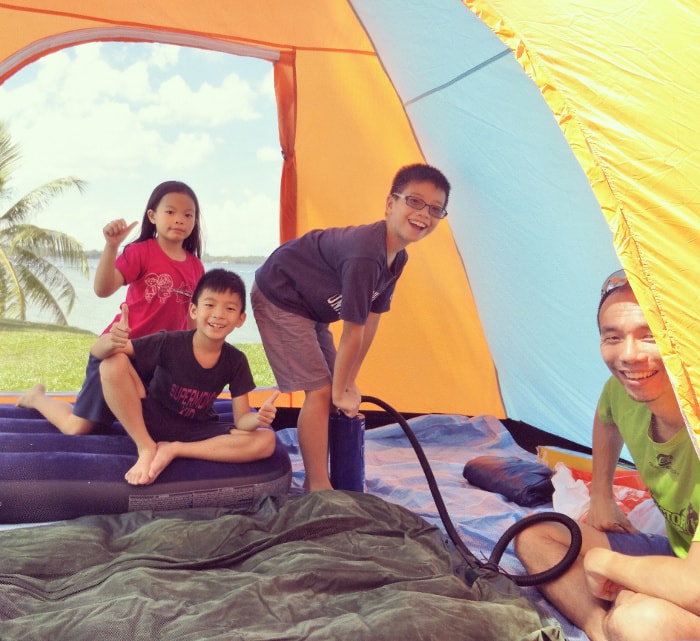 While our sunny little island doesn't have mountains to speak of, there are places where Junior can get a taste of sleeping under the stars. Make it an extended family event, or get together a group of like-minded friends. The more the merrier certainly holds true when it comes to setting up tents and staying up to catch the sunrise!
If you know someone who is going camping, arrange to visit them at the campsite to see what it's really like, or join these friends on their camping trip. The best way for a first-timer to go camping is to camp alongside more experienced campers.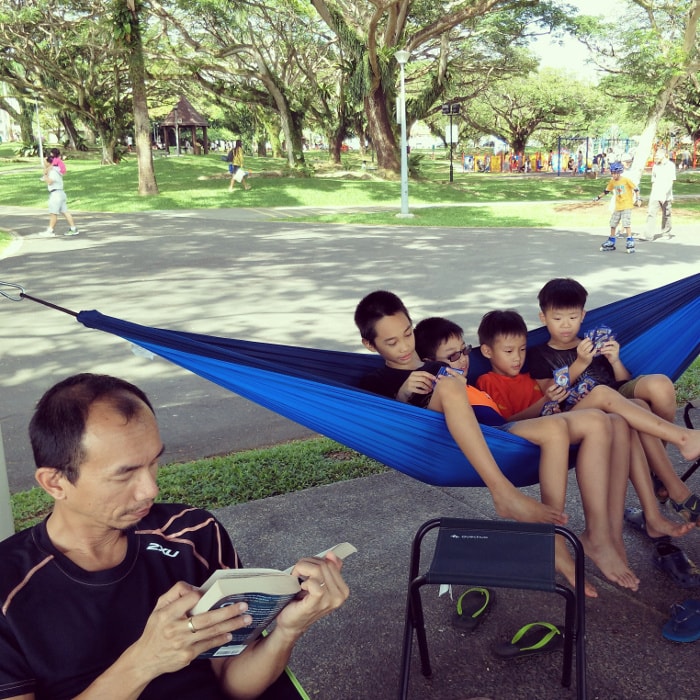 Photos courtesy of Pamela Tan
For Pamela Tan and her husband Matthew, taking their family of five camping has become a regular holiday affair since their first camping trip four years ago. Back then, their twins were just 3 years old.
"I like how we get to spend time together with the friends we go camping with, and those that come visit us. The kids get to spend lots of time playing with the other kids, either at the playground, or with a ball, or with card and board games, or even just by sitting and chatting with one another. Meanwhile the adults enjoy each other's company too. No one is using any electronics, other than some of us parents taking pictures with our phones! That's what I like best about our camping trips."

– Pamela Tan

#2 Volunteer Together As A Family
Real understanding and empathy for others best comes through first-hand experience in connecting with those in need and doing our part to help them.
The holidays provide us with that much-needed break from school life, and the opportunity to instill important life values in our kids. One way we can do that is through encouraging our children to give back to society as a volunteer.
Parents Angeline and David Sim are always on the lookout for opportunities to instill in their children the sense of community spirit, empathy and compassion for the less privileged.
On one occasion, David and their daughter, 9-year-ol daughter Dana, volunteered at Willing Hearts, a self-help non-profit organisation that prepares meals for the needy and homeless.
"When we reached the venue, we were surprised that their large kitchen was already bustling with activity preparing for the next day's meals. Dana was assigned to pack the Styrofoam boxes for the different neighbourhoods, while I helped to chop some raw vegetables. At the end of the session, we loaded the cooked meals into delivery cars, kind of like tingkat catering! Although I would have preferred for my daughter to personally deliver the food to the recipients, it was still a good volunteering experience for a start – doing what little she can to help with the mindset that a little can go a long way. We have since volunteered on other occasions, and hope to continue to do so as a family."

– David Sim
Here are a few other local organisations where your children can lend a helping hand.
Every Monday from 5:45 to 8:45pm, the team feeds up to 220 lower-income people at their kitchen in the Jalan Besar/Lavender area. All are welcome to help out, and all you'll need to bring is a smile. Drop coordinator Tay Shi Ying a call at 98423287 for more details or to sign up as a volunteer.
Kids can help to keep Singapore's shorelines trash-free by signing up for a Trash Hero beach clean-up session! Gloves and garbage collection bags will be provided for all participants.
ACRES (Animal Concerns Research & Education Society)
For children who love animals, ACRES offers them the opportunity to follow their wildlife officers as they seek to rescue and care for the animals that come under their care. There are also opportunities to be part of their fundraising activities.
Note: There's a minimum age requirement (14 years old) as some tasks involve cutting and carrying heavy equipment.
⇒ Related Read: Where to volunteer with kids in Singapore

#3 Let Kids Take Charge
Would you trust your kids to plan your family's vacation? Giving older kids the responsibility of making major decisions is a great way of empowering them to make choices and teaching them the value of hard work, money and time.
Through discussions with each other and with the family, the process also helps different family members understand each other better and become more aware of what it means to consider each other's needs and wants.
If your children are younger or not experienced in doing online research just yet, you can involve them actively in the planning process instead of delegating it to them. For instance, you could let them plan aspects of the itinerary by showing them the options of activities available.
Spunky mum of six Michelle Choy, let her older teenage daughters plan their family's vacation to Krabi earlier this year. The girls were tasked with planning every aspect of the trip, from the accommodation, transport, food and itinerary, with Michelle only offering assistance in selecting suitable activities that everyone could enjoy. And they did a stellar job!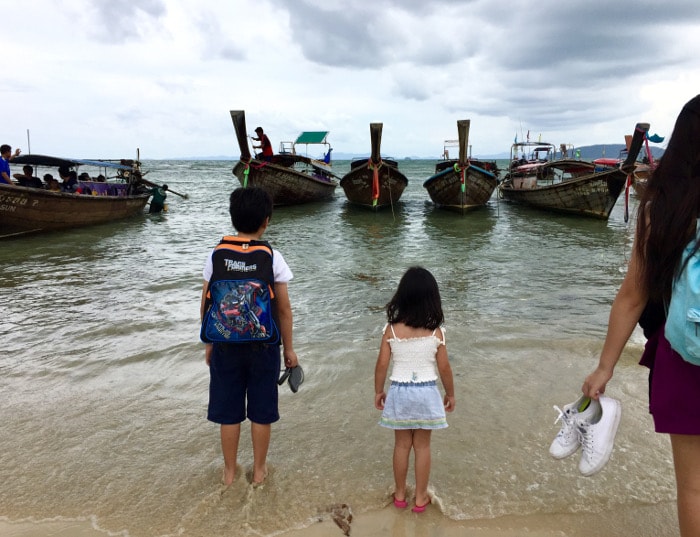 Photos courtesy of Michelle Choy
She gave them a budget to work with, and they did most of their research online and made the various bookings, learning along the way how much time goes into properly planning a trip.
There were a few obstacles along the way but Michelle shares how she saw all six children grow in independence and maturity through this trip. The older children also experienced what it was like managing and rationing out their money for the first time, and learnt to prioritise and bargain in the process.
"Yes, it took more effort guiding the kids to plan the trip instead of doing it myself. Yes, I had to be vigilant every step of the way, ensuring the safety of all six of them. Yes, I was exhausted by the end of the trip. But it was well worth it. We broke a glass in the hotel room, misplaced one room key and lost a charger, but I dare say the kids passed my little 'challenge' with flying colours and gained so much from this experience."

– Michelle Choy

#4 Explore Singapore through these Walking Trails

Image source: Singapore Tourism Board
From Katong to Tiong Bahru, discover the hidden stories, nooks and crannies of our island. The Walking Trails featured on the Singapore Tourism Board is a great way to learn about the rich heritage and history of its streets and architecture, while getting your much-needed exercise and vitamin D.
Be prepared that younger kids might get fascinated with a million and one things along the way, so don't worry about reaching your destination in record time, but follow their pace and enjoy the journey.






#5 Picnic at Marina South Pier Rooftop
Your kids won't be able to resist the open space on the rooftop of Marina South Pier. A delightfully simple playground area, the rooftop has enough shade from the sun or rain, and amazing natural light for snapping pictures.
Pack along a picnic to munch on in the shade, and be sure to apply sunblock for everyone. The building is right next to Marina South Pier MRT Station, and is best visited by public transport since parking is very limited.
Don't leave before visiting the Singapore Maritime Gallery, housed in the same building. Find out how Singapore transformed into one of the world's leading International Maritime Centres, and get a glimpse into what goes on behind-the-scenes of the world's busiest port. Admission is free and the gallery is closed on Mondays.

#6 Fly a kite at Marina Barrage
The verdant Green Roof at Marina Barrage is a popular spot for families to picnic and enjoy a spot of kite-flying, thanks to its gusty winds that are a kite-lover's dream. Instead of splurging on one of those newfangled models with flashing lights, why not try your hand at making your own?
If you haven't got the time for that (or forgot to bring your kite), you can choose on from Barrage Cove, a shop on the ground floor and sells a wide variety of kite designs from $22, including angelfish, ladybirds, squids and snakes. And if the wind refuses to rise, there's always the option of water play for the children.
⇒ Related Read: Best places to fly kite in Singapore
By Dorothea Chow.
This article was first published in The New Age Parents e-magazine.
Like what you see here? Get parenting tips and stories straight to your inbox! Join our mailing list here.
Want to be heard 👂 and seen 👀 by over 100,000 parents in Singapore? We can help! Leave your contact here and we'll be in touch.