Camping is a great choice of a staycation in Singapore, especially if you want to break away from skyscrapers and shopping malls, to embrace beautiful nature.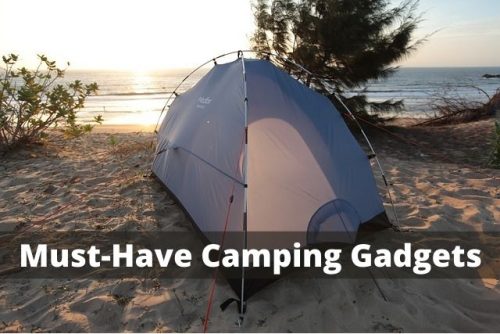 While it is rather straightforward and relaxing, city folks like us never say no to making the experience as comfortable as possible. Therefore, we have compiled a list of camping gadgets that you should definitely consider having, for an exceptional trip.
1. Folding Camp Table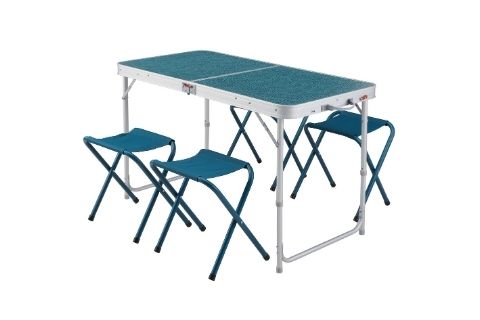 Photo: Decathlon
Getting comfortable is key to having an enjoyable camping trip. And with this folding camping table that is compact and easily transported, you will no longer have to sit on the ground for long hours or compete with other campers for a table during mealtime.
Get the Folding Camping Table – 4 Stools – 4 To 6 People from Decathlon.
2. Outdoor Cooking Set for 4 Person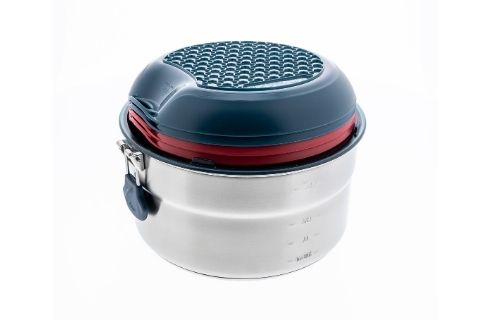 Photo: Decathlon
Bring the fun of cooking outdoors, with this compact cooking set suitable for any fire and ideal for four-person. Made from durable stainless steel and complete with non-stick coating, cooking and cleaning outdoors has never been easier. Your camping trips will now have endless food choices, and no longer be limited to just BBQ.
Get the Hiker's Camping SS Cooking Set With Non-Stick Coating MH500 4 Person 3.5 L from Decathlon.
You can also get Outdoor Camping Non-stick 2x Pot Cooking Set on Shopee.
3. Disposable and Portable BBQ Grill
Photo: Lazada
If you are unable to rent a BBQ pit nearby, this gadget brings the fun of BBQ to you! The BBQ grill can last for 90 minutes and is extremely easy to set up. Furthermore, you don't even have to clean up afterward, as you can just throw it away. Kids love a little hands-on experience, and what's better than making your own meal.
Get the Eco-Friendly BBQ Everywhere Pit Box from Shopee and Lazada.
4. Windshield For Trekking Stove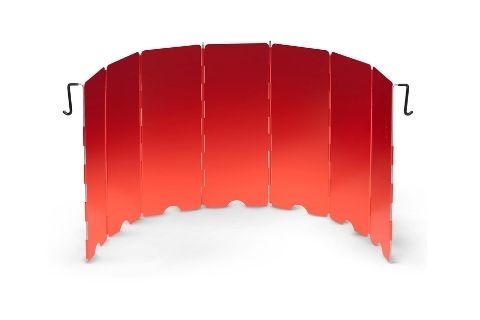 Photo: Decathlon
With seven foldable panels made from a light and resistant metal called anodised aluminum, this windshield will make starting a fire and cooking outdoors a breeze. It is also built with a hook and stabilisation system to protect the stove, even from strong wind.
Get the Windshield For Trekking Stove from Decathlon.
5. Ice Box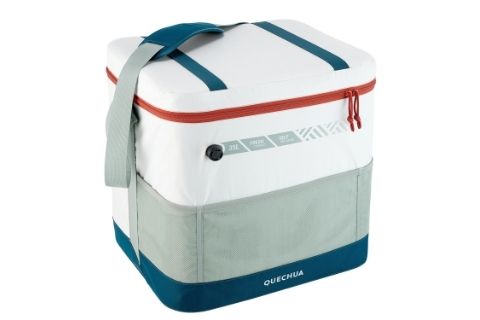 Photo: Decathlon
One of the simple joys of camping is to enjoy a cold refreshing drink under the hot sun. With Decathlon's study and high-performance ice box, your food and drinks will be chilled for 16 hours, even without having to put ice in it. Furthermore, with its compact design, you can flatten and deflate it after use, making it easy to store.
Yes, having it cold does make a difference, get the Ice Box For Camping And Walking – Compact Fresh 35 Litres from Decathlon.
6. Pressure-Balanced Solar Shower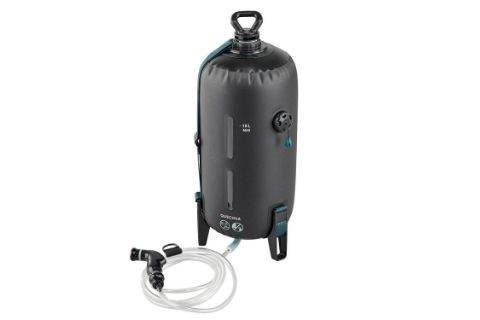 Photo: Decathlon
No need to compete with other campers when you bring your own pressure-balanced solar shower, ideal for a comfortable rinse outdoor or to wash your belongings. Built with a pumping system, your water is pressurised even if you put the shower on the floor.
Get the Pressure-Balanced Solar Shower For Camping – 10 Litres from Decathlon.
7. Portable USB Solar Charger and Power Bank
Photos: Decathlon
What better way to educate your kid about renewable energy than through this portable USB solar charger. Bring your science lessons to life by generating your own power using the Sun!
You should also get a Power Bank along with it.
Get the Portable USB Solar Charger – SC Trek 500 10W from Decathlon, and the Power Bank here.
8. Self-Powered Torch and Camp Lamp
Photos: Decathlon
Stay illuminated throughout your camping trip with a self-powered touch and camp light. Not to mention, you can put your kid's excess energy to good use, and let them power their own light with the touch, which has a wide beam of up to 10 metres. Also, the waterproof camp lamp can illuminate both outdoors and indoors.
Get the Self-Powered Torch Dynamo 100 V2 15 Lumens – Yellow from Decathlon, and the Camping Lamp – BL200 Rechargeable – 200 Lumens here.
9. Bug Lantern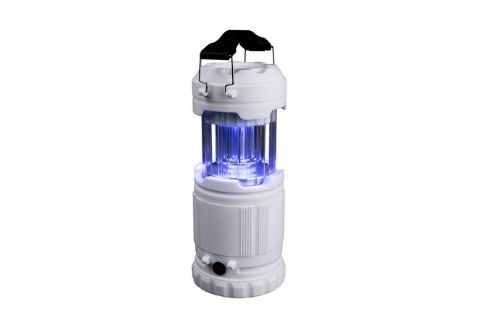 Photo: Shopee
Enjoy a bug-free outdoor experience with this bug lantern, equipped with NUV LED and a 360º bug-zapping electric grid to attract and terminate all surrounding pesky insects. This gadget provides peace of mind for parents, and best of all, without the smell of insect repellent spray.
Powered by three AA batteries, be sure to bring extra batteries for your overnight stay!
Get the Nebo Z-Bug Lantern (250 Lumens) from Shopee.
10. Multi-Function Knife
Photo: Decathlon
A must-have for any trip is the multi-function knife, equipped with multiple tools to suit all your needs. This gadget has seven tools including a blade, bottle opener, can opener and flat-head screwdriver.
Get the Multi-Function Hunting Knife X7 Orange from Decathlon.
You can also get Multi-Function Knife on Shopee.
By Foong Yan Kai.
* * * * *
Stay in touch! 📣 Subscribe to our Telegram here for our latest updates.
Want to be heard 👂 and seen 👀 by over 100,000 parents in Singapore? We can help! Leave your contact here and we'll be in touch.