Besides the usual suspects like the zoo or a shopping mall, here are quirky and uncommon spots to visit during the holidays!
#1 Urban Farm & Barn
Image source: www.pocketgreens.com.sg
Tucked away in the Bukit Panjang Hill Community Farm (at the top of Bukit Panjang Hill), you'll find the quaint and cosy Urban Farm & Barn.
Take this opportunity to teach your kids about how their fruits and veggies arrive on their plate – from seed to sapling, from flower to fruit.
Tour the gardens on the farm and learn about the wide range of herbs and other edible plants grown there. There is ample signage giving you all the main bits of info about each plant, which is informative and simple for both kids and their parents to digest.
You might even get the chance to help the staff harvest some produce if you happen to be there at the right time!
A trip to their vertical gardens is definitely a must, now that you've climbed up the hill to get there! Rent a rack that houses 20 trays of compost for a minimum of 3 months ($50 a month), sow your choice of seeds, and let them grow!
This is a fun project to do over the longer holidays, since you can make weekly trips back to the farm to monitor your trays' progress! 40% of the rent helps to fund students from low-income families, which is such a wonderful initiative of the farm.
Last but not least, why not bring home a mini home garden of your own? The staff will be happy to walk you through the process of planning what is feasible for your space and advise you on the items you will need to get started.
Say yes to homegrown, chemical-free veggies on your dining table!
Address: Off Petir Road, Bukit Panjang
Website: www.facebook.com/urbanfarmbarn
Update: Urban Farm & Barn has moved out of Bukit Panjang wef 14 July 2020
*******************************
#2 Kampong Lorong Buangkok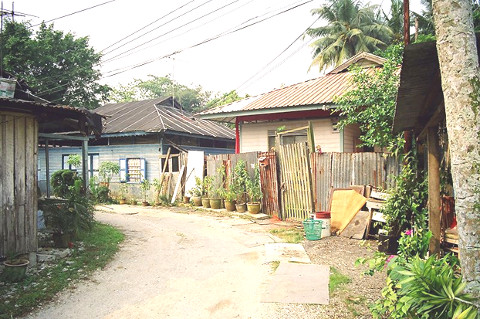 Image source: Wikipedia
Yes, there is ONE last kampong left standing in our urbanized and cosmopolitan Singapore! There are a total of 26 homes in the vicinity, and 4 of them have been modified to date. The land is privately owned and leased out, so it isn't considered a conserved site.
However, many Singaporeans are hoping that the land will not go the way of many other heritage sites in Singapore, to be torn down and replaced with modern schools, housing and amenities.
Most of the homes are made out of wood and are haphazardly scattered across the kampong. Many of them still have the outside toilets of yesteryear and long, low front porches, bringing with them a certain unique charm and character.
While you probably wouldn't be able to enter the houses themselves (these are real people's homes after all), the community offers our 21st century children the rare glimpse into what life was like in olden Singapore, from their eclectic front porches to the unique letter boxes for each house. There are also several fruit trees in the area for you to see, such as banana, papaya and chilli plants.
Do note that the kampong is not very accessible – it's best if you go by car – and there are mosquitoes in the area. To avoid getting bitten, remember to spray yourselves with insect repellent!
Address: 8 Lorong Buangkok, near Gerald Drive off Yio Chu Kang Road
*******************************
#3 Shophouses in Singapore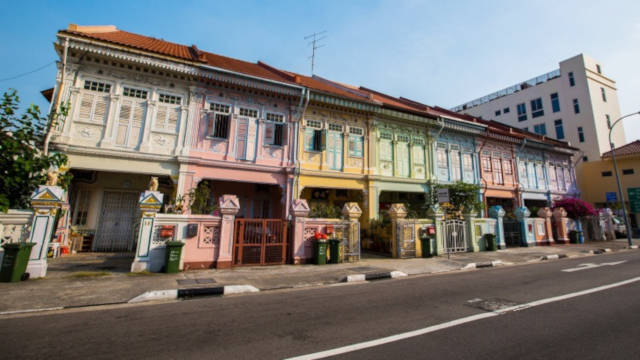 Image source: Visit Singapore
Interest your children in the intricacy and beauty of shophouse architecture with a walking tour along any of the streets named below.
Shophouses were built in Singapore from the mid-nineteenth century, but the oldest ones are now long gone, and the oldest ones still standing are around Telok Ayer and Arab streets. Their decoration is limited, but they do feature the shuttered windows and tiled roofs that were characteristic of the houses of that era.
The NUS Baba House (157 Neil Road) is a must-see, as Singapore's most famous Peranakan home.
Once the home of a wealthy merchant, the Baba House has since been restored to its original stunning shade of bright blue, and boasts some beautiful jian nian mosaic, which is so rare to find today. Ceramic or porcelain pieces that have been cut and pasted onto a plaster base to depict phoenixes and peonies.
Younger children will have fun looking out for the mosaic designs and other interesting features of each shophouse, while older kids might enjoy sketching and colouring/painting the buildings they see.
Even you, the parent, may be surprised to find some unique bric-a-brac, confectionaries, fashion or decorative items that catch your eye at one of these shophouses along your way!
Streets to visit: Stanley Street, Neil Road, Sam Leong Road, Petain Road, Lorong Bachok, Telok Ayer Street, Arab Street, Haji Lane, Keong Saik Road
*******************************
#4 Saga Seed Spots
Image source: NParks
Did you play with saga seeds as a child? Many of us have fond memories of these holly hued seeds from our childhood days.
These bright red seeds are so pretty to look at, and can be used for all manner of crafts, sensory play or simply to brighten up your home.
A saga seed hunt gets everyone involved in searching for these treasures, and is a great way to encourage your family to slow down, admire nature, and notice the little things. Who knows what other buds, berries or bugs you might spot along your way?
There are quite a few spots in Singapore where saga seeds can be found, and we have listed a few kid-friendly places below.
Some saga trees are grown by the roadside, and hence are not a safe location for you to bring the children to. Those are not part of this list.
Remember to bring along a small bag to contain your loot!
Places to visit: Singapore Botanic Gardens, MacRitchie Reservoir, Overseas Family School, Ang Mo Kio Town Garden West, Ang Mo Kio Street 12 (opp Block 126), East Coast Car Park C1, East Coast Car Park G, Spottiswoode Park, Fort Canning, Jurong Bird Park, Armenian Church, Science Centre, Redhill Market, Queensway Shopping Centre, Lower Delta Block 138, Singapore Zoological Gardens.
#5 Fire Stations
Did you know that you can visit a Fire Station Open House every Saturday of the year, islandwide?
Except for Banyan Fire Station, Jurong Island Fire Station, West Coast Marine Fire Station, Brani Marine Fire Station, Sentosa Fire Station, Bishan Fire Station and Marina Bay Fire Station, our nation's fire stations are open to members of the public on Saturday mornings, from 9am – 11am.
Walk in to discover more about the Singapore Civil Defence Force, the roles and functions of fire stations, and what a fireman's life is like.
The station hosts live demonstrations of how the fire engines work, and children even have the opportunity to hold the hose and put out a "fire".
Kids will get a kick out of meeting the firemen in person and understanding more about these special and often unsung heroes of the community.
Why not make this a Saturday morning affair, and see how many of our country's stations you can cover during the holidays?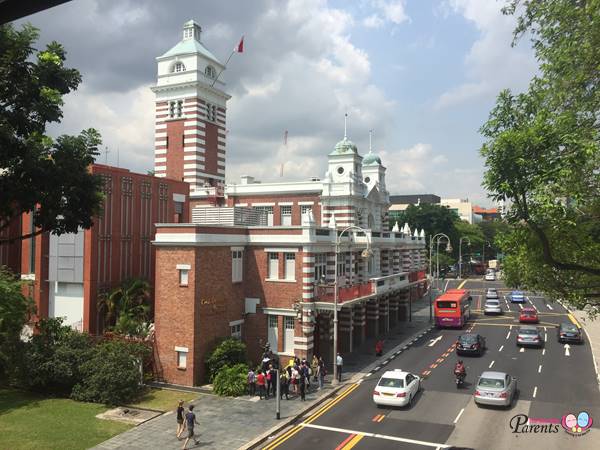 For a start, we highly recommend a visit to the Central Fire Station at Hill Street.
Address: Central Fire Station, 62 Hill St, 179367
Other fire station locations: Alexandra Fire Station, Ang Mo Kio Fire Station, Bishan Fire Station, Bukit Batok Fire Station, Central Fire Station, Changi Fire Station, Clementi Fire Station, Jurong Fire Station, Paya Lebar Fire Station, Sengkang Fire Station, Tampines Fire Station, Tuas Fire Station, Tuas View Fire Station, Woodlands Fire Station and Yishun Fire Station
By Dorothea Chow.
* * * * *
Did we miss a spot? Share them in our comments below!
Want to be heard 👂 and seen 👀 by over 100,000 parents in Singapore? We can help! Leave your contact here and we'll be in touch.