Travelling with young kids can be a very stressful enterprise. The plane trip to and fro is often a tumultuous event of its own to be grappled with. With adequate preparation and planning for the trip, you'll more than "survive" your holiday – you might even enjoy it! Here are 8 tips for you to consider.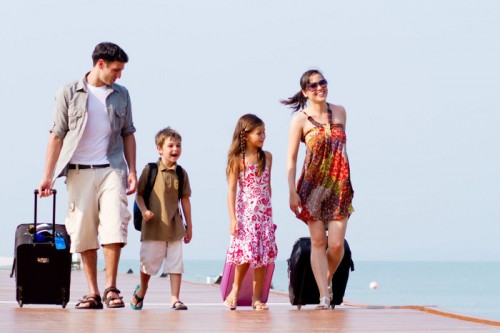 #1 Organize the room
As soon as you arrive at your hotel, make yourselves safe at home in the room. By that, we mean giving the room a thorough check for items left discarded on the floor or danger zones like electric sockets or sharp table corners. If you've got a toddler on your hands, you'll want to bring along some baby-proofing supplies so you can have greater peace of mind. Set up your portable cot, if you're using one, or designate a couch as your child's play area. Unpack your diaper supplies and set up a makeshift diaper changing station in the room, so you won't be caught unawares and helpless if your child should suddenly have an explosive poo.
#2 Let routine take a backseat
Holidays are meant to be a break from routine – yes, even your child's one! It can be tempting to stick rigidly to your daily schedules and systems even when on holiday because the truth is that just one day out of routine is enough to set you back many steps that will need to be retraced post-holiday. And yet, enforcing these routines too strictly simply ups your level of frustration, and your kids will sense your stress. By all means, keep a few basic systems or routines in place for the family, such as bath times before bed, but let go of fixed nap times, allocated reading slots and whether or not to give snacks on the go. Let your hair down, and let your kid and you enjoy life as it comes.
#3 Don't cramp your style
As far as financially and logistically possible, ask for a bigger room or suite – if you can get two connecting rooms, even better, because that affords you and your husband some privacy of sorts! Even if you couldn't book a big enough room online, check with the hotel staff when you check-in if an upgrade is possible. More square footage to move around generally means fewer accidents waiting to occur, and more breathing space for everyone concerned.
#4 Lock up everything
Besides the door and windows, which should always be latched (for obvious reasons), always keep your suitcases closed when not in use. This will prevent you from losing track of items in your luggage which the kids might find particularly amusing, and prevent them from accidentally swallowing some unwanted stuff.
#5 Stock up your first-aid supplies
Whenever you're traveling with kids, a well-stocked first aid kit is a definite must-have! Bumps, bruises, cuts and scrapes are part and parcel of any holiday adventure. You'll want to bring along some of their basic medicines as well – for the unforeseen cough, cold, fever or diarrhea. Figuring out the medical system of a foreign country is always a stressful process and not one you need to waste precious time on if your child is just having a case of the sniffles.
It's good to do a pre-travel health planning too!
#6 Snacks and stickers
Distractions are key when you are in foreign territory, which a holiday most certainly will be. Everything, from the new hotel room to the strange skin colour of the locals, may be daunting to your child. Consequently, he may act out more than usual in public, especially when waiting in line or on public transport. So it's good to have a ready supply of distractions to keep him meaningfully entertained.
We're not saying pack their toys to go on the road – instead think small and light. Look for small bite-sized portions of fun, like mini snack packs, sticker pads, a small notebook and pencil, or a pack of playing cards.
#7 Pack disposables
Here's a very useful tip – don't assume that restaurants everywhere will readily have children's utensils on hand for your little ones. It's always good to pack a couple of disposables that your child can use, to prevent him from breaking a glass every other day (and your sanity). For the same reason, be sure to pack some plastic forks for your self-feeding child, especially when travelling to chopstick-dominant countries like Japan and China.
#8 Provide adult entertainment
At the end of the day, you might not really want to share a bedtime with your child who knocks out at 8pm. And yet, if you're rooming together, you can't really make a whole lot of noise, for fear of waking the sleeping tiger. So come prepared with a good book or two, some games on your iPad, or a movie on your laptop. A bottle of bubbly is always a welcome diversion too!
Are you a breastfeeding mother? Here are 10 Tips for Breastfeeding Mother While Travelling With Infant Or Baby!
By Dorothea Chow.
This article was first published in The New Age Parents e-magazine.
* * * * *
Like what you see here? Get parenting tips and stories straight to your inbox! Join our mailing list here.
Want to be heard 👂 and seen 👀 by over 100,000 parents in Singapore? We can help! Leave your contact here and we'll be in touch.