Strapped for time and running out of ideas on what to cook for the family every day? Or are you constantly eating out for most of your meals? Having takeout meals frequently can be rather unhealthy and expensive in the long run.
If you're looking for convenient yet healthy meals, do consider getting tingkat delivery service. There are many tingkat delivery caterers that aim to deliver fuss-free meals while keeping in mind the homecooked and nutritious factor!
Here is a list of tingkat caterers that you can consider for you and the family:

1. Kim Paradise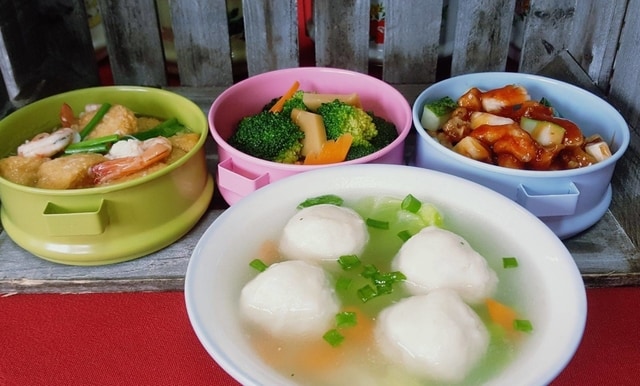 Image credit: Kim Paradise Facebook
Kim Paradise prides itself on providing the right nutrition accompanied by the heartwarming taste of home through their tingkat meals. Their dishes are prepared in a healthier way, using less oil and salt. Or if you're looking for more healthier options, Kim Paradise offers the 'Nutritious Healthy Meal' selection featuring protein-rich foods incorporating Chinese herbs while using less oil, salt and sugar.
It's also noteworthy that they have meal options for 1 pax so if you're looking for meals that are smaller in portion, this will be a good alternative! They deliver for both lunch and dinner as well and you can even add on daily special requests where they serve different dishes for a selected day such as Nonya-style steamed fish on Mondays and curry fish on Wednesdays.
Price:
10-day package: $115 for 1 pax, $141 for 2 pax, $177 for 3 pax, $223 for 4 pax
20-day package: $205 for 1 pax, $260 for 2 pax, $323.50 for 3 pax, $407 for 4 pax
*Subject to GST and additional charges apply for white or brown rice.
Find out more here.

2. Select Catering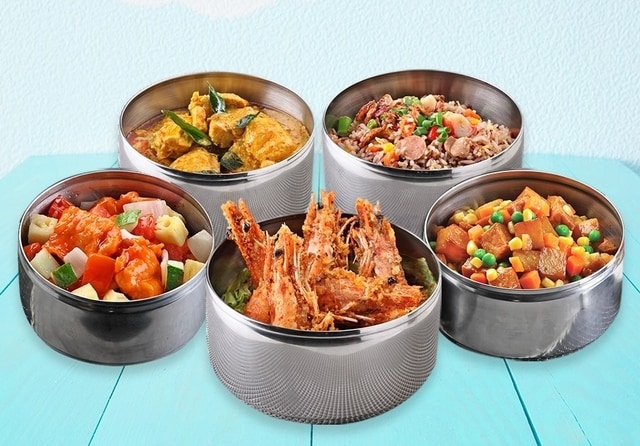 Image credit: Select Catering Facebook
With over 25 years of food catering experience, Select Catering aims to provide economical dining where you can expect to fork out an average of $5.00 per person. Select Catering also provides tingkat containers for your usage so it's extremely convenient and environmentally friendly as well.
They switch up the menu weekly so you get to taste different dishes including Singapore's well-known dishes such as chicken rice, fried Hokkien noodles, sweet and sour pork and prawn paste chicken! P.S. If you're ordering for 4 pax and above, you will be treated to special fruits every Wednesday. Also, do take note that a minimum of 2 pax is required per package.
Price: $5.35 (with GST) daily per pax, including rice. An additional delivery charge of $2.68 per trip applies.
Find out more here.

3. Cucina Restaurant & Catering (Halal)
Image credit: Cucina Restaurant and Catering Facebook
Cucina is a halal-certified caterer serving a wide selection of cuisine such as Malay, Chinese, Western and Japanese dishes! Also, if you're keen to try out for a short period, they offer a minimum commitment period of just 3 days so you're not tied down to the package. On top of that, Cucina also delivers on public holidays and islandwide with no additional fees for delivery.
Ordering a package for your family? You'll be glad to know that their dishes come with no MSG and they use less salt and oil, making your meals more healthy!
Find out more: cucina.sg/tingkat

4. Ronnie Kitchen
Image credit: Foodline.sg
Ronnie Kitchen is a well-known catering company that provides both lunch and dinner delivery service. Using quality ingredients in their cooking, they aim to deliver mouth-watering meals for your whole family to enjoy!
They also offer a 5-day trial so new customers can try out their menu before deciding if they want to take up a longer package. For lunch or dinner packages, you get to choose between 3 dishes and 1 soup or 4 dishes.
Price:
5-day trial with rice (with GST):$57.78 for 1 pax, $83.46 for 2 pax, $109.14 for 3 pax, $140.17 for 4 pax
20-day package with rice (with GST): $204.37 for 1 pax, $291.04 for 2 pax, $383.06 for 3 pax, $475.08 for 4 pax
Find out more here.

5. YeYeah Delights (Halal)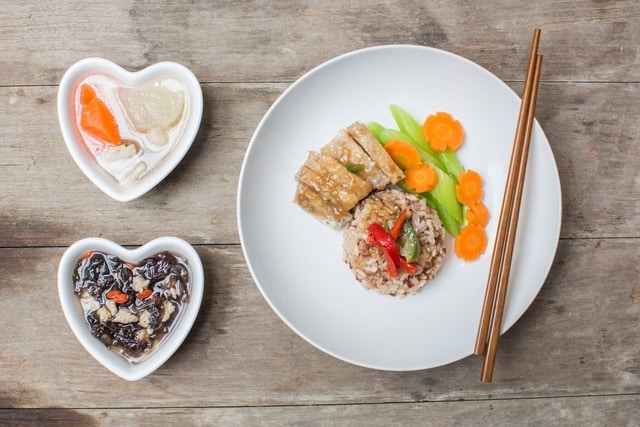 Image credit: Foodline.sg
YeYeah Delights aims to provide convenient and wholesome meals for time-strapped families with young children, extended families with senior members and busy singles who are looking forward to nutritious meals after a long day. All their meals are curated by a dietician and are freshly prepared using chilled, not frozen ingredients, without any added preservatives.
They deliver your fresh chilled meals twice a week so you can consume them anytime and anywhere, simply reheat them for 2.5 min before serving. You can also choose from their wide variety of menus such as family meals, soup meals, weight loss meals and confinement meals.
➡️ Related Read: How Confinement Food Changed My Life
Their menus have a variety of cuisine that include gourmet entrees and soups. Also, with every meal plan purchased, YeYeah Delights donates a meal to the beneficiaries of the Children's Aid society!
Price for family meals:
5-day package: $90 for 1 pax, $130 for 2 pax, $180 for 3 pax, $240 for 4 pax
20-day package: $350 for 1 pax, $520 for 2 pax, $650 for 3 pax, $900 for 4 pax
30-day package: $500 for 1 pax, $720 for 2 pax, $900 for 3 pax, $1150 for 4 pax
*Each main meal comes with steamed rice and soup.
Find out more here.

6. The Catering Concerto by TCC
Image credit: Foodline.sg
If you love trying out different types of cuisine, then The Catering Concerto by TCC is definitely one catering company that you should consider.
Their weekly menu features different cuisine every day such as Tze Char on Mondays, Peranakan on Tuesdays, Western on Wednesdays and so on! Your family will be sure to love the variety of food ranging from exquisite dishes such as truffle mashed potato, ratatouille and classics such as chicken rice and mee siam.
Price:
5-day package (with GST):$107 for 2 pax, $160.50 for 3 pax, $214 for 4 pax, $267.50 for 5 pax
10-day package (with GST): $203.30 for 2 pax, $299.60 for 3 pax, $406.60 for 4 pax, $502.90 for 5 pax
20-day package (with GST): $382.20 for 2 pax, $535 for 3 pax, $695.50 for 4 pax, $802.50 for 5 pax
Find out more via www.thecateringconcerto.com.

By Marinne Santiago.
* * * * *
Stay in touch! 📣 Subscribe to our Telegram here for our latest updates.
Want to be heard 👂 and seen 👀 by over 100,000 parents in Singapore? We can help! Leave your contact here and we'll be in touch.