As Singaporean parents, we are very much caught up in our education system, trying to keep up with academic success and classes, yet hoping to raise healthy, whole-hearted, all-rounded kids.
With all the running around, we often forget to care about our children's character the same way we worry about their credentials.
The truth is, there's nothing quite like first-hand experience with other people to teach our children important life skills and values like empathy, resilience, kindness and graciousness.
With that in mind, we've collated a list of organisations where parents and children can volunteer together to make a tangible difference in the lives of others who are struggling and those with special needs.
See also: Children's charities in Singapore
1. Make A Wish Foundation

Make a Wish Foundation seeks to support and uplift the lives of children with life-threatening medical conditions, by making their dreams come true.
Young and old alike are welcome to become real-life Heroes in these children's lives, through befriending them and being part of the team that makes their wishes come true.
You can also help raise much-needed funds for the organisation, for example through baking cookies or making cards for sale.
Contact: 6334 9474
Email: info@makeawish.org.sg
2. Food Banks Singapore
If Junior is often picky about his food, perhaps it's time to expose him to some of the harsh realities of poverty and food wastage in Singapore.
At The Food Bank Singapore, the fight against hunger is waged by reducing food wastage, and donating unwanted food to charities which can help meet the physical needs of the less fortunate.
5 to 12 year olds can volunteer with the Food Bank Juniors Club, and get educated about hunger and food wastage issues in Singapore along the way.
Contact: 6831 5395
Email: enquiries@foodbank.sg
3. Willing Hearts

Willing Hearts also offers opportunities for parents and children to get first-hand experience in preparing meals for the less fortunate.
No experience in cooking is required – just a cheerful heart and willing hands – and children are more than welcome to come and serve with the team.
Contact: 6743 0725
Email: willingheartsingapore@gmail.com
3. Kids Read
If you have an avid reader or drama-mama in your home, let them put their skills to good use by telling stories to underprivileged children in Singapore.
The kidsREAD Club initiative was launched just last year by the National Library of Singapore, and aims to make reading fun and enjoyable for these children at public libraries and community centres. Or bring them along with you as you take on the role of story teller to these children.
Email: kidsREAD@nlb.gov.sg
Team up with an older child to organise events or fundraisers for Pathlight School, Singapore's first autism-focused school, which takes its students through a unique combination of mainstream academic curriculum and essential life skills.
Contact (Main Campus): 6592 0511
4. Club Rainbow
Club Rainbow is a familiar name to most of us, as one of the better known local agencies which reach out to support children with chronic illnesses and their families, providing them with relevant help and services towards an enriching life.
If committing to a regular befriending role seems to daunting, you can help the centre by joining one or more of its fundraising events.
Contact: 6377 1789
Email: contact@clubrainbow.org
5. Rainbow Centre
Not to be confused with the above is Rainbow Centre, which supports children with special needs with its special education programs and activities, to empower them to meaningfully live and contribute to society.
They are looking for long-term committed volunteers as classroom support, and for weekly outings, but you can also volunteer to help in ad-hoc events throughout the year.
Contact: 6472 7077
Email: rcmds@rainbowcentre.org.sg
6. It's Raining Raincoats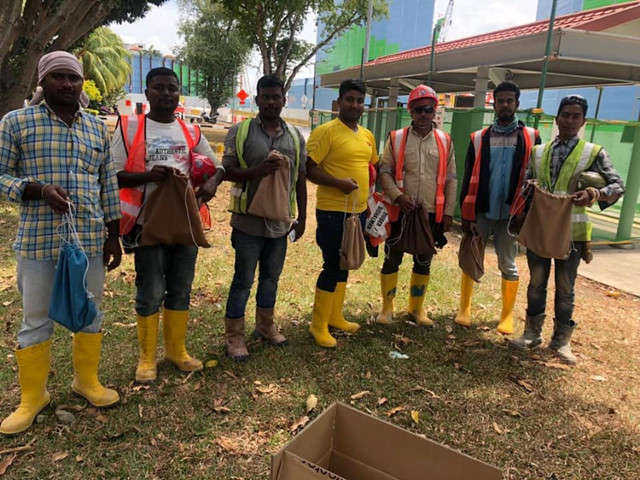 Besides helping our fellow Singaporeans, children can learn to appreciate and value the work of our migrant workers. It's Raining Raincoats is one such initiative that allows for that.
Besides advocating for various issues on behalf of our migrant workers, It's Raining Raincoats also organises regular collection and distribution of basic essentials and gifts to the workers, and several of these events are open to families as volunteers.
Contact: www.facebook.com/itsrainingraincoats
7. Riding For The Disabled Association Singapore
Riding for the Disabled Association Singapore (RDA) has been giving thousands of disabled children and adults the opportunity to enjoy the benefits of horse-riding therapy for over 30 years.
Can't ride a horse yet? That's okay. No previous horse experience is required to volunteer as a side walker, guiding beneficiaries around the track. Do note that volunteers for this role must be aged 16 years and above.
Contact: 6250 0176
Email: mail@rdasingapore.org.sg
Have a charity organisation to share? Write to us in the comments below.
By Dorothea Chow
Want to be featured here? Leave your contact here and we'll be in touch.
Stay in touch! Subscribe to our Telegram here for all our latest updates.