Exposing children to healthy food from young helps them to make better food choices and instil good eating habits. Even though it is important to provide them with a balanced diet, healthy snacking should not be overlooked.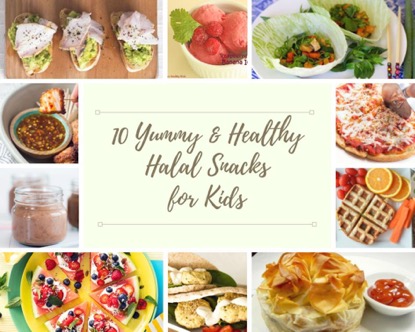 Do we have to resort to only fruits and vegetables when it comes to healthy snacking? How do I help my child to eat healthy when he gets picky with food? Here are some recipes that can help you make healthy food more interesting for your child! They are yummy, packed with good nutrients and can easily be made from halal ingredients!
1. Hoisin Chicken Lettuce Cups
Image credit: Kidspot
Ingredients:
1 tbs olive oil
4 shallots
1 clove garlic (finely chopped)
2 cm fresh ginger (grated)
2 medium carrots (peeled, diced)
2 medium zucchinis (diced)
1/2 cup frozen peas
2 cups barbecue chicken (cooked, diced)
1 tbs hoisin sauce
1 tbs oyster sauce
1 tbs soy sauce
1 tsp sesame oil
1 iceberg lettuce
Coriander (*to serve)
Method:
Heat oil in a wok or large frying pan
Slice white part of shallots, reserving green parts. Add shallots, garlic and ginger to the wok and cook over gentle heat for 1 minute. Add carrots and cook for 2 minutes. Add zucchini and peas and cook for a further minute
Add chicken, sauces and sesame oil and cook for 2 minutes
Remove core from lettuce with a sharp knife. Gently pull apart lettuce leaves and trim with kitchen scissors. Chill until needed
Fill lettuce cups with chicken mixture. Top each cup with some coriander and finely sliced shallot greens
Recipe from Kidspot
---
2. Watermelon Pizza
Image credit: Woolworths
Ingredients:
1/3 cup cottage cheese
1 tbs Greek-style yoghurt
½ tsp honey
1/3 tsp cinnamon
6 x 2cm-thick wedges of watermelon
1 x 125g punnet of raspberries
6 strawberries, hulled, sliced
1 x 125g punnet of blueberries
2 tsp sultanas
1 tsp chia seeds or sunflower seeds
1 tbs pumpkin seeds
1 tbs Macro organic fruit shredded coconut
Mint fresh herb, bunch
Method:
Mix cottage cheese, yoghurt, honey and cinnamon in a bowl until smooth.
Spread mixture over watermelon slices. Arrange in a circle to make a pizza shape and scatter with berries, sultanas, seeds, coconut and mint to serve
Recipe from Woolworths
---
3. Raspberry and Cream Banana Ice Cream
Image credit: Super Healthy Kids
Ingredients:
1 1/2 frozen bananas
1/2 cup frozen raspberries
1/3 cup vanilla Greek yoghurt
Method:
Blend until smooth and creamy. Eat immediately or place in the freezer for a harder consistency. This flavour is creamy and delicious, but also refreshing!
Recipe from Super Healthy Kids
---
4. Beef and Mushroom Pie
Image credit: Kidspot
Ingredients:
1 tsp olive oil
1 large onion, finely diced
2 garlic cloves, minced
200g mushrooms, finely diced
2 celery stalks, finely diced
1 pinch salt
400g extra lean beef mince
1 tbsp plain flour
1 x 400g tin diced tomatoes
1 tbsp freshly chopped rosemary (if you only have dried rosemary, then use about a teaspoon)
1½ cups beef stock
8 sheets filo pastry
Oil spray
Method:
Heat oil in a large frying pan and add onion, garlic, mushrooms and celery with a pinch of salt. Cook for 6 – 8 minutes until softened. Remove from pan and set aside
Spray pan lightly with oil and add the minced beef. Cook on medium-high until meat is browned. Return vegetables to the pan, add flour and mix through until well combined
Stir in tinned tomatoes, rosemary and stock. Bring to the boil and reduce heat to simmer gently for 5 minutes. Remove pan from the heat and allow to cool completely. These steps can be done hours or even days before you want to make the pies
Preheat oven to 200°C or 180°C fan-forced. Spray 5 (1½ cup capacity) ramekins with oil
Cut a filo pastry sheet into quarters and line the first ramekin, spraying lightly with oil between each layer. Repeat with the rest of the ramekins
Divide the beef mixture between the ramekins and fold over any filo from the sides. Spray remaining filo sheets with oil and scrunch into a loose ball. Place one on top of each pie and press down lightly to ensure it's secure
Bake in the oven for 20 – 25 minutes or until golden brown. Remove from oven and allow to rest for a couple of minutes before serving with salad or vegetables and your favourite sauce
Recipe from Kidspot
---
5. The Ultimate Quinoa Pizza Crust
Image credit: Simply Quinoa
Ingredients:
For the crust:
3/4 cup quinoa covered by 1″ of water and soaked for 6 – 8 hours (or overnight)
1/4 cup water
1/2 teaspoon baking powder
1/2 teaspoon salt
2 tablespoons olive oil
Optional toppings:
1/2 cup tomato sauce
1 cup shredded goat cheese
Fresh herbs
Red pepper flakes
Method:
Soak the quinoa in water, covering it by at least 1″, for 6 – 8 hours
Once you're ready to make the crust, preheat oven to 425 degrees F. Line a 9″ cake pan with parchment paper and drizzle one tablespoon of oil in the centre. Spread around with your hands until evenly coated and set pan aside
Thoroughly rinse quinoa, then add to a blender. Add the 1/4 cup of water, baking powder, salt and remaining olive oil, and blend on high until smooth and creamy. This should resemble a thick pancake batter
Pour batter into prepared pan and bake for 15 minutes. Remove, flip and return to oven baking for another 10 – 15 minutes until browned and edges are crispy
Top with sauce, cheese and any other toppings you'd like and bake for 12 – 15 minutes until cheese has melted and started to brown
Remove, let cool for a few minutes in the pan, transfer cutting board and slice
Garnish with herbs, pepper flakes, grated cheese, etc., and serve immediately!
Recipe from Simply Quinoa
---
6. Healthy Grilled Cheese Wafflewich
Image credit: Super Healthy Kids
Ingredients:
2 slices whole-wheat bread
1 slice munster cheese
3 – 4 leaves of baby spinach
Method:
Make the sandwich by placing cheese and spinach on bread
Place sandwich on a hot waffle iron and squeeze to close
Cook for 2 – 3 minutes, or until sandwich is toasty
Recipe from Super Healthy Kids
---
7. Oven-Baked Falafels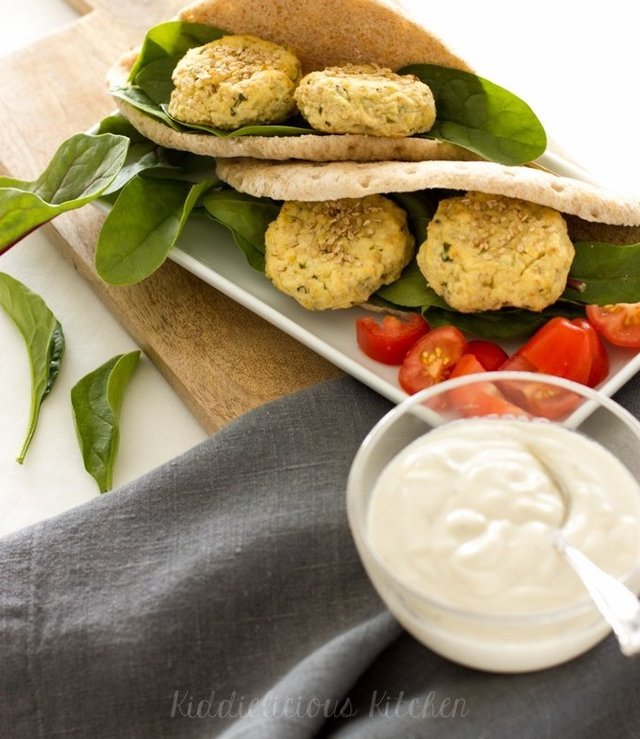 Image credit: Kiddielicious Kitchen
Ingredients:
1 can of chickpeas (net weight ca 440 g/ 15 oz)
3 cooked and peeled potatoes
1/2 onion cut into chunks
1 garlic clove
1 handful of coriander
2 eggs
1/2 dl/ 0.2 cups breadcrumbs
1/2 dl/ 0.2 cups sesame seeds + some extra on top
1 tbsp olive oil
1 tbsp lemon juice
pinch of salt and pepper
Sauce:
1 dl/ 0.4 cups yoghurt
1 tbsp tahini
2 tbsp squeezed orange juice
pinch of salt and pepper
Add-ons for a dinner:
Whole wheat pita bread
Salad and chopped tomatoes
Method:
Preheat the oven to 225 Celcius/ 440 Fahrenheit degrees.
Rinse the chickpeas in a sieve
Place the chickpeas and cooked potatoes in a food processor and blend until you have a smooth mash (my food processor is quite small, so I had to make this in two sets). Empty the mash into a bowl
Next, place the onion chunks, garlic and coriander into the food processor and chop them small (you can naturally chop them as well with a knife, but it saves time and tears to do it with the food processor). Add the chopped onion, garlic and coriander in the bowl
Add the rest of the ingredients (eggs, breadcrumbs, sesame seeds, oil, lemon juice, salt and pepper) in the bowl and mix everything well together with a spoon
Let the mash swell for 10 minutes
Moisten your hands and form either small balls or patties. Place them on a baking sheet that is lined with parchment paper. Garnish with some sesame seeds if you like
Bake the falafels in the oven for 15 minutes or until the surface is crisp and golden
Mix all the sauce ingredients together
If you like to have the falafels as a family dinner, serve them inside a pita bread together with some salad, chopped tomatoes and the sauce
Recipe from Kiddielicious Kitchen (www.kiddieliciouskitchen.com/quick-and-easy-falafels)
---
8. Chocolate Chia Pudding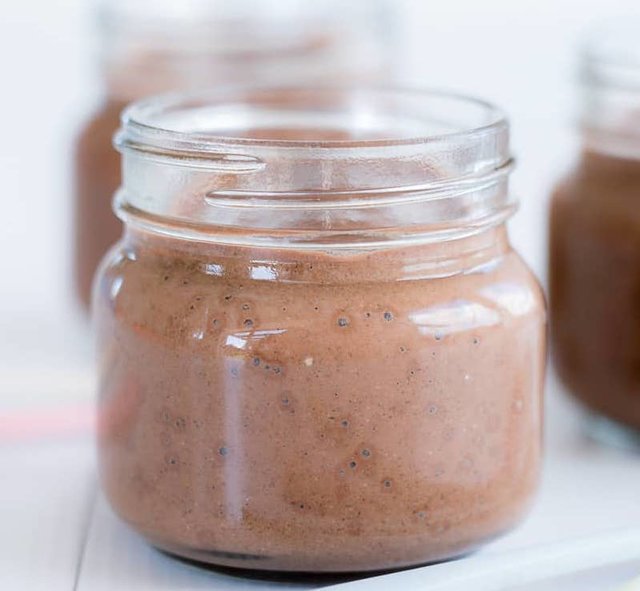 Image credit: My Kids Lick The Bowl
Ingredients:
1 cup milk or milk alternative
1 tbsp peanut butter
1 tbsp maple syrup
1 banana (120g)
1 tbsp cocoa
1 tsp cinnamon
1 tsp vanilla
3 tbsp chia seeds
Method:
Place all ingredients into a blender
Blend until smooth
Pour into 2 bowls or jars
Refrigerate overnight or for a minimum of 4 hrs, the mix will have a pudding-like texture
Notes:
The maple syrup can be substituted for honey if desired, it can also be reduced or removed altogether if you prefer a less sweet pudding
Any milk or milk alternative can be used in this recipe
It's also lovely with almond butter
Double or triple the batch and store in a large bowl in the refrigerator and just take out scoops when you need it
These puddings will store in the refrigerator for up to 5 days
Recipe from My Kids Lick The Bowl
---
9. Chicken & Avocado Toast
Image credit: BBC Good Food
Ingredients:
1 avocado
juice 1/2 lime
2-3 small slices ciabatta bread
100g chicken slices
Method:
Halve and stone the avocado then scrape out the flesh into a bowl
Squeeze in the lime, season, then mash roughly with a fork
Toast the ciabatta, spread with mashed avocado, top with chicken and finish with ground black pepper
Recipe from BBC Good Food
---
10. Paleo Coconut Salmon Bites
Image credit: Wicked Spatula
Ingredients:
1 lb Scottish salmon cut into bite-sized pieces
1 egg
1 tablespoon tapioca flour
1 cup unsweetened shredded coconut
2 tablespoons coconut flour
Pinch sea salt
1/4 teaspoon paprika
1/4 cup coconut oil
Sweet chilli sauce for serving (optional)
Method:
Gather two separate small bowls. In one whisk the egg and the tapioca starch together. In the other combine the coconut, coconut flour, salt and paprika
Cut the salmon into bite-size pieces and remove the skin
In a large skillet over medium heat, melt the coconut oil
Dip the salmon into the egg wash, let the excess fall off then dredge through the coconut mixture
In batches, so the pan isn't too crowded, fry the bites for 1-3 minutes per side or until they are semi-firm and cooked between medium rare-medium
If the pan runs out of oil simply add 1 or 2 more tablespoons before the next batch
Transfer to a paper towel lined plate to drain excess oil
Serve with sweet chilli sauce
Recipe from Wicked Spatula
Compiled by Dinah Shabab.
* * * * *
Stay in touch! Subscribe to our Telegram here for all our latest updates.
Like what you see here? Get parenting tips and stories straight to your inbox! Join our mailing list here.