Losing your glow after giving birth? Get acquainted with these products to help get your post-pregnancy glow and get back into your pre-natal shape again.
To all the mummies who have just given birth, time to smell good, look good, feel good!
Feel Good With…
A traditional Jamu massage in the comforts of your own home
All you need to prepare is a mattress or a bed, two big towels, a small towel and you are all set. With Origins Jamu postnatal massage service, you can finally have your long-awaited massage. What's unique about the Origins Jamu Postnatal massage is the complimentary and value-added lactation service and hot stone therapy provided. Have engorged or blocked ducts from breastfeeding? The lactation and hot stone therapy will come in handy as it not only helps to improve your milk flow.
More Breast milk for your baby
Sacred Nursing Tea is an 100% Certified organic herbal formula, exclusively formulated with specific ingredients proven to not only successfully increase milk supply within hours of use, but also to protect both mom and baby's digestive systems from common stomach upset, indigestion, constipation and gas.
A slimmer and more comfortable body
Created from a traditional remedy, Gingerly Yours is a pure lightweight body slimming cream that helps to dispel 'wind' in the body and relieves aching body muscles and discomfort. It helps to reduce joint pains in rheumatism, Arthritis and promotes better digestion. Suitable to use during and after pregnancy to relieve backaches, joint pains, or even for sports activities.
However, do avoid applying it to the tummy during pregnancy.
Look Good With…
Firmer And Fuller Twin Peaks
Keep abreast with Mother's Bust Firming Essence. This lightweight aromatic essence is gentle to the skin, suitable and beneficial for all women to enhance the beauty and suppleness of the breasts. It can be applied on the skin of the neck, chest, tummy and thighs to improve the firmness of loose skin as well as to lighten stretch marks. Say hello to fuller and firmer twins!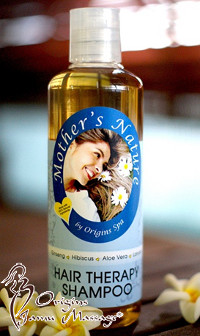 Suitable and safe to use during post-pregnancy and breastfeeding.
*Individual results may varies
Full, Luscious And Healthy Hair
Infused with premium ingredients like Ginseng and a blend of goodness from 100% natural ingredients, Mother's Nature Hair Therapy Shampoo provides a revitalizing deep cleanse for your scalp. It also helps to stimulate hair growth, strengthen hair and prevent hair loss. Excellent to use during confinement period as it keeps the scalp warm and helps to prevent hair loss. Recommended continuing using for at least 4 – 6 months after pregnancy. Suitable for all hair types and conditions.
Want to have pretty colourful nails but are afraid the smell of nail polish is toxic to you and your little one? With Piggy Paint Non-Toxic Nail Polish, you don't have to worry about inhaling the strong chemical from normal nail polish. A natural, eco-friendly non-toxic nail polish, its hypoallergenic formula makes it safe to use for all ages, even for pregnant mothers! A great alternative to solvent-based nail polishes, it dries to a hard, durable finish that can easily be removed with a nail polish remover.
Smell Good With…
Lemongrass & Ginger Goat's Milk Body Scrub By Origins Spa
Awake your body sense and get that instant glow with this refreshing and uplifting body scrub. Made with natural ingredients and infused with pure goat's milk, this scrub leaves your skin feeling smoother, softer and supple. Time to pamper your body; it deserves a good scrub from all the hard work!
This post is brought to you by AllTenTic.com.
* * * * *
Like what you see here? Get parenting tips and stories straight to your inbox! Join our mailing list here.
Want to be heard 👂 and seen 👀 by over 100,000 parents in Singapore? We can help! Leave your contact here and we'll be in touch.