After a long day of work or picking up after your kids, all you want to do it put your feet up on the couch and watch TV. Cooking dinner is probably one of the farthest things from your mind. And yet, that health-conscious streak in you may be urging you to get back on to your feet to whip up something that has at least a little less lard and a little more nutrition than what you would get from a deep-freeze box or takeaway.
A delicious, well-balanced meal doesn't need hours to prepare. Here are five simple yet nutritious meals – contributed by Singaporean mothers no less – that can be prepared in just 15-20 minutes, and which your family is sure to enjoy. Bon appetit!
1. Stir-fried Chicken & Bell Peppers
(Serves 4)
Ingredients
Skinned breast meat from 1 chicken, washed and patted dry
4 small/2 large bell peppers, (2 different colours), diced and washed
4 cloves garlic, smashed and diced
2 Tbsp butter
1-2 cups of water
Spring onion
Chicken marinade:
2-3 Tbsp oyster sauce
2 tsp roasted garlic soy sauce (Kikkoman brand)
2 tsp worcestershire sauce
2 tsp soy sauce
2 tsp dark soy sauce
1 heaping tsp corn flour
2 tsp sesame oil
1 Tbsp alcohol (red/white wine, port, brandy, hua tiao jiu are possible options)
Black and white pepper
Preparation
Wash and put rice to cook.
Mix together the marinade ingredients. Cube and marinate chicken and let sit while you dice the garlic and peppers.
Heat pan on medium-high heat and melt butter. Throw in the garlic.
When the garlic starts to become fragrant (about 1-2min), throw in the bell peppers, add salt and pepper and stir-fry till fragrant.
Add chicken and stir with the peppers. Pour water into the remaining chicken marinade sauce and add into the pan when chicken is half cooked. Reduce fire to a low-medium flame and simmer. Add more water if required, stirring occasionally to prevent sticking. Add salt and pepper to taste.
Chop your spring onion and garnish generously over your plated dish. Serve with rice.




2. Garlic-Ginger Pork & French Beans
(Serves 4)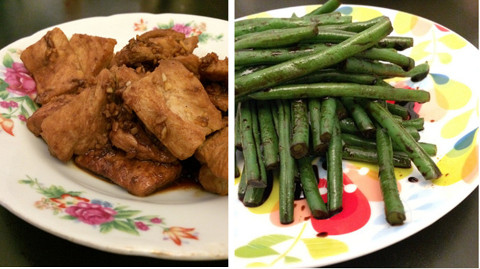 Ingredients
350g pork loin, sliced (about 0.25″ thick) – tenderloin is best, but more expensive
1 Tbsp sake
1 Tbsp butter
200g fine french beans
1/2 tsp salt
1 tsp dark soya sauce
1 tsp brown sugar
Pork marinade:
2 Tbsp sake
2 Tbsp mirin
2 Tbsp dark soya sauce
1 tsp brown sugar
1 thumb-sized piece ginger, grated or minced
1 Tbsp minced garlic
Preparation
Wash and put rice to cook.
Put a small pot of water (about 500ml) to boil.
Slice pork loin and let sit in 1 Tbsp sake – this tenderises the meat. Wash french beans and cut off the ends.
Whisk together the pork marinade ingredients. I normally grate the ginger as it's easier than mincing. And I use pre-minced garlic (haha!) which you can get from the cold section in any supermarket.
Once the water has boiled, add the salt and blanch french beans for 2 minutes. Meanwhile, melt the butter over medium-high heat in a frying pan.
Stir-fry pork for 1-2 minutes. Remove the beans from the pot and let soak briefly in a bowl of iced/cold water before transferring to a serving plate.
Add the marinade mixture to the frying pan and coat pork slices. Leave to simmer for another 1-2 minutes while you drizzle the dark soya sauce and sugar over the beans and toss.
Transfer pork to a separate serving plate. Serve both dishes with rice or porridge.
3. Mixed Pork Ball Noodle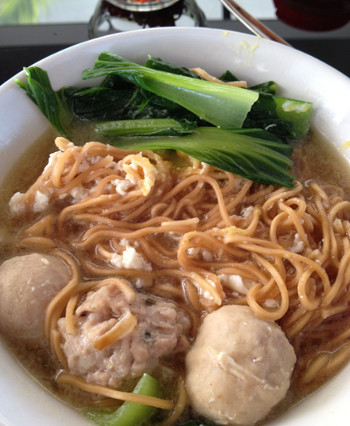 The soup base takes a long time over the stove, but you can leave it to simmer for most of the time, and make a big batch at one shot to freeze up for use anytime during the week!
Ingredients
For the soup base:
Fish bones and/or chicken bones and/or ikan bilis (dried anchovies)
Carrots
Onions
Garlic
Tomatoes (optional)
Salt or Knorr chicken cubes (optional)
For the pork balls (Serves 2)
250 g minced pork
Oyster sauce
Light soya sauce
Sesame oil
Pepper
Cornstarch
250g ready-made pork balls
Noodles of your choice
Vegetable of your choice (eg kalian, chye sim, xiao bai cai)
Eggs (optional)
No fixed measurements for all – it's really up to your taste/preferences!
Preparation
Wash and cut up all the ingredients for the soup base.
Heat up some canola oil in a large soup pot. Fry garlic and onions till fragrant, then add the fish bones, chicken bones, and/or ikan bilis, carrots and tomatoes and continue to fry till the meat on the bones is cooked.
Add water and bring to a boil for several minutes. Simmer on a low fire for 45 minutes to an hour. If the soup looks too thick, just add more water. Also, add some salt or Knorr chicken cubes to the soup for better taste. Use immediately or freeze. Steps 1 to 3 can be done in advance on weekends to save time on busy weekdays.
Marinate the minced pork and roll into balls.
Add homemade pork balls and processed pork balls to the soup, along with your noodles and vegetables. You can also crack in an egg runny style for added taste.
4. Mixed Ingredients With Rice
Ingredients
Pan-fried Salmon:
Salmon (Any part of the fish)
Oil
Salt
Teriyaki sauce (optional)
Fried eggs:
Eggs (1 egg per person)
Oil
Salt
Onions (optional)
Stir-fried vegetables:
Vegetables (like kalian, xiao bai cai, chye sim)
Garlic
Minced pork (optional. You can also use prawn, fishcake, mushrooms or sliced pork)
Oil
Salt or oyster sauce
No fixed measurements for all – it's really up to your taste/preferences!
Preparation
Wash and put rice to cook.
Wash and cut the vegetables and mince the garlic.
Beat the eggs and sprinkle some salt.
Wash and pat dry the fish with a kitchen towel. Put oil and salt on the skin side of the fish.
Heat up your frying pan to medium heat. I prefer using Happycall because I can cover it. Place the fish skin-side down, and cover the pan.
Immediately, heat up a second frying pan for the vegetables. Put in oil and throw in the garlic when the oil is hot enough. After the garlic is browned, put in the minced pork. When the pork is cooked, put in the vegetables and cover the pan to let the vegetables cook.
After 5 minutes or when most of the fish should be cooked through. Sprinkle some salt on the fish, and flip it over. Check that the fish is fully cooked. If you like want to add teriyaki sauce, pour it into the pan and let it simmer for about 10 seconds, and it's done.
Place the cooked salmon onto a serving plate and pour the eggs into the pan that held the fish. There is no need for more oil since salmon is an oily fish. Fry the eggs to your preferred "doneness", and it's ready to be served. Your pork and vegetables should be done about the same time as well.




5. Pork Floss Tofu, Simmered Lotus Root & Rice
(Serves 2)

Ingredients for Pork Floss Tofu
1 slab of organic cold tofu (no cooking required)
1 tsp dark soya sauce
1 tsp light soya sauce
4 tsp sesame oil
1/2 cup crispy pork floss
Furikake (Optional)
Ingredients for Lotus Simmered Root
200g lotus root, washed and peeled
1 Tbsp sesame oil (for frying)
Seasoning:
1 Tbsp dark soy sauce
1 Tbsp sugar
1 Tbsp mirin
1 Tbsp Sake or Chinese cooking wine
Preparation
Wash and put rice to cook.
Wash and cut lotus root into wedges, soak in water. Bring a pot of water to the boil
When water is boiling, drain lotus root and add to boiling water, let boil for 8-10 minutes. In the meantime, assemble the tofu dish.
Unpack the chilled tofu, gently slice each in half lengthwise, and set the top half aside. Drizzle marinade of dark and light soya sauces and sesame oil over bottom half. Layer with half of the pork floss, then carefully place the top half back on top. Finish with another layer of pork floss and furikake (if using).
Combine lotus root seasonings in a small bowl, blending well until sugar has dissolved.
Heat sesame oil in a frying pan over medium heat, then add drained lotus root and stir-fry for about 1 minute. Pour seasoning over the lotus root, and stir to mix well. Let it simmer for a few more minutes, until most of the liquid is absorbed and the sauce has a glossy sheen.
By Dorothea Chow.
If you find this article useful, do click Like and Share at the bottom of the post, thank you.
Want to be heard and seen by over 100,000 parents in Singapore? We can help! Leave your contact here and we'll be in touch.