If you like kitting your child and you in matching togs, you're definitely not alone! More and more parents – yes, dads included – are jumping on the matchy-matchy bandwagon, and the number of shops that cater to such fashion options is also on the rise.
Granted, there are more places that offer matching outfits for mothers and daughters that any other configuration, but we managed to find a few that do have the men in mind as well.
Check out our top choices of matchy-matchy retailers!

Peas and Plums
Photo credit: peasnplums.com

With 100% cotton sourced from South Korea, Peas and Plums in-house designer sews every sample piece in order to understand the intricacies and practicalities of each design before signing off for production. You can be rest assured that the kiddos are comfortable with their twinning outfits too!
For more info, visit www.peasnplums.com or follow them on their Facebook page for the latest updates, www.facebook.com/peasnplums.

Miz Apparels
Photo credit: mizapparels.com.sg
Located in the CBD, Miz Apparels is a must-see for women working in the area. Miz offers ladies' apparel and accessories sourced and manufactured in Korea and now they have also branched out to include 'Mummy & Children' apparel. Prices are on the steep side, but you get your money's worth in impeccable workmanship and quality fabric. Do note that each design is exclusive and comes in limited quantities!
Where to find:
1 Raffles Place #04-16/17
Singapore 048616
Tel: 6536 7220
8A Marina Boulevard
#B2-13 Marina Bay Link Mall
Singapore 018984
Tel: 6636 8513
Website: mizapparels.com.sg

Sea Apple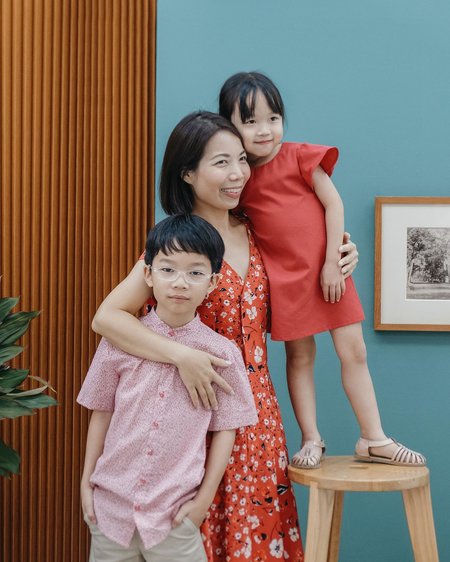 Photo credit: Sea Apple Facebook
Sea Apple is a local store that focuses on children clothing. For the new year, they have launched their first ever coordinated family set collection. You can look forward to dressing up the siblings and also the men in the family!
For more info, visit seaappleshop.com






Chubby Chubby
Photo credit: Chubby Chubby Facebook

Chubby Chubby is known for their fun, modern and strong quirky graphic prints that makes their product range well loved by children and the child at heart. They also carry other baby lifestyle products.
For the upcoming new year, they have launched a Two-Oh-Two-Oh festive collection for the whole family. Look forward to dressing the family in lovely print designs such as longevity peaches, pink chopsticks and love birds!
Where to find:
Tangs at Tangs Plaza
310 Orchard Road
Singapore 238864 Level 2
Design Orchard
250 Orchard Rd, Singapore 238905
Website: chubbychubby.sg

If you find this article useful, do click Like and Share at the bottom of the post, thank you.
Want to be featured here? Leave your contact here and we'll be in touch.