Congratulations to the following brands on being the winners of The New Age Parents Editor's Awards 2022 (Home Essentials and Mum & Baby Care)! PLUS: Stand to win attractive prizes when you take part in our TNAP Awards 2022 Contest II! Details are at the bottom of the page.
---

HOME ESSENTIALS
Airfree
Best Air Sterilisers for Home and Office
Looking for an environmentally-conscious product? The Airfree air steriliser fits the bill as well, being constructed with the use of clean, environmentally-friendly technology. The TSS technology used in Airfree products is exclusive and established in over 50 countries worldwide.
The device also generates no waste and features low energy consumption. In fact, it uses less energy than a 60 w light bulb, translating to cost-savings for you as well.
Read more ▶️ 5 Reasons to Get an Airfree Air Steriliser for Your Home.
*******************************
Luxus Digital
Most Reliable Door Security System in Singapore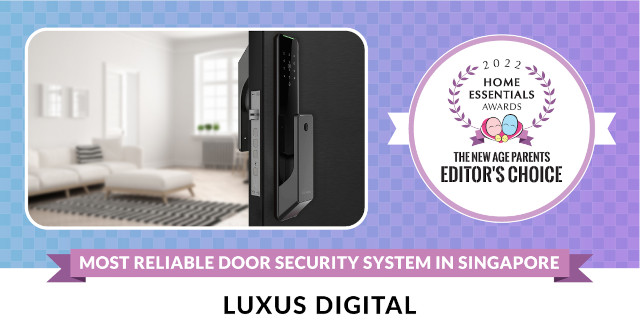 Using the traditional lock is not as secure as you would think it is! If you were to compare, it will take much more resources, system knowledge and skills to crack the encryption than to break open your traditional lock.
Don't be complacent and safeguard your home today! We will recommend investing in a better smart lock and security set system from the gate to the door to minimize any potential risks, one that will combine style, convenience and security in one, and we think Luxus Digital definitely has it all covered!
Read more ▶️ It is Time to Have a Digital Lock Installed in Your Home.

MUM & BABY CARE
Celegift
Best Baby Full Month Gift Platform
Celegift combines the two main elements of a full month celebration – sharing treats and gift-giving – into a single platform.
Besides comprehensive full month packages, Celegift is the first in Singapore to offer a one-stop gift registry where parents can browse through thousands of baby products, add them to their personalised wishlist, and share them with their guests to make gift-giving both easier and sustainable during these times.
Read more ▶️ Celegift: Your One-Stop Celebratory Platform for Baby Full Month and Gift Registry.
*******************************
Combi
Most Essential Infants / Children's Furniture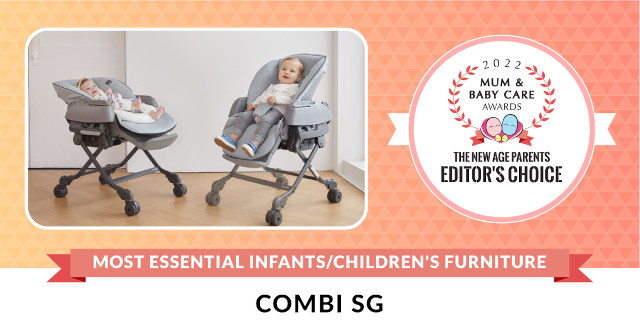 The Combi's Nemulila BEDi Long high chair is definitely a long term investment for you! With Combi's Nemulila BEDi Long high chair, you just got yourself a changing station, an auto-swing chair/bed and a high chair. We have never seen such a practical and amazing children's furniture that will support you through the initial challenging period of caring for a newborn right up to the days they start playing, learning and weaning!
Read more ▶️ How Can Combi High Chair Bedi Long Help Struggling New Parents?.
*******************************
BioDrop™ & Pro-Uro™
Best Probiotics for Mothers, Infants & Children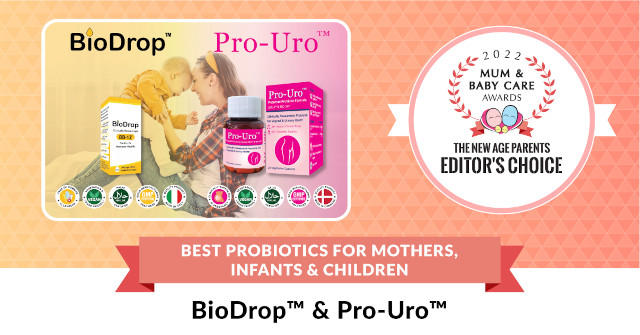 BioDrop is a clinically proven probiotic drop formulated with BB-12® to help you manage infant colic effectively. Apart from being useful for babies, BB-12® is also extensively used by medical professionals for the management of gut and immune health across all ages, from pre-term infants to elderly.
Pro-Uro™ contains the world's most documented probiotic combination (GR-1® & RC-14®) for women's intimate health so that you can be and feel your most confident!
These two patented strains of probiotics in Pro-Uro™ have been clinically proven to maintain a healthy balance of vaginal microflora and help manage common urogenital infections such as bacterial – Bacterial Vaginosis (BV), yeast – Vulvovaginal Candidiasis (VVC) or Urinary Tract Infections (UTI). GR-1® & RC-14® probiotics are naturally found in the reproductive system of healthy women and have been clinically tested on pregnant ladies.
Read more ▶️ Here's a Safe and Effective Probiotic for Babies and Children

EDUCATION
Aspire Institute
Best Muslim Student Care Centre for Islamic Education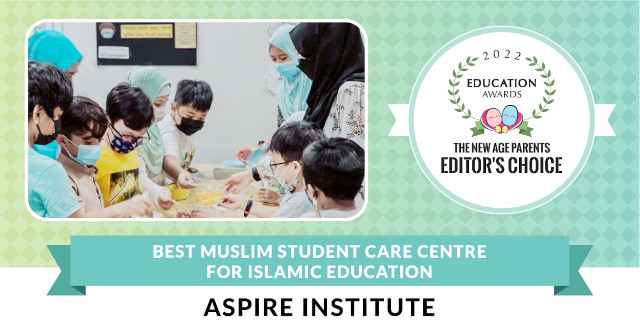 Aspire's Institute's After School Tahfiz programme caters to boys and girls aged from 6 to 12, from both secular primary schools and local madrasahs.
The program aims to create a conducive environment for students to pray Zuhur and Asar in congregation, learn to read and memorise the Quran, recite the Daily Du'as as daily routine as well as do their school homework together.
Aspire Institute's After School Tahfiz programme is available all around the island, with campuses at Jurong, Sengkang, Tampines, Woodlands and Yishun.
Read more ▶️ Aspire Institute's Muslim's Student Care Programme Nurture Students with Islamic Values.
*******************************
Bridging the Gap
Best All Inclusive Early Intervention Centre
Bridging the Gap (Early Intervention For Life) is an all-inclusive intervention centre for children with special needs that offers early intervention programmes. Its mission is to help every child to bridge the physical, cognitive, social, and psychological gaps in their life.
If your child is aged 18 months to 8 years old and has diverse needs (such as developmental delays, learning difficulties, autism, speech and language delays, issues with fine motor, gross motor, self-help, social skills, and regulation and sensory issues), learn more about how Bridging the Gap supports your child with an inclusive learning environment.
Read more ▶️ Bridging the Gap with Early Intervention Programmes for Inclusive Learning.
*******************************
Chengzhu Mandarin Centre
Best Interactive Chinese Enrichment Programmes
At Chengzhu Mandarin Centre, children are immersed in a fully Chinese environment. This constant exposure to the wide Mandarin lexicon enables students to acquire the language naturally and develop their proficiency in both spoken and written Mandarin. Children are engaged through stimulating, meaningful and interactive experiences that lay strong foundations for successful learning, helping them develop a passion for the language.
Chengzhu Mandarin Centre offers a wide variety of holistic programmes for children aged 6 months to 12 years.
Read more ▶️ Chengzhu Mandarin Education – Best Interactive Chinese Enrichment Programmes.
*******************************
Chiltern House Preschool
Best Bilingual Preschool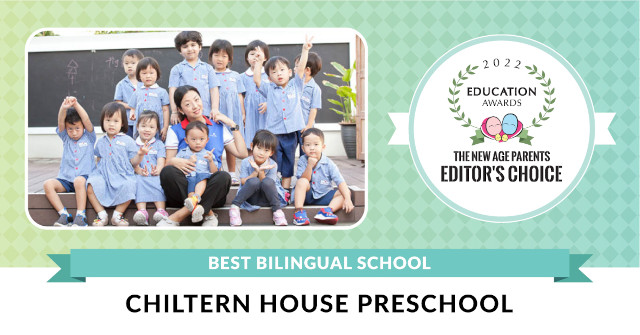 Chiltern House Preschool, has its roots in Julia Gabriel Centre, beginning in 1994 when there was a demand from parents for a preschool with the same pedagogy and values. Chiltern House Preschool believes in engaging children holistically – nurturing their social, emotional, intellectual and physical development. Their EduDrama® methodology combines drama, extension of play and the supportive components of positive early childhood education, bringing children into the magnificent worlds of literature, mathematics, science and arts. They encourage each child to explore and participate in their own way and to express themselves confidently.
Read more ▶️ Best Bilingual Preschool – Chiltern House Preschool
*******************************
Edufront Learning Centre
Best PSLE Tuition Centre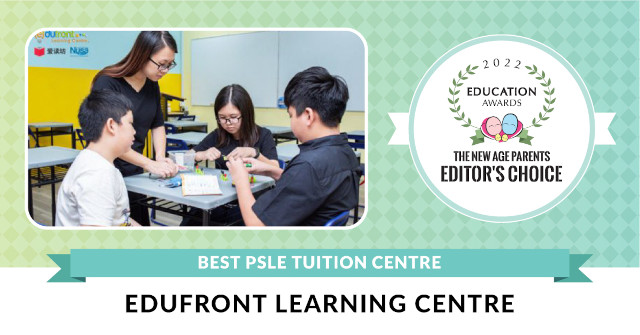 For parents looking for a centre that is committed to nurturing young minds in preparation of the challenging global environment by providing quality educational and enrichment programmes based on leading development in education and curriculum research, look no further. Edufront Learning Centre is an award-winning tuition centre with trained educators that have many years of experience and have a proven track record. Their teaching methodology utilises research-based strategies as well as integrates the use of technology to enhance learning.
Read more ▶️ Best PSLE Tuition Centre – Edufront Learning Centre.
*******************************
Julia Gabriel Centre
Best in Drama, Communication and Literacy Programmes
Julia Gabriel Centre's proprietary pedagogy, EduDrama®, is a collaborative process of wonder, curiosity and self-discovery that forms the core of every programme.
EduDrama supports individuals in the development of communication skills, self-leadership skills and life skills. It combines a wide range of drama activities including voice work, improvisation, performance storytelling and creating original scripts, with planned educational outcomes to foster learning through positive interactions and enjoyable experiences. Facilitated by dedicated and passionate educators, trained to focus on each individual's strengths, EduDrama engages and inspires every student to love the process of learning.
Read more ▶️ Best in Drama, Communication and Literacy Programmes – Julia Gabriel Centre.
*******************************
LCentral
Best English Program
LCentral aims to achieve maximum impact in every one of its weekly 90-minute lessons. LCentral's English Specialists (Teachers) apply the LCentral 360 Teaching Method, which is a carefully designed blended learning approach to keep children engaged, motivated and connected.
LCentral designs its smart classrooms to complement its progressive and structured curriculum to enable students to experience different learning styles in a language-rich environment to enhance learning outcomes.
Read more ▶️ The LCentral Difference – English Enrichment in Smart Classrooms.
*******************************
My Gym
Most Holistic Children's Gym Program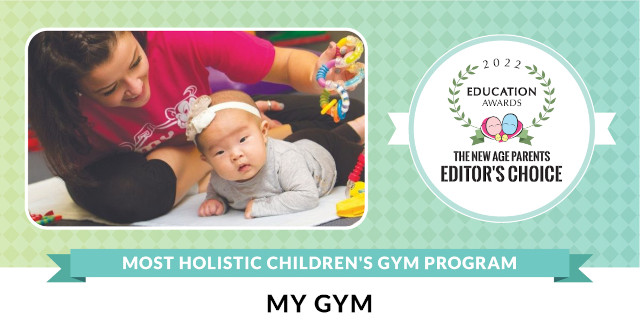 Instead of shuffling across the island for different programmes and exposures, check out My Gym, a well-established award-winning establishment, the go-to-choice for sports & educational enrichment programmes for young children in Singapore. Definitely an impressive programme to create a foundation to develop a well-rounded child! My Gym's comprehensive and rich sports programme aims to promote children's overall development. You will be surprised because we are talking about the important domains like cognitive and social-emotional development, not just physical development!
Read more ▶️ Why are Gym Activities Important for Early Childhood Development.
*******************************
Singapore Hokkien Huay Kuan Arts & Cultural Troupe
Best Children Chinese Learning Centre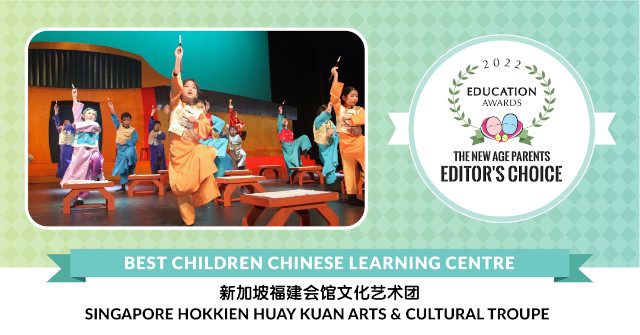 Founded in 1986, the Singapore Hokkien Huay Kuan Arts & Cultural Troupe has been established for more than 30 years. The Children's Performing Arts class, launched in 1987, pioneered the teaching of Speech and Drama in Mandarin. Today, it is one of the most established and recognised youth learning centres in Singapore providing a variety of Chinese enrichment courses for preschoolers, primary and secondary students.
This award-winning organisation believes that children get to experience the joy of learning and cultivate important values while growing up in a culturally and artistically rich environment. Through teamwork and friendships, they build good character and personalities.
Read more ▶️ Keeping The Love For Mandarin Alive For Toddlers To Teens.
*******************************
Singapore Hokkien Huay Kuan Preschool
Best Preschool with a Holistic Living Skills Programme
The Singapore Hokkien Huay Kuan Preschool focuses on creating a Chinese immersion environment for children, especially those from English-speaking families. It adopts a Plan-Do-Review model, which emphasises active participatory learning and encourages a sense of purpose and reflection.
This holistic bilingual preschool has the following learning outcomes for your child – a happy, caring, and loving child who is able to love his/her families, friends, teachers, and school, appreciate Chinese heritage and culture, relate to others, listen and speak with understanding, especially in Mandarin, be curious and eager to explore, and know what's right and wrong.
Read more ▶️ Holistic Bilingual Chinese Preschool Education with Singapore Hokkien Huay Kuan.
*******************************
School After School
Best Bilingual Student Care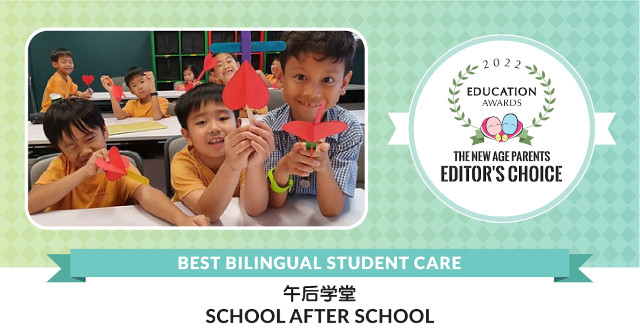 SchoolAfterSchool is an after school care run by the Singapore Hokkien Huay Kuan Cultural Academy. It is the only bilingual speaking student care in Singapore with a focus on developing an interest in the Chinese language and culture.
Its programmes are designed for your child based on UNESCO's Four Pillars of Education for the twenty-first century, encompassing Learning To Know, Learning To Do, Learning To Be and Learning To Live Together.
Your child will be taught ten core values below in activities that encourage problem-solving, nurturing life skills, and building upon one's strengths.
Read more ▶️ My Day At SchoolAfterSchool – A Student's Experience at A Bilingual Student Care Centre
* * * * *
Want to win attractive prizes? Don't hesitate any longer! Read about The New Age Parents Awards 2022 winners and answer some simple questions to stand a chance to win. The contest for TNAP Editor's Awards Home Essentials and Mum & Baby Care category is ongoing now and will end on 9 November 2022! Visit TNAP Awards 2022 Contest to participate now. Good luck!
* * * * *
Like what you see here? Get parenting tips and stories straight to your inbox! Join our mailing list here.
Want to be heard 👂 and seen 👀 by over 100,000 parents in Singapore? We can help! Leave your contact here and we'll be in touch.