This article about SchoolAfterSchool captures a Primary One student's experience in this bilingual student care centre. Read along with your preschooler and enjoy the bilingual videos together!
This year, I just started Primary One. I like school. I like student care even more.
After school, I take the school bus to my student care centre. This is my timetable.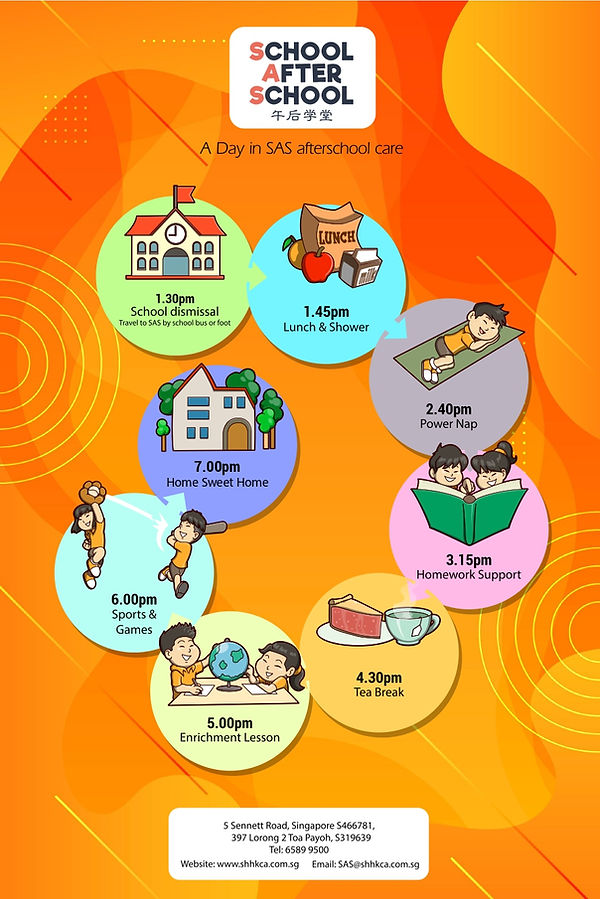 When I arrive, I sign my attendance. I collect my lunch at the canteen.
Lunch is tasty and healthy. There is brown rice, meat, vegetables and fruits.
Some vegetables are new to me. Teacher says I can eat a little bit first. When I am used to the taste of the new vegetables, I can eat more if I like.
Teacher walks my class to the toilet. I know how to shower myself. Daddy/Mummy taught me at home. I like to stay clean.
It is time to rest. I lie down on my mat to power nap for forty minutes. The air-conditioned nap room is quiet and comfortable.
After my nap, I wake up and walk to my classroom. I put my bag in my cubby hole.
My classroom has posters to encourage me.
Teacher reads my school communication book to see what homework I have. I learn my spelling and 听写, and finish my homework.
Teacher helps me when I raise my hand to ask questions.
After I finish my work, she writes what I have completed in my student care communication book. Sometimes she suggests what my parents can teach me at home.
In class, I can practise my handwriting with worksheets, or Chinese calligraphy.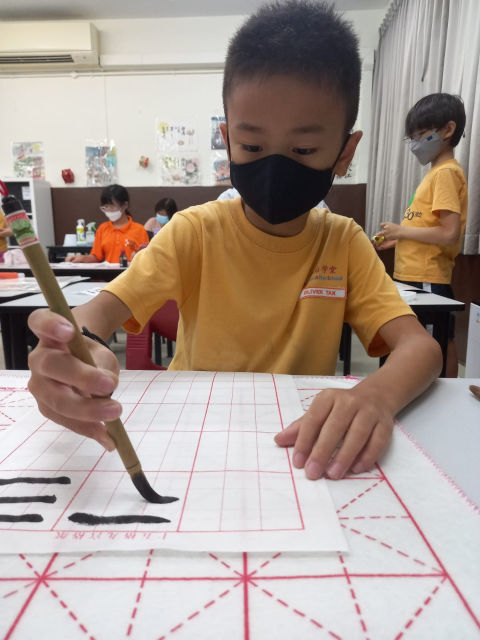 Teacher teaches us art and craft too.
If I have extra time, I visit the library. I can borrow English and Chinese books.
I like Chinese festivals. My parents will come to the student care centre and make dumplings, mooncakes or lanterns with me.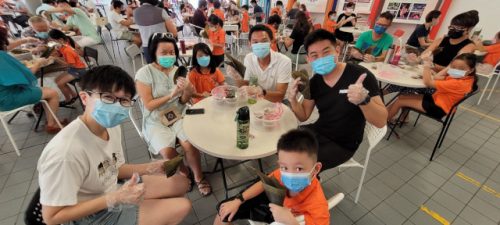 Enrichment Lesson is my favourite time. I have new activities every day. I learn Zumba, Wushu, Cup Stacking, and sports. Teacher speaks in English and Chinese during lesson time.
I have classmates from many countries – Singapore, Malaysia, Japan, Thailand, and Australia. They learn how to read, write, and speak Chinese here, like me.
We practise our song performance for the Dragonboat Festival.
At 6.00 pm, we water the plants in the big garden. We play soccer, badminton, archery, and many games in the field.
Mummy and Daddy fetch me at 7.00pm. I say goodbye to my friends. I have had a good day.
About SchoolAfterSchool
SchoolAfterSchool is an after school care run by the Singapore Hokkien Huay Kuan Cultural Academy. It is the only bilingual speaking student care in Singapore with a focus on developing an interest in the Chinese language and culture.
Its programmes are designed for your child based on UNESCO's Four Pillars of Education for the twenty-first century, encompassing Learning To Know, Learning To Do, Learning To Be and Learning To Live Together.
Your child will be taught ten core values below in activities that encourage problem-solving, nurturing life skills, and building upon one's strengths.
Your primary school child will benefit from a bilingual environment with homework coaching, Chinese enrichment, sports and games, healthy meals, showering facilities, large play area, gardening, and learning opportunities through Chinese culture and festivals.
Student care slots are limited and usually fill up by the third quarter of the year.
SchoolAfterSchool Locations:
SAS@Toa Payoh

Singapore Hokkien Huay Kuan Cultural Academy
397 Lorong 2 Toa Payoh, Singapore 319639

SAS@Sennett Road

Singapore Hokkien Huay Kuan Cultural Academy
5 Sennett Road, Singapore 466781
School days:
Monday to Friday, 1.30pm to 7.00pm
Closed on weekends & Public Holidays
School Holidays:
Monday to Friday, 8.00am to 7.00pm
Take a virtual tour at shhkca.com.sg/after-school-care.
Learn more about SchoolAfterSchool at @schoolafterschoolsas.
This post is in collabration with SchoolAfterSchool.
By Julia Chan.
---
* * * * *
Like what you see here? Get parenting tips and stories straight to your inbox! Join our mailing list here.
Running a service or business targeted for parents? Reach out to a wider audience in our Best After School Student Care compilation. Leave your contact details here and we will get in touch with you.