Are you looking for an inclusive centre that provides early intervention programmes for your child with developmental needs? What should you look out for when choosing a programme that suits your child?
Bridging the Gap (Early Intervention For Life) is an all-inclusive intervention centre for children with special needs that offers early intervention programmes. Its mission is to help every child to bridge the physical, cognitive, social, and psychological gaps in their life.
If your child is aged 18 months to 8 years old and has diverse needs (such as developmental delays, learning difficulties, autism, speech and language delays, issues with fine motor, gross motor, self-help, social skills, and regulation and sensory issues), learn more about how Bridging the Gap supports your child with an inclusive learning environment.
1. Intensive and effective early intervention programmes for school readiness
Bridging the Gap's customised early intervention programmes, with a small ratio of 1 educator to 2 students, progressively support children to overcome developmental disabilities, learning, and communication difficulties, with the goal of school readiness.
Photo: Bridging the Gap develops individualised sensory activities for your child with sensory challenges.
In a warm, safe, and caring environment, Bridging the Gap provides School Readiness programmes, Child Speech and Language therapy, Occupational therapy, Educational therapy, Social Skills training and Multi-Sensory learning activities.
Intervention-based Literacy and Numeracy teaching methods, materials and tools have been tailored to each child's unique learning preferences. Lessons incorporate multi-sensory teaching methods as well as extensive use of fun hands-on manipulatives to engage your child better.
2. Support to regulate your child's sensory needs
Does your child have difficulty receiving and processing sensory input from the environment through touch, movement, smell, taste, sight, and hearing? You'll be glad to hear that Bridging the Gap has developed an individualized sensory diet for children with sensory challenges to alleviate their sensory integration dysfunction.
Photo: In sensory gyms such as the one above, Bridging the Gap develops individualized sensory activities for your child with sensory challenges. This helps them receive information through their senses, process it and use it to participate in everyday activities.
It offers your child a big sensory gym to enhance your child's physical (movement and balance sense, body awareness sense, fine motor skills, bilateral coordination) and cognitive skills (cause and effect reasoning and social development), priming their senses to learn in a safe environment.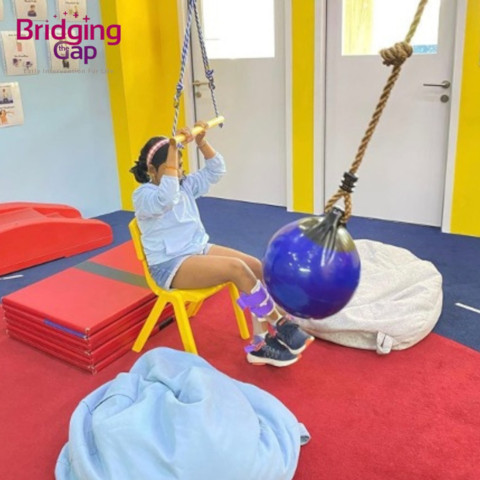 Photo: "Our daughter has been coming to Bridging the Gap for the past six months. We are so happy to see her looking forward to coming here every single day. We have seen small but steady progress in her motor skills as well. Thanks to the passionate, supportive and ever-smiling team here." – Deepa Venkatesh
3. One-on-one sessions to help your child improve specific skills
How can your child improve his social, communication and motor skills?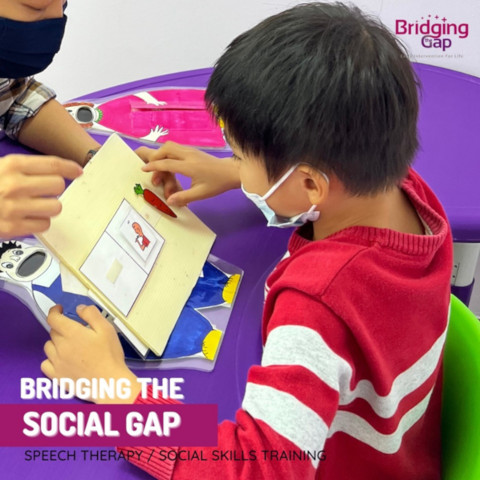 Photo: Bridging the Gap builds your child's confidence by helping him to speak and interact appropriately with others.
Bridging the Gap provides one-on-one sessions that are paced at your child's learning curve, whether it is Social Skills, Speech & Language Therapy, or Occupational Therapy on a weekly basis.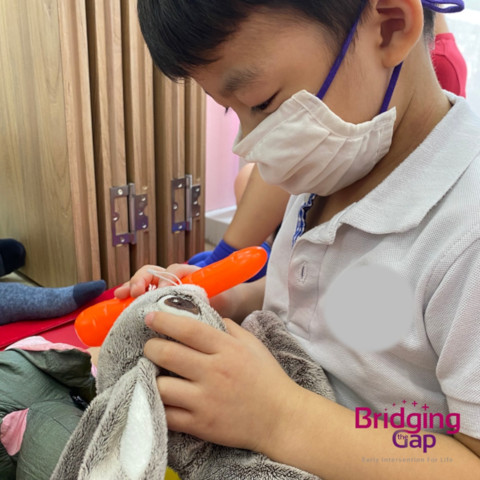 Photo: "I have witnessed improvements in my son's gross and fine motor skills barely after one month in BTG. Previously he was not able to write simple letters by himself but now he is starting to pick up writing skills. He is also picking up more numeracy skills. Language-wise, he has also shown improvements in understanding questions and can communicate better. All thanks to the friendly and capable school staff." – Chin Chien Yeo
4. Support for your child's psychological and emotional needs
Bridging the Gap creates a nurturing, loving, and accepting environment that feels safe to every child. Its educators help your child acknowledge, understand, and accept different feelings, in order to guide your child through effective strategies for managing these emotions.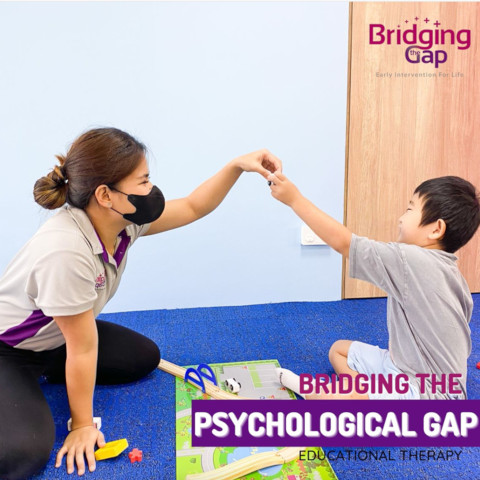 Photo: By acknowledging their emotional responses and giving guidance, Bridging the Gap helps the children understand and accept feelings.
Children are also taught how to have empathy, and to accept and accommodate the diverse needs of every child (including themselves). This creates an inclusive environment where every child with diverse needs has a chance to learn.
5. Diverse range of services for your child
Bridging the Gap offers the following services for children with diverse needs:
Early Intervention Programme: designed for pre-schoolers who need further support to develop their language and communication skills, increase their sensory integration, enhance their fine and gross motor skills, build their foundation in academic skills, and improve their social skills, with the aim of enabling them to join their mainstream peers in Singapore's formal education system.
School Readiness Programme: an individualized intervention programme to assist children with unique learning challenges to transit smoothly and confidently into mainstream schools.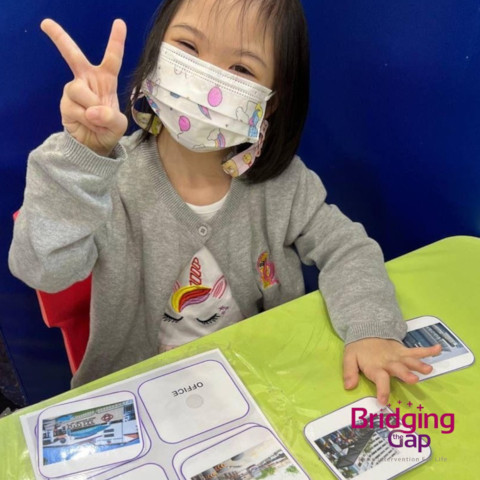 Photo: "We noticed that Melody writes better under the supervision of her assigned teacher. Her teacher also updates us regularly on her behaviour and progress in the class. Melody enjoys attending her class on Saturdays & in fact looks forward to it." – Mother Nancy Koh, whose daughter Melody attends the School Readiness Class
Speech And Language Therapy: help and support children with speech difficulties (such as articulation, pitch, fluency, and resonance issues), and language difficulties, such as receptive (difficulty in understanding the language), expressive (difficulty putting words together) and pragmatic (difficulty using language in socially appropriate ways).
Occupational Therapy: helps children improve gross and fine motor skills, sensory processing, self-regulation, posture, balancing, overall coordination, visual-motor integration, handwriting, and activities of daily living.
Educational Therapy: a customized intervention programme which helps children with learning difficulties, whereby multi-sensory methods (such as manipulatives, games, and other activities) are used to teach children skills and strategies to help them manage their learning or attention issues and improve their academics and self-confidence.
Social Skills Training: designed to improve your child's social interaction, initiation, non-verbal communication, and verbal communication skills. Bridging the Gap uses a developmental methodology – "Social Thinking", to help children effectively interact with others, helping them figure out the best way to think or act in a social situation.
Shadow Support: helps students develop appropriate behaviours in schools and equip them with strategies to manage and cope in various settings.
Bullyproof Programme: instil children the skills and unshakable confidence so that they can overcome bullies without violence. Children are taught verbal assertiveness to deter bullies and several non-violent self-defence techniques to stay safe if physically assaulted.
Sensory Integrated Gym Programme: designed to improve your child's physical, cognitive, sensory, communicative, gross motor skills, and fine motor skill development.
Playgroup Programme: suitable for 18 months to 3½ years old, this programme focuses on creative play and adopts a thematic approach to stimulate learning and development.
Nursery Programme: suitable for 3 to 4½ years old, this programme focuses on discovery-based learning to encourage the development of key learning. thinking and communication skills.
To find a suitable early intervention programme for your child, visit bridgingthegap.com.sg
This post is brought to you by Bridging the Gap.
By Julia Chan.
---
* * * * *
Like what you see here? Get parenting tips and stories straight to your inbox! Join our mailing list here.
Want to be heard 👂 and seen 👀 by over 100,000 parents in Singapore? We can help! Leave your contact here and we'll be in touch.