Living with your school-going children or your elderly folks brings along this constant stream of stress and fear surrounding their safety and that of your home. As you are trying to raise your children's independent skills, allowing them to own a set of your home keys bothers you. These kids are still learning to care for their belongings and the thoughts of them misplacing the keys scares you. And with the elderly folks, there is also a fear of them mislaying their keys or leaving them hanging outside the house. All these concerns definitely create uncertainties in regards to the safety of your home and everyone living in it!
To safeguard your home, have you ever thought about ditching the traditional lock and key system and upgrading to a digital smart lock for added safety, convenience and modern features for your family? Smart locks offer ease of access and allow you access to your house from semiconductor fingerprint recognition to number-code pin entry, voice navigation, RFID Card access, one-time passwords, and even through a mechanical key. If you forget to lock up your door and have boarded the train, providing access to the house is just a click away on your mobile device.
There might be a misconception that digital smart locks are more vulnerable to hackers or burglary, and the security system is easy to tamper with as compared to traditional locks. Trust us, the traditional locks are vulnerable to picking too! An experienced burglar would have all the tools to easily break into your house without a sweat! Using the traditional lock is not as secure as you would think it is! If you were to compare, it will take much more resources, system knowledge and skills to crack the encryption than to break open your traditional lock.
Don't be complacent and safeguard your home today! We will recommend investing in a better smart lock and security set system from the gate to the door to minimize any potential risks, one that will combine style, convenience and security in one, and we think Luxus Digital definitely has it all covered! Check out the range of products that Luxus Digital carries, below!
Luxus Wifi Digital Gate Lock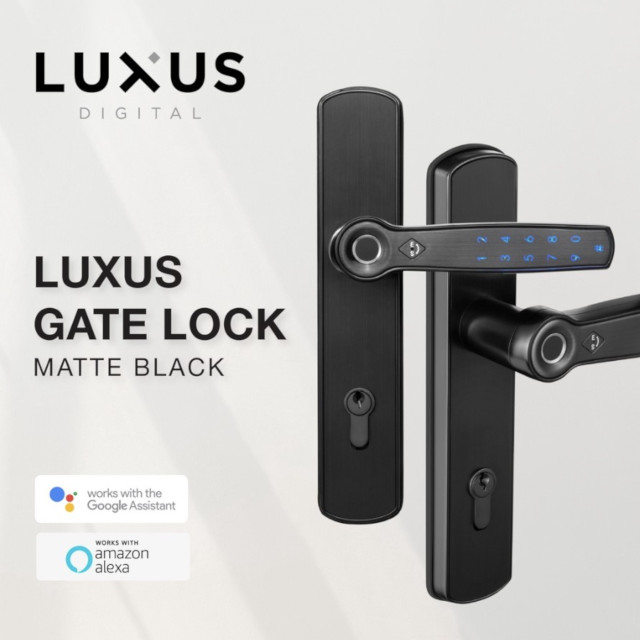 Instead of using those bulky traditional locks and keys, this sleek Luxus digital gate lock auto-lock the gate once it's closed. It sports a simple aesthetic look but does not compromise on its security measures. You can unlock the gate conveniently using fingerprint recognition or a number-code pin. No need to fumble for the keys in your pocket anymore!
3 key highlights about Luxus Wifi Digital Gate Lock
This WIFI digital gate lock provides access for you to unlock the gate remotely through your app. You get both convenience and security even when you are a distance away from the door or your home.
It is conveniently compatible with all kinds of doors, be it metal, wooden or plastic frame.
This ergonomic gate lock offers ease of access through various entry points – Mechanical key, RFID tag, PIN Code Access and also through fingerprint recognition.
Price: $395
Get yours at Shopee
*******************************
Luxus Atlas Digital Door Lock & Luxus Helix Door Lock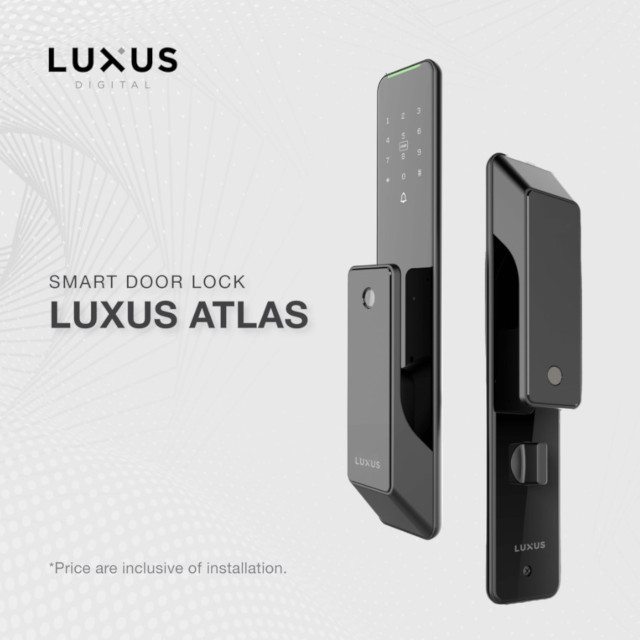 – Luxus Atlas Digital Door Lock
One of the most popular, modern and luxury door locks in the market, Atlas offers reliability, sophistication and high security in one! Created using one of the most advanced technology and security innovations, sophisticated aesthetic outlook, and finest materials for its parts, Atlas door lock combined the best in one so you don't have to choose between style, functionality, and reliability.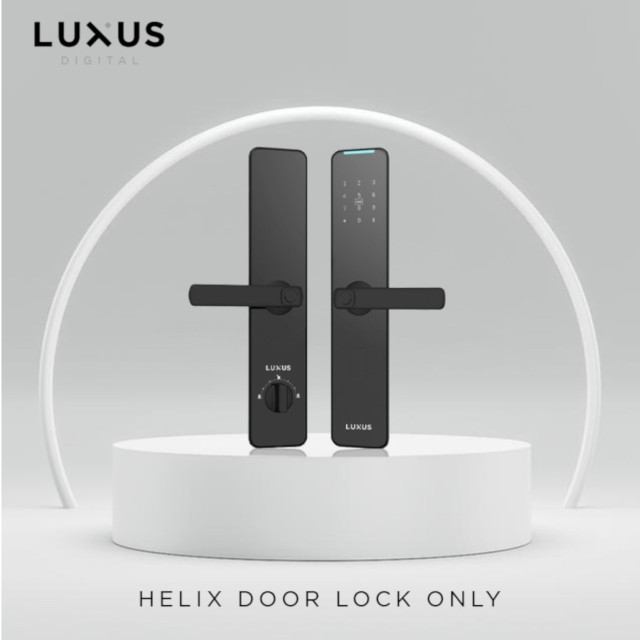 – Luxus Helix Door Lock
Sporting a sophisticated and sleek look, this modern Helix door lock combines leading-edge technology and high-quality parts to create the most advanced security operating system! With Helix door lock, you will have functionality, looks, and dependability in one!
Both the Atlas and Helix door locks provide a wide array of access options, you can effortlessly access your house from semiconductor fingerprint recognition to number-code pin entry, voice navigation, RFID Card access, one-time passwords, and even through a mechanical key – it is versatile without compromising on security and safety.
3 key highlights about Altas and Helix door lock:
With anti-hacking certified, the compatible app can be downloaded onto your mobile to allow round-the-clock monitoring and complete permission control no matter where you are at! You can track the history of access instantly, which means you can remove a previously authorized access or provide a one-time entry to your visitor easily and conveniently!
Atlas door lock is installed with LuxeTouch™ Panel's unparalleled security, the latest innovation in intelligent lock security, you never ever have to worry about your home! While Helix Panel's unparalleled security is one of the latest innovations in intelligent lock security! Using a semiconductor fingerprint scanner, both the patented Atlas' LuxeTouch™ and patented Helix Panel will only grant access to the registered users.
The lithium powered ultra-slender and modern body of Altas and Helix stands out as one of the slimmest and most streamlined designs in the market. The inbuilt lithium battery means that a single charge is sufficient for the battery life to last up to a year!
Luxus Atlas Digital Door Lock
Price: $690
Get yours at Shopee
Luxus Helix Door Lock
Price: $580
Get yours at: Shopee
*******************************
Luxus Digital Door Viewer DV1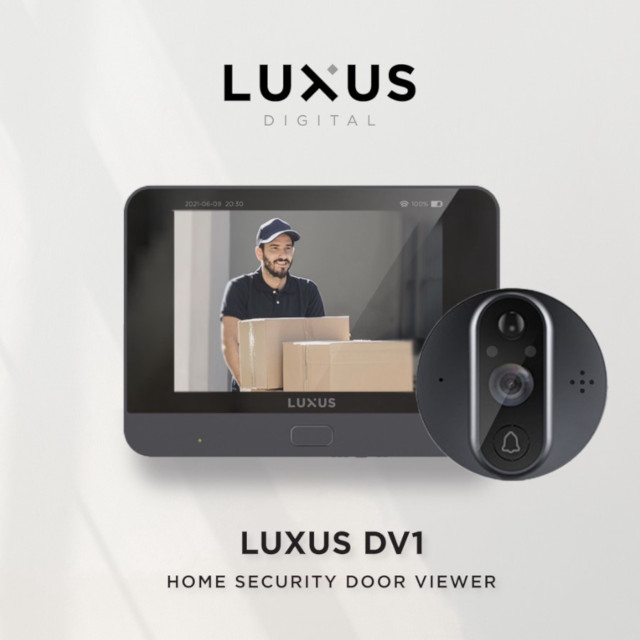 This smart app door viewer allows you to conveniently monitor who is at your door and if the parcel for your online purchases was delivered at your doorstep. Even if you are not at home, information will be sent to your smartphone or tablet, and it also allows you to communicate with anyone at the door. If there is any cause of concern, you can always stream back the recorded video to check out the situation.
3 key highlights about Luxus door viewer:
It is constantly connected (connection via home WIFI) and provides risk-free video streaming to monitor your doorstep no matter if it's day and night.
You can preset the distance where the Smart PIR Motion Detection will capture motions and send out the information to you.
With a rechargeable 5000mAh battery, it eliminates your worry for battery emergencies!
Price: $210 ($20 for installation)
Get yours at Shopee
*******************************
Luxus Doorbell
This smart doorbell can be used to monitor your home security as it creates a 166° view of what goes on outside your door. We love how this built-in microphone allows easy communication with the visitor through the app. With all these smart functions installed in this Luxus doorbell, it means that you can be miles away from home and yet you know exactly what goes on outside your home. It can be installed quickly without any drilling.
3 key highlights about Luxus doorbell:
The Smart PIR Motion Detection detects the slightest motion in front of the door. Different levels of responsiveness can be adjusted – Low, medium and high sensitivity.
The R Night Vision provides a clear vision regardless of the time of the day.
Instant notifications (within 3-5s depending on the WiFi speed) will be activated when someone presses the doorbell or triggers the built-in motion sensors.
Price: $150
Get yours at Shopee
Technology has advanced so quickly in this age and time, and we are glad that we are not confined by the restraints of yesteryear. These modern smart devices like digital locks are definitely a recommendation to have as they safeguard your house and provide high security, convenience and benefits that traditional locks and keys can't! We definitely love the various devices offered by Luxus Digital, check out Shopee or Lazada website for bundle deals and discounts!
This post is brought to you by Luxus Digital.
By Crystal Tan.
---

* * * * *
Like what you see here? Get parenting tips and stories straight to your inbox! Join our mailing list here.
Want to be heard 👂 and seen 👀 by over 100,000 parents in Singapore? We can help! Leave your contact here and we'll be in touch.