The first five years of a child's life are most crucial to his or her overall development as the brain develops connections, faster and more extensively than at any other time in their life. This means that this is the best age to expose them to fundamental skills that will create a lasting impact on their overall growth and development. We are not talking about drowning your child in tuition, rote learning or academic preparatory courses here! Young children should be exposed to meaningful learning and fun programmes to grab hold of this optimal learning opportunity where they develop the skills that will set them up for life.
Instead of shuffling across the island for different programmes and exposures, check out My Gym, a well-established award-winning establishment, the go-to-choice for sports & educational enrichment programmes for young children in Singapore. Definitely an impressive programme to create a foundation to develop a well-rounded child! My Gym's comprehensive and rich sports programme aims to promote children's overall development. You will be surprised because we are talking about the important domains like cognitive and social-emotional development, not just physical development!
The different programmes offered at My Gym cater to children as young as 7 months old and right up to 8 years old! These include parent-accompanied classes to independent ones where your child can work those tasks and challenges out on their own. Each specific programme targets the needs of different age groups by stimulating their brain, working their senses and concentration skills, and also, challenging their physique. It is not about building children's physical competencies, My Gym programmes promote social and emotional development where the children get to interact and forge friendships with their other children. We heard that they even offer Birthday parties, Art classes and events! Even preschools are engaging My Gym as partners to enrich the children's learning. Check out the different programmes organized for different age groups below.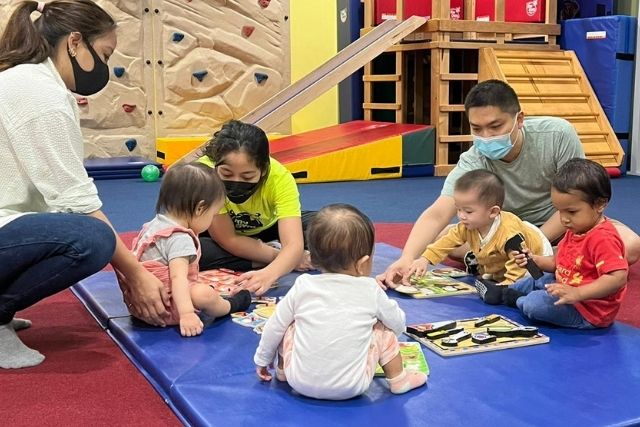 Age group: 7 to 11 months old
Focus: Enhancing your kid's physical, sensory and language skills
Besides working on these infants' physical, cognitive & social development skills, a series of new and stimulating activities will be introduced to the children to help them explore and pick up confidence as they slowly get comfortable in a group setting! Watch how they sit up on their own, cruise around with furniture and respond actively to the different music and movements!
Age group: 12 to 18 months old
Focus: Boosting your kid's confidence in their physical, cognitive and social capabilities
For these mobile toddlers, the programmes get more fun and exciting! Children are more responsive and they start to be involved in more extensive movements like jumping and throwing balls. The exposure also helps to heighten the child's cognitive and language development, as they start to follow simple instructions and use words to describe things or to relate their needs.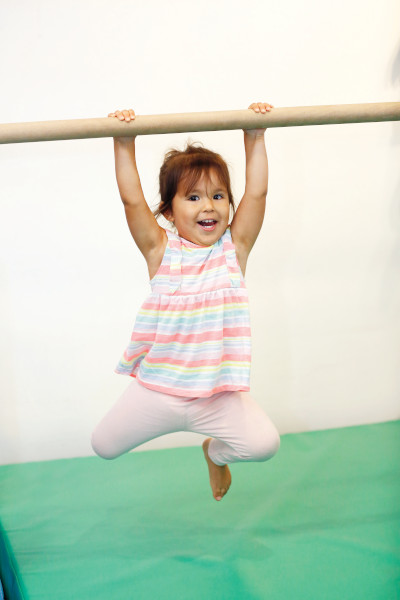 Age group: 19 months to 3 years old
Focus: Encouraging your little ones' thirst to learn new things
Nothing can stop this group of children as they grasp concepts and movements at lightning speed! Watch how they learn how to balance on one foot, improve their pincer grasp, identify concepts and complete simple classification tasks. It is a joy to challenge and engage them, especially with their increased attention span and improved language skills!
Age group: 3 to 4 years old
Focus: Supporting your kid's budding independence and preschool years.
We are looking at independent and curious learners who are able to complete obstacle courses, race in tricycles and sing and dance bravely during the music and movement activities! The different activities in this programme also challenge children with school-readiness skills like counting, responding to questions after storytime and turn-taking. Exposure to some life skills are also intertwined into the programme too!
Age group: 4 to 5 years old
Focus: Improving your child's self-esteem and respecting their individuality.
Children at this particular age group love a challenge! In My Gym programme, children are challenged with different games and tasks that improve their physical and cognitive development! They also build friendships and learn to work alongside these comrades. Children are exposed to more life skills, such as confidence to speak up amongst their peers, problem-solving when conflicts arise and building negotiation skills to get others to buy-in to his or her idea.
Age group: 6 to 8 years old
Focus: Developing your kid's leadership and self-discipline skills.
At this stage of their development, these children are able to take ownership for their learning and they will learn to work in groups and establish their leadership qualities too! Their motor skills will have reached a new height as they will be able to perform tasks skillfully and confidently, asides from motor skills, the children's cognitive, language and social-emotional skills will also be enhanced tremendously.
After trying out My Gym programmes, we would say these are the 8 highlights on how their programmes benefit young children!
strengthen brain development & overall holistic development
improve fitness and enthusiasm
reduce sloppiness
increase concentration span
build strong muscles and endurance
promote positive mental health
develop positive attitude and outlook in life
create a happier and healthier childhood
As parents, we want to watch our children grow up to be happy and competent individuals! Instead of ruminating about it, why don't you take action today! Providing a good exposure at a young age is the doorway to developing a holistic child so check out the different programmes offered at My Gym!
Website: mygym.com.sg
Locations: 6 locations island-wide (Buona Vista | Great World City | Jurong East | Marine Parade | Punggol | Tampines)
This post is in collaboration with My Gym.
By Crystal Tan.
---

* * * * *
Like what you see here? Get parenting tips and stories straight to your inbox! Join our mailing list here.
Want to be heard 👂 and seen 👀 by over 100,000 parents in Singapore? We can help! Leave your contact here and we'll be in touch.