On the hunt for a quality Islamic student care centre for your child? You'll want to find out which offers a good place for them to study and do prayers, exposure to Islamic values, with capable and dedicated teachers, as well as an affordable fee and well-structured programme.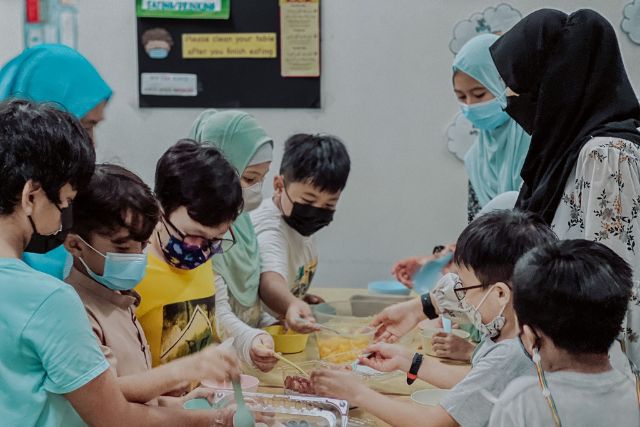 Luckily, you don't have to look too far. Aspire's Institute's After School Tahfiz programme caters to boys and girls aged from 6 to 12, from both secular primary schools and local madrasahs.
The program aims to create a conducive environment for students to pray Zuhur and Asar in congregation, learn to read and memorise the Quran, recite the Daily Du'as as daily routine as well as do their school homework together. Parents can have peace of mind knowing that their little ones have a balanced exposure to both Islamic and secular education.
What the curriculum entails
The After School Tahfiz programme is designed specifically for Muslim schooling children in Singapore who are comfortable in English, and love learning the Quran in an enjoyable and stress-free setting. At the same time, Aspire Institute offers a properly structured and objective-oriented syllabus, so that your child is engaging in purposeful learning.
Conducted primarily in English, the curriculum encompasses:
Performing Zuhur and Asar prayers together daily from Monday to Friday, guided by the teachers
Tilawati Session: The Iqra' Reading / Quran Reading / Quran Memorization session. This is also done daily one-to-one with each student, at their own pace
Integrated Islamic Program: Students will be learning different Islamic subjects everyday, like Sirah, Tauhid, Doa & Akhlak and Arabic. Each subject is delivered once weekly, and the programme is usually conducted for around 1 hour to 1 hour 15 minutes.
What goes on in a typical day
Of course, parents might also be wondering what happens on a typical day. The timetable includes:
1:30pm – 3:00pm: Students arrive at the centre, where they will have their lunch provided. After taking a short shower and changing their clothes, they will then perform Zuhur together at 3:00pm.
3:00pm – 4:00pm: This is a supervised session where every student must start doing their school homework , or revision and spelling if they have finished their work in school. They have one hour to do so. If students are unable to finish their school homework by 4:00pm, they need to complete it with their parents at home.
4:00pm – 4:45pm: Students will start doing their Quran memorization and learn to read the Quran together. Those who joined daily from January this year have managed to memorized 30 surahs by September.
4:45pm -5:15pm: Students will have a tea-break (provided by the campus) and perform Solat 'Asar together.
5:15pm – 6:00pm: Students start on their Integrated Islamic Program, which includes Sirah, Tauhid, Arabic, Doa & Akhlak. Each subject is delivered once weekly, with different subjects being taught every day in an interactive, creative and child-centred learning format.
6pm: Home sweet home. The campus will close at 6:30pm.
Experienced teachers
Parents will also be glad to know that the lessons are taught by qualified and experienced teachers. These are graduates from local and overseas Islamic universities, as well as higher institutions. So you are rest assured knowing that your child is in knowledgeable and capable hands.
An affordable and accessible programme
Student care in Singapore can get costly, but Aspire Institute has managed to keep prices affordable. This makes it the perfect choice for parents who are on a budget, and seeking a quality yet value-for-money programme for their little ones. The cost breakdown is as follows:
$300 for daily student care from 1:30 pm to 6:30 pm (Monday to Friday)
$200 for twice weekly student care from 1:30 pm to 6:30pm
This works out to paying less than $15 per day for student care in total.
Most parents would also want an accessible student care centre, for ease of dropping off and picking up their kids. Aspire Institute's After School Tahfiz programme is available all around the island, with campuses at Jurong, Sengkang, Tampines, Woodlands and Yishun.
To make it even more convenient for parents and children, the campus offers 1 and 2-way transportation directly to the premises (at an additional cost).
Find out more about Aspire Institute's After School Tahfiz programme here. Parents can also book a call via this link to enquire about the program.
This post is brought to you by Aspire Institute.
By Rebecca Wong.
---

* * * * *
Like what you see here? Get parenting tips and stories straight to your inbox! Join our mailing list here.
Running a service or business targeted for parents? Reach out to a wider audience in our Best After School Student Care compilation. Leave your contact details here and we will get in touch with you.