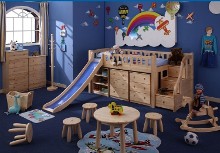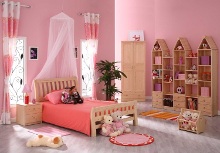 Furniture stores are pretty common in the different districts of Singapore, they are practically everywhere. However, finding child-size furniture is no joke! It takes a lot of effort to find the right one for your child, taking in consideration the aesthetic factor, design, durability, safety, child's interests and practicality issues. No fret! We will like to provide some recommendations on places where you can get Children's Furniture in Singapore for your child.
1. iBenma Trading Singapore

iBenma Trading is a sole-distributor of some high-end brand for kid's furnitures. It supplies high quality and affordable Bedroom set, Bunk Bed, Loft Bed, Single bed, Twin & Full Bed, Children computer desk, Table, Bookcase and Accessories for the family. They have many years of experience in conducting kids furniture related research and manufacturing. Furthermore, they have direct imported Finland pine wood and QC that is in accordance with EN71 and ASTM standard. iBenma Trading has a dedicated team that will provide you and your children a safe and green growing environment.
Contact Details:
Address: 5 Stadium Walk, #02-07/08 Leisure Park Kallang, Singapore 397693
Tel: [65] 6337-7476
Email: sales@ibenma.com.sg
Website: www.ibenma.com.sg
2. Junior Suites
Junior Suites has an extensive range of fashionable and contemporary bedroom furniture for children, with a philosophy of providing only high-quality goods with durable designs at affordable prices. To accommodate the small living spaces in current day Singapore, a good majority of Junior Suites space-saving models are carefully drawn and designed with the core functionality of freeing up space yet not compromising on your child's comfort. Utility compartments and storage drawers are also meticulously planned and included as part of their space saving designs in the form of their stow-away low bed with drawers and multi-directional side staircase with drawers.
Contact Details:
Address: 21 Toh Guan Road East #03-05 Toh Guan Centre Singapore 608609
Tel: [65] 6515 3013
Operating hours: Monday – Sunday (1pm to 6pm) – Closed on Major Public Holidays
Email: sales@juniorsuites.com.sg
Website: www.juniorsuites.com.sg
3. Kids Haven
Kids Haven is a one stop solution to your home decoration needs. You can create a thematic and welcoming environment that can transform your child's plain little room into a world of fantasy. Kids Haven does not only offers you a comfortable shopping experience from your home 24×7. You can also arrange a viewing session with Kids Haven and make a little trip to Sembawang to visit its showroom and understand more about its products and offerings. Its friendly customer service will be sure to provide you practical advice to help you in your decision-making process
Contact Details:
Address: 166 Joo Chiat Road Singapore 427439 | Westgate Mall #04-14 Singapore 608532
Email: enquiries@kidshaven.sg
Website: www.kidshaven.sg
4. ni-night

ni-night is a company that specially design children's furniture, linen and accessories. The concept of ni-night is to provide a more accessible way of shopping for unique and quality items. Parents can browse through the website, shop over the phone or by visiting their showroom in Singapore to select the right furniture for your child. Furthermore, the prices of the furniture bought at ni-night are inclusive of the delivery costs in Singapore.
Contact Details:
Address: 7 Joo Chiat Place, Singapore 427742
Tel: [65] 9829 7961
Operating Hours: 9am to 5pm Monday to Friday | 11am to 6pm Saturday & Sunday
Email: majella@ni-night.com
Website: www.ni-night.com
5. Baby Zoo
Baby Zoo is your baby and child superstore. The company is the sole Asia Pacific distributor of Orbit Baby, UPPAbaby, Maxtrix Kids beds, Rain or Shine Kids blankets and MD Moms products. They supply quality specialty retailers throughout the region with their products. Over here at Baby Zoo, you can find furniture and other infants, strollers, car seats, baby skin care products etc. No more shipping from oversea!
Contact Details:
Address: 10 Jalan Serene #02-17A Serene Centre Singapore 258748
Tel: [65] +65 64658966
Email: shop@babyzoo.com.sg
Website: www.babyzoo.com.sg
6. Babytown

Babytown provides the lowest prices on all baby and toddler products in Singapore. They carry a range of furniture, accessories, toys, educational products etc for both indoor and outdoor environment. Furthermore, Babytown is also Singapore's leading supplier of Baby strollers, high chairs, car seats, toys and more from newborns to toddlers.
Contact Details:
Tel: [65] 6484 2870
Email: info@babytown.com.sg
Website: www.babytown.com.sg
7. Star Furniture Group

Star Furniture Group is a leading furniture retailer and manufacturer. Countless of rewards have been given to Star Furniture Group yearly for its excellence in their design, product and customer service. Star Furniture Group keeps its finger on the pulse of fashion and style in home living. Its design and production teams are constantly keeping abreast of the latest market trends. Here at Star Furniture Group, you can find a wide range of furniture for both adults and children at a reasonable price.
Contact Details:
IMM Branch:
Address: 2 Jurong East St.21 #03-20 IMM Building Singapore 609601
Tel: [65] 6569 7277/7377
Operating hours: 11.30am to 9.30pm (Mon-Sun)
The Toh Guan Branch
Address: 10 Toh Guan Road #01-06, The Furniture Mall, Singapore 608838
Tel: [65] 6291 8832 / 6295 8832
Operating hours: 11am – 9pm (Mon-Sun)
8. IKEA

IKEA is a company that sells home products like furniture, bedding, decorations etc for adults and children. It is well-known for its affordable prices and unassembled D.I.Y furniture. Since IKEA's furniture is designed to be assembled by the consumer rather than being sold pre-assembled, prices are much more affordable. However, you can still pay a small sum to get the staff to assemble and deliver to your doorstep. The showrooms in IKEA store provide inspiration or recommendation on how individuals or parents can decorate their place. Parents can also leave their children at Småland (Branch at Alexandra), an indoor playground for children at no extra cost while you shop with ease.
Contact Details:
IKEA at Tampines:
Address: 60 Tampines North Drive 2 Singapore 528764
Tel: [65] 6786 6868
Operating hours: 10am to 10pm daily
IKEA at Alexandra:
Address: 317 Alexandra Road Singapore 159965
Tel: [65] 6786 6868
Operating hours: 10am to 10pm daily
Website: www.ikea.com.sg
9. FLEXA

FLEXA is a international company that makes children's bedroom furniture including beds, bunks, desks, armoires, drawers and fun textiles. They design to suit your child's age, interests and needs. From bed ends and curtains to knight's towers and desks, FLEXA lets you and your child create interior furnishings – now and in the future. Furthermore, the furniture at FLEXA grows with your child. Safety is very important. For FLEXA, they go the extra mile to make children feel safe and comfortable and being worthy of parents' trust. They have carefully checked every single detail such as no sharp edges or corners on FLEXA furniture. The furniture is rigorously tested in order to meet the highest international safety standards.
Contact Details:
Address: 101 Thomson Road #01-43 United Square Singapore 307591
Tel: [65] 6354 1310
Email: flexa@hiko.com.sg
Website: www.flexa.dk
10. LittleWode International Pte Ltd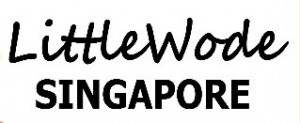 Little Wode is a furniture store that caters to children and adults. The wooden products and LittleKids range of bedroom furnitures, study desk & bookcase are made from 100% Plantation & eco-friendly timber. With the added service, consumers can choose to shop for furniture at the comfort of your own room through their e-services.
Address: 9 Tagore Lane #02-03, 9 @Tagore Singapore 787472
11. Piccolo House
Piccolo House is a furniture store that allows parents to conceptualize their child dreams into practicality. They feature popular themed children furniture, bedroom sets for Girls and Boys such as Princess room, Jungle and more. They have specialization in kids' fun accessories ranging from thematic wall decoration, creative jigsaw floor mat and wall puzzles, beautiful rugs to interesting kids hammock & swings and also many other crisp designed small furniture. These diverse imported collections will enhance the quality of your child's life without the need to spend a great deal of effort and money. The combination of great design, practicality and value for money that they offer will give you and your young ones a wonderful and magical boundary, allowing him to roam, fantasize, explore, learn and nurture within the premise.
Before you head down to the different stores, do make sure that you have discussed and involved your child in the whole process. After all, the furniture chosen are for their usage. Thus, make the whole issue of getting your children's furniture into a fun and great bonding opportunity for you and your child!
Do you know of other furniture store that sells children's furniture in Singapore? If you will like to share, feel free to write in to us or leave your comments!
Like what you see here? Get parenting tips and stories straight to your inbox! Join our mailing list here.
Want to be featured here? Leave your contact here and we'll be in touch.