Furniture stores are quite commonplace in the different districts of Singapore. However, finding kids-friendly furniture can be pretty challenging.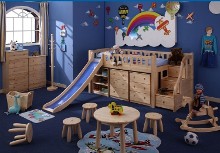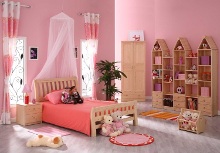 It takes a lot of effort to find the right type of furniture for your child as you have to take many factors into consideration such as aesthetics, durability, safety, your child's preferences and practicality.
Fret not! Read on for our recommendations on places where you can get Children's Furniture in Singapore for your kid.
1. Edupod
At Edupod, we believe learning spaces are created together, and the need for high-quality furniture and learning resources makes a positive learning environment for our children.
A child's journey of exploration of the world begins with play – through pretend play, creative science kits, and playgrounds.
We encourage you to explore, to imagine, and to experience PLAYSCAPE.
Address: 315 Outram Road. #12-05 Singapore 169074
Tel: +65 9236 1005⁠
Website: edupod.com.sg
*******************************
2. IBENMA® Singapore
IBENMA® is one-stop high end children furniture center in Singapore. Featured by a smart modular bed system, Ibenma can meet diverse demands for different ages from toddlers, and teenagers to adults simply by one model but with hundreds of options.
Address: 5 Stadium Walk #02-07/08 Leisure Park Kallang Singapore 397693
Website: ibenma.com.sg
*******************************
3. RaaB Family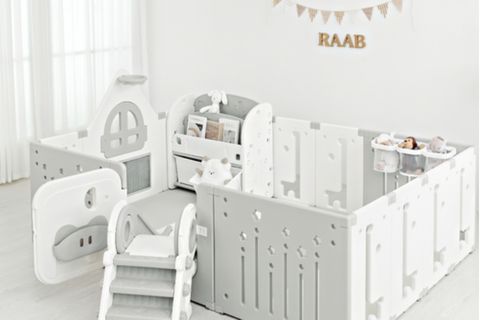 RaaB Family is a baby product company dedicated to providing parents with high-quality, innovative, and practical products that make life easier and more enjoyable. With a focus on safety, comfort, and convenience, our products are designed to make parenting a little bit easier and a lot more fun.
Our company was founded by a team of parents who understand the challenges and joys of parenting, and who are passionate about creating products that make life easier for parents and better for babies. From our top-of-the-line playpen and playmat to our cosy baby cot, every product is carefully crafted to meet the highest standards of quality, safety, and functionality.
Showroom: 31 Woodlands Close #03-18, Woodlands Horizon, Singapore 737855
Tel: +65 6758 4700
Website: raab.com.sg
*******************************
4. Picket & Rail
Picket & Rail's Baby Cot Convertible Companion Cabinet™ is the newest addition to the Picket & Rail range of formaldehyde-free, sturdy, baby-safe and sustainable furniture for small homes and flats in Singapore.
Fits snugly above the baby cot or bed to store all the extra stuff that comes along with a baby, from blankets, bedsheets, cushions, soft toys, baby clothes to diapers!
And we love the convertible functionality! One of the few baby furniture pieces that grow with baby and remain aesthetically pleasing through the years. As the baby grows, swap the cot out for a baby bed and eventually a study desk, or even a sofa! Its sleek design will not look out of place in a teenage or adult room.
Retails from SGD599, in a variety of colours and furnishings with free installation.
Website: picketandrail.com
*******************************
5. IKEA
IKEA is a company that sells home products like furniture, bedding, decorations etc for adults and children. It is well-known for its affordable prices and unassembled D.I.Y furniture. Since IKEA's furniture is designed to be assembled by the consumer rather than being sold pre-assembled, prices are much more affordable.
However, you can still pay a small sum to get the staff to assemble and deliver to your doorstep. The showrooms in IKEA store provide inspiration or recommendations on how individuals or parents can decorate their place. Parents can also leave their children at Småland (Tampines), an indoor playground for children at no extra cost while you shop with ease.
Address: 60 Tampines North Drive 2 Singapore 528764 / 317 Alexandra Road Singapore 159965 / JEM
Website: ikea.com
*******************************
6. Junior Suites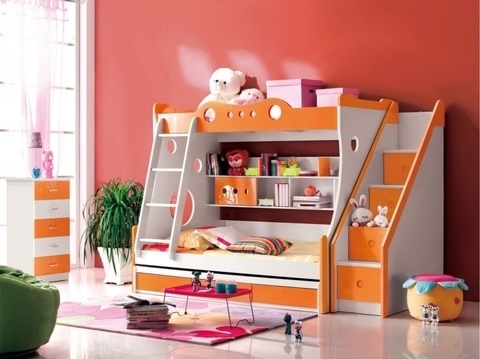 Junior Suites has an extensive range of fashionable and contemporary bedroom furniture for children, with a philosophy of providing only high-quality goods with durable designs at affordable prices.
To accommodate the small living spaces in current-day Singapore, a good majority of Junior Suites space-saving models are carefully drawn and designed with the core functionality of freeing up space yet not compromising on your child's comfort.
Utility compartments and storage drawers are also meticulously planned and included as part of their space-saving designs in the form of their stow-away low bed with drawers and multi-directional side staircase with drawers.
Address: 1 Bukit Batok Crescent #04-51 WCEGA Plaza Singapore 658064
Tel: +65 6515 3013
Website: juniorsuites.com.sg
*******************************
7. Kids Haven
Kids Haven is one of the biggest children's furniture stores in Singapore! They specialise in kids' beds, wardrobes, study desks, bedroom sets, kids' bookshelves, dressers, drawers, nightstands, lampshades, kids' lighting, kids' mattresses, bedding and much more. You can look forward to creating a thematic and welcoming environment that will transform your child's room!
Kids Haven offers a comfortable online shopping experience with its user-friendly e-store. You can also arrange a viewing session with Kids Haven to visit their showroom.
Address: 25 Playfair Rd Singapore 367992
Website: kidshaven.sg
*******************************
8. Star Living
Star Living is a one-stop furniture and furnishing store that features eight brands – Star; Mondi Lifestyle; Zen Tradition; LUCANO; JotterGoods; DecoTalk; Aartical and BEDz Store. At Star Living, you can find a wide range of furniture for both adults and children including bookcases, study tables, junior bed sets and more.
Look forward to an enjoyable shopping experience with Star Living as they offer superior quality products in modern innovative designs at affordable prices.
Website: starliving.com.sg
*******************************
9. FLEXA
FLEXA is an international company that develops children's bedroom furniture including beds, bunks, desks, armoires, drawers and fun textiles. All their products are designed to create a safe and stimulating environment for children to grow up in. They create sustainable room solutions at affordable prices – their quality beds and furniture are designed to last an entire childhood!
For FLEXA, they go the extra mile to make children feel safe and comfortable and being worthy of parents' trust. They have their own sourcing and textile production in Asia, ensuring that their collection of textiles lives up to their rigorous demands of non-toxic and environmentally friendly materials.
Website: flexa-sg.com
*******************************
10. LittleWode International Pte Ltd
Little Wode is a furniture store that caters to children and adults. The wooden products and LittleKids range of bedroom furniture, study desk & bookcase are made from 100% Plantation & eco-friendly timber. Consumers can opt to shop for furniture at the comfort of their home through Little Wode's online store.
Address: 38 Jalan Pemimpin M38, #04-07, Singapore 577178
Tel: +65 6459 9677
Website: littlewode.com
*******************************
11. Piccolo House
Piccolo House is a furniture store that allows parents to conceptualise their child's dreams into reality. They feature popular themed children furniture, bedroom sets for Girls and Boys such as Princess room, Jungle and more. They specialise in kids' fun accessories ranging from thematic wall decorations, creative jigsaw floor mats, wall puzzles, rugs to kids' hammock & swings and many other well-designed compact furniture.
These diverse imported collections will enhance the quality of your child's life without the need to spend a great deal of effort and money. The combination of great design, practicality and value for money that they offer will give you and your young ones a wonderful and magical boundary, allowing him to roam, explore, learn and nurture within the space.
Address: 10 Ubi Crescent #01-63 Ubi Techpark Singapore 408564
Tel: +65 6743 8884
Website: piccolo-house.com
*******************************
12. Kuhl Home
Kuhl Home Singapore's value proposition is to be a destination store for parents who are looking to purchase good value, high quality, safe and beautifully crafted kids' furniture. They carry a wide variety of kids' furniture ranging from bunk beds, loft beds, study desks, wardrobes, kids' storage as well as baby furniture.
The kids' furniture from Lifetime Kidsrooms and Oliver Furniture (the convertible and modular kids' bed systems) are created to adapt to your child's needs as they grow. You can also rest assured on the safety aspect as their furniture meets the highest safety requirements and are extensively tested by TÜV, a strict testing authority in Europe for safety and quality.
Address: 100E Pasir Panjang Road, #08-01 Century Warehouse Singapore 118521
Website: kuhlhome.com
*******************************
13. Agape Babies
Agape Babies is a mega online store selling premium & authentic brands of baby products. They carry over 250 brands and over 5000 products and they have expanded their range to include skincare, carriers, organic baby food and many more!
You can also find a huge variety of baby pillows, blankets, comforters, wall decorations, tables, chairs, activity gym furniture such as puzzle mats, slides and step stools!
No more waiting for overseas shipment as you have fuss-free delivery of all your favourite baby product brands straight to your doorstep!
Website: agapebabies.com
*******************************
14. Combi
Combi helps create lifestyles rich and filled with dreams, and we strive to fill the world with wonderful places where those lifestyles can be realized. We cherish every pregnant mother and expecting family and hope to help them create their happiness.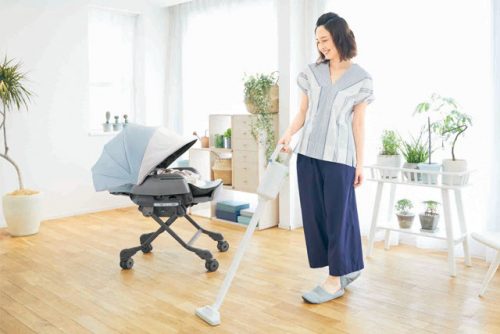 Combi's High Chair Nemulila BEDi Long comes with a unique swing movement that can soothe and put your baby to bed within minutes. It is definitely value for money as you are investing in a 3-in-1 environmentally-friendly children's furniture!
With Combi's Nemulila BEDi Long high chair, you just got yourself a changing station, an auto-swing chair/bed and a high chair. It's a practical and amazing children's furniture that will support you through the initial challenging period of caring for a newborn right up to the days they start playing, learning and weaning!
Contact Details:
Website: combi.com.sg

Before you head down to the different stores, do make sure that you have discussed and involved your child in the whole process. After all, the furniture chosen is for them! Thus, make the whole experience of getting your children's furniture into a fun and great bonding opportunity for you and your child!
* * * * *
Like what you see here? Get parenting tips and stories straight to your inbox! Join our mailing list here.
Want to be heard 👂 and seen 👀 by over 100,000 parents in Singapore? We can help! Leave your contact here and we'll be in touch.